Bangkok
Bangkok (กรุงเทพ) is a bustling modern Asian city with glitzy malls, gleaming skytrains and glamorous clubs, but it still retains its old charms. Markets, canals, riverboats, and street food are everywhere you look. Bangkok is a world-class city. It's a non-stop, exhilarating, sensual overload, and it's well worth spending at least a few days here, or even a few years.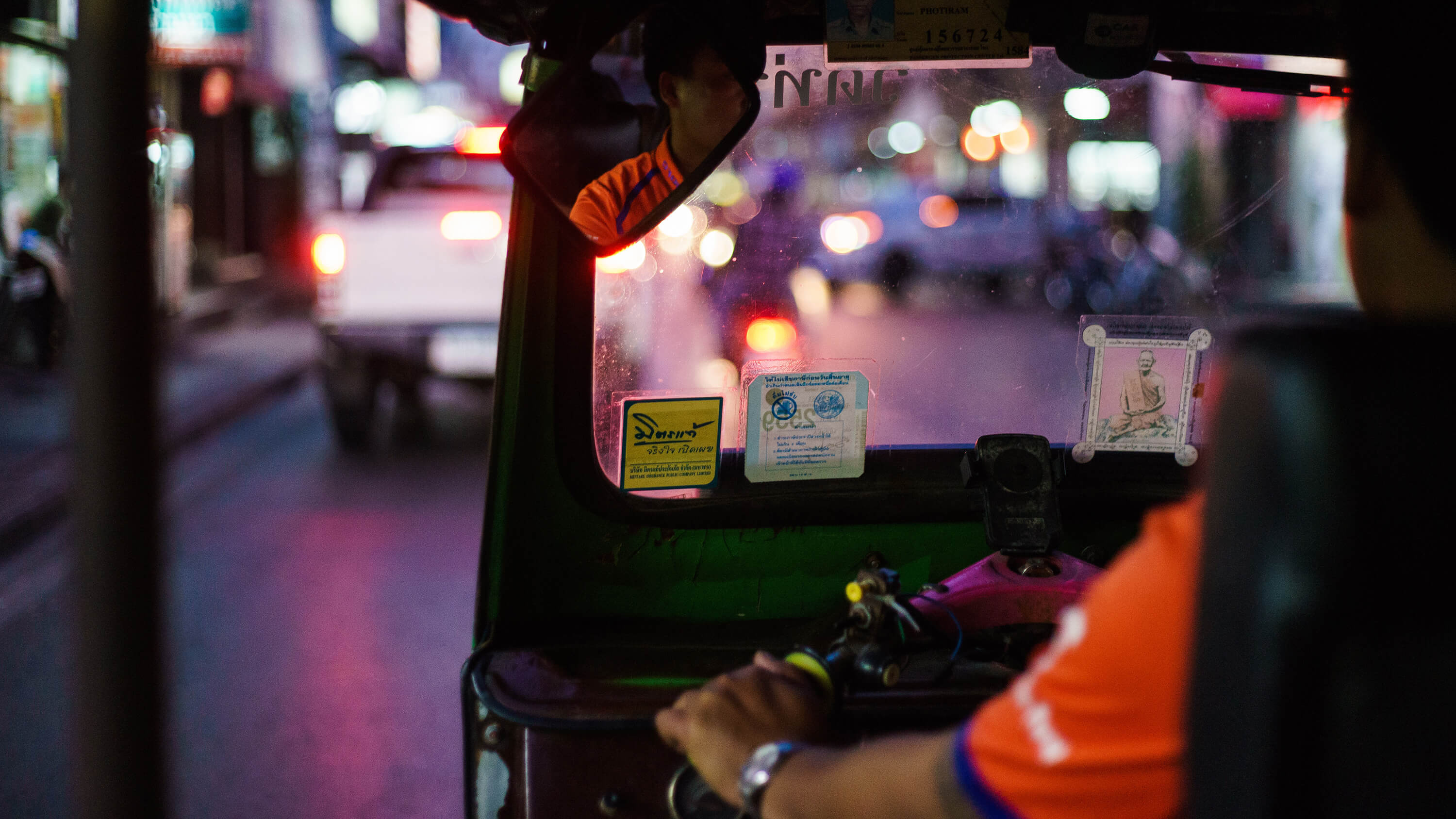 Credit: Adam Dore
Almost everyone visits Bangkok, but due to the traffic, the heat and lack of a beach they quickly depart for famous islands such as Koh Phangan or Phuket. There are plenty of tourists to be found in Bangkok, but few stop for more than a few days to explore beyond Khao San Road.
We're here to convince you to stay a few days, a few weeks, or if you're like us you'll be here for years and get the real Bangkok experience.
Arriving and departing Bangkok
Bangkok is the main hub of transport for both domestic and international travel – most planes, trains and buses leave, arrive or transit through Bangkok.
By plane:
Bangkok has two international airports – Don Muang and Suvarnabhumi (pronounced Suwannaphum). Suvarnabhumi handles the majority of international flights and higher class airlines whilst Don Muang operates most of the budget airlines.
Suvarnabhumi transport: By far the easiest way to leave Suvarnabhumi is with the Airport Rail Link, which shuttles passengers between the airport and Phaya Thai BTS Station (The BTS is also known as the Skytrain, an overground train service within the city, the underground service is known as the MRT). If your destination isn't on a BTS line, it's possible to take the train for a fast exit from the airport and then hop in a taxi to your final destination. We've written about catching airport trains here.
Alternatively you can use the taxi service or Grab – an app similar to Uber for an easy way to get to your destination. It's always easier using the airport WiFi to get a Grab instead of a conventional taxi but either way will get you where you need to go. Print your directions in Thai and English if possible. If a taxi driver does not turn on the meter and gives you a fixed price, politely ask the driver to stop and look for another taxi. Read more about catching taxis from the airports here.
Between the two airports: There is a free shuttle bus outside of arrivals to transport you between the two airports for free if you have a departing ticket showing you need the transfer.
Don Muang transport: The easiest and cheapest way from Don Muang to most places in the city is to take the bus. The buses connect you to a variety of BTS stations, MRT stations and Khao San road.
The bus from Don Muang is just outside of arrivals and is very easy to use:
A1. This bus goes to Mo Chit where you can get the BTS Skytrain (Mo Chit Station), the MRT Subway (Chatuchak Station), and taxis. We sometimes do this when taxis are hard to find at the airport. This bus also stops at the Mochit Northern Bus Terminal.
A2. Stops at Mo Chit (near the trains, not the bus station), as well as the BTS Stations of Saphan Kwai, Ari, Sanam Pao, and Victory Monument.
A3. Goes to Ratchadamri BTS Station and Lumpini Park. From Ratchadamri it's a one stop train ride to either Siam or Silom Stations.
A4 Goes to Khao San Road.
Late arrivals: If you are arriving between midnight and 6am, you'll need to take a Grab or conventional taxi. This should be fast and convenient as traffic will be light.
Getting around
Navigating Bangkok's congested streets can be a challenge for even lifelong residents. For those who've only just arrived it can seem impossible. The fastest way from A to B in Bangkok is never a straight line, and reaching your destination in one piece requires creative thinking, patience, and a sense of adventure.
Having a smart phone in your pocket connected to Bangkok's 3G or 4G can be a life saver. Google maps hasn't quite figured out the crazy system of addresses in the city, but they've got most of the roads mapped out well, and most hotels, big restaurants and office buildings are searchable by name. Keeping a photo of a Train map handy in your phone is also a good idea.
Bangkok isn't exactly known as a pedestrian-friendly city, but many areas can be walked if you can brave the heat, humidity, and often, rainstorms. But the city sprawls out over a massive area and at some point you're sure to have a longer way to go. Bangkokians know the secret to beating the hellish traffic and that's to avoid it entirely when possible, and that means the fastest transport of all: Trains.
Trains (รถไฟฟ้า – rot fai fah)
Bangkok is served by three different train systems: An underground subway called the MRT, The Airport Link, an elevated train that runs from Suvarnabhumi airport into the city, and the BTS, another elevated train known as the Skytrain that has two separate lines. The payment method is different on each of the three systems, and fares are based on the number of stops you travel on all three.
All of the lines are modern, clean and air conditioned to a bone-chilling temperature. Trains are the fastest way to get around the city if you're traveling along their route. Fares range from 15-52 Baht ($0.50-$1.60). Express trains to the airport cost a bit more.
Boats (เรือ – reua)
Bangkok was once known as the Venice of the East for the elaborate network of canals running through the city. Today, some of these are below the roads and pavements, but many remain uncovered and a few still have boats actively plying their waters. The most useful route is the Khlong Saen Saep (คลองแสนแสบ) which bisects the city running east-west.
The Chao Phraya River also has passenger boats that run at regular intervals during the day and can get you across town much faster than any road. There are piers not far from Khao San Road, Chinatown, BTS and MRT stations and Asiatique, the well-known outdoor mall.
Taxis (แท็กซี่ – taek see)
It's easy to find a taxi anywhere, anytime in Bangkok, but getting them to agree to your destination and to use the meter is another matter. Some drivers just want to rip off tourists, although the meter rates are quite low and not worth it to drivers if they know they'll be stuck in traffic. They sometimes have to bribe police to wait in certain areas which also increases what they have to charge.
Taxis are still a good way to get around town. They are air conditioned and cheap, and provide a relaxing ride after a day of shopping or walking around. They are available when the three letter red LED light in the windshield is on. When one stops, open the door and agree to a destination before you get in. Whenever possible, have the name and address of your destination written in Thai, and for smaller hotels, keep the phone number handy.
Tuk-tuks (ตุ๊กตุ๊ก – dtook dtook)
The tuk-tuk is one of the iconic symbols of Bangkok, and they can be a great way to get around town. If you can break free of traffic, you can get a good breeze going inside, and it's hard to get closer to the action on the street than from inside a tuk-tuk.
Unfortunately, too many drivers try to run scams on tourists by promising free or cheap rides, then dragging you to tailors, restaurants and gem shops which pay the driver a commission and often involve their own scams. Other drivers just try grossly overcharging. In general, tuk-tuks should be the same, or slightly more expensive than taxis. They are usually cheaper a couple blocks away from tourist hot spots.
Motorbike taxis (มอไซต์รับจ้าง – maw sai rahp jahng)
If you need to get a short distance down a traffic clogged road in a hurry, then a motorbike taxi is your best bet. They're not for the faint of heart though; they weave in and out of traffic like madmen, and fly down the road whenever traffic opens up in front of them. They will usually try to charge higher prices for foreigners, so bargain, but they also don't make much money so don't get too crazy with it.
What locals mainly use motorbike taxis for are trips down the small sois (roads and alleys) that come off of the city's bigger roads. Short trips along these roads usually cost 10-15 baht, but for longer journeys it will be more. Note that the drivers wear helmets but usually don't have a spare one for their passengers.
Buses (รถเมล์ – rot mae)
The cheapest way to get around Bangkok is on the city's buses. Most of these are run by the Bangkok Mass Transit Association, but private operators also run their own lines. The routes are difficult for even locals to figure out, and a nightmare for tourists. Directions on Google Maps can steer you in the right direction but in general be prepared to get lost and confused if you're taking the bus in Bankgok.
Bus fares begin at 8 baht and can get up to a bit over 20, depending on distance and whether or not it's an air conditioned bus (most are not). Riding the bus in Bangkok can be an interesting experience as a one-off, but unless you are on a really tight budget, buses are more trouble than they're worth.
Things to do in Bangkok
"The Green Lung"
One of our favorite Bangkok activities is a visit to Bang Kachao, aka "Bangkok's Green Lung". This lung-shaped peninsula formed by a large bend in the Chao Phraya River is undeveloped enough that it is basically like being in rural Thailand, except it's right in the city. It's a great place to explore by bicycle, check out our guide at the link above.
Lumpini Park
Lumpini Park is to Bangkok what Central Park is to New York. This huge green space in the center of the city if beloved by tourists and locals alike. You can get great photos of the surrounding skyline contrasted with a foreground of trees, lakes, and natural beauty. One of the highlights is the hundreds of huge monitor lizards that live in the park, the biggest of which grow larger than an adult human! See our full guide to visiting Lumpini Park at this link.
Where to stay
Where to go next
From Bangkok, the whole country is at your fingertips. By plane, train or bus, explore our Thailand destinations and discover something new.
If you are looking for exciting destinations closer to Bangkok, check out:
When to go
Most of Thailand falls in to the generic high and low season categories, including Bangkok.
High season - begins in November and runs through to February, bringing cooler temperatures, lush greenery from the previous months of rain, good air quality, and less rain. The downside is larger crowds and sometimes higher prices for tours, flights and accomodation.
Low season - begins in July and runs through to October. During low season the temperatures are higher, the chance of rain and storms are higher. That doesn't mean it's a bad time to visit though, if you can be flexible, there are deals to be found on flights and accomodation.
While it's always hot in Bangkok, the small change in temperature between high and low season can be just enough that the heat isn't unbearable when out and about.
Need more? Read our post discussing the best time to visit Thailand.
Where to stay
Instead of recommending hotels, we think it will be more useful to share our process so you can pick based on your own critera for location, budget and style.
We always start our search on either Booking.com or Agoda. They have an easy to user interface and have some extra benefits for "Genius" and "VIP" users. You can also sometimes pay with credit card in advance if you're playing the cashback or air miles game.
Process:
Search for specific province, city or town.
Apply rating filters for a minimum rating or either 7, 8 or 9.
Apply other filters: budget, fitness, breakfast, etc.
If you have a specific location in mind, use map view to browse and make a final selection.
If there are too many properties available to choose from, increase the rating filter for less, higher rated selections.
Final notes: Prices are dynamic. Check the same hotel on both Booking.com and Agoda to see which has the best deal at any given time (go through to checkout to make sure all VAT and service charges are factored in). You can go one step further by calling the hotel and checking the price for booking directly. In our experience this saves money 50% of the time but you have less guarantees.
Emergency contacts
Knowing an emergency number could save your own, or somebody elses life. Take a photo or save these numbers on your phone:
Police & emergencies - 191
The most important number to remember. If the operator is unable to speak English, call 1155 (below).
Tourist Police - 1155 or (+66) 2308-0333
This hotline is available 24 hours a day and they will all speak English. This is an important phone number to remember - They will help you out with any concerns or questions you have and can redirect you to the correct number you may need.
Public Ambulance - 1669
Dialing this number will connect you to a public ambulance service, which will dispatch a vehicle to your location. The average response time for urban areas is around 10 minutes, but may take up to 30 minutes in rural areas. English-speaking staff should be available to assist you.
Fire Department - 199
In case of an emergency such as a house fire, or forest fire, call 199 for the Fire Department to be dispatched to your location.
Highway Police - 1193
If you plan on driving in Thailand, then you may end up needing to use this number if you break down in an unsafe place etc.