Lumpini Park Bangkok: Our insider's guide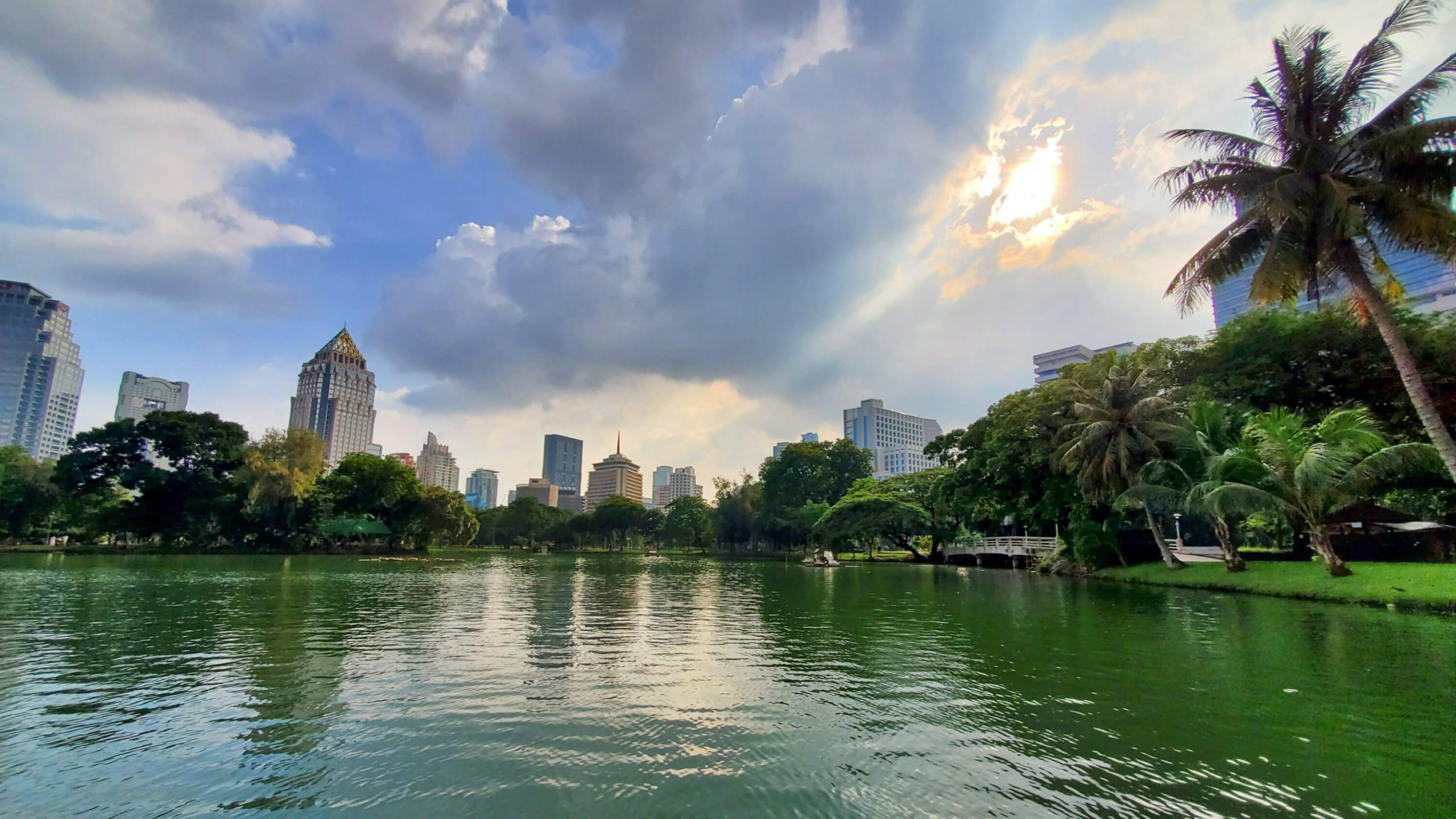 Missing Lumpini Park in Bangkok would be like going to New York and skipping Central Park
One of our favorite attractions in Bangkok is Lumpini Park, a beautiful green space right smack in the middle of the city. We recommend Lumpini to almost anyone who visits Bangkok, even if you only have a day. Coming to Bangkok and skipping this park would be like going to New York and missing Central Park. That's actually a good comparison because Lumpini is somewhat reminiscent of Central Park. Both are large green spaces surrounded by skyscrapers, and both are beloved by locals and tourists alike. There is one major difference though… Lumpini Park has dragons. Seriously
Keep reading to find out about the dragons, plus everything you need to know to visit, the top things to not miss in the park, and a few rules that you should pay attention to.
Overview
The park is named after the Lumbini, the town in Nepal where Siddhartha Gautama was born before he became The Buddha. The area was designated as a park from land belonging to the Thai Monarchy in the 1920s by King Rama VI. During WWII it became a Japanese Army camp, and in the 21st Century, it's often used as a camp by protesters during the occasional political flareups that Thailand is infamous for. The park is Bangkok's biggest at 57.6 hectares or 142 acres. Lumpini Park has no entrance fee and is completely free to visit.
How to get there
Pro tip: If you have the budget for some swanky digs, the So/ Bangkok is one of the city's best hotels, and its views over Lumpini Park are absolutely unbeatable. It's also in a great location for exploring the city.
Lumpini Park is located pretty centrally in Bangkok and there's a good chance your hotel is not far away. Take a quick look at the park on Google Maps and first check if it's within walking distance. If not and you are staying near a train line, the park is next to both the Lumpini and Silom stations of the MRT underground train line, and the Sala Daeng BTS Skytrain station. Because of Bangkok's notorious traffic, if you're staying near a train line, that will be your best bet, otherwise, take a taxi or a tuk-tuk. The Thai name of this park is pronounced soo-ahn loom-pee-nee and it's written สวนลุมพินี.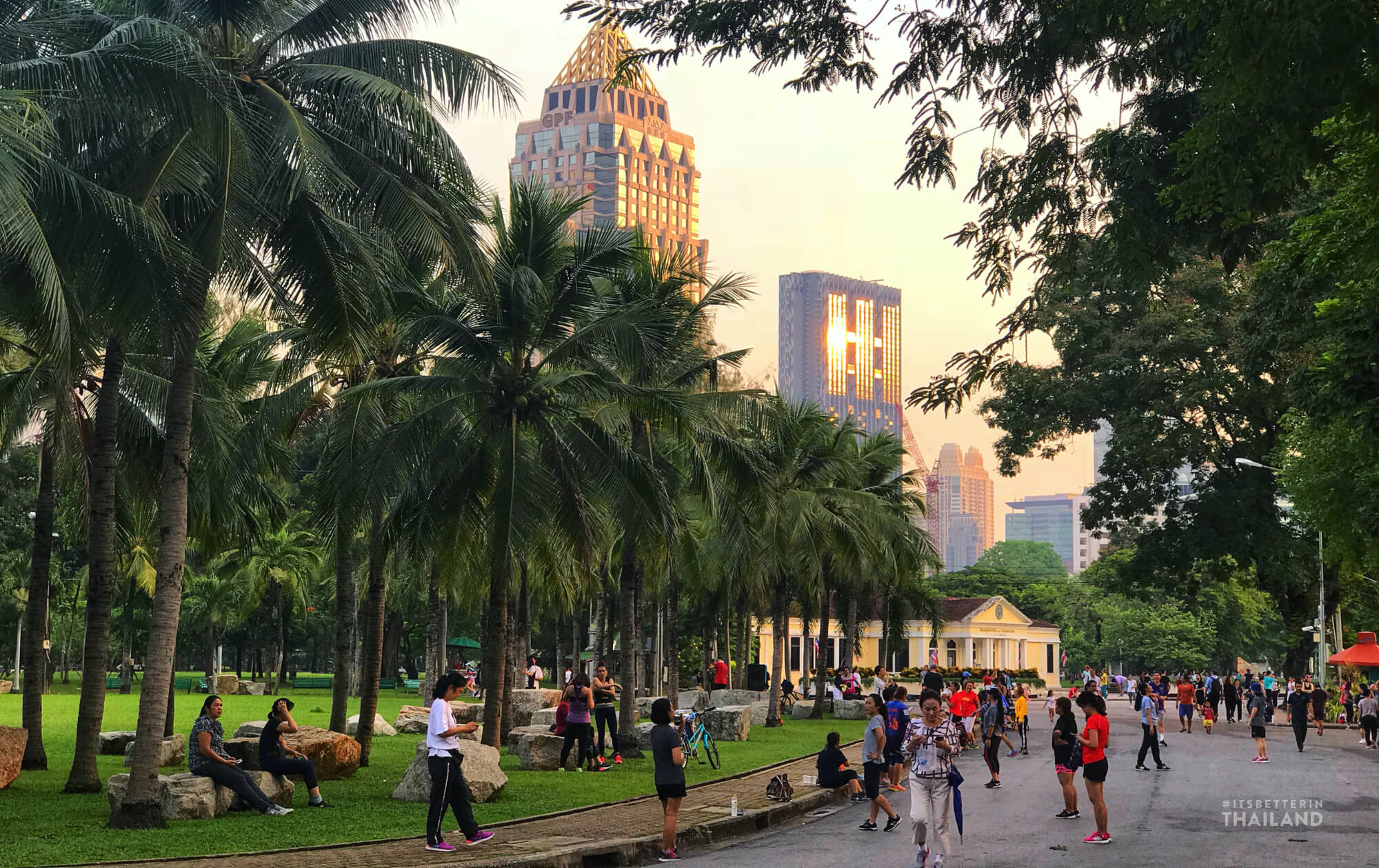 Lumpini Park activities
The absolute best part of Lumpini Park is seeing the views of the surrounding skyline through the trees and over the lake. Even if you only have half an hour, you can dip into the park for a quick stroll to see this. There are a lot of nice vantage points you can find, but most of the best ones are around the lake in the northwest part of the park. The island in that lake is especially worth visiting. If you have the time though, you should definitely take out a boat to really find the best wide-open views.

Swan Boats in Lumpini Park
It's cheezy, it's corny, and it's a lot of fun. Going out on the boats is one of our favorite activities in Lumpini Park. There are two locations at either end of the lake and both have the same prices. Lumpini Park boat rental costs just 40 Baht for 30 minutes. You have to pay in advance and leave a 40 Baht deposit which you'll get back if you return on time, but most likely you'll want to stay out longer. At 80 Baht for an hour, it's still very cheap.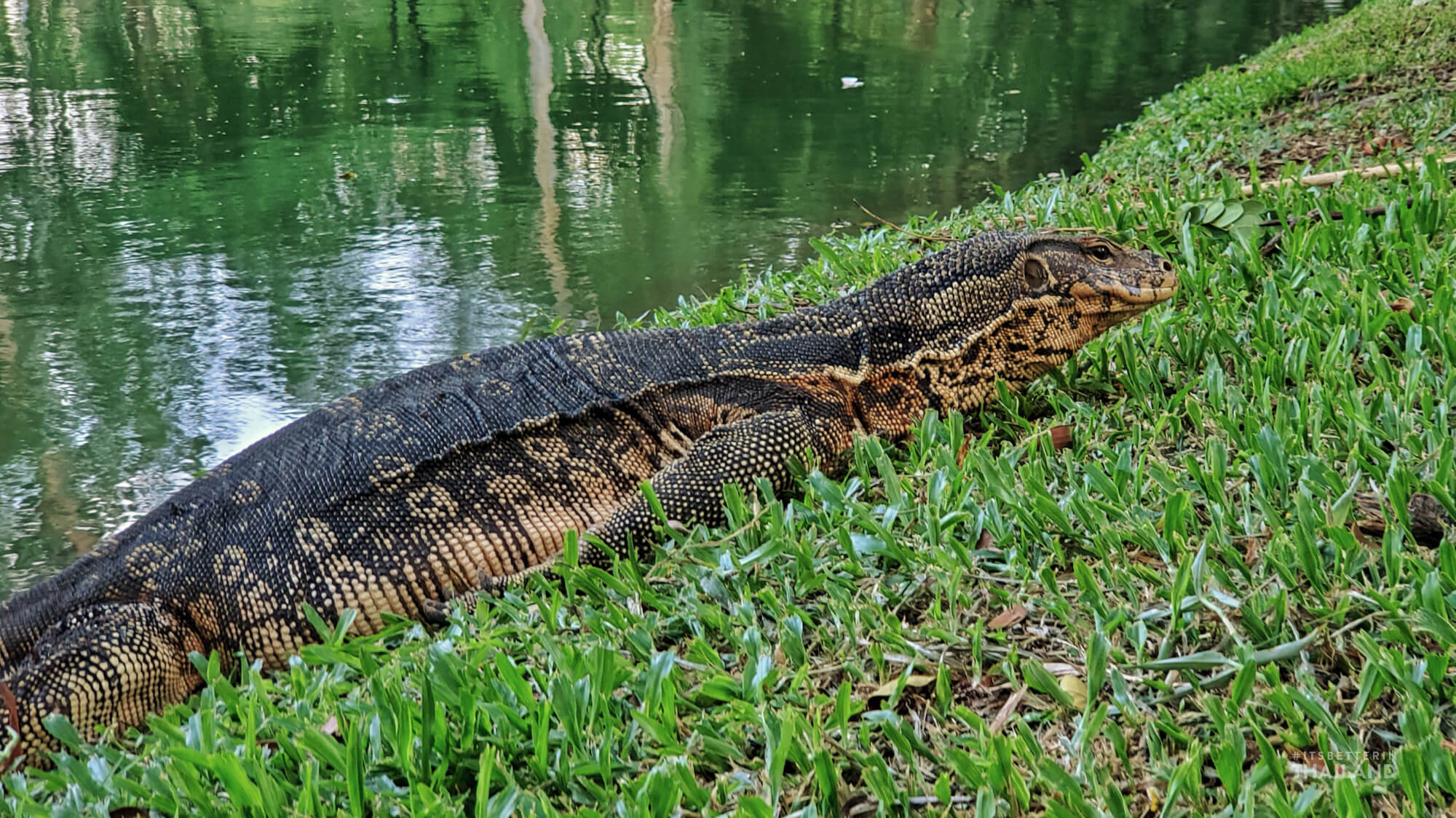 Lumpini Park's monitor lizards
Alright, they're not actually dragons, but Lumpini Park is absolutely full of huge water monitor lizards. These creatures are related to Komodo dragons and while they're not quite as big, then can still grow heavier than an average adult, and longer from nose to tail than a person is tall. It's actually possible to completely miss them — I've asked people who recently visited the park what they thought about the huge lizards, and they looked at me like I was a crazy person. But the monitor lizards really are all over the place, and if you keep an eye out you will see them.
If you take out a swan boat they'll be hard to miss. You can find them swimming in the lake, and in the grass near the water's edge. There are even some hanging out way up in the trees. If you walk around the park's main lake and keep your eyes peeled, you will absolutely see the famous Lumpini Park monitor lizards.
The monitor lizards are pretty used to humans and mostly ignore you. I've never heard about anyone being attacked, but I wouldn't get too close to them either. They are quick when they want to be, and I bet they can swing those tails hard enough to do some damage. I definitely wouldn't want to get bitten by one either.

Local life
Lumpini Park has some of the best people-watching in Bangkok. As the city's biggest park, Lumpini is an important place for locals to come to meet, relax, decompress, play, and exercise. If you come early in the morning, there is a strong senior citizen tai chi scene. There are also plenty of people getting in their cardio before the heat of the day sets in.
During the later morning and afternoon, it's usually pretty hot in the park but there's still plenty going on. Some people do come in on their lunch breaks. There are also a lot of different pavilions and gazebos throughout the park that draw different crowds. You can usually find older folks chilling in the gazebos playing Chinese checkers. I don't know why but it always makes me happy seeing old people spending time outdoors with their friends.
The evening is when the park comes most alive. There are aerobics classes, dance groups, karaoke, bird watchers, courting couples, and people just trying to escape the intense urban grind of Bangkok. It's really worth spending some time walking around and seeing all the different ways local people use their park.

Excercise
Of course, you can join in with the workouts too. The main path around the park is about two and a half kilometers, so two laps is a 5k. There is a good calisthenics workout area in the southeast of Lumpini Park, there are basketball courts near the kids' playground in the north-central area, and there are some random outdoor bodyweight exercise machines scattered throughout the park. There is also an outdoor gym with usable but dated free weights in the south-central area.
Watch Sepak Thakraw
If you've never heard of sepak thakraw, you're really missing out. This is a sport that's popular around Southeast Asia that's pretty amazing to watch, and Lumpini Park is one of the best places to see it. Thakraw is played over a badminton net between two teams of three players each, using a small ball made of woven bamboo, rattan, or these days, usually plastic. It's basically volleyball — get it over the net in three hits or less — with football rules — use any body part except your arms and hands. Once you see how hard they can bicycle-kick-spike that ball over that net, you'll get it.
Feeding the fish and turtles
Thais believe you earn merit through good deeds like feeding the fish and turtles that live in the ponds and lakes of Lumpini Park. You can buy fish food near most of the park entrances, and at a few places near the water inside the park. In some areas, it almost seems like there are more fish than water when you throw in a handful of food.
Other wildlife
If you move slowly and keep your eyes out, you'll see that the park is actually full of wildlife. Besides the huge dragons, fish, and turtles, there are also a lot of beautiful birds in the park and sometimes you'll see local birdwatchers with the full getups out photographing them. There are also a lot of very cool cats that call this park home.
What to eat
There are food carts throughout the park with lots of local snacks that you can try. There isn't really any single quintessential park food, like a New York hot dog in Central Park, so just get whatever looks good. For a bigger meal, Nai Meng Noodle restaurant is a short walk down Silom Road from the park and it serves excellent Thai-Chinese noodle and rice dishes at a good price. This is the location on Google Maps.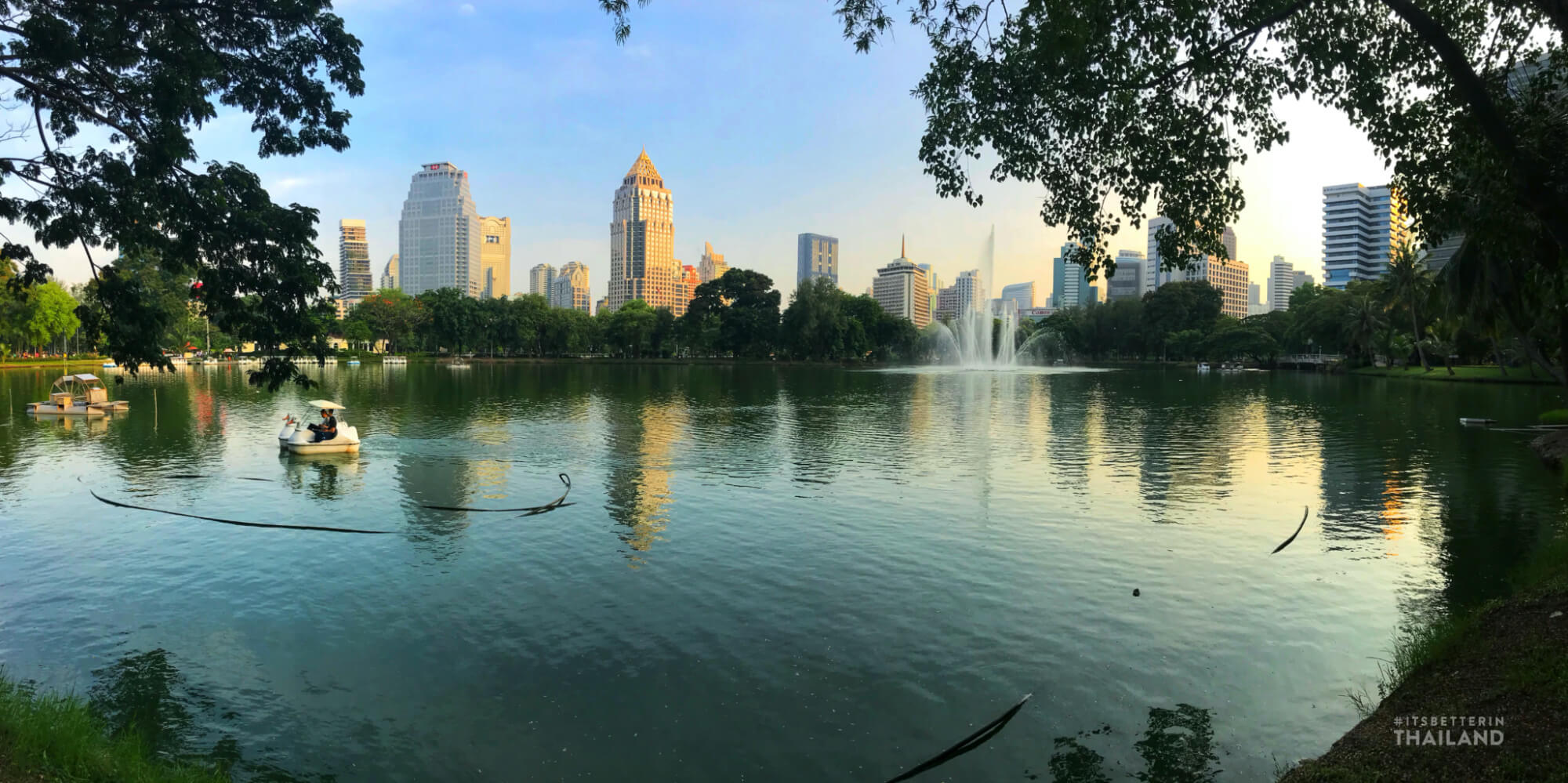 Lumpini Park hours and rules
Lumpini Park is open every day from 4:30 AM to 9 PM. Admission is free.
Cycling is only allowed between 10 AM and 3PM.
Smoking is prohibited everywhere in the park. The people enforcing this are extra-attentive to tourists, and if you smoke you will be fined 2,000 Baht.
Alcohol is also not allowed in the park.
Dogs are not allowed in the park.
Photo gallery