Day trip from Bangkok to Ayutthaya & Suphanburi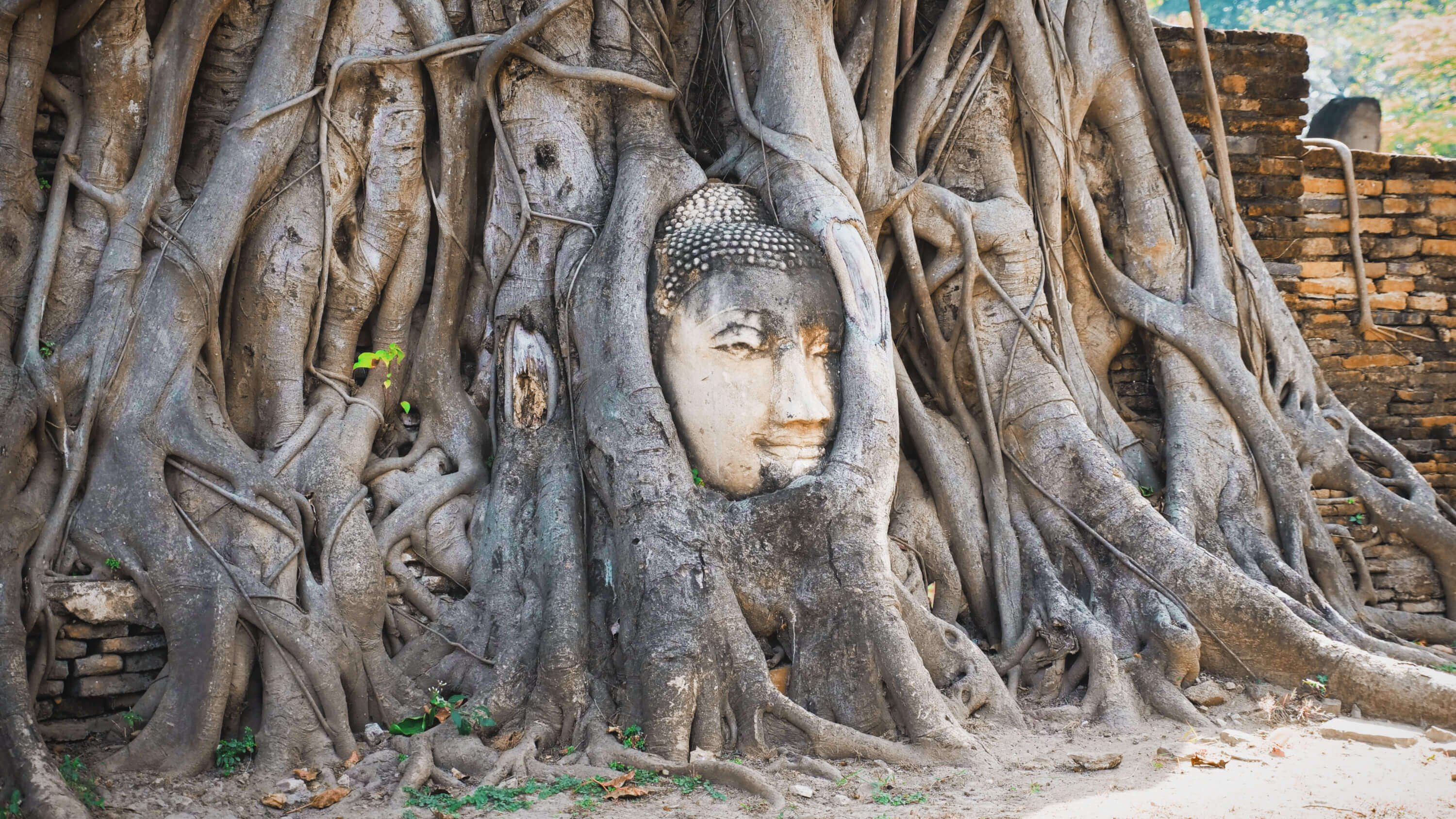 A fun daytrip from Bangkok to two nearby provinces
I was recently invited by a company called TakeMeTour on a day trip from Bangkok to Ayutthaya and Suphanburi provinces. TakeMeTour is a company allowing locals in Thailand to set up small private tours and it's a pretty cool concept. It's a bit like what Airbnb is doing with 'Experiences', but TakeMeTour are a local company and are supported by the Tourism Authority of Thailand. I had a look through the tour options of which there were a lot that sounded pretty good, and I chose a tour that combined a local shrimp farm in Suphanburi and the temples of Ayutthaya.
The guide was named Mai, and she was really lovely. She and her husband picked us up from our hotel in Bangkok in the morning and we hit the road. What's nice about these kinds of tours is you can be really flexible. The tour normally starts in Ayutthaya, continues to Suphanburi, and then you are driven back to Bangkok after. I really wanted to return to Bangkok on the train, so Mai arranged it so we would start in Suphanburi (which doesn't have a train) and finish in Ayutthaya. It worked out perfectly.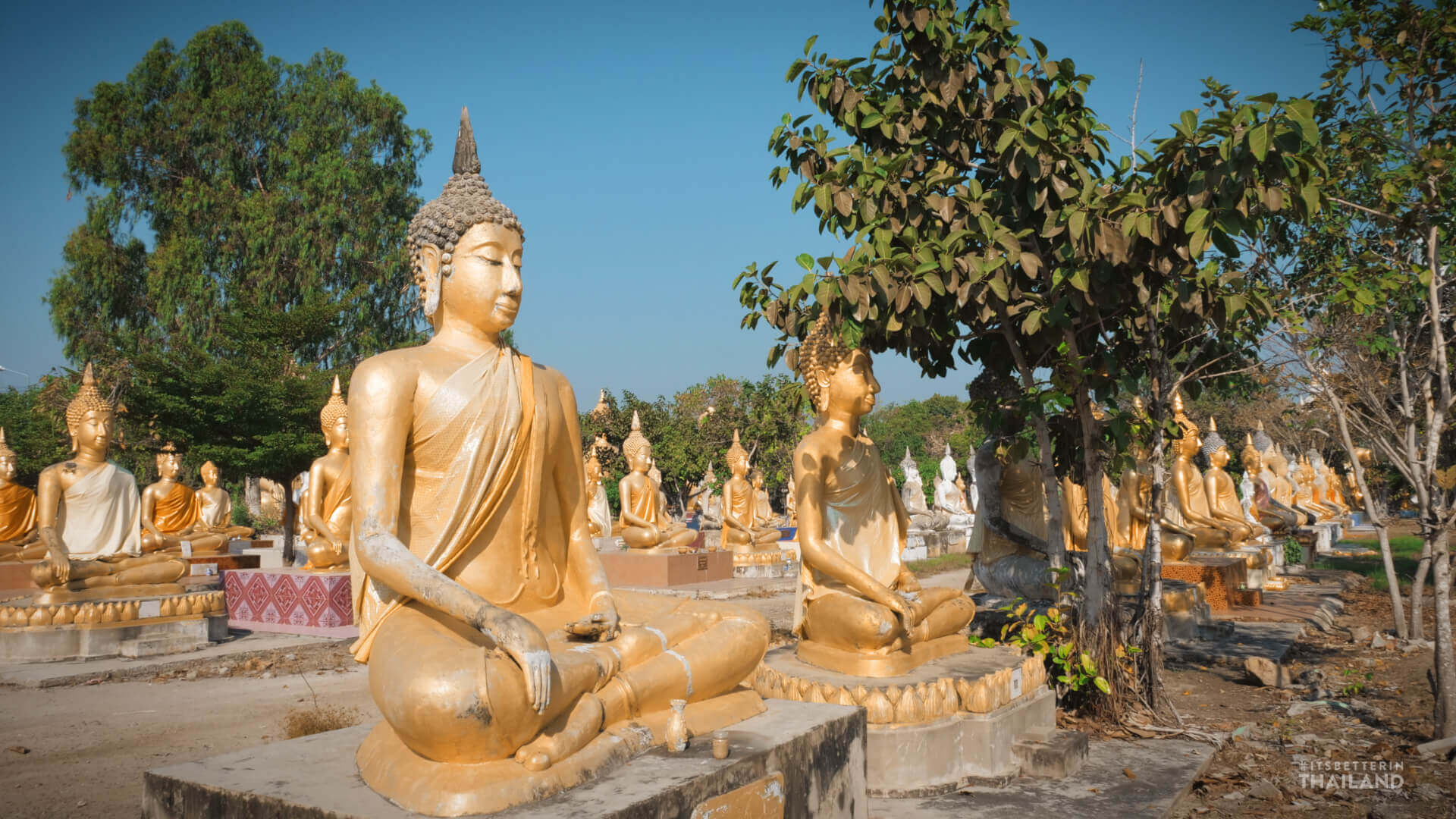 Visiting a really unique temple in Suphanburi
I'm personally not too crazy about visiting temples, but I do enjoy them when there is something unique about them. Wat Phai Rong Wua in Suphanburi definitely qualifies as unique. To start with there is a cemetery there where each headstone is a large Buddha statue. There are hundreds of them all in straight rows and it creates a pretty cool effect when you are in the middle of it. There is also a very large seated Buddha statue and a nice prayer hall.
What really sets Phai Rong Wua Temple apart though is the hellscape where hundreds of incredibly gruesome statues show you the torture you will go through in the afterlife if you don't lead a good life here on earth. This is something that's fairly common in Thai temples, but I've never seen it anywhere close to the sheer size and awfulness depicted here.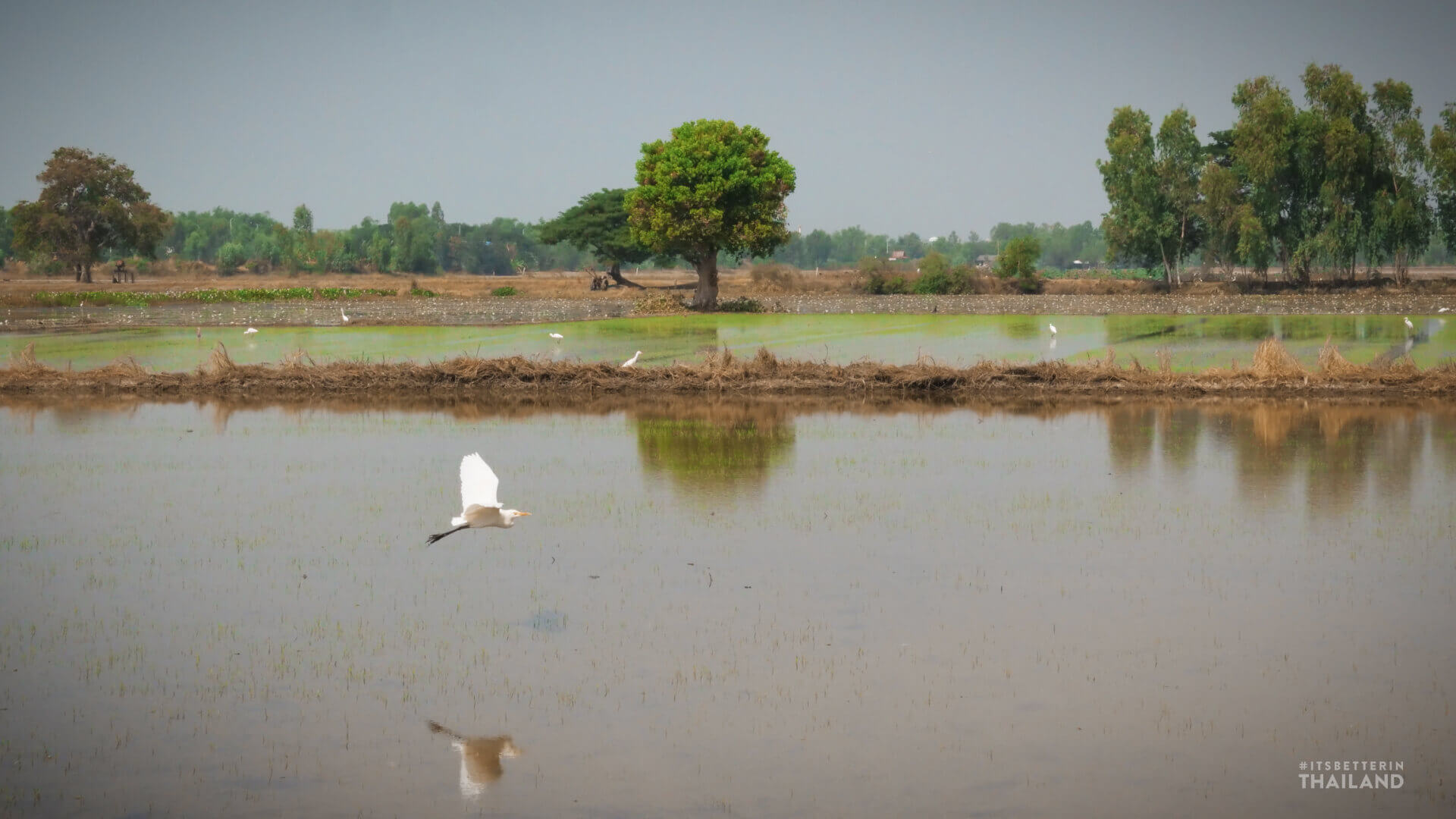 Visiting the shrimp farm in Suphanburi
From the temple, we got back in the car and headed to Mai's family's shrimp farm. The area there is really quite scenic, with rice fields full of beautiful birds, and a large pond full of blooming lotuses. The shrimp ponds are somewhat barren and not as nice to look at as the rice fields, but the process of farming them is interesting. Mai and her family follow organic principles and are proud of that fact.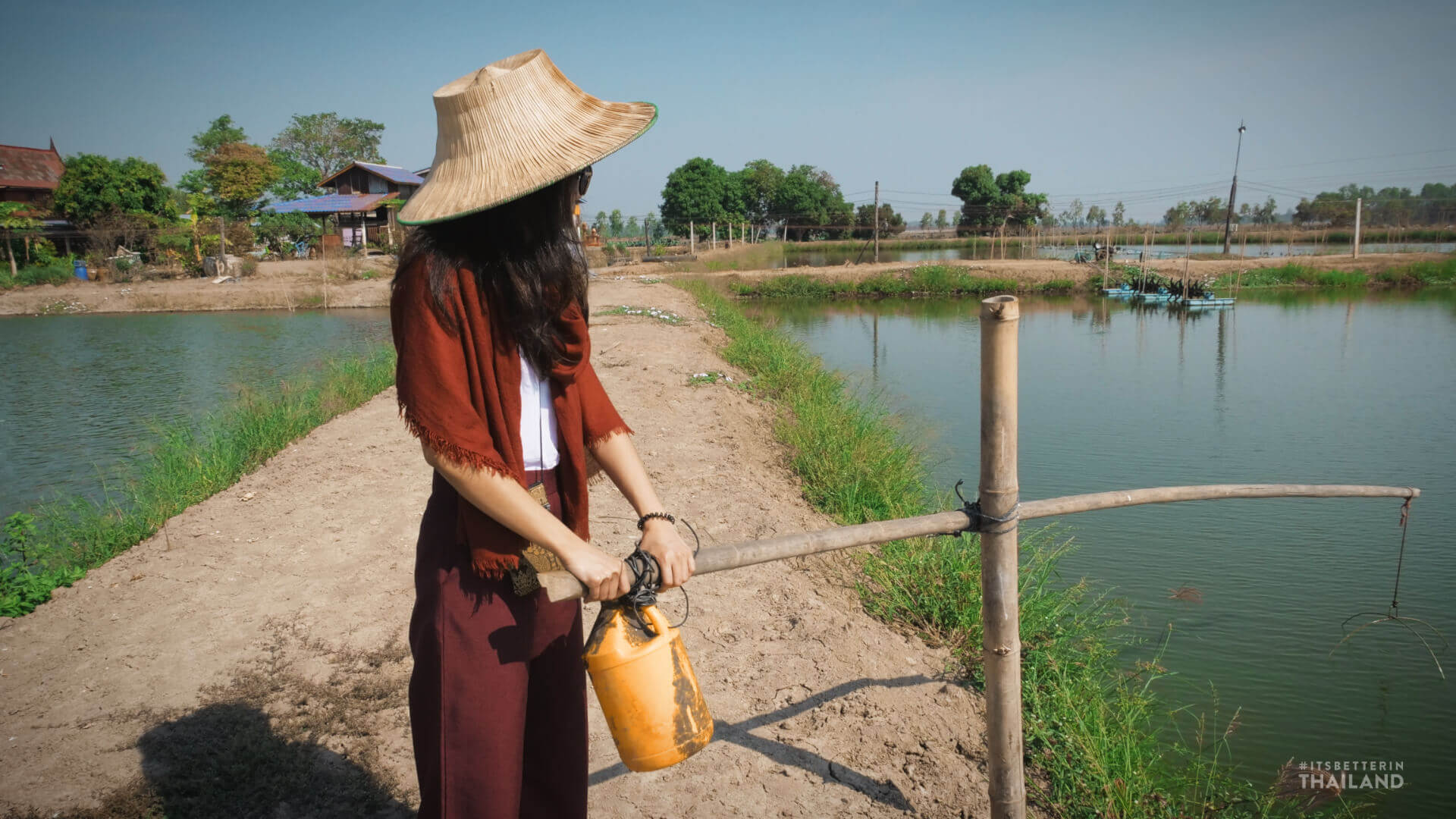 My favorite part of the visit (besides lunch) was seeing the countryside both on foot, and by saleng — a motorbike with side cart that is a crucial mode of transportation for rural Thailand. It really was lovely.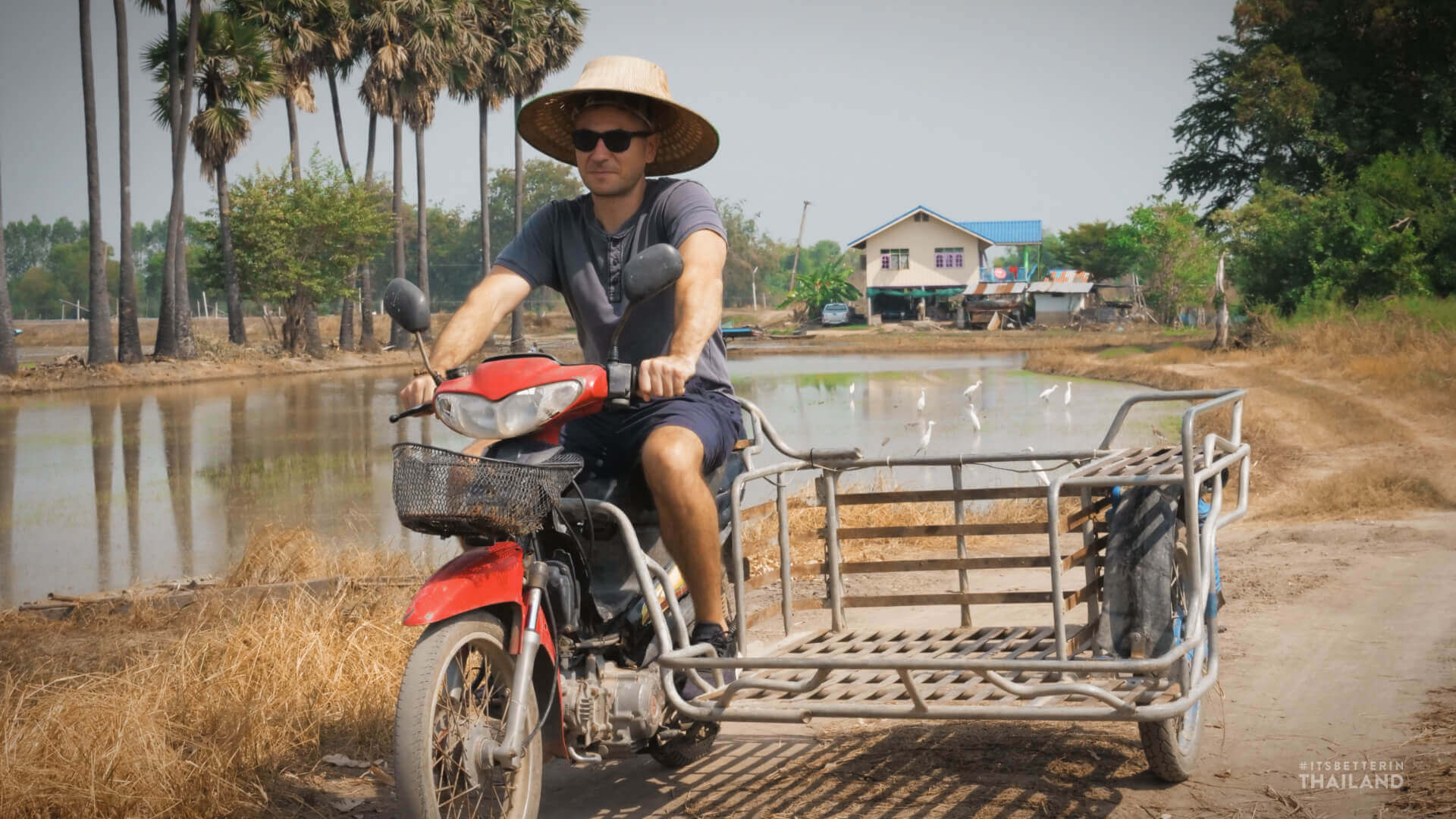 Homemade lunch with Mai
While we explored around, Mai cooked up a fantastic lunch. The shrimp tom yum was made entirely with ingredients from right there on the farm. The shrimp were raised there, and the lemongrass, kafir lime, galangal, and chilis were all grown there.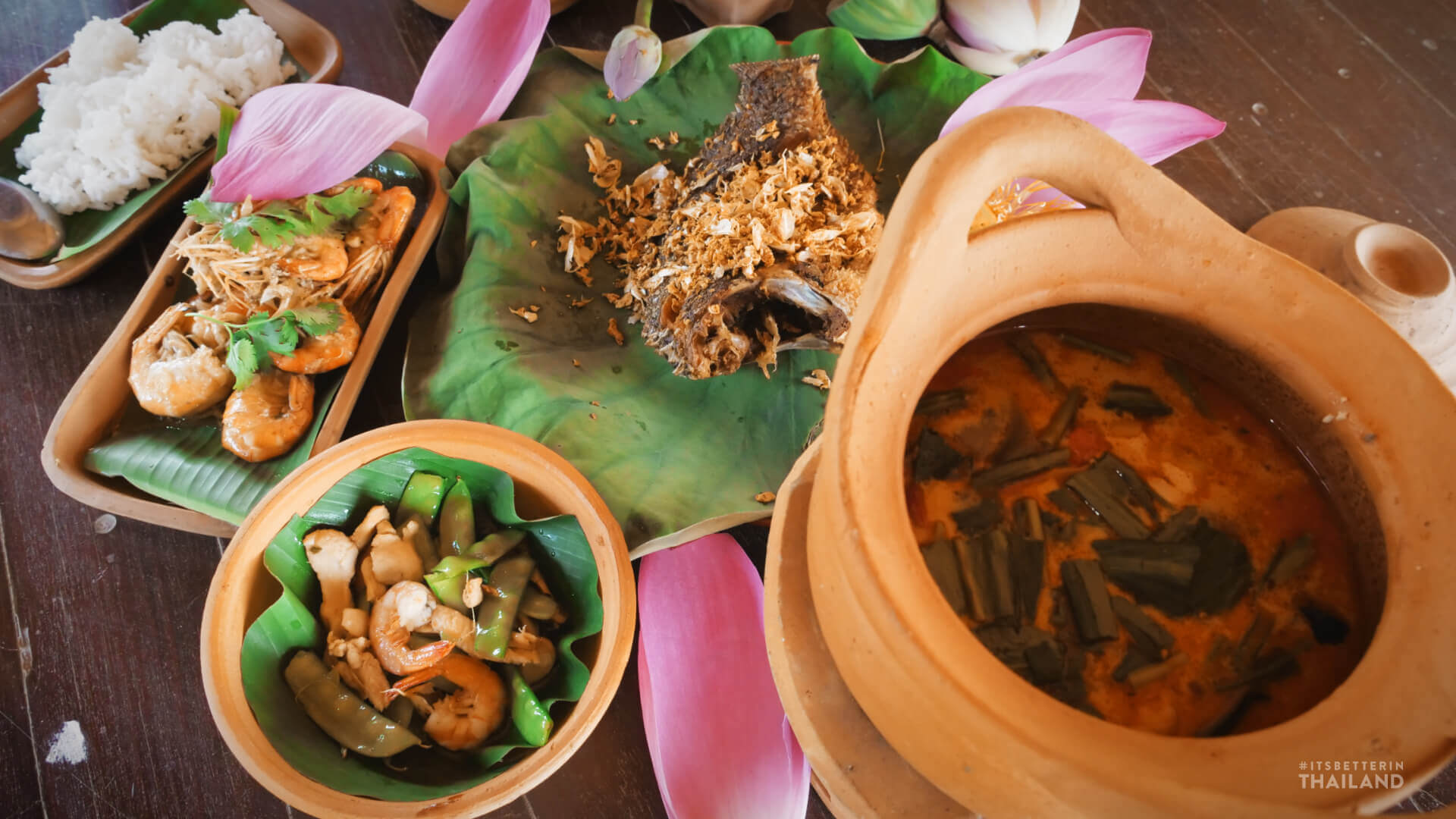 The lunch was fantastic and included a lot of different dishes. We enjoyed it in a sala (gazebo) set right over a pond of lotuses.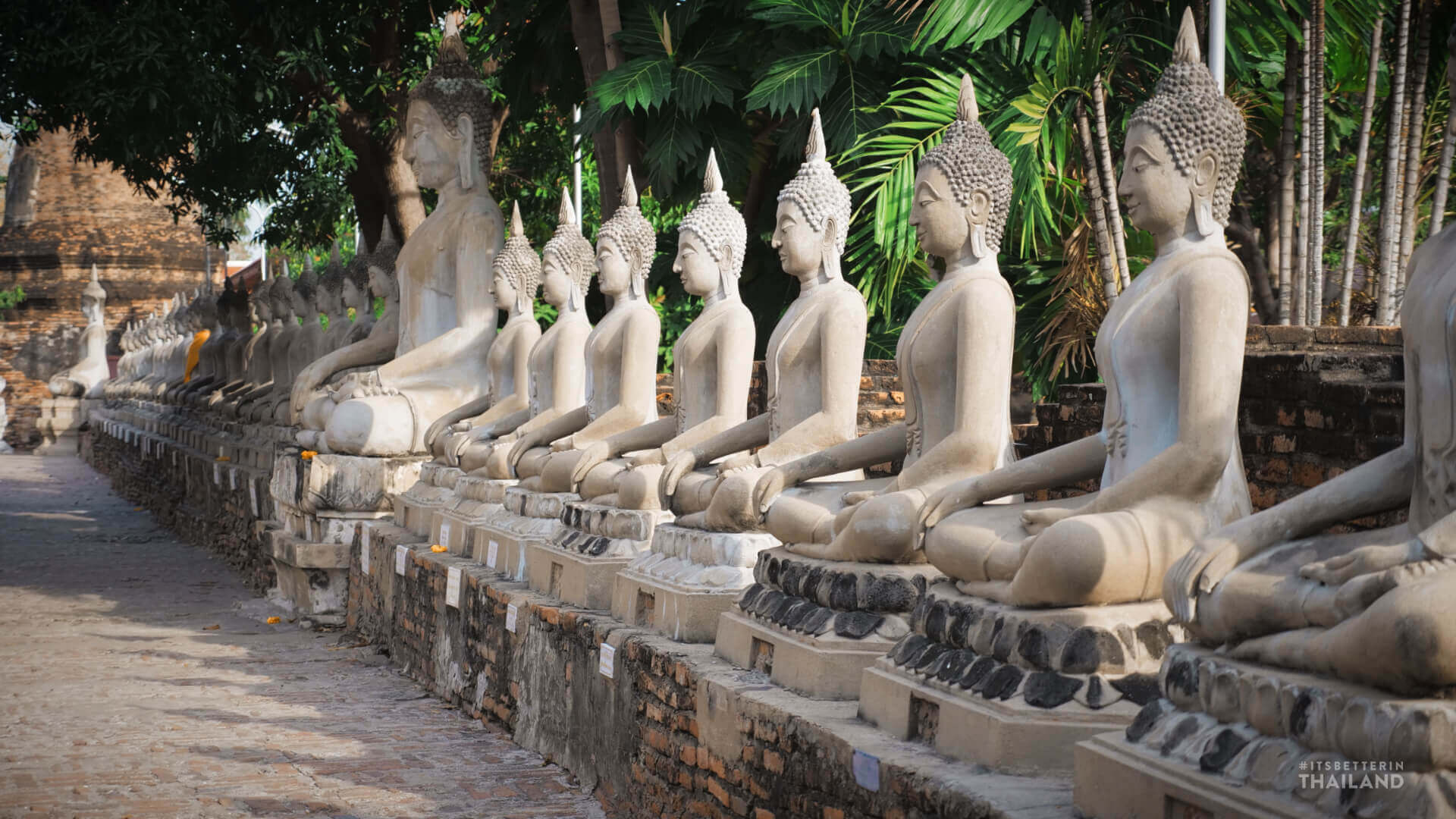 Visiting the temples of Ayutthaya
Ayutthaya is an old capital of Siam with a fascinating history and some very cool old temples and ruins. I've been before but it's been years so I was excited to go back. Seeing Ayutthaya again was actually the main reason I chose this trip. We headed first to Wat Mahathat which has become probably the most famous of the Ayutthaya ruins due to the stone Buddha head that has been tangled up in the roots of a sacred banyan tree. It's pretty cool to see, but that means a lot of other people will be there with you trying to snap their own photo.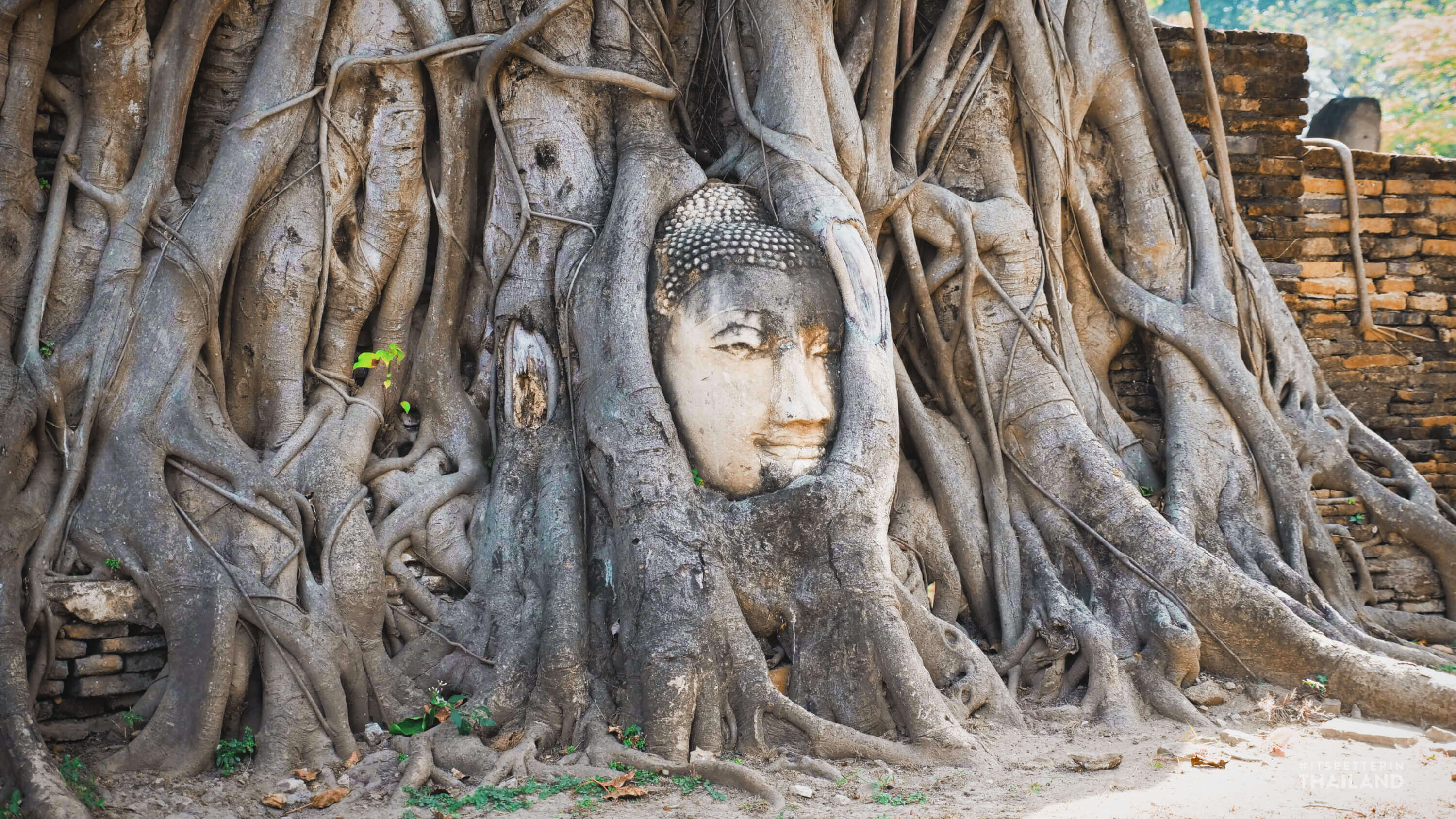 From there we went to Wat Chai Mongkol, an ancient temple famous for its tall pagoda, large reclining Buddha, and hundreds of seated Buddha statues lined up around the pagoda. This is probably the nicest of the Ayutthaya temples and we had a nice time walking around and taking it in.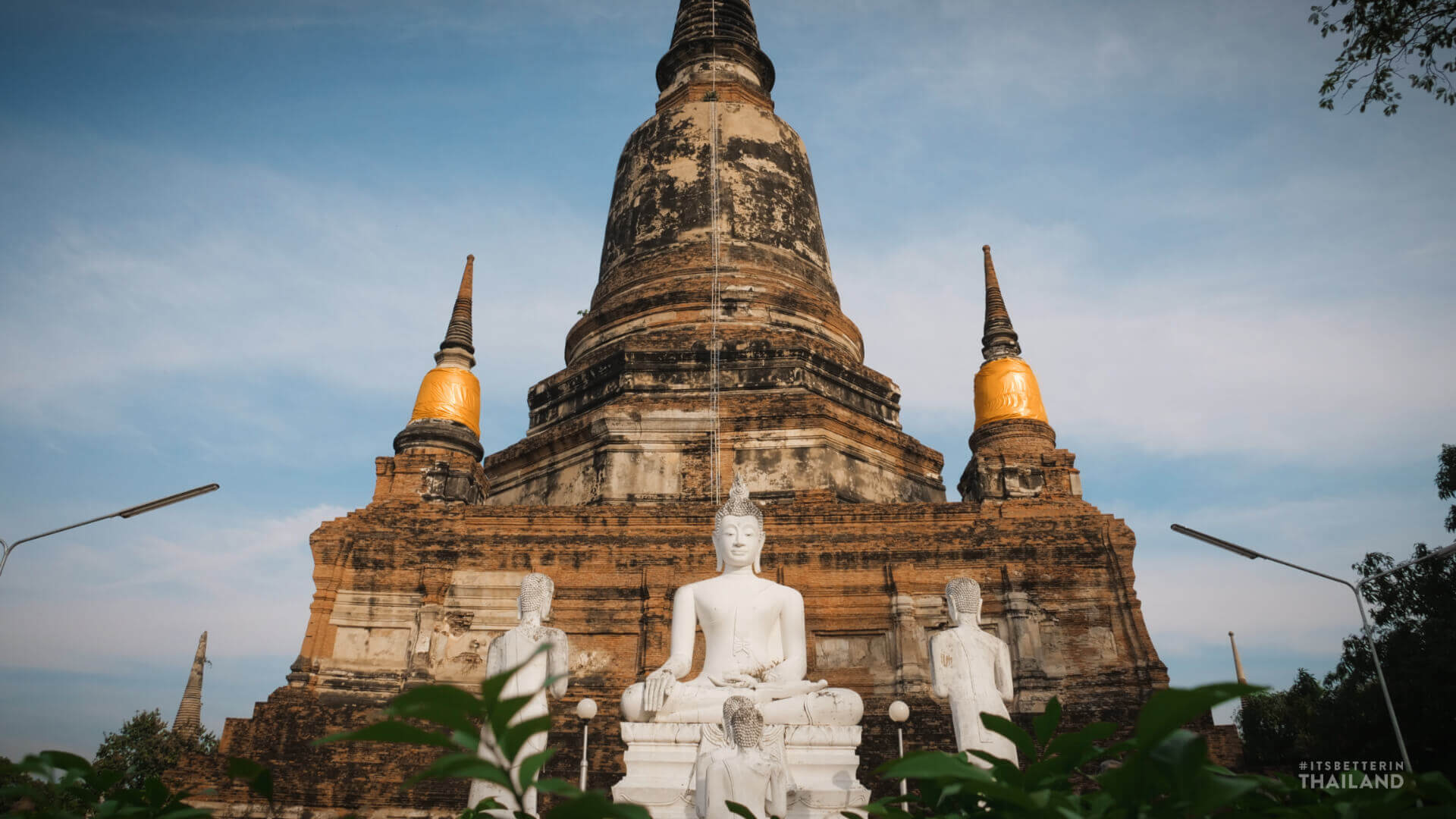 The final stop was supposed to be Wat Phanan Choeng. We wanted to get a 4:30 pm train so there would still be daylight for the trip back, and it was already 4. We decided to give this one a pass. Looking at photos, I'm glad we did. While the site has had a temple for a long time, what's there now looks pretty new and like so many other temples around Thailand. By that point, I had had about enough temples, and the train ride was really fun. Third class trains in Thailand on short journeys can be really nice.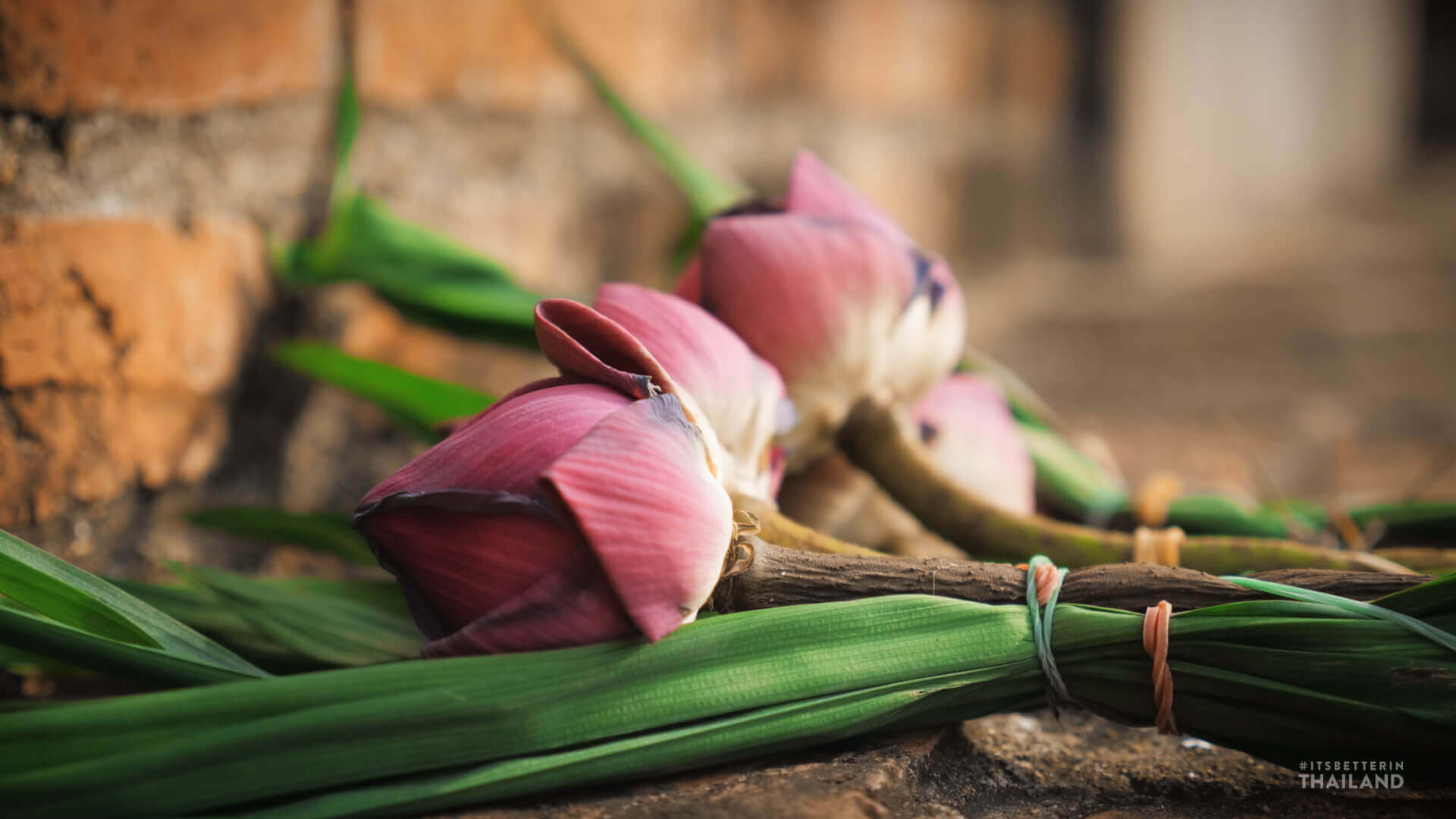 Is TakeMeTour worth it?
I was really pretty impressed with the tour I did. Mai is great, the tour is well-thought out, and TakeMeTour really provide value. As someone who lives in Thailand and usually travels independently, it's not something I'd normally do. If my parents or older family members were visiting I'd book with them again in a heartbeat. For your average tourist with more than a backpacker budget, I think this is a great way to see some of the sights.
TakeMeTour has a lot of different guides doing some pretty cool and unique itineraries. If you have limited time, and especially if you can't speak Thai, a lot of these would be quite difficult to do on your own. I found TakeMeTour to make them very convenient. You can check all of their tours around Thailand at the TakeMeTour website.
Full disclosure: This trip was given to us free by TakeMeTour in partnership with the Tourism Authority of Thailand's LocalTable campaign.