Bangkok's Green Lung: Exploring Bang Kachao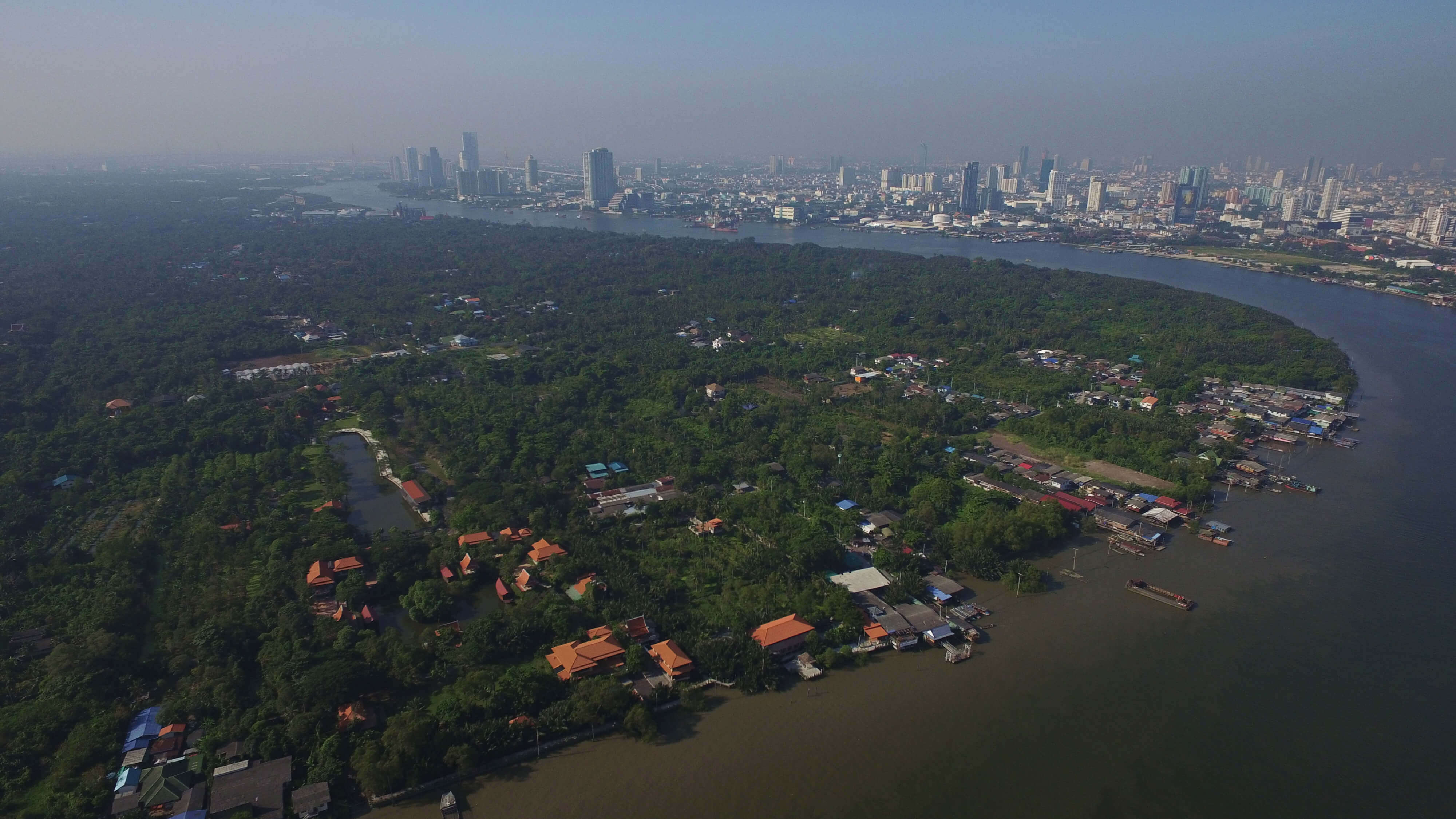 Bangkok's Green Lung might be the perfect half-day trip to escape the craziness of the city
Bang Kachao — Bangkok's Green Lung — might be the perfect day trip to escape the hustle of the city. It's basically in Bangkok but it feels worlds away because of all the trees and lack of development. The best time to go is during the week, and you should go early, especially in the hot season. Check out our video, and read on for everything you need to know to get the most out of your visit.
About Bang Kachao, aka Phrapadaeng, aka Bangkok's Green Lung
The Green Lung is not technically in Bangkok, it's in Samut Prakan Province. It is, however, in the Bangkok Metropolitan Area which includes parts of five of the city's surrounding provinces. The area is a peninsula formed by a sweeping bend in the Chao Phraya River that nearly circles around and runs back into itself. The land inside of this is shaped somewhat like a lung, and if you look at it from above it is mostly green, hence the name.
The reason the area is so green and undeveloped is that strict conservation laws prohibit buildings higher than the treetops. These laws keep the area mostly residential and agricultural which also means the area doesn't need many large roads.
How to get to Bangkok's Green Lung
The quickest way to get there is to take the MRT to Khlong Toei, then get a taxi to Khlong Toei Port (ท่าเรือคลองเตย – Tah Reua Khlong Toei). It should only cost around 50 baht on the meter. Get out at the 7-Eleven just before you reach the gates that let the trucks into the port. Facing those gates, turn right and head down a small street. You'll see a temple ahead of you, and after a minute or so you'll reach a pier at the river. Pay 10 baht at the snack shop there, and within a few minutes, a small boat will take you across.
On the other side, you can rent a bicycle for 80-100 Baht for the day, and that should include a lock, a bottle of water and a map. These bikes are fairly cheap and rickety, but do a basic check of the brakes and tire pressure as you will ride on some elevated paths that you wouldn't want to fall off of. Set out inland from there and you're on your way.
What to do in Bang Kachao
Your first stop should be the Sri Nakhon Khuean Khan Park. It's just a few minutes in and down a road to your left. There are lots of signs pointing the way. Once inside, just peddle around the pathways and over the bridges and enjoy the wonderful pond and landscaping. If you need a break, hang out in one of the gazebos over the water. You should also ride some of the paths that go further in, Bang Kachao is full of hidden gems.
After the park, get back onto the road and ride until you see one of the small elevated walkways meet the road. These are pretty much everywhere and they form a maze of interconnected walkways. The highlight here is the local life so there is no set route you should take. Rather, just let yourself get lost for a while. If you come to a road, take it until you find another small walkway.
Safety at Bangkok's Green Lung
This area is quite safe as far as crime is concerned, but obviously still use some common sense. The biggest danger is falling off one of the elevated walkways. Only take a bike if you're comfortable riding it. Make sure to get the feel for the bike you're riding on the roads before you head onto the walkways. Locals do drive motorbikes along these walkways, but they won't try to pass you if it's not safe. Instead, one of you needs to look for a place to safely pull off to let the other pass. Make an effort to not inconvenience them, but don't put yourself in any danger either.
That's it. Just get out there and get lost. Bangkok's Green Lung is a great day out in this wonderful city.