When is the best time to visit Thailand?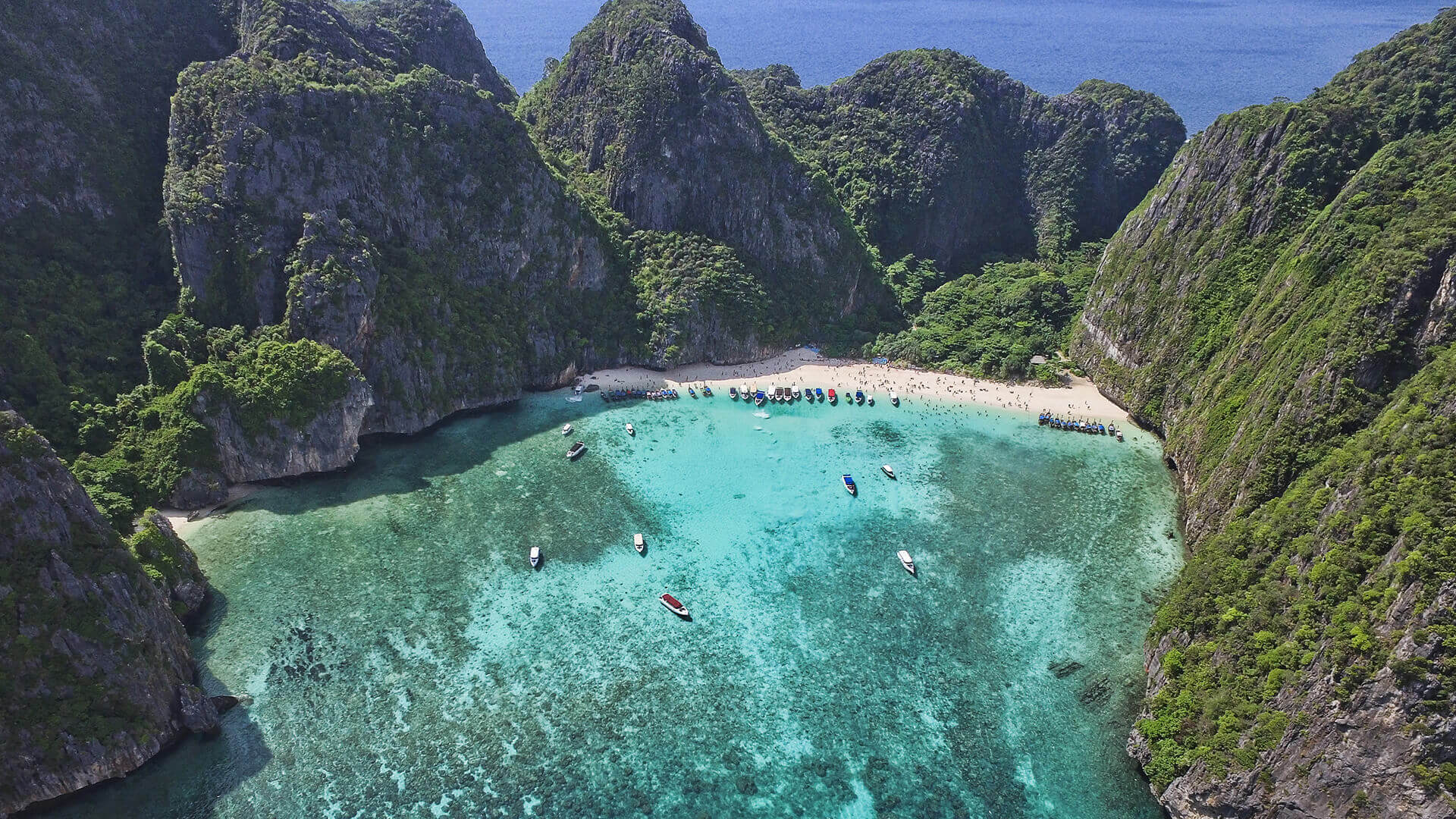 We think any time is the best time to visit Thailand, but each season in Thailand does play out a little differently depending on which region you're in and what activities you plan to do.
TL;DR – Seasons are usually categorised as "high season" and "low season" – for the majority of the country, that looks like this:
High season: November to March
Low season: July to October
April, May and June fall somewhere in the middle as there's still less rain, but the temperatures are the highest.
If you skip through the article, make sure you are aware of the burning/smokey season so you don't get caught out.
High season
High season has less chance of rain and generally cooler temperatures. It is only slightly cooler as Thailand is hot all year round, but the few degrees less really helps if you're not good with heat. The high season also falls over popular holidays such as Christmas and New Year, which combined with increased numbers of tourists results in higher costs, especially accomodation.
Low season
Low season sees more rain, humidity and higher temperatures, but with fewer tourists and lower prices. As you may discover, low season doesn't mean it's going to be raining all the time (tropical storms are cool by the way). Often the rain can pass in minutes or hours and the weather is amazing.
Sometimes people split high and low in to three seasons instead; Hot, Cool and Rainy:
Hot season: March/April to August
Cool season: November to February/March
Rainy season: May to October
The hot and cool aspect of the seasons are more noticeable depending on how far north or south you are. Thailand is over 1600km/1000mi long so if you're visiting Chiang Mai in the North during January you may even need a light jacket. This wouldn't be the case in Phuket in the South where it's either hot, or very hot.
The "burning/smokey season"
Before we go any further, we have to talk about the burning/smokey season. Every year after the high/cool season starts to wind down, farmers begin burning their crops, both inside of Thailand and in neighbouring countries. The result is a blanket of smog that primarily affects northern Thailand, Issan (north east) and sometimes central Thailand, adding to the already questionable pollution in Bangkok.
Some years are worse than others, but it's bad enough that you don't want a week of your holiday in Chiang Mai during this time.
You can see both current and historical air quality on websites such as aqicn.org.
Temperature & rainfall
| Average | Jan | Feb | Mar | Apr | May | Jun | Jul | Aug | Sep | Oct | Nov | Dec |
| --- | --- | --- | --- | --- | --- | --- | --- | --- | --- | --- | --- | --- |
| Temp (°C) | 24 | 26 | 28 | 30 | 29 | 28 | 28 | 27 | 27 | 27 | 26 | 24 |
| Min Temp (°C) | 18 | 20 | 22 | 24 | 24 | 24 | 24 | 24 | 23 | 23 | 21 | 19 |
| Max Temp (°C) | 30 | 32 | 34 | 35 | 33 | 31 | 32 | 31 | 31 | 31 | 30 | 30 |
| Rainfall (mm) | 28 | 23 | 40 | 85 | 183 | 177 | 196 | 219 | 252 | 190 | 125 | 57 |
So when should you visit?
Exactly when to book your trip depends on your travel plans, you may consider:
Do you plan to go Scuba Diving?
Scuba Divers coming to Thailand have two options, diving in the gulf, the Andaman, or both. The gulf will usually have diving all year round, with some down days due to bad weather. The Andaman Sea, which is all diving along the west coast including Koh Lipe, Phuket, Koh Lanta, Koh Phi Phi, etc will be much better during the high season and in some cases will not be available during the low season. The Similan Islands and some marine parks close during the low season.
If Scuba Diving isn't a priority, you can still try to dive during low season when there's been a good streak of weather and the visibility and currents stabilize.
Will you spend the majority of your time on islands and beaches?
If so, you're likely looking for as much dry and sunny weather as possible. The high season is more likely to provide consistent sunny weather. Low season is sometimes sunny for weeks at a time, but it can be unpredictable. A family visiting for 2 weeks, once per year has less flexibility than a backpacker traveling through Thailand for 3 months.
Are you on a budget?
Thailand is relatively cheap all year round, but if you're bringing a family and looking for deals on mid-high end resorts, you could save a lot by booking outside of peak high season. Flights will also be cheaper at different times of year depending where you are flying from and the demand for those flights.
Would you prefer smaller crowds?
You may decide to rule out December, January and February if you're looking for smaller crowds.
Are there any Thai festivals you would like to experience?
If any specific Thai festivals are a must-do, your trip will naturally plan itself around those dates. Consider Songkran Festival, the end of March heading into April can be a great time to visit to avoid the Christmas and New Year crowds. Flights and accommodation may be a little cheaper and there's still relatively little rain.
Writing this post reminds me of a decade ago when I planned my first trip to Thailand! Whenever you decide to visit, there are pros and cons to all seasons and you'll have an amazing time.