Koh Chang
Koh Chang (เกาะช้าง ) might just be our favorite all-around island in Thailand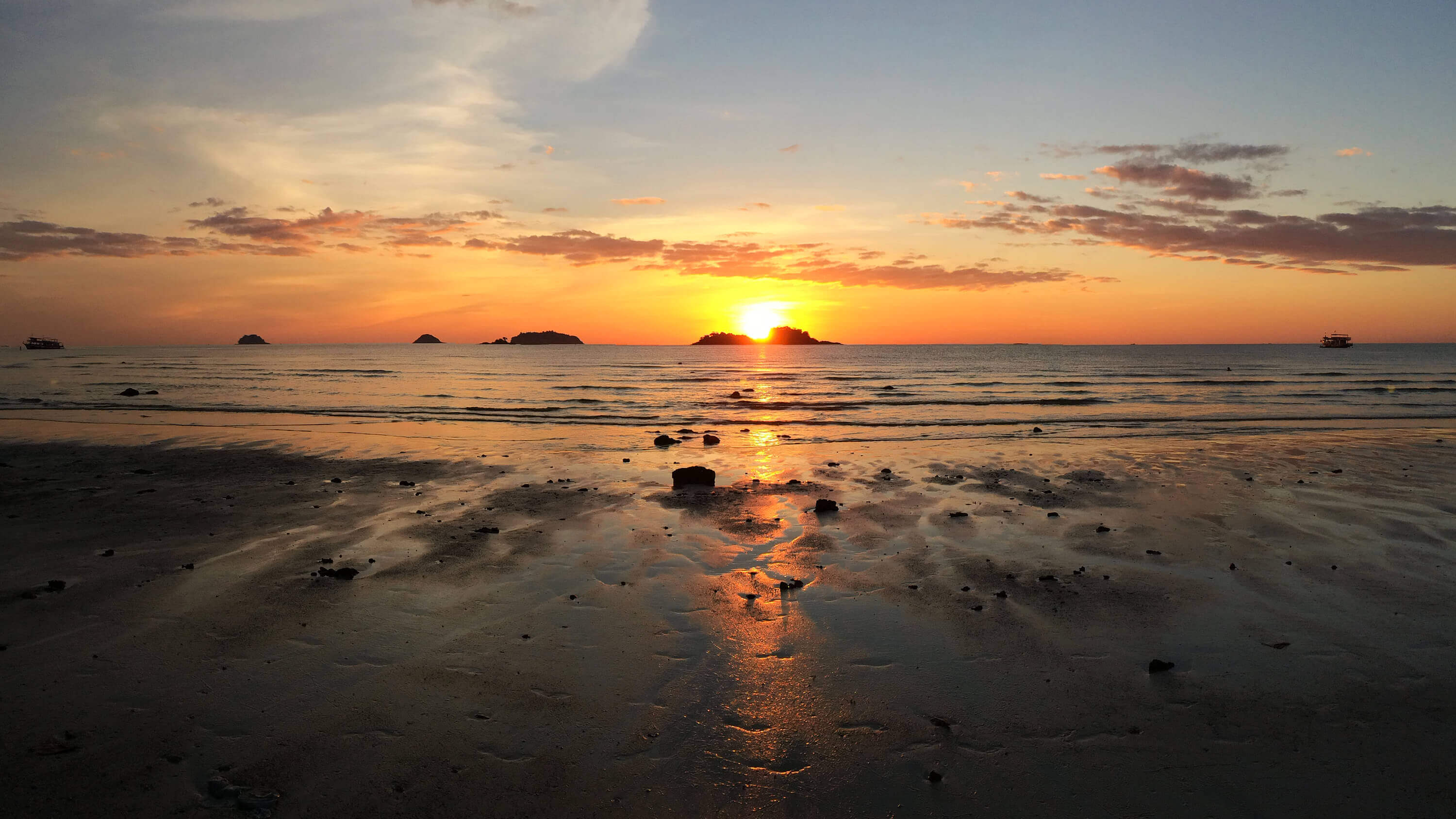 Koh Chang is one of Thailand's largest islands. Located in the East near the Cambodian border, Koh Chang and its neighboring islands are some of our favorite Thailand beach destinations. While it gets plenty of tourists, the island tends to be quieter and less crowded than most of the tourism hotspots in the South. There's something for everybody in Koh Chang. Whether you want a quiet beach, a bumpin' party or anything in between, this huge island has you covered.
---
Getting to Koh Chang
There are a lot of different ways to get to Koh Chang and you can get there from a lot of places. A few options take you straight to your hotel, others get you to a ferry pier, while most public bus options will get you to Trat City where you'll need to get a 30 minute taxi or public bus. For the most hassle-free travel that takes you straight to your hotel, see the Direct to your hotel section below.
Note that if you leave Bangkok much later than 12 or 1 in the afternoon (depending on transport type) you will likely miss the last ferry. You can however go to Trat and stay one night and catch a morning ferry to maximize your island time. See the From Trat section below for more information.
By ferry:
There are two ferries to Koh Chang. They depart from piers on the mainland that are around 10km apart. The Ao Thamachart Ferry takes 25 minutes and is and closer to Bangkok, and the Centrepoint ferry takes 45 minutes and is nearer to Trat. In general Ao Thammachart is the better ferry with more frequent service, but unless you are taking a private transfer or have your own vehicle, it won't be your choice which one you go to. Either ferry costs 80 Baht per person. Each ferry usually runs at least every hour from 6AM to 7PM, although in low season they may skip one if there are few passengers. There is boat service from the other nearby islands to and from Koh Chang so you can come and go this way. It's also possible to arrange a private speedboat pickup on the mainland if you must get to the island after the ferries stop, but it's not cheap.
By bus from Ekkamai:
Most buses to this part of Eastern Thailand leave from Ekkamai Bus Station (ขนส่งเอกมัย). The 999 Government bus company runs two morning buses directly to Laem Ngop Ferry Terminal. This is the most convenient of the cheap public transport options. They leave at 7:45 and 9:00 AM but they fill up fast especially in high season. It's best to get your ticket in advance, or at least get there early. The price for the 999 Government bus is 239 baht and takes approximately 5 hours to reach the pier. You can now book your bus ticket online here, but it's currently only available in Thai.
The Cherdchai Bus Company runs buses every hour or two to Trat. These tend to be old, slow and inconvenient and make long detours into one or two cities along the way. The journey to Trat typically takes six to seven hours where going non-stop in a car is more like four. That said, these buses are safer than most of the minibuses.
There is a shortcut that can save you half an hour if you reach the town of Saen Tung (แสนตุ้ง) before 5 pm. A public songtaew (pickup truck with two rows of benches in the back) runs from here to the ferry pier for 50-60 Baht per person. If you go all the way to Trat, you still have to take a songthaew, but will have gone a bit out of your way. The songthaews here are orange in color and typically wait until there are three or four people before leaving, but should go straight away for a flat fee of 200 Baht.
You need to tell the bus attendant that you want to get out at Saen Tung just after boarding the bus. The easiest way to do that is to show them this text ท่ารถสองแถวสีส้ม ที่แสนตุ้ง (orange songthaew station in Saen Tung). The problem is that some of the staff on the buses collude with local taxi drivers and they try to drop you off a bit before the place with the songtaews. If you get out where they tell you, there will be a taxi driver waiting but you won't get a very good price. The correct place should have one or two orange songthaews waiting, although there may not be one at the moment you arrive. You can double check by making sure they are dropping you off at this Google Maps location. The ticket counter here will try to sell you a ferry ticket. If the price is 80 Baht one way, it's correct and you can safely buy. If it's more, just wait until you reach the pier.
Mini buses also run to Trat from Ekkamai and are much faster than the big buses. The downside is that they are much more dangerous. The drivers of these buses are known for their speed and aggressiveness but not their driving skills. These buses can take you to Trat or to Saen Tung where they should let you out at the orange songthaew station. This saves around 30 minutes, but see the warning in the above paragraph. Minibuses usually cost 300 Baht.
By bus from other Bangkok locations:
Morchit Bus Station has regular buses per day to Trat, though fewer than Ekkamai. This bus station is also larger and harder to get to. It may look close to the BTS and MRT, but it is not. You'll still need a taxi.
The Suvarnabhumi Burapha Bus Company runs buses from BKK airport to Koh Chang. The 600 Baht price includes the ferry ticket and transfer to your hotel on the island. The 900 Baht return ticket is a good value. Check their website for the times, and note that you need to click to a second page to view the timetable for their Lonely Beach Express Bus. There are no buses from Don Mueang Airport (DMK) to Koh Chang.
By airplane:
Bangkok Airways run two to three flights per day to Trat Airport from Suvarnabhummi Airport (BKK). One minibus company has the monopoly on public transport here and charges a flat 500 Baht per person for a seat in a minibus. This includes the ferry ticket and drop off at your hotel on the island. They many not be able to take you to hotels along the quiet East Coast or to places at the far south end of the West Coast. Check with your hotel before to be sure. Hotels can also arrange private pickups for you at the airport.
This flight is never cheap and only saves you an hour or two over a private transfer. If you're traveling solo it doesn't matter much but if you're more than one person you may save quite a bit of money by arranging a private transfer. A private car you pay a flat rate, a plane you pay per person.
Private transfer:
The easiest way to get to Koh Chang is by a private car. This should cost between 3000 and 5000 Baht for a car with up to three people. A minibus for up to nine people will run between 4500 and 6000 Baht. The price will ultimately depend on how many people and the location of your pickup and dropoff points. BKK Airport is outside of Bangkok on the way to the island and should be cheapest. We recommend Aurora Koh Chang Travel for booking private transfers (they are friends of ours, but also provide the most reliable serivce). You will get the best price by negotiating directly with a driver in Bangkok, but less accountability than booking through a trusted company. You can negotiate a private transfer with Bangkok meter taxis, although not all of them will make the trip.
Direct to your hotel:
A couple options mentioned above will take you straight to your hotel (private transfer and the Suvarnabhumi Burapha Bus Company from BKK airport). There is also a company called Seahorse Tour that runs a daily minibus for 900 Baht one way. They can pick you up at your hotel in Bangkok and they drop you at your hotel on the island. This can be a good or a bad thing, depending on if you are the first or last to be picked up and dropped off. Their website has an estimate of the pickup times by location beginning at 7:15 AM in West Bangkok and ending at 9:00 AM along the even numbered Soi side of Sukumvit Road. Their drivers are generally the best and most professional of the minibus drivers on this route (but it's a low bar). The buses are nice, modern and clean, and have the much more comfortable three rows of seats vs. the four rows on public minibus lines.
From Trat:
If you arrive in Trat and are going straight to the ferry pier, just get out at the bus station and the taxi drivers there will approach you. You can go straight away for around 300 Baht, or wait for the songthaew to fill up with 4-6 people and pay 60-70 Baht each.
If you stay the night in Trat City, you can get a songthaew along the main road in front of a pharmacy a bit south of the Night Market. This Google Map point shows the exact location, and you should see one or two blue songthaews parked there. There's a bigger one that goes to Ao Thammachart Pier, and a smaller one that's a bit cheaper and more regular that goes to Centrepoint Pier.
If you are arriving too late to get the ferry and want a room in Trat, the cheapest and simplest option is to book at Pop Guesthouse. It's located just off the main road. If you tell the bus you want to get out at the Trat market (ตลาดตราด) it's a short walk, although they won't always stop there unless enough people ask them to. If not you'll need to take a taxi there from the bus station. Pop is also close to the taxi stand mentioned in the paragraph above. If you turn up without a room at the bus station, the taxi drivers there will bring you to Pop anyways, for a commission.
From places other than Bangkok:
If you are in Pattaya, Ban Phe (near Koh Samet), or the border crossings with Cambodia either in Had Lek or Poipet, there will be minibus service catering mainly to foreign travelers. Often these are cramped vehicles that have to wait for various other feeder buses to bring people in before they leave. They may also make you change from one vehicle to the next one or more times. It can be difficult to know if these are good options or not. Try to find out the name of the company you're booking with and search online. You can also ask at the hotel or tour company you're booking with and hope they give you an honest answer, although they often won't know or care.
---
Getting around
Getting around Koh Chang is cheap and easy, especially compared to some islands in Southern Thailand. Numerous songthaew taxis (pickup trucks with two rows of seats in the back) drive up and down the roads along the West Coast looking for passengers. Others sit and wait at busy locations. They can be booked for private travel, or pick up and drop off others along the way.
By public taxi:
During the day the taxi prices are fixed and most drivers will quote them correctly (though not all). The fixed service goes between one end of White Sand Beach all the way to Khlong Koi beach at the far South of the island. Prices start at 50 baht per person and go up to 150 (and possibly 200 for Khlong Koi).
The set price from White Sand going south to Chai Chet, Khlong Prao and Kai Bae is 50 Baht, Lonely Beach and Bailan 100, and Bang Bao 150.
By public taxi from the pier:
The taxis have a rotating system for picking up at the ferry piers and set prices are posted inside each taxi. They go from 50 Baht for White Sand Beach, 60 to Chai Chet, 70 to Khlong Prao, 80 to Kai Bae, 100 to Lonely Beach and Bailan, 150 to Bang Bao, and 200 to Khlong Koi. Considering the mountain they go over from the pier, this is quite cheap, but they will pack you in tight and put all luggage on the roof.
In low season when the taxi isn't full, the drivers won't leave until they have at least 800 baht in combined fares from all passengers. Your options in this case are for you and your fellow passengers to chip in more together, or wait for more passengers on the next ferry. Because of this we recommend booking all-inclusive travel during low season.
One public taxi per hour runs back to the piers for the same prices mentioned above. It leaves from Bang Bao on the hour, and you just have to wait along the road watching for it. You can identify this taxi by the yellow sign placed in the windshield saying 'go to pier' in English and Thai.
By motorbike:
Koh Chang has a lot of steep and winding roads that are not suitable for inexperienced riders. That doesn't stop a lot of people from trying to drive them though, and many of them pay for it everyday. Most end up with painful road rash, but more than a few get it much worse. Every year people die or are seriously injured in crashes in Koh Chang.
If you are experienced and want to get a bike, there are some really fun roads to ride in Koh Chang. The ups, downs, twists and turns all with stunning views of jungle and sea are brilliant. The roads are generally okay but there are some potholes, oddly marked lane lines, and some sandy/gravely corners. Avoid the black streaks on the road. This is from the smelly water that leaks out of the garbage truck every night and often has invisible oil patches.
There are rental shops all over the island. A bike strong enough to get two average sized adults up the steep mountains will start at 200 Baht per day. Older, weaker bikes can be found for 150. Look around a bit more and you can find some 250cc motorcycles and enduro bikes, and also ATVs (which are still dangerous if you don't know what you're doing). Nearly all shops will require you to leave your passport (which is generally ok, especially if it's your hotel), or leave a substantial cash deposit. Give any bike you rent a good once-over to check the tires, brakes, all lights, chain tension etc.)
If you can ride but are worried about the mountains, the whole stretch of the island from White Sands down to Kai Bae is a pretty good road with no steep hills. There are a few sharp curves but they're easy to see coming. Still you need to be aware of the quirks and dangers specific to Thai driving.
By private taxi:
Any of the songthaews will take you for private tours which is one of the only ways to get to the East side of the island. A trip to Ban Salakphet in the Southeast will run 1000-1500 Baht, but for around 3000 you can rent one for the day. This is recommended as there are a number of waterfalls, fishing villages, mangrove forests, and beaches that can be explored there. If you want to go as far as Long Beach, make sure you negotiate that before as it's quite far. If you want to get to Wai Chaek Beach you'll need to find someone with a proper jeep to take you as a normal car or pickup can't make it.
Tip: Although most maps show the road connecting across the south of the island, it does not. To drive from Salakphet to Bang Bao looks like it should take 10 minutes. In reality you have to drive around the whole island to get there, a journey of an hour or more.
By rental car:
There are no international car rental companies in Koh Chang, but any tour shop can rent you a car starting at 1000-1200 per day for compacts. Most of these will be automatic transmission cars. They typically have pickup trucks and SUVs as well. What they probably won't have is insurance, so be careful. They may claim to have insurance but you should ask to read the policy and maybe even get a copy. While a car won't tip like a scooter will, the steep roads are still dangerous so drive at your own risk.
---
Things to do in Koh Chang
Koh Chang is a huge island with an incredible variety of things to do. Here are our top activities in Koh Chang:
Scuba diving:
Koh Chang doesn't have the best reefs in Thailand, but it makes up for it with one of the country's best wreck dives. The HTMS Chang is a 100 meter tank transport ship that was decommissioned and sunk. The Thai Navy did a great job with this. The wreck sits in 30 meters of water and extends up to the crows nest at 5 meters. You need at least an Advanced certification for this dive, and wreck divers will find nearly unlimited areas to explore inside. Whale sharks are being seen more and more frequently here and at some surrounding dive sites. For more information see our full guide to scuba diving in Koh Chang.
Boat trips:
There are a lot of options for taking boat trips from the island and any budget will find something that works. Nearly all trips will feature snorkeling and a stop at a beach. Some will include fishing as well, and fishing charters can be booked. Check out our activity guide to Koh Chang boat trips for more information.
Kayaking
You can rent kayaks at nearly any beach on Koh Chang but it can be boring kayaking in open water. Our favorite places to go are:
Koh Man Nai (เกาะมันใน), the closest island to Koh Chang's West Coast. Kayak ten minutes from the south end of Kai Bae beach and land on the nice beach that's straight in front of you. In high season there's a small papaya salad and grilled chicken shack here. The back of this island is all rocks and cliffs. Snorkeling is decent here if the visibility is good but there's not a good place to tie up or beach a kayak. When waves are strong it may be dangerous going around the back.
Salak Kok Village (บ้านสลักคอก) in the Southeast is set in a large mangrove forest that is beautiful to kayak through. You can also get rowed through in a traditional boat. The community here is very interesting and handles local tourism very well.
For a longer paddle, head to the deserted Wai Chaek Beach from either Khlong Koi Beach in the Southwest, or Ban Salakphet in the Southeast. With two people in a sit-on-top tandem kayak, it's around a 45 minute paddle which is pretty tiring. In rainy season or rough wind and wave conditions we don't recommend trying this.
Waterfalls & jungle trekking
Koh Chang has some very nice waterfalls and some seriously legit jungle. Most waterfalls require paying the 200 Baht foreigner's national park fee (40 Baht for Thais). The ticket from any one will work for all the others in the same day, and for the Marine Park as well. Khlong Phlu waterfall between Khlong Prao and Chai Chet is probably the nicest but also the most popular. Most others are around the East Coast. You can trek to Khlong Son Waterfall and Kai Bae waterfall for free, though you may have to pay 20 Baht to cross private land on the way in. We don't advise trekking this alone as there are real dangers in the jungle.
There are lots of opportunities for jungle trekking with good guides, from easy strolls to grueling treks. Most can be booked at any tour shop, but we recommend checking the trip you're booking against reviews in Trip Advisor. For a list of recommended guides, see the linked post on the well-run Koh Chang guide iamkohchang.com.
Beaches:
Koh Chang has a lot of nice beaches, and some not so great ones. Our favorite places are:
Much of White Sand Beach is pretty spoilt, but the far north end is one of our favorite beach spots. From the 7-Eleven at the North end, walk down the concrete walkway over the smelly streambed and turn right up the beach. Walk five minutes past KC Grande Resort and you come to a stretch of small, independent guesthouses that are quite nice. These are some of the cheapest places left in Thailand where you can stay right on the beach. Even just the five minute walk to here keeps most of the tourists staying in the larger resorts away. It looks like the beach ends at Rock Sand Resort, but you can cross through their restaurant (or walk around at low tide) and there's still over 700 meters of beach ahead of you with very few people, even in high season.
Long Beach is very far from just about everything else on the island, but the new road to it makes it easier to get to than it used to be. The sand is very white, and there are usually fewer than a dozen people along the whole stretch of it. In low season you can sometimes find it empty, although it may not be cleaned regularly. It's stunning here.
Khlong Prao Beach is split in two by the Khlong Prao river coming out. Either side of it is quite nice, and it's the quietest beach of the main West Coast beaches. Even in high season it's easy to find a spot far from anyone else. It's not the most beautiful beach on the island but you can still find areas where there is no development behind the beach (but that's changing). Sand flies aren't a huge problem in Koh Chang but this is where they are the worst.
Lonely Beach is what everyone calls the backpacker area where the bars are. This area doesn't actually have a beach, but the strip of white sand a bit north of it is quite nice. A lot of people refer to this beach as Nature Beach after the resort that's right in the middle of it. This beach gets somewhat crowded in high season but it's got a good vibe of young travelers. There's a long stretch in the middle with nothing behind the beach but coconut palms and the jungle rising up behind the distant road. This is the place to be if you're looking to make friends.
Miscellaneous:
There's a lot more to do in Koh Chang, including yoga, spas, fishing charters, sailing, archery, a gun range, ATVs, ziplines and more. One thing you won't find are noisy watersports such as jet skis. Locals in Koh Chang proudly keep their island free of these.
---
Where to stay
White Sand Beach is the busiest part of the island and has a bit of everything. The nightlife is not what it once was and it's become even more family-oriented than it used to be.
Chai Chet has access to the northern end of Khlong Prao Beach. The resorts along the beach are fairly nice, while the along the road can be a bit grimy here.
Khlong Prao has plenty of tourists but also a big temple and school giving it the most local feel of the west coast towns. It is quite central, a 15 minute drive North to White Sands or South to Lonely Beach. The beach is pretty good here and there is some nice accomodation out along the road as well.
Kai Bae is has a pretty nice beach and some great resorts along it and on the road. There is some good nightlife (both normal and naughty) on the road, and a lot of restaurant options. It's a short drive to Lonely Beach but it is over the steep mountain.
Lonely Beach is the backpacker area. It's also the only place on the island with consistently good nightlife any day of the week. The area people actually call Lonely Beach is the party area, and it's a 10 minute walk to the actual beach which people often refer to as Nature Beach.
Bailan is a perfect place for people looking for a quiet area that is not far from the parties of Lonely Beach. It's also quite near to Bang Bao so is good for people who plan on doing lots of diving and boat trips that will leave from the pier.
Bang Bao is the large pier at the southwest of the island. There is no beach and much of the accomodation is built on stilts off of the pier. There are lots of good restaurant options here. It's very quiet here at night.
Khlong Kloi is the last beach along the road going south before it dead ends. It's fairly quiet and a nice beach, but quite far from most other places. It's a great area if you want peace and quiet, and a short drive to the boats at Bang Bao (though public transport may be limited)
The East Coast is perfect if you really want to get away from it all. It's very quiet just about anywhere you go over there. Transport is limited but it's fine if you have your own or don't plan on moving around much.
---
Where to go next
From Koh Chang, a lot of people move to one of the nearby islands, either the tiny Koh Wai, or Koh Mak or Koh Kood. You can book a boat to any of these at any tour shop. The speed boat can take you to Koh Wai (400 Baht), Koh Mak (600 Baht), and Koh Kood (900 Baht). The trip to Koh Make takes 45 minutes, and Koh Kood is around an hour. There is also a slow wooden boat in high season that stops at Koh Wai (300 Baht) and Koh Mak (400 Baht). It takes around 3 hours to Koh Mak so it's probably not worth it to save 200 Baht, but if you go with good friends, take a few beers, and get a good seat it can be a fun time.
Any other way off the island requires getting to one of the ferries. You can book an all inclusive transfer to Bangkok, Pattaya, Ban Phe (Koh Samet), Hat Yai or Poipet Cambodian border crossings, and even on to Siem Reap and Phnom Penh. These should include pickups at your hotel.
If you are traveling independently, getting to the ferry can be a pain. The normal songthaews won't go there unless you book them privately (minimum 1,200 Baht). As mentioned above there is one public taxi per hour that runs back to the piers. It leaves from Bang Bao on the hour, and you just have to wait along the road watching for it. You can identify this taxi by the yellow sign placed in the windshield saying 'go to pier' in English and Thai. Prices are the same as listed above for the ferry taxi, ranging from 150 from Bang Bao, 70 from Khlong Prao, and 50 from White Sand Beach.
When to go
Most of Thailand falls in to the generic high and low season categories, including Koh Chang.
High season - begins in November and runs through to February, bringing cooler temperatures, lush greenery from the previous months of rain, good air quality, and less rain. The downside is larger crowds and sometimes higher prices for tours, flights and accomodation.
Low season - begins in July and runs through to October. During low season the temperatures are higher, the chance of rain and storms are higher. That doesn't mean it's a bad time to visit though, if you can be flexible, there are deals to be found on flights and accomodation.
While it's always hot in Koh Chang, the small change in temperature between high and low season can be just enough that the heat isn't unbearable when out and about.
Need more? Read our post discussing the best time to visit Thailand.
Where to stay
Instead of recommending hotels, we think it will be more useful to share our process so you can pick based on your own critera for location, budget and style.
We always start our search on either Booking.com or Agoda. They have an easy to user interface and have some extra benefits for "Genius" and "VIP" users. You can also sometimes pay with credit card in advance if you're playing the cashback or air miles game.
Process:
Search for specific province, city or town.
Apply rating filters for a minimum rating or either 7, 8 or 9.
Apply other filters: budget, fitness, breakfast, etc.
If you have a specific location in mind, use map view to browse and make a final selection.
If there are too many properties available to choose from, increase the rating filter for less, higher rated selections.
Final notes: Prices are dynamic. Check the same hotel on both Booking.com and Agoda to see which has the best deal at any given time (go through to checkout to make sure all VAT and service charges are factored in). You can go one step further by calling the hotel and checking the price for booking directly. In our experience this saves money 50% of the time but you have less guarantees.
Emergency contacts
Knowing an emergency number could save your own, or somebody elses life. Take a photo or save these numbers on your phone:
Police & emergencies - 191
The most important number to remember. If the operator is unable to speak English, call 1155 (below).
Tourist Police - 1155 or (+66) 2308-0333
This hotline is available 24 hours a day and they will all speak English. This is an important phone number to remember - They will help you out with any concerns or questions you have and can redirect you to the correct number you may need.
Public Ambulance - 1669
Dialing this number will connect you to a public ambulance service, which will dispatch a vehicle to your location. The average response time for urban areas is around 10 minutes, but may take up to 30 minutes in rural areas. English-speaking staff should be available to assist you.
Fire Department - 199
In case of an emergency such as a house fire, or forest fire, call 199 for the Fire Department to be dispatched to your location.
Highway Police - 1193
If you plan on driving in Thailand, then you may end up needing to use this number if you break down in an unsafe place etc.