No, street food hasn't been banned in Bangkok. It's still EVERYWHERE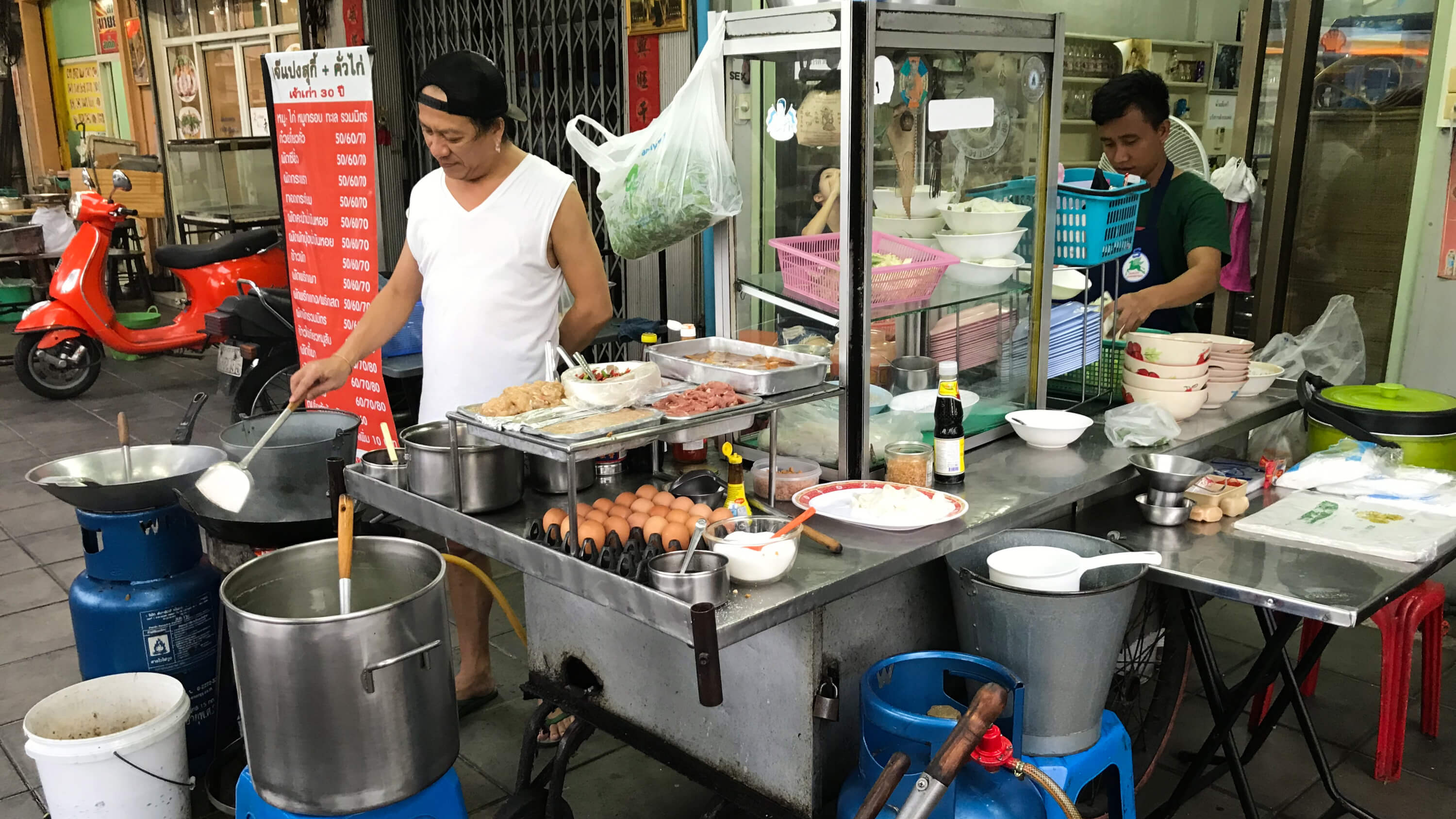 Back in 2017, the Bangkok street food scene was sitting pretty. The city had recently become the most visited in the world, and the local food scene was a big part of that draw. CNN then crowned Bangkok as "the world's street food capital", and while locals sure didn't need CNN to tell them that, the affirmation made world headlines. Those stories were still being re-spun by other publications when just days later the shocking news came: Bangkok City Hall was banning street food and all the vendors and their carts would soon be swept off the pavement.
Bangkokians and foodies did not take the news well. There was an immediate backlash and even more headlines were made than by the earlier news, this time with a distinctly negative point of view. The Guardian called it "a shocking idea". The New York Times put out a list of the best street food to try before it's all banned. The Bangkok Metropolitan Administration (BMA) quickly walked backed the idea insisting they only intended to ensure that sidewalks were passable and that food was hygienic. The actual truth is complicated: Street food vendors in Bangkok are genuinely concerned about the future. The BMA does have some legitimate gripes with the largely self-regulating industry. And certain small areas of Bangkok really have seen street food pushed out. But the reality is that street food is still absolutely everywhere in Bangkok, and it's as cheap, delicious, and accessible as it's ever been.
An assault on the senses
Bangkok really does have an extraordinarily delicious food scene. It's hard to put into words the all-out barrage on the senses that Thai street food creates. Before you even get to taste it, you've already experienced it with your other four senses. The smells hit you first, and they can be as inviting as the smoke from caramelized, grilled pork skewers, or as awful as pla ra fermented fish paste. Getting closer you can hear the sizzle as shockingly fresh ingredients hit hot oil, and metal spatulas scrape across woks. Closer still, the heat wave from a flaming pan hits you like a wave, and frying chilis burn your eyes and cause fits of sneezing all around you. It's intense, and it's not for everyone, but for people who truly love to eat well, it's something they can't live without.
Has Bangkok street food really been banned?
For people who don't live in Thailand and just see an occasional headline, it would be pretty easy to think that street food really has been banned. It's a question that gets asked pretty commonly. The answer is definitely "no". Street food is still absolutely everywhere in the city. In most places, you're within at most a few hundred meters of a few street food stalls. In plenty of places, there are dozens of options inside three minute's walk. So, no, street food hasn't been banned, and it's crazy easy to find.
Tip: Street food can be intimidating when you're new to Thailand and can't even figure out what type of food a vendor is serving. Check out our guide to Thai food and identifying Thai restaurant types just by looking at them, and you'll be well on your way to being a street food pro.
Why is street food so important in Thailand, and why would anyone want to ban it?
Like most debates in Thailand, the street food issue is a bit complicated. Street food is a pretty integral part of Thailand and in a lot of ways it's what fuels the country and its economy. Thailand is not a third-world country, but it is a place where the daily minimum wage is around $9 USD, and a lot of people make less than that. Being able to get a convenient, healthy, filling, and delicious meal at a cheap price is essential to tens of millions of Thais.
It's also an industry that provides jobs and income for a lot of Thais. The low startup costs make it fairly accessible to almost anyone, and that is also part of the reason that so much of it is so good. Plenty of talented cooks in a lot of countries simply can't afford to start their own restaurant. That's not really a problem in Thailand, and it makes for an excellent and vibrant food scene.
Street food does create some problems, and it's not hard to understand the BMA position, at least to an extent. In some areas, sidewalks become nearly impassible due to all the vendor's carts. Sometimes they also block access to the businesses behind them, and they can create unfair competition to brick and mortar restaurants that have to worry about paying rent. Many vendors don't have easy access to soap and running water as well, which is really something you'd like the person preparing your food to have. And a lot of vendors improperly dispose of food waste, often throwing food scraps into street gutters, and pouring used cooking oil directly into storm drains.
The future of street food in Bangkok
It seems pretty clear that the BMA is hoping to create something similar to the hawker centres in Singapore, which swept away its own street food vendors in the days before social media and foodie culture could create pushback. To some, this is the ideal solution, to others, it would create an overly sanitized version of Bangkok. As the middle class grows, more and more people will want a change like this. Some vendors would probably welcome the change as well, if fixed but low rent costs could replace the unpredictability of impending bans and monthly bribes to police.
Here's to hoping they find a compromise that let's Bangkok stay vibrant and exciting, while also preserving people's livelihoods, and access to inexpensive and delicious food. In typical Thai fashion, they'll probably find their way there eventually, but with plenty of "bans", walkbacks, social media outrages, and compromises along the way. For now, you don't need to worry if you're looking for a great meal on the streets of Bangkok; the city's street food is definitely still there.