Roads, rails and waterways: getting around Bangkok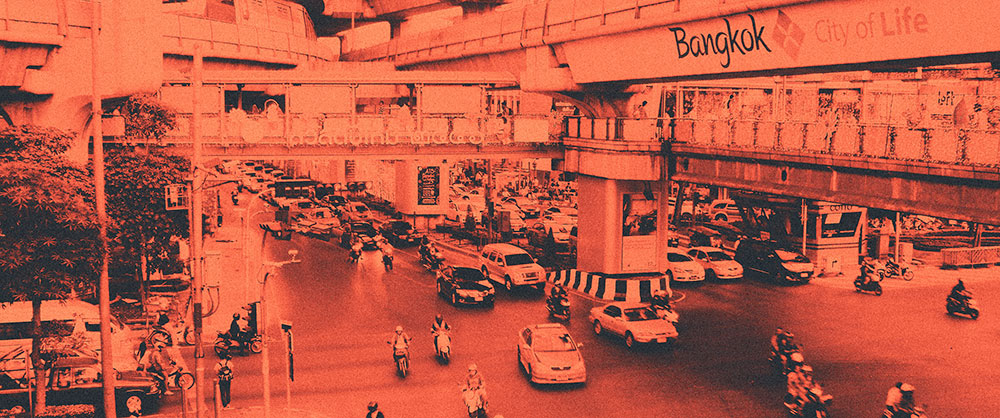 Navigating Bangkok's congested streets can be a challenge for even lifelong residents. For those who've only just arrived it can seem impossible.
Navigating Bangkok's congested streets can be a challenge for even lifelong residents. For those who've only just arrived it can seem impossible. The fastest way from A to B in Bangkok is never a straight line, and reaching your destination in one piece requires creative thinking, patience, and a sense of adventure.
Having a smart phone in your pocket connected to Bangkok's 3 or 4G can be a life saver. Google maps hasn't quite figured out the crazy system of addresses in the city, but they've got most of the roads mapped out well, and most hotels, big restaurants and office buildings are searchable by name. Keeping a photo of a Train map handy in your phone is also a good idea.
Bangkok isn't exactly known as a pedestrian-friendly city, but many areas can be walked if you can brave the heat, humidity, and often, rainstorms. But the city sprawls out over a massive area and at some point you're sure to have a longer way to go. Bangkokians know the secret to beating the hellish traffic and that's to avoid it entirely when possible, and that means the fastest transport of all: Trains.
Trains (รถไฟฟ้า – rot fai fah)
Bangkok is served by three different train systems: An underground subway called the MRT, The Airport Link, an elevated train that runs from Suvarnabhumi airport into the city, and the BTS, another elevated train known as the Skytrain that has two separate lines. The payment method is different on each of the three systems, and fares are based on the number of stops you travel on all three.
All of the lines are modern, clean and air conditioned to a bone-chilling temperature. Trains are the fastest way to get around the city if you're traveling along their route. Fares range from 15-52 Baht ($0.50-$1.60). Express trains to the airport cost a bit more.
Boats (เรือ – reua)
Bangkok was once known as the Venice of the East for the elaborate network of canals running through the city. Today, some of these are below the roads and pavements, but many remain uncovered and a few still have boats actively plying their waters. The most useful route is the Khlong Saen Saep (คลองแสนแสบ) which bisects the city running east-west.
The Chao Phraya River also has passenger boats that run at regular intervals during the day and can get you across town much faster than any road. There are piers not far from Khao San Road, Chinatown, BTS and MRT stations and Asiatique, the well-known outdoor mall.
Taxis (แท็กซี่ – taek see)
It's easy to find a taxi anywhere, anytime in Bangkok, but getting them to agree to your destination and to use the meter is another matter. Some drivers just want to rip off tourists, although the meter rates are quite low and not worth it to drivers if they know they'll be stuck in traffic. They sometimes have to bribe police to wait in certain areas which also increases what they have to charge.
Taxis are still a good way to get around town. They are air conditioned and cheap, and provide a relaxing ride after a day of shopping or walking around. They are available when the three letter red LED light in the windshield is on. When one stops, open the door and agree to a destination before you get in. Whenever possible, have the name and address of your destination written in Thai, and for smaller hotels, keep the phone number handy.
Tuk-tuks (ตุ๊กตุ๊ก – dtook dtook)
The tuk-tuk is one of the iconic symbols of Bangkok, and they can be a great way to get around town. If you can break free of traffic, you can get a good breeze going inside, and it's hard to get closer to the action on the street than from inside a tuk-tuk.
Unfortunately, too many drivers try to run scams on tourists by promising free or cheap rides, then dragging you to tailors, restaurants and gem shops which pay the driver a commission and often involve their own scams. Other drivers just try grossly overcharging. In general, tuk-tuks should be the same, or slightly more expensive than taxis. They are usually cheaper a couple blocks away from tourist hot spots.
Motorbike taxis (มอไซต์รับจ้าง – maw sai rahp jahng)
If you need to get a short distance down a traffic clogged road in a hurry, then a motorbike taxi is your best bet. They're not for the faint of heart though; they weave in and out of traffic like madmen, and fly down the road whenever traffic opens up in front of them. They will usually try to charge higher prices for foreigners, so bargain, but they also don't make much money so don't get too crazy with it.
What locals mainly use motorbike taxis for are trips down the small sois (roads and alleys) that come off of the city's bigger roads. Short trips along these roads usually cost 10-15 baht, but for longer journeys it will be more. Note that the drivers wear helmets but usually don't have a spare one for their passengers.
Buses (รถเมล์ – rot mae)
The cheapest way to get around Bangkok is on the city's buses. Most of these are run by the Bangkok Mass Transit Association, but private operators also run their own lines. The routes are difficult for even locals to figure out, and a nightmare for tourists. Directions on Google Maps can steer you in the right direction but in general be prepared to get lost and confused if you're taking the bus in Bankgok.
Bus fares begin at 8 baht and can get up to a bit over 20, depending on distance and whether or not it's an air conditioned bus (most are not). Riding the bus in Bangkok can be an interesting experience as a one-off, but unless you are on a really tight budget, buses are more trouble than they're worth.