Kalasin
Kalasin (กาฬสินธุ์) is a rural and mainly agricultural province in Northeastern Thailand. It is split in two by a large reservoir that is important for flood control and irrigation. A mountain range along the edge of the province holds one national park, and the province is known for the numerous dinosaur fossils discovered there.
Introduction
Kalasin is all about dinosaurs. Most tourism is based on the discovery of dinosaur footprints and fossils as well as some unique temples and a large reservoir.
---
Recommended for
Dinosaur enthusiasts
Anyone who enjoys towns rarely visited by other tourists
Issan adventurers / anyone road tripping around Issan
---
Getting there
The only direct way to get to Kalasin is by bus or your own transportation. For flight and train options, you would need to connect through a neighboring province, which is also easy, but you may not save any time and it will be more expensive than a bus if you are coming from Bangkok.
By bus – A bus is the most convenient option to get to Kalasin if you want a direct route. All neighboring provinces and larger cities will offer services directly to Kalasin or a bus that passes through that will let you hop off. We recommend taking a tour bus over a minivan for safety and comfort.
By plane – The most convenient flight would be to Khon Kaen, followed by a 75km bus journey to Kalasin. Grab a taxi from the airport to Bus Terminal 3 and find the booth for a Kalasin ticket.
The other option is to fly to Roi Et, where you can also connect to Kalasin by bus.
By train – Similar to flying, the closest train passes by Khon Kaen. You will need to transfer by bus to Kalasin.
---
Where to stay
The best place to stay is in the town center. There are a few different options to suit your budget. We stayed at TK residence which was perfect for us. It was clean, comfortable, they were friendly and it cost just 550 baht for a double or twin room. This also included a tasty breakfast.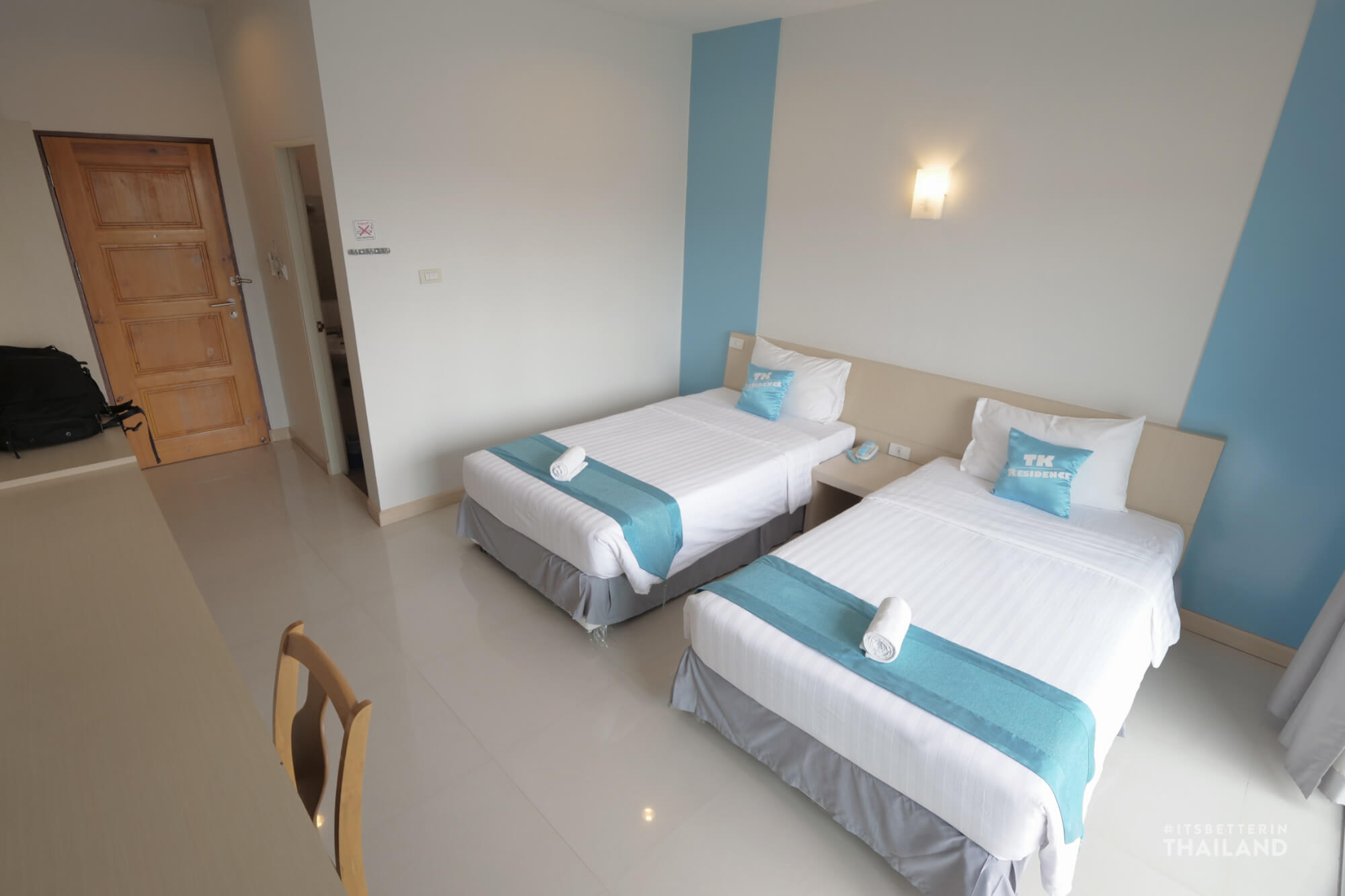 We find our accommodation on Booking.com by first searching for the town or province and our dates, we then filter out any rooms with a score lower than 7 or 8 (depending on availability) as well as any rooms out of our budget. After this, we open the map and hover over all of the pins in the rough location we already decided we want to stay in. Hovering over the pins gives us the price for x nights plus the review score. We click on each pin to open those hotels in a new tab, review them and book our favorite.
---
Getting around
Motorbike – The easiest place to rent a motorbike is from your hotel. If they don't have motorbikes they usually have a contact that does.
Rental car – If you are flying in to a neighboring province, it would be easiest to rent a car on arrival. We prefer to book this in advance and find the best price with Rentalcars.com.
Tuk Tuk and rickshaws – Tuk-tuks are all around town. They can be flagged down whilst driving or approached on the side of the road. If you are unsure how much the price should be just ask your hotel receptionist for a rough price. The driver's English is usually limited – arm yourself with Google Maps and a Thai translation of where you're going.
---
Nightlife
Not the capital of nightlife in the country but there's fun to be had on the weekend. For Monday to Friday fun, head to night markets or try Tawan Daeng at midnight.
Karaoke – All of your Karaoke needs can be satisfied in this area – take your pick.
Western – Scott's Bar is the place to go if you are looking for something catering specifically for westerners (with a pool table).
Market & Bars – The Ricemill Market – Your typical Thai market with bars thrown in the mix. Order food, a couple of big bottles of Leo and a bucket of ice. This is your best option during the week when other places are quiet.
Thai style – Of course Kalasin has a Tawan Daeng (ตะวันแดง) If you're not already familiar with Tawan Daeng, it's a popular Thai nightclub throughout the country where you'll find the familiar setup of closely set tables with just enough room to dance. The idea is to turn up around midnight, grab yourself a table, order some beer or whisky with a bucket of ice and get a little wild until closing time.
---
Fitness & gym
We were impressed with Shark Gym and Cafe (กาฬสินธุ์). The gym is modern, air-conditioned and cost only 40 baht for the day. They sell very good protein shakes for 50 baht.
The cafe looked great but was closed on our visit.
---
Getting out
When you have finished Kalasin you should be an expert on Dinosaurs. You're right in the middle of Issan with six other neighboring provinces. There's no airport or train station so head to the bus station and get a ticket to any of the following:
Khon Kaen – Head west into Khon Kaen to explore one of the four big cities of Issan or catch a flight to your next destination.
Maha Sarakham – Travel south-west to Maha Sarakham for some authentic Isaan culture.
Roi Et – Head south into Roi Et to check out the agriculture and charming capital city. Roi Et also has an airport.
Mukdahan – In the east is Mukdahan. A charming town sitting on the Mekong river with the option to travel in to Laos.
Nakon Sakhon – Go somewhere mostly unseen. Sakon Nakhon is a good stop on the way to Nakhon Phanom.
Udon Thani – In the north-west is Udon Thani, one of the big four Issan cities and a transport hub connecting Issan to the rest of the country. From here you can head to Nong Khai and Laos, connect to Bangkok by train or air or even fly to Phuket in the South.
---
Photo gallery
When to go
Most of Thailand falls in to the generic high and low season categories, including Kalasin.
High season - begins in November and runs through to February, bringing cooler temperatures, lush greenery from the previous months of rain, good air quality, and less rain. The downside is larger crowds and sometimes higher prices for tours, flights and accomodation.
Low season - begins in July and runs through to October. During low season the temperatures are higher, the chance of rain and storms are higher. That doesn't mean it's a bad time to visit though, if you can be flexible, there are deals to be found on flights and accomodation.
Destinations like Kalasin in both northern and north eastern regions can be significantly cooler during the high/cool season than central and southern provinces like Bangkok or Phuket. It's a welcome and noticable change in season which may require a wardrobe change, especially at night.
As Kalasin is in the northern/north eastern region, it's important you consider the smokey/burning season which affects the north, north east and sometimes central/eastern provinces. You can find more information for current and historical air quality on aqicn.org.
Need more? Read our post discussing the best time to visit Thailand.
Where to stay
Instead of recommending hotels, we think it will be more useful to share our process so you can pick based on your own critera for location, budget and style.
We always start our search on either Booking.com or Agoda. They have an easy to user interface and have some extra benefits for "Genius" and "VIP" users. You can also sometimes pay with credit card in advance if you're playing the cashback or air miles game.
Process:
Search for specific province, city or town.
Apply rating filters for a minimum rating or either 7, 8 or 9.
Apply other filters: budget, fitness, breakfast, etc.
If you have a specific location in mind, use map view to browse and make a final selection.
If there are too many properties available to choose from, increase the rating filter for less, higher rated selections.
Final notes: Prices are dynamic. Check the same hotel on both Booking.com and Agoda to see which has the best deal at any given time (go through to checkout to make sure all VAT and service charges are factored in). You can go one step further by calling the hotel and checking the price for booking directly. In our experience this saves money 50% of the time but you have less guarantees.
Emergency contacts
Knowing an emergency number could save your own, or somebody elses life. Take a photo or save these numbers on your phone:
Police & emergencies - 191
The most important number to remember. If the operator is unable to speak English, call 1155 (below).
Tourist Police - 1155 or (+66) 2308-0333
This hotline is available 24 hours a day and they will all speak English. This is an important phone number to remember - They will help you out with any concerns or questions you have and can redirect you to the correct number you may need.
Public Ambulance - 1669
Dialing this number will connect you to a public ambulance service, which will dispatch a vehicle to your location. The average response time for urban areas is around 10 minutes, but may take up to 30 minutes in rural areas. English-speaking staff should be available to assist you.
Fire Department - 199
In case of an emergency such as a house fire, or forest fire, call 199 for the Fire Department to be dispatched to your location.
Highway Police - 1193
If you plan on driving in Thailand, then you may end up needing to use this number if you break down in an unsafe place etc.
---