Sirindhorn Dinosaur Museum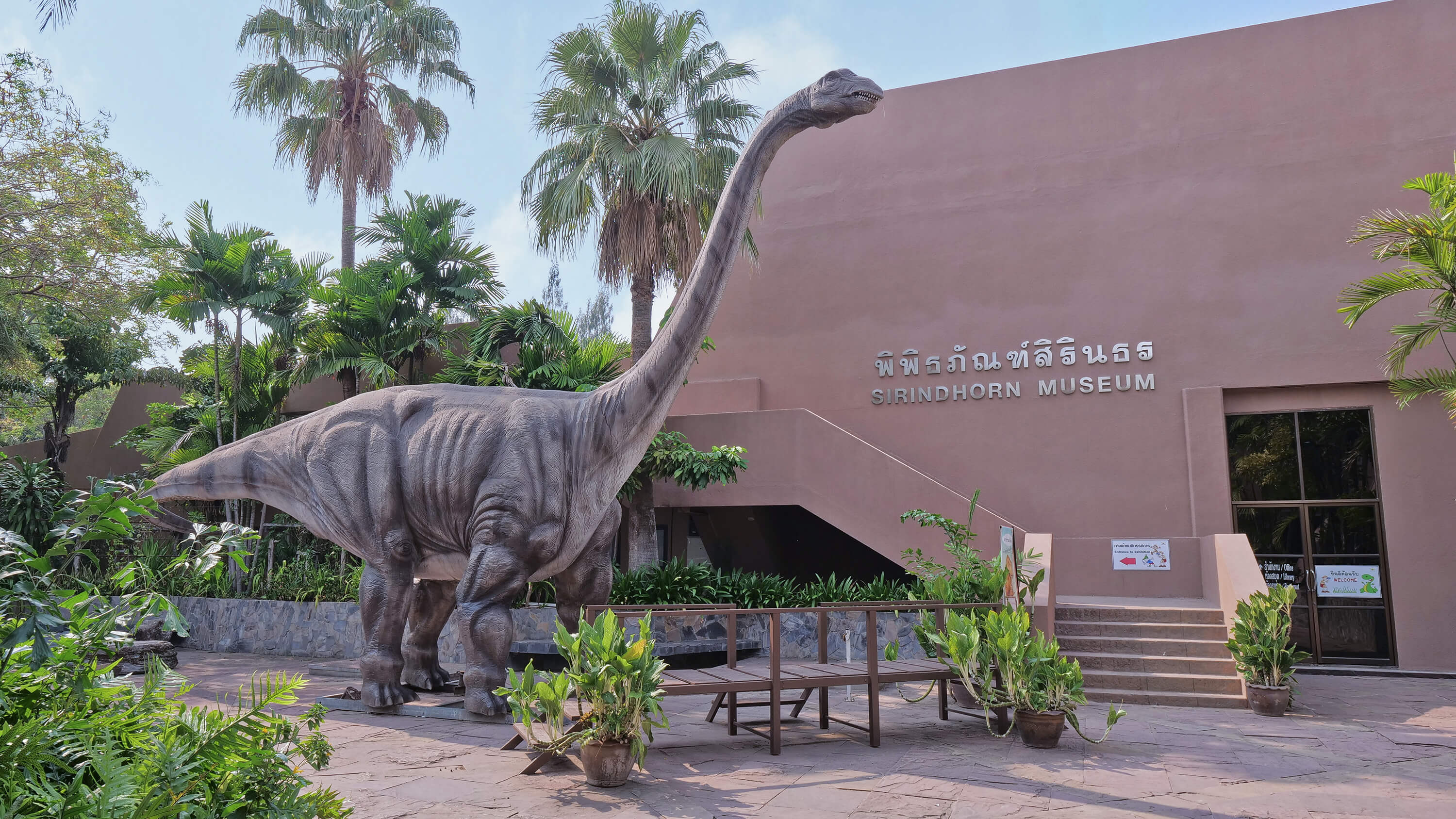 Not to be missed if you're visiting Kalasin. The models are very detailed and there's enough information to keep you busy for several hours. Everything is well explained in both Thai and English.
Kalasin Province and it's neighboring regions are famous for the dinosaur fossils that have been discovered in the last few decades. As you drive around the province, you will see model dinosaurs on the side of the road and in parks.
A lot of fossils are now held at Sirindhorn Dinosaur Museum (พิพิธภัณฑ์สิรินธร), the first of it's kind in Thailand. Head here to see these up close, learn more about dinosaurs and their presence in Thailand, and capture some great photos. If you are in the province, this is definitely worth a visit and you can tie it in with a dinosaur tour of Kalasin.
Opening times are from 9am to 5pm every day except for Mondays when it's closed.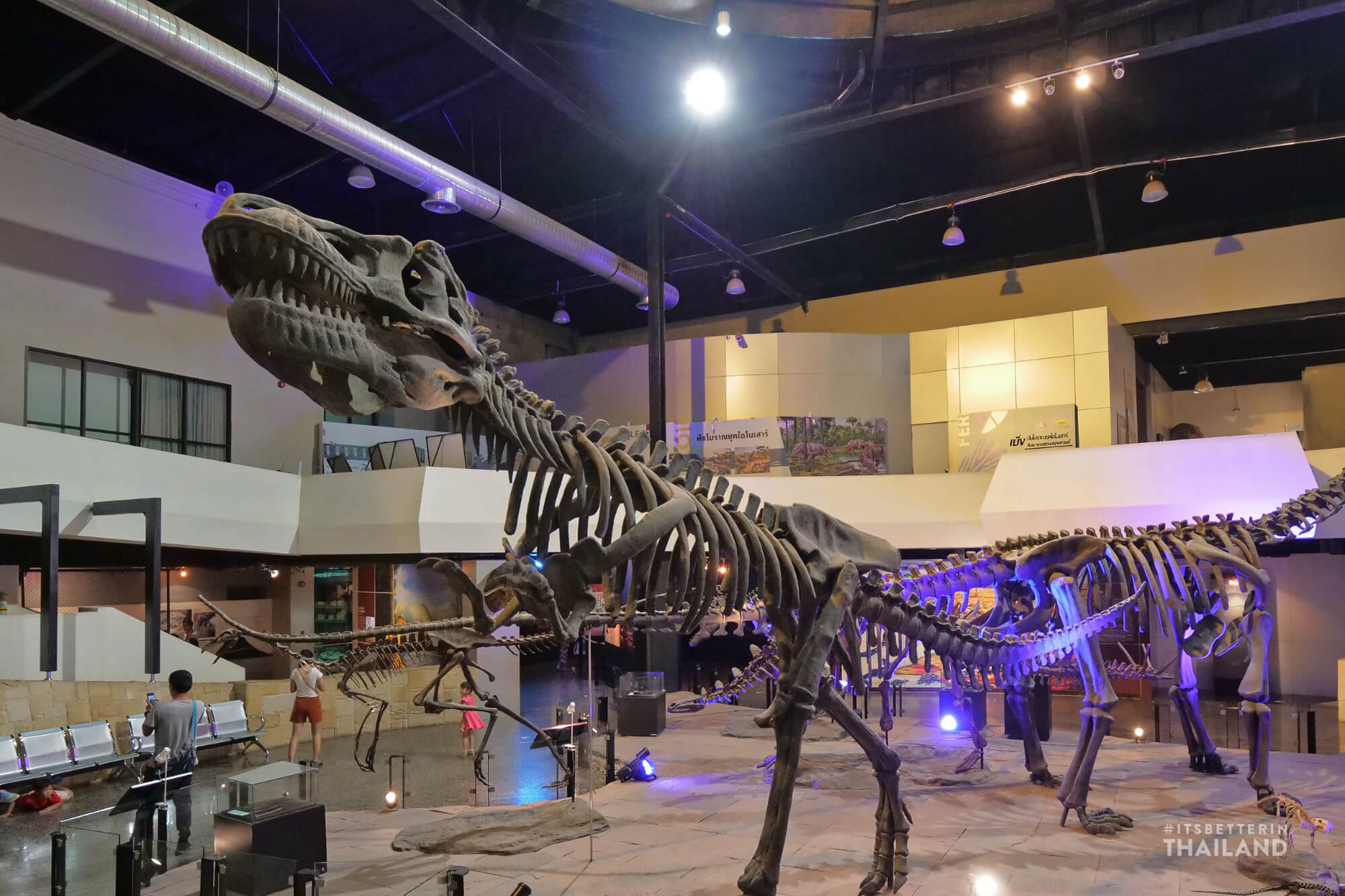 Admission fee
We were disappointed with the dual-pricing at the museum. Before you head in, there is a sign stating the price is 40 baht for an adult and 10 baht for a child. However, when we got into the reception area, we spotted the notice telling us it will cost 100 baht for a foreigner. After speaking with them in Thai, we managed to negotiate the price down to 50 baht per person and we were given a children's ticket.
Foreigner
Adult – 100 baht.
Child – 50 baht.
Thai
Adult – 40 baht.
Child – 10 baht.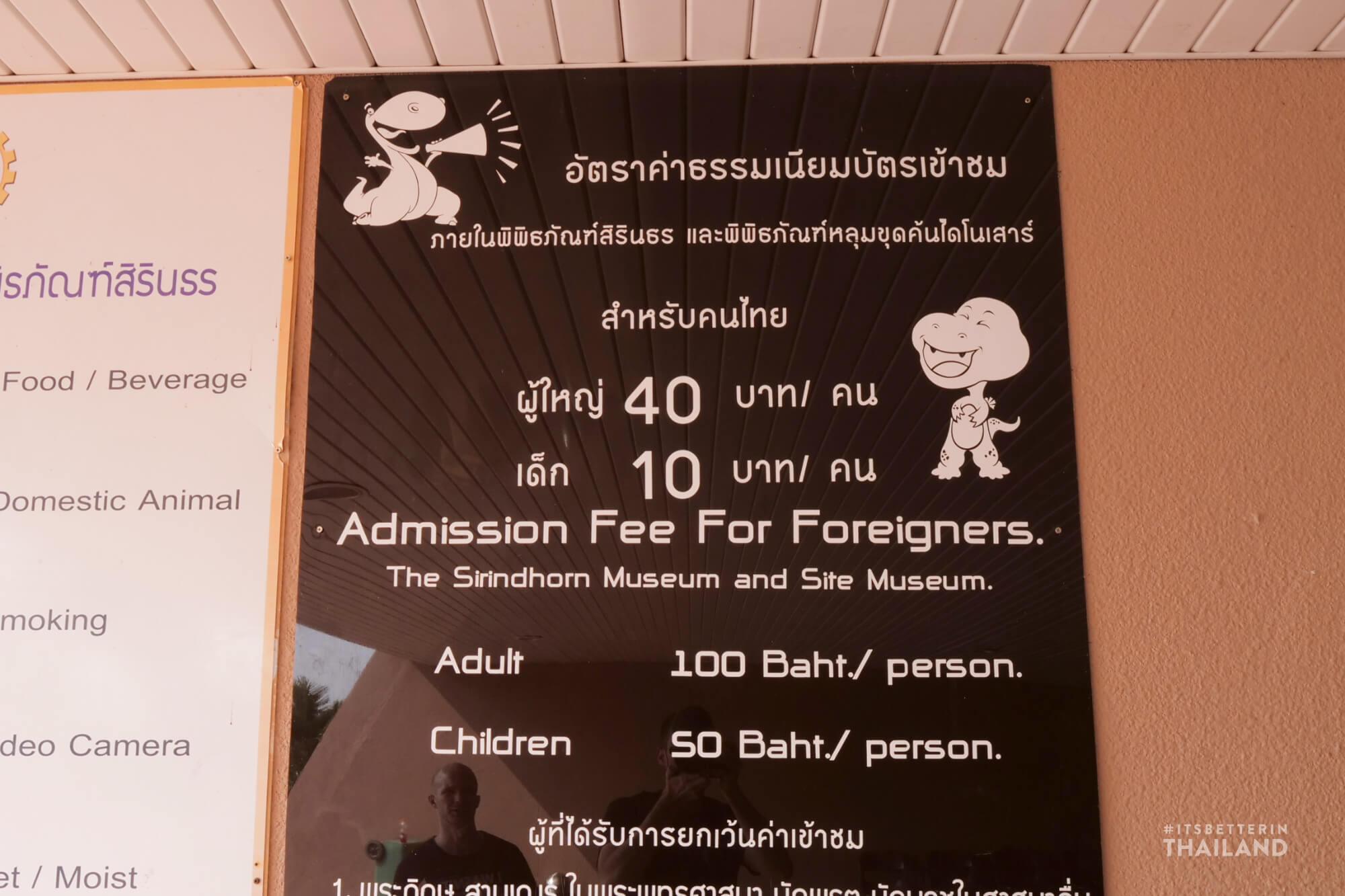 The discovery of dinosaurs in Thailand
The first dinosaur fossil was discovered in the 1970s, in Phu Wiang district, Khon Kaen. Since then, more and more remains have been unearthed. In 1994, dinosaur fossils were found at Wat Sakkawan by Phra Kru Vijitsahassakun. This lead to the creation of a research facility, known as Phu Kum Khao Fossil research center in 1995.
In 1998, this research center was opened to the public and got renamed Sirindhorn Dinosaur Museum, named after Princess Maha Chakri Sirindhorn who opened the museum. It still acts as a research facility, but tourists and locals can now come and see the fascinating work that has been completed here.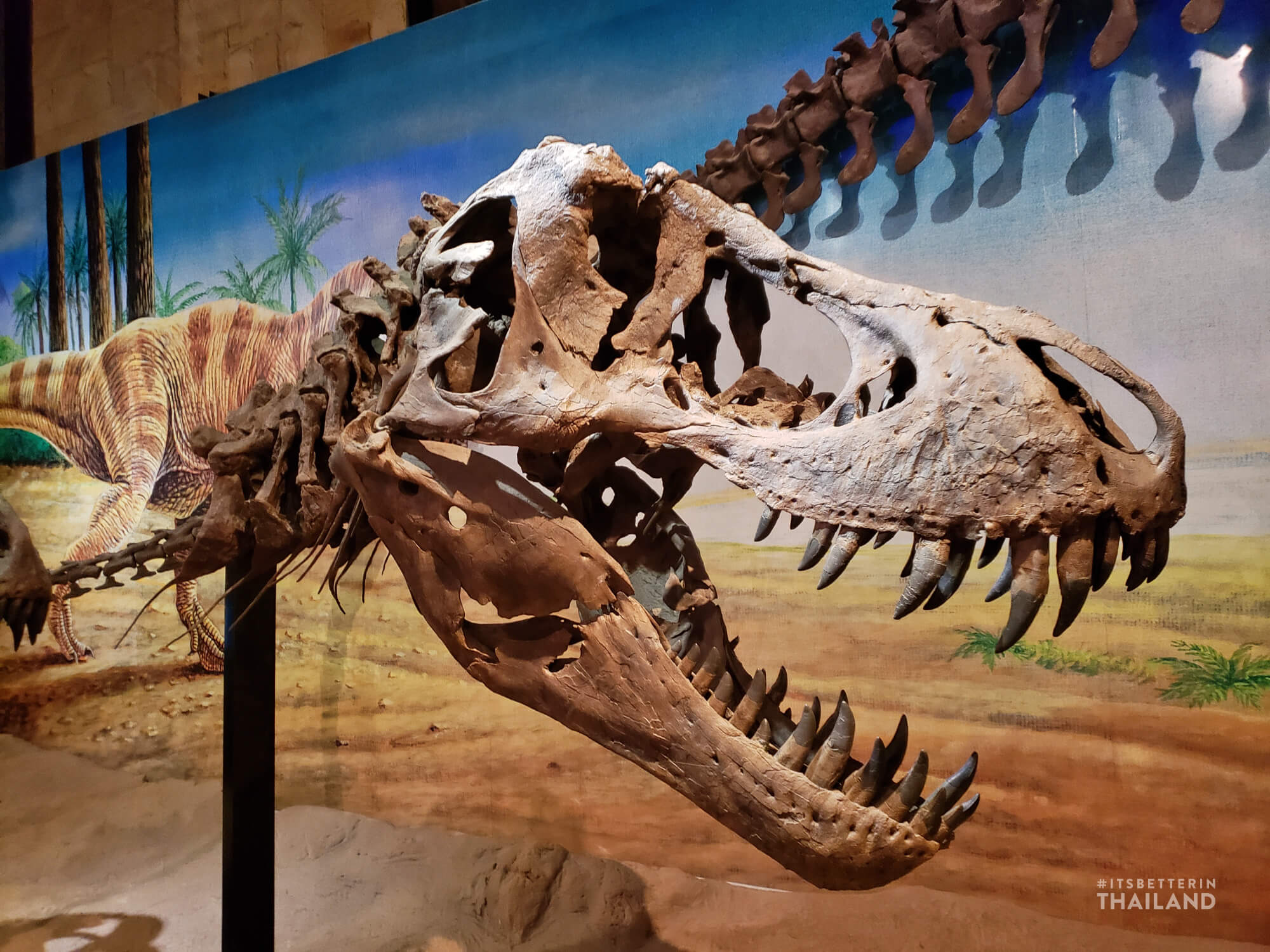 What can you see at the dinosaur museum?
The museum is split into eight different zones:
How the universe began – Learn all about the big bang and how the universe and planets were created.
The beginning of life on Earth – View a time scale to see how life began and evolved throughout time.
The Palaezoic era – Life originated as water creatures within this era and evolved into land reptiles.
The Mesozoic era – This is the era in which dinosaurs first evolved. At this time, there was just one supercontinent, known as Pangaea. As this land started to break apart into different continents, the dinosaurs began to appear.
The dinosaurs of Thailand – This section demonstrated the dinosaurs that were native to Thailand, including the discovery of the oldest Sauropod, around 209 million years old. It shows how they survived and what their diets were.
Researching the dinosaurs – Here, you can see the largest dinosaur fossil collection in South-East Asia, as well as a laboratory that is used for research into the fossils and bones.
The Cenozoic era – Find out how mammals evolved, from their origin 65 million years ago into modern day mammals.
The human race – This last section displays the evolution of humans and signifies the creations from our ancestors.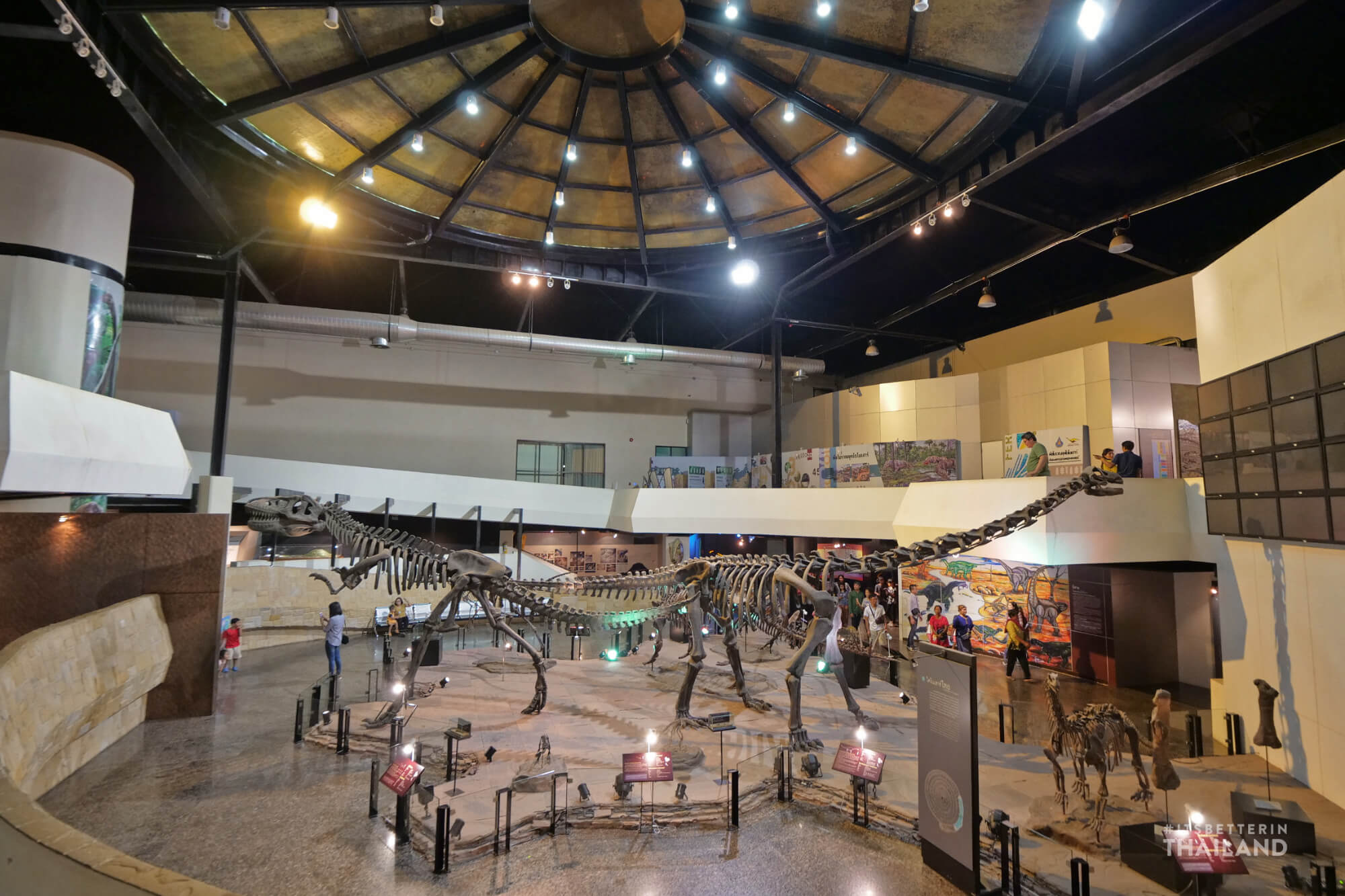 How to get to the museum
Sirindhorn Dinosaur Museum is located around 34km north of Kalasin town center. Follow route 227 towards Lam Pao Dam. Instead of turning left towards the dam, continue up another 12km until you see the museum on your right. Here is the GPS location.
While you are in this area, check out two nearby temples, Wat Phutthawat Phu Sing and Wat Phuttha Nimit. We would also recommend heading back to Lam Pao Dam, where you can go chill on a beach! Check out our post on Dok Ket Beach.
Photo gallery