Sakon Nakhon
Sakon Nakhon (สกลนคร) is a Northeastern Province on the Korat Plateau not far from the Mekong River Valley. It is a mainly agricultural province where most of the tourist attractions are temples and local culture. There is a nice lake near the provincial capital that's worth a visit for a picnic.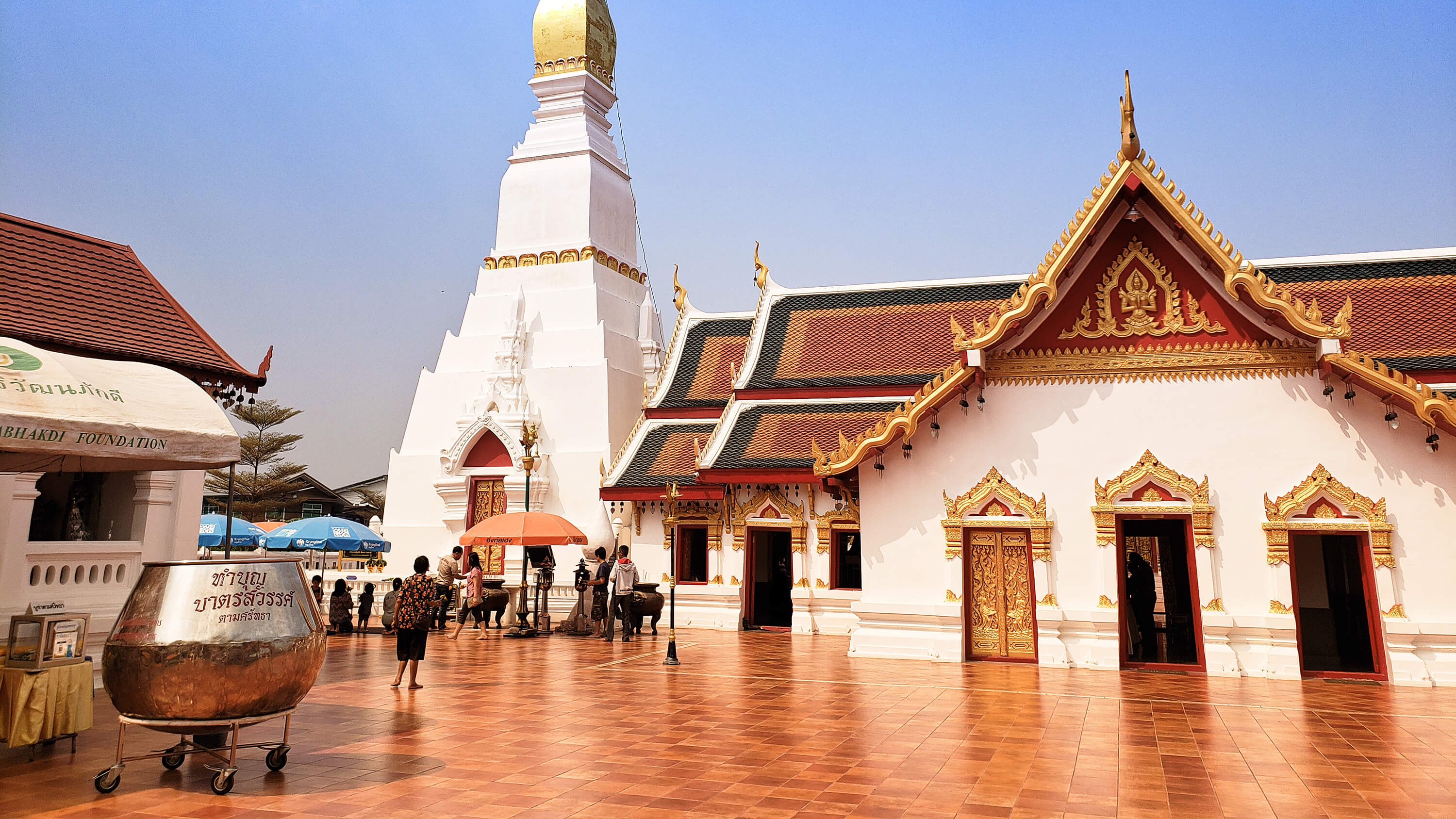 Introduction
Sakon Nakhon is a nice stopover for a few days to see a province which has very little tourism. You may or may not see another foreigner during your stay. Sakon Nakon is conveniently located if you're heading to or from Mukdahan or Nakhon Phanom.
---
Recommended for
Anyone on an Issan road trip, it's worth stopping for at least 1 night / 2 days.
Anyone looking to visit a city with very little tourism.
---
Getting there
From Bangkok the most convenient way to get to Sakon Nakhon is by plane. If you're already in the Issan region or looking for a little more adventure, a big bus would be our next choice. Mini vans will also head to Sakon Nakhon but we avoid them when possible due to safety concerns and they're a little less spacious.
By bus – Getting to Sakon Nakhon by bus is very easy. You can start your journey from Mo Chit bus station in Bangkok (as usual), but other locations will also have a route that passes through Sakon Nakhon even if Sakon Nakhon is not the final destination.
For example a bus from Udon Thani to Nakhon Phanom and vice versa passes directly through Sakon Nakhon. It's very common for locals to travel that way and they will just tell the driver where they want to stop.
Throughout Issan the provinces are interconnected by large tour buses and minivans. Each province town has one or more bus stations making it very easy to hop around from city to city. Simply turn up when you're ready to go and book a ticket. They're almost never full, except for busy holidays such as Songkran, in which case you may need to go ahead of time to book a ticket.
Sakon Nakhon has two bus terminals. Terminal 1 and Terminal 2. Terminal 1 is close to the centre of town while Terminal 2 is closer to the airport and the main highways. Busses going through Sakon Nakhon will likely stop at Terminal 2 and you can take a taxi for 80-100 baht to the town.
By plane – Both AirAsia and NokAir fly to Sakon Nakhon (SNO) from Don Muang Airport (DMK) in Bangkok. Both are quite similar budget airlines which have extra fees for baggage as well as booking fees. One thing to watch out for is credit card booking fees as some airlines charge you per passenger even if only one payment is being made. We really dislike that. To avoid this, select Counter Payment and pay in cash at 7-Eleven.
Where there's 2 or more budget airlines flying to the same route it's useful to make a flight search on each respective airlines website, enter the same dates and baggage, turn off any extra options for insurance/luggage protection and continue to the payment section. From here you'll be able to compare the total cost including taxes and fees.
A taxi from the airport in to the town should cost approximately 100 baht. Taxis do have meters in Sakon Nakhon but they don't always use them. One bizarre taxi I took, the meter read 150 baht but he insisted it was only 120 baht for the journey – great.
By train – If you'd like to travel by train, the only way would be to head north to Udon Thani and then catch a bus (3-4 hours) to Sakon Nakhon. Not a bad option if you want to explore one of Issan's biggest cities.
---
Where to stay
Somewhere within the city will be most convenient if you don't have a car or motorcycle to use. The nightlife, temples, markets and gyms I found were mostly in the center. Some activities such as the Lotus Pond are a little out of town though.
I stayed at The Room Boutique Hotel – which at the time of writing was very new, with plastic wrapping still on the bicycles they have for use. I mention the hotel because it was in a convenient location, they were friendly and helped me with everything from arranging taxis, motorcycles and even laundry.
We find our accommodation on Booking.com by first searching for the town or province and our dates, we then filter out any rooms with a score lower than 7 or 8 (depending on availability) as well as any rooms out of our budget. After this, we open the map and hover over all of the pins in the rough location we already decided we want to stay in. Hovering over the pins gives us the price for x nights plus the review score. We click on each pin to open those hotels in a new tab, review them and book our favorite.
---
Getting around
Motorbike – The most convenient way to get around is by motorcycle. Your hotel will have a contact for rental companies as you won't find one along the road like other destinations popular with tourists. The price should be 300 baht per day for a fairly new automatic and they may charge 200 baht for pick up and drop off depending on your hotel location. If you don't want to leave your passport with them, there is normally a cash deposit between 1000 and 3000 baht.
Tuk Tuk / Taxi – There's plenty of taxis around the city for you to bargain with. Taxi's in Sakon Nakhon do have meters. If you plan to do a day of exploring, it may work out cheaper to ask the driver for x number of hours and split the cost with friends.
Bicycle – Our hotel had free bicycles for use. The town is quite small so you can definitely cover some ground this way. For most of my stay I used a bicycle to explore most days, heading to markets to find food as well as local gyms.
---
Nightlife
Nightlife in Sakon Nakhon is limited to a few key areas and it's mostly quiet during the week. If you head to The LOFT Living Bar and Golden Pond Coyote you'll have a good time. There's several other bars in each location too.
I didn't go, but it's worth mentioning that if you're a fan of Tawandang, there's one in Sakon Nakhon but further out of town, closer to the airport.
---
Fitness & gym
As with most cities in Issan, there's some great local gyms with daily rates. I went to two different gyms during my visit, both open at 2pm.
Top Fitness – This was the best gym I found. Tons of equipment, monkey bars, soccer court, Muay Thai ring, etc. The price was 80 baht per day.
M.J.Fitness – Part of a hotel, but still well equipped with water for sale. As you enter the car park the gym is at the back on the right hand side. The price was 60 baht per day. If there's no one there, speak to the security guard at the front door.
---
Getting out
You'll want to either head back to Bus Terminal 2 or the airport. The most convenient way to do that is ask your hotel to order a taxi to pick you up. I paid 120 baht to get from my hotel to Terminal 2.
Nakhon Phanom – A great place to visit both before or after Sakon Nakhon is Nakhon Phanom. It comes highly recommended for being a great place to relax along the Mekong with very friendly people. It's just 1.5 hours away by bus and has it's own airport to get back to Bangkok as well as a crossing in to Thakhek (Laos).
Udon Thani – Udon Thani is a common destination for locals from Sakon Nakhon. You'd be able to explore one of Issans larger cities and have more options in terms of which destinations you can visit without first heading back to Bangkok. For example you can fly all the way to Phuket, direct.
---
Photo gallery
When to go
Most of Thailand falls in to the generic high and low season categories, including Sakon Nakhon.
High season - begins in November and runs through to February, bringing cooler temperatures, lush greenery from the previous months of rain, good air quality, and less rain. The downside is larger crowds and sometimes higher prices for tours, flights and accomodation.
Low season - begins in July and runs through to October. During low season the temperatures are higher, the chance of rain and storms are higher. That doesn't mean it's a bad time to visit though, if you can be flexible, there are deals to be found on flights and accomodation.
Destinations like Sakon Nakhon in both northern and north eastern regions can be significantly cooler during the high/cool season than central and southern provinces like Bangkok or Phuket. It's a welcome and noticable change in season which may require a wardrobe change, especially at night.
As Sakon Nakhon is in the northern/north eastern region, it's important you consider the smokey/burning season which affects the north, north east and sometimes central/eastern provinces. You can find more information for current and historical air quality on aqicn.org.
Need more? Read our post discussing the best time to visit Thailand.
Where to stay
Instead of recommending hotels, we think it will be more useful to share our process so you can pick based on your own critera for location, budget and style.
We always start our search on either Booking.com or Agoda. They have an easy to user interface and have some extra benefits for "Genius" and "VIP" users. You can also sometimes pay with credit card in advance if you're playing the cashback or air miles game.
Process:
Search for specific province, city or town.
Apply rating filters for a minimum rating or either 7, 8 or 9.
Apply other filters: budget, fitness, breakfast, etc.
If you have a specific location in mind, use map view to browse and make a final selection.
If there are too many properties available to choose from, increase the rating filter for less, higher rated selections.
Final notes: Prices are dynamic. Check the same hotel on both Booking.com and Agoda to see which has the best deal at any given time (go through to checkout to make sure all VAT and service charges are factored in). You can go one step further by calling the hotel and checking the price for booking directly. In our experience this saves money 50% of the time but you have less guarantees.
Emergency contacts
Knowing an emergency number could save your own, or somebody elses life. Take a photo or save these numbers on your phone:
Police & emergencies - 191
The most important number to remember. If the operator is unable to speak English, call 1155 (below).
Tourist Police - 1155 or (+66) 2308-0333
This hotline is available 24 hours a day and they will all speak English. This is an important phone number to remember - They will help you out with any concerns or questions you have and can redirect you to the correct number you may need.
Public Ambulance - 1669
Dialing this number will connect you to a public ambulance service, which will dispatch a vehicle to your location. The average response time for urban areas is around 10 minutes, but may take up to 30 minutes in rural areas. English-speaking staff should be available to assist you.
Fire Department - 199
In case of an emergency such as a house fire, or forest fire, call 199 for the Fire Department to be dispatched to your location.
Highway Police - 1193
If you plan on driving in Thailand, then you may end up needing to use this number if you break down in an unsafe place etc.
---