Nakhon Phanom
Nakhon Phanom (นครพนม) is a Northeastern Province that sits along the Mekong River opposite Laos. The town is a pleasant surprise of great food, friendly people, coffee shops and local living with a very small number of tourists.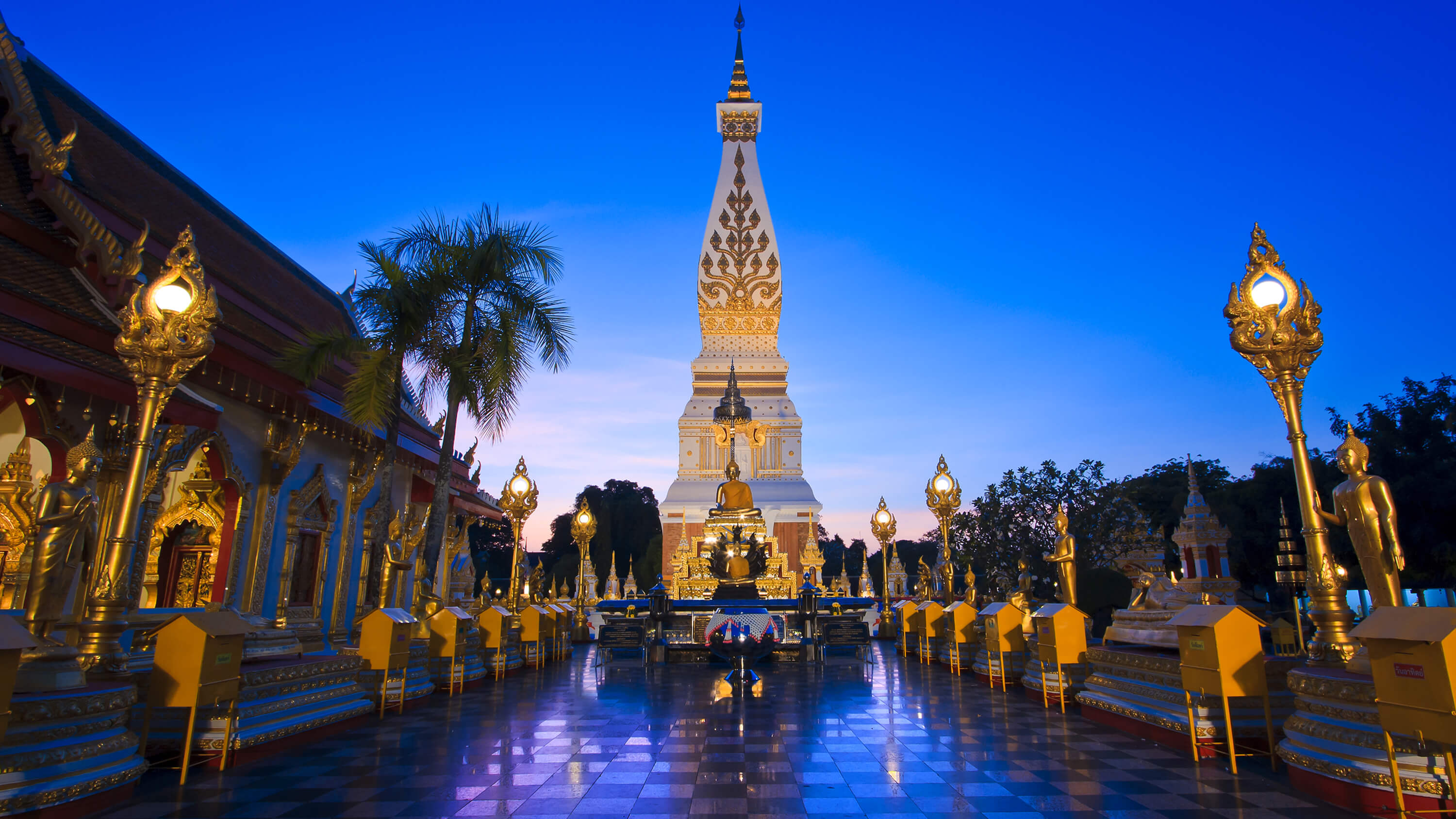 Credit: Khunkay
Introduction
Nakhon Phanom is a quiet, relaxing and friendly town in the Northeast of Thailand, bordering Laos and running along the Mekong river. Scattered coffee shops, reliable internet, cheap hotels, plenty of transport plus super friendly locals make this a great destination for a short trip from Bangkok or part of a longer Issan trip.
The people of Nakhon Phanom are friendly… On a different level to other busier destinations such as Bangkok or Phuket. The locals are very proud of their town and will go to no end to suggest things to do, places to see and local food to eat. You can join the 'Nakhon Phanom Talk of the Town' Facebook Page which is mostly in Thai but there are a few people who will do their best to help you with any questions you have in English.
---
Recommended for
Anyone looking for a non-touristic Thailand experience
Anyone looking for a relaxing town to drink coffee, chill and eat good food
A stop off before or after rock climbing in Thakaek
A border run to Laos to get a new entry stamp
---
Getting there
Nakhon Phanom is a very convenient destination in Thailand. We recommend flying in direct from Don Muang airport with either Nok Air or Air Asia. The airport is just 30 minutes outside of town and a minibus will shuttle you to your hotel for 100 baht.
By bus – Bus prices from Bangkok range from approximately 350 to 800 baht and are quite comfortable. We've heard that the 'VIP' bus is the best and we always recommend taking a big bus over a minivan for comfort and safety.
A night bus is available and may be beneficial for backpackers even if the price is similar to an airplane ticket as it will save costs on a night of accommodation.
By plane – Several airlines fly to Nakhon Phanom. We used Google Flights to find out which carriers fly and a rough cost, then we went to each respective website to get a quote directly. We chose Nok Air over Air Asia because after the booking fees and 20kg baggage it was 200 baht cheaper with free seat selection and a free water. Prices vary depending on the day, time and any holidays. Our one way flight cost 1,500 baht.
After entering the arrival building there's one baggage claim, a toilet and some seats to wait for your baggage. After you pass through the second door, directly in-front of you is a booth to buy a ticket for a minivan in to Nakhon Phanom town (100 baht). If you're staying in this approximate area, the van driver will drop you off at your hotel.
If you are arriving late or there's no van, a taxi should cost 200-300 baht to get in to town, about 12km away.
---
Where to stay
The general area you want to stay in is somewhere in proximity to the Clock Tower (หอนาฬิกา) It will be easier to get there from the airport, easier to get around, find food and get out again. This is the rough area: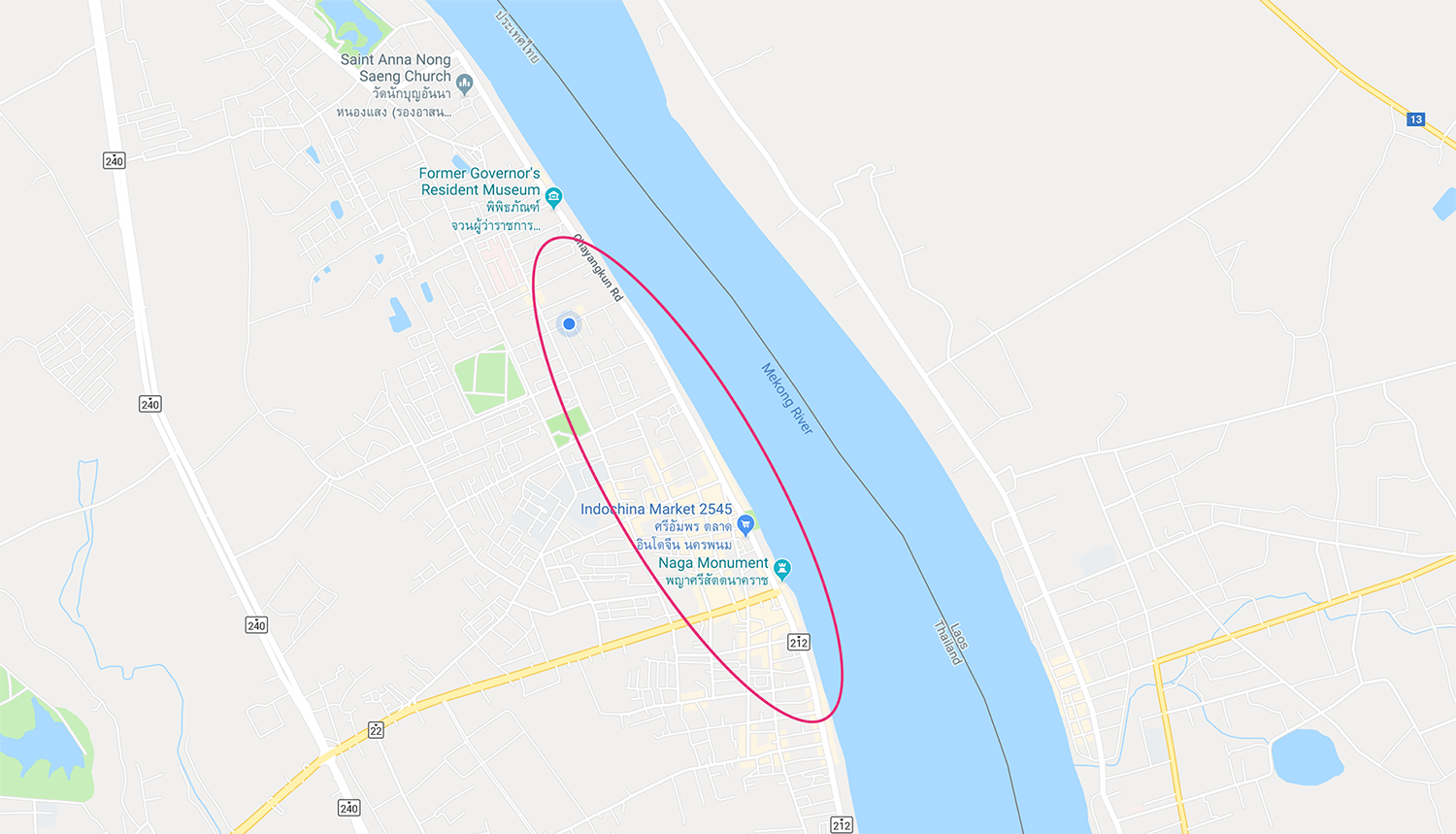 We don't recommend any specific hotels unless we stayed there and it was clean, safe and good value for money. We can recommend NP Residence in Nakhon Phanom. We paid 590 baht per night for a twin room with tea and coffee making facilities downstairs and bicycle rental. We chose this hotel because the rating was above 8/10, it was affordable and we knew the van driver would know where it is.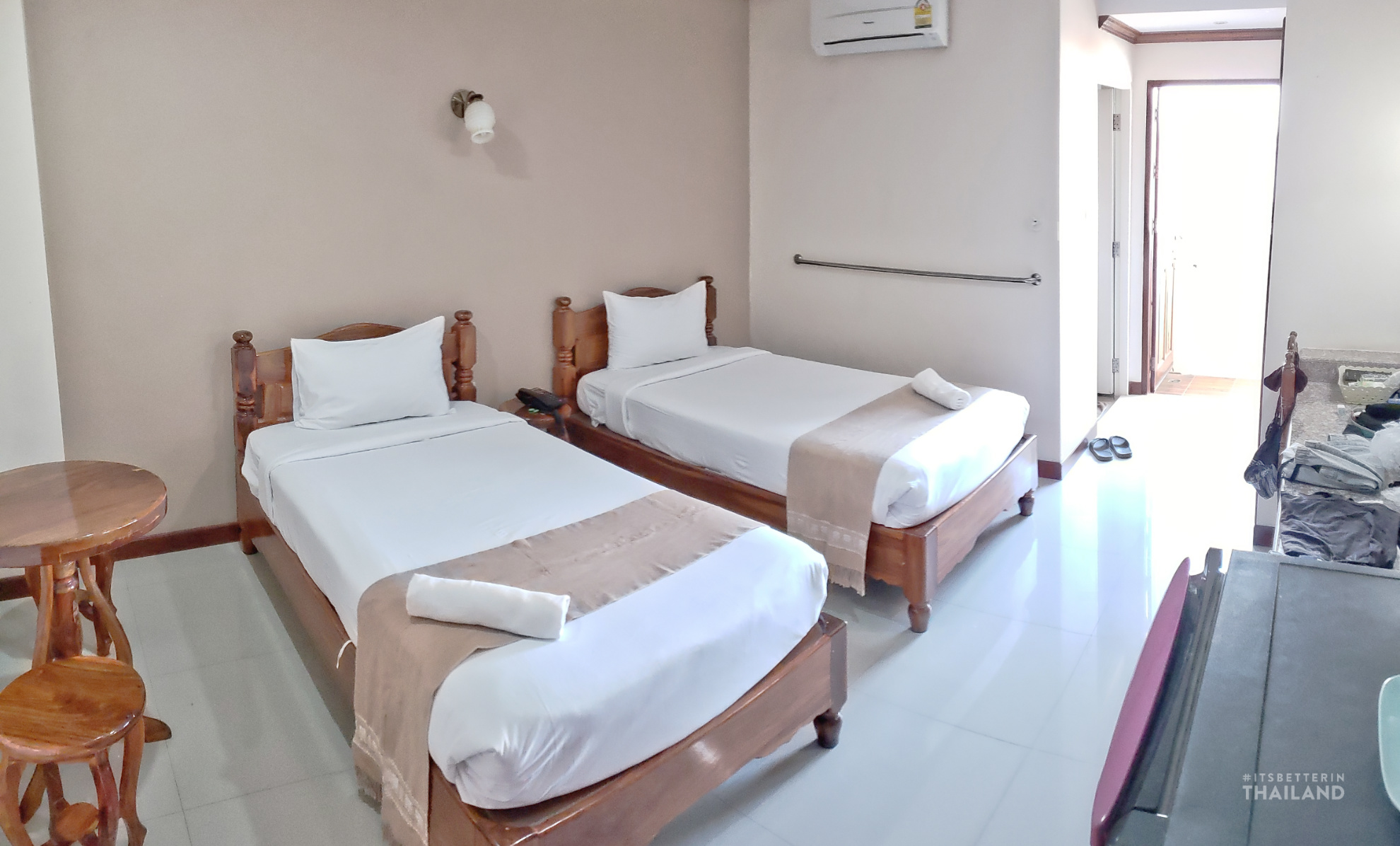 We find our accommodation on Booking.com by first searching for the town or province and our dates, we then filter out any rooms with a score lower than 7 or 8 (depending on availability) as well as any rooms out of our budget. After this, we open the map and hover over all of the pins in the rough location we already decided we want to stay in. Hovering over the pins gives us the price for x nights plus the review score. We click on each pin to open those hotels in a new tab, review them and book our favorite.
---
Getting around
Bicycle – Nakhon Phanom is a very bicycle friendly city with a 75km bicycle track running along the river – if your hotel does not provide a bicycle they will be able to recommend the closest place to rent one. Rental prices start from as low as 50 baht per day.
Motorbike – The easiest place to rent a motorbike is from your hotel. If they don't have motorbikes they usually have a contact that does.
Rental car – As with most airports, rental cars are available on arrival. We prefer to book this in advance and find the best price with Rentalcars.com./
Tuk Tuk / Taxi / Songtaew – A variety of taxi options are available. Your hotel is usually able to call one in advance, though we prefer to flag one down and negotiate a price.
---
Nightlife
Although it's a small town, nightlife in Nakhon Phanom is quite lively and friendly. Some nights it'll keep you going until at least 3am. Bars are dotted around the city, but the popular spots to visit before midnight are all located around the Clock Tower (
หอนาฬิกา) and officially close at midnight. They'll usually turn off the music and start shutting the doors but people will still be drinking and talking amongst themselves.
After midnight your options are reduced to after hour discos and Thai style venues with live music. Although intimidating at first, people are accommodating and friendly.
Hornarika – Busy most nights we were there with locals and live music. This is the best choice for some food and drinks along the river or walking street before midnight. Other bars and restaurants are opposite and close by.
AEC – After hours club. Best on the weekend after other bars have closed at midnight.
---
Fitness & gym
Google Maps shows a small number of gyms around the town but Big Daddy Gym is the one we used and enjoyed. It's a fully equipped gym, open air and reachable by bicycle from the town. At the time of writing the price is 40 baht per day. Protein shakes are 40 baht and they have water for sale.
---
Getting out
After you've soaked up the friendly atmosphere of Nakhon Phanom your options are plentiful. Unless you're driving, you'll need to get to either the Nakhon Phanom airport by taxi (200-250 baht) or to the bus station by tuk tuk (40 – 60 baht from inside the town).
Laos – The bridge in to Laos is in town, this is a perfect opportunity to visit Laos or reset your visa if needed with a short trip to Thakaek.
Bangkok – Take a flight back to DMK Bangkok and connect to any other destination with a budget airline.
Sakon Nakhon – Take a bus west to Sakon Nakhon.
Bueng Kan – Head north by bus to Bueng Kan – Thailand's newest province.
Mukdahan – Head south by bus to Mukdahan.
---
Photo gallery
When to go
Most of Thailand falls in to the generic high and low season categories, including Nakhon Phanom.
High season - begins in November and runs through to February, bringing cooler temperatures, lush greenery from the previous months of rain, good air quality, and less rain. The downside is larger crowds and sometimes higher prices for tours, flights and accomodation.
Low season - begins in July and runs through to October. During low season the temperatures are higher, the chance of rain and storms are higher. That doesn't mean it's a bad time to visit though, if you can be flexible, there are deals to be found on flights and accomodation.
Destinations like Nakhon Phanom in both northern and north eastern regions can be significantly cooler during the high/cool season than central and southern provinces like Bangkok or Phuket. It's a welcome and noticable change in season which may require a wardrobe change, especially at night.
As Nakhon Phanom is in the northern/north eastern region, it's important you consider the smokey/burning season which affects the north, north east and sometimes central/eastern provinces. You can find more information for current and historical air quality on aqicn.org.
Need more? Read our post discussing the best time to visit Thailand.
Where to stay
Instead of recommending hotels, we think it will be more useful to share our process so you can pick based on your own critera for location, budget and style.
We always start our search on either Booking.com or Agoda. They have an easy to user interface and have some extra benefits for "Genius" and "VIP" users. You can also sometimes pay with credit card in advance if you're playing the cashback or air miles game.
Process:
Search for specific province, city or town.
Apply rating filters for a minimum rating or either 7, 8 or 9.
Apply other filters: budget, fitness, breakfast, etc.
If you have a specific location in mind, use map view to browse and make a final selection.
If there are too many properties available to choose from, increase the rating filter for less, higher rated selections.
Final notes: Prices are dynamic. Check the same hotel on both Booking.com and Agoda to see which has the best deal at any given time (go through to checkout to make sure all VAT and service charges are factored in). You can go one step further by calling the hotel and checking the price for booking directly. In our experience this saves money 50% of the time but you have less guarantees.
Emergency contacts
Knowing an emergency number could save your own, or somebody elses life. Take a photo or save these numbers on your phone:
Police & emergencies - 191
The most important number to remember. If the operator is unable to speak English, call 1155 (below).
Tourist Police - 1155 or (+66) 2308-0333
This hotline is available 24 hours a day and they will all speak English. This is an important phone number to remember - They will help you out with any concerns or questions you have and can redirect you to the correct number you may need.
Public Ambulance - 1669
Dialing this number will connect you to a public ambulance service, which will dispatch a vehicle to your location. The average response time for urban areas is around 10 minutes, but may take up to 30 minutes in rural areas. English-speaking staff should be available to assist you.
Fire Department - 199
In case of an emergency such as a house fire, or forest fire, call 199 for the Fire Department to be dispatched to your location.
Highway Police - 1193
If you plan on driving in Thailand, then you may end up needing to use this number if you break down in an unsafe place etc.
---
Videos
Our archive of videos from Nakhon Phanom
---