Amnat Charoen
Amnat Charoen is a mainly agricultural province in Northeastern Thailand. The province is situated along the Mekong River and it borders Laos. Tourism attractions here are mainly around culture, temples, handicrafts, and agricultural tourism, including organic farms.
Introduction
Amnat Charoen may be the most non-touristic destination we've visited in Thailand. During our stay, we didn't see any other foreigners – though I am sure they are there. Amnat Charoen is far from other tourist destinations making it a great place if you want to go somewhere 99.9% of other travelers have not. Activities are mostly cultural, including temples, night markets and eating as much Issan food as you can handle.
Although Amnat Charoen doesn't have anything 'to do' so to speak, it's a nice, quiet town with fancy coffee shops, a couple of gyms and a small but surprising nightlife.
---
Recommended for
Travelers passing through on their way to other destinations – stop off and be the only one in your group of friends who has visited Amnat Charoen
Travelers looking for the 'real Thailand'
---
Getting there
By bus – You can catch a night bus from Mo Chit bus terminal in Bangkok. They leave between 8 and 9pm and take about 8 hours. The price ranges from 450 baht to 700 baht, depending on if you take 1st class or VIP.
By plane – The nearest airport is in Ubon Ratchathani. Ubon is a great destination so this would be a great destination on the way to or the way back from Amnat Charoen.
By train – Similar to the plane option, you could take a train to Ubon Ratchathani and then take a bus to Amnat Charoen.
---
Where to stay
There aren't many hotel options to be found online, so we found the area we stayed in was limited. Having our own transportation was essential.
We find our accommodation on Booking.com by first searching for the town or province and our dates, we then filter out any rooms with a score lower than 7 or 8 (depending on availability) as well as any rooms out of our budget. After this, we open the map and hover over all of the pins in the rough location we already decided we want to stay in. Hovering over the pins gives us the price for x nights plus the review score. We click on each pin to open those hotels in a new tab, review them and book our favorite.
---
Getting around
If your hotel isn't central, you will need to ask the receptionist to call you a taxi. Otherwise flag down any motorbike taxi, tuk-tuk driver or songtaew.
Ideally you would have your car or motorbike to get around. There are no rental shops to be found in town but hotels usually have a connection for around 300 baht per day. Some hotels have free bicycles to use.
Motorbike taxi – Your best option to get around in Amnet Charoen is to take a motorbike taxi. Look for the men in the orange vests.
Tuk-tuk – You will spot tuk-tuks hanging around near the markets. Tell them where you want to go and agree on a price before getting in.
Songtaew – These songtaews circle the town center in different routes. Ask your hotel reception which one to take and then flag one down.
---
Nightlife
We didn't expect to find any nightlife in Amnat Charoen but was quite surprised with the cluster of bars, restaurants, karaoke spots, and of course a Tawan Daeng (ตะวันแดง) here on the corner of 3022.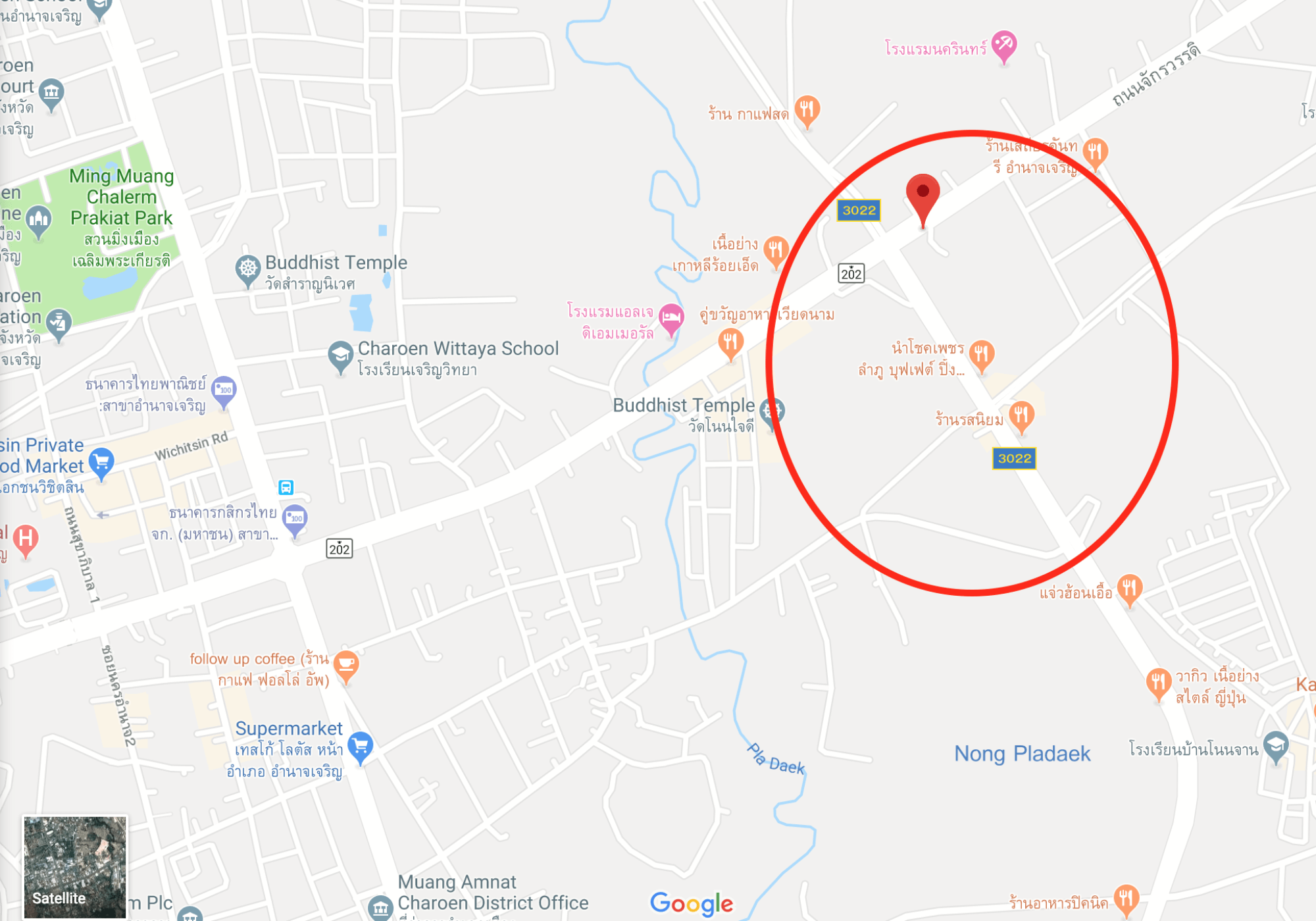 ---
Fitness & gym
There's little choice for a workout in Amnat Charoen. We were going to go to Fit Studio Fitness as it looked good but it was closed when we went in the morning. It is open from 12-9pm. If you have been there, let us know what it is like in the comments.
---
Getting out
If you've not visited Ubon Ratchathani, this is the best destination close by, specifically to visit Sam Pan Bok. There's also an airport, a train station and a route in to Laos.
If you're looking for more provinces void of anything touristic, head to Yasothon. Bonus points if you go during the Rocket Festival in May – not to be missed if you are in the area.
---
Photo gallery