Bun Bang Fai Rocket Festival in Yasothon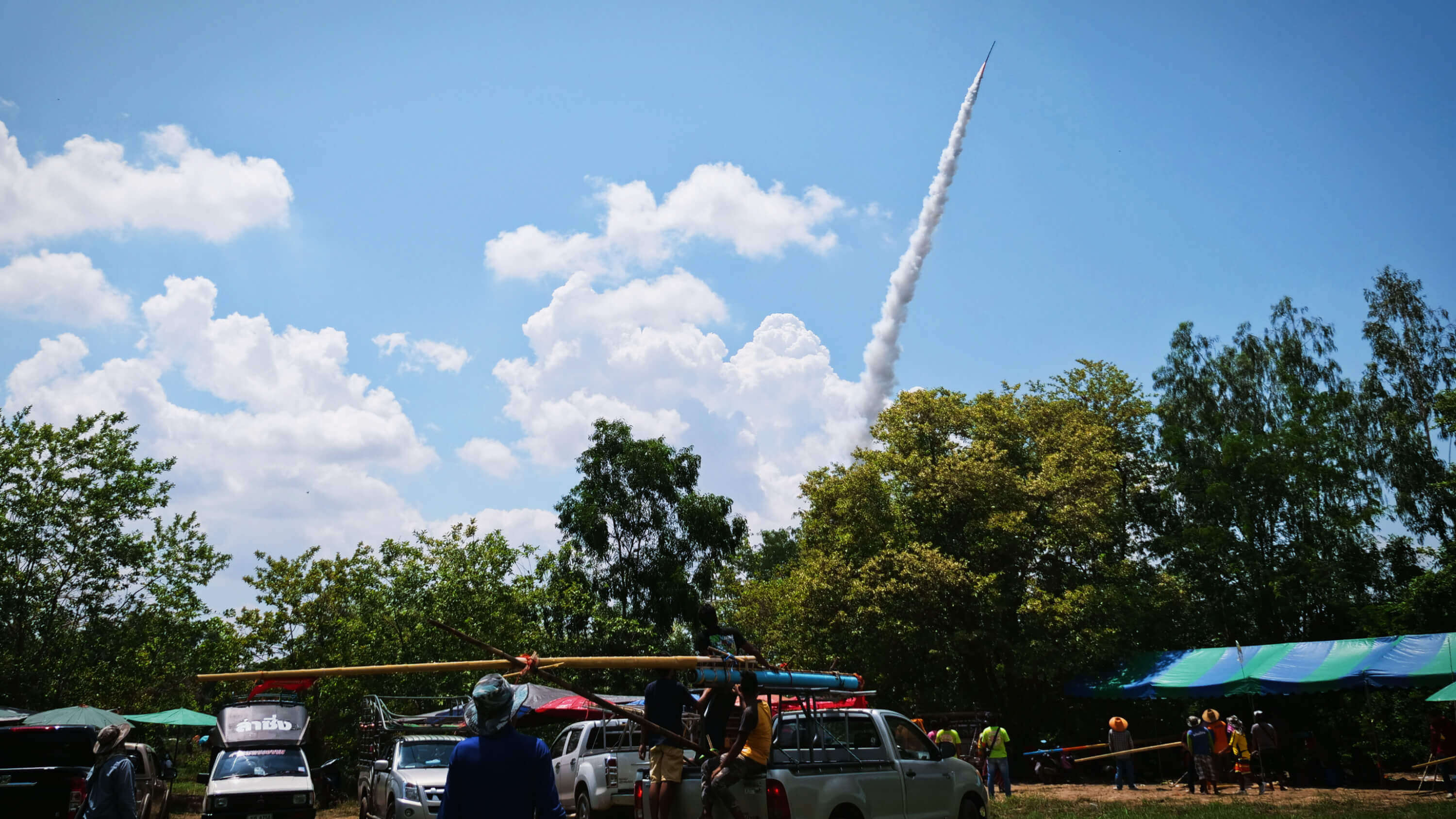 The next upcoming date is Friday, 10th May, 2024 (in 7 months).
Every year on the second weekend of May, people from Southeastern Issan gather in Yasothon Province for one of our absolute favorite festivals in Thailand. Going to Bun Bang Fai Rocket Festival in Yasothon is a once in a lifetime experience. To symbolically seed the clouds and bring on the rainy season, people launch dozens of huge rockets into the sky. One rocket can weigh over 100 kilograms and fly for over five minutes!
In addition to the rockets, there are parties, a parade, food, cultural performances, and competitions. Check out our video below for a taste of the festival, or scroll down to find out when to go, how to get there, and the best places to watch the rockets from.
Where and When is Bun Bang Fai Rocket Festival in Yasothon?
The festival takes place on the Friday, Saturday and Sunday of the second weekend each May. Every part of the festival takes place in the center of Yasothon city, or in a park on the outskirts.
Bun Bang Fai Rocket Festival schedule of activities
Day one of Rocket Festival in Yasothon is a Friday. People gather in the afternoon at Phaya Thaen Public Park (สวนสาธารณะพญาแถน). Near the giant toad museum there is a cultural performance with students from different districts performing traditional music and dance. Near the large Naga (like a dragon) the rockets are lavishly decorated and put on display.
At night, along the main road in the center of town is a huge party. All down the road stages are set up, often just 20 meters from the next one. Each one blasts its own music on full volume. There is everything from traditional Issan music styles, to headache techno, to rock, to folk. At every stage, people dance, sometimes with choreography, sometimes just randomly. It's a pretty unique experience, and a lot of fun to wander through. You can definitely join in the drinking and dancing if you want.

Pro tip: Bring earplugs if you have sensitive ears. It's really loud.
Saturday has a parade in the morning in the center of town. Groups perform elaborately choreographed dances for judges. You can get a good seat for this in the shade if you get there early (around 9 AM or earlier) and get a seat in the bleachers. There is a small fee for this.
The rockets start launching on Sunday around 9 AM and go into the afternoon. The launch site is not far from Phaya Thaen Public Park.
Getting to Yasothon
The easiest way to get to Yasothon is to fly from Bangkok to either Ubon Ratchathani or Roi Et. Either city is about an hour and a half from Yasothon. From there you can take a minibus or private taxi to Yasothon. There aren't too many hotels in Yasothon and it's the most popular event of the year so you should try to book early. The JP Emerald Hotel is closest to the center of town and the festivities there. RP City Hotel is the closest to the park where the rockets are launched.
About the Bun Bang Fai Rocket Festival in Yasothon
If you're shooting photos or videos, it can feel overwhelming and like you need to get the perfect photo straight away. In reality, they launch dozens of rockets over hours and hours. Unless there is rain threatening, you have plenty of time. You can get up pretty close if you're brave. There are signs establishing a danger zone where you can't go. While the teams are in setting up their rockets, you can go in as close as you want to get those nice closeups, just make sure to clear out when everyone else does.
There's not a lot of shade, so you should bring a hat or even an umbrella. If you're facing the rocket launch frames, off to your right are staging areas where the teams pack assemble and put the final touches on their rockets. It is really interesting walking through there and seeing how much effort goes into each one. The atmosphere is very festive. Possibly too festive as people are drinking and smoking right there with the rockets.
Also in this area is a market with lots of food for sale, and a sort of snake oil salesman who puts on a show with cobras, kraits and other deadly snakes. The rockets fly so far that you can see them going up from just about anywhere, and there are unique photos to be had from a lot of vantage points. If there is little wind, standing out on the main road you can watch over a small lake and get some amazing shots of the rockets reflected in the water.
If any rocket fails to launch, that team is taken and thrown into a mud pit that has been prepared for their humiliation. We didn't get to see this, but it's easy to find the area where it happens.
Rocket Festival… Do it!
Bun Bang Fai Rocket Festival in Yasothon is one of the coolest and most unique cultural events in Thailand and we recommend it very strongly. It's also a great party.