Exploring Sam Pan Bok, Ubon Ratchathani's 'Grand Canyon'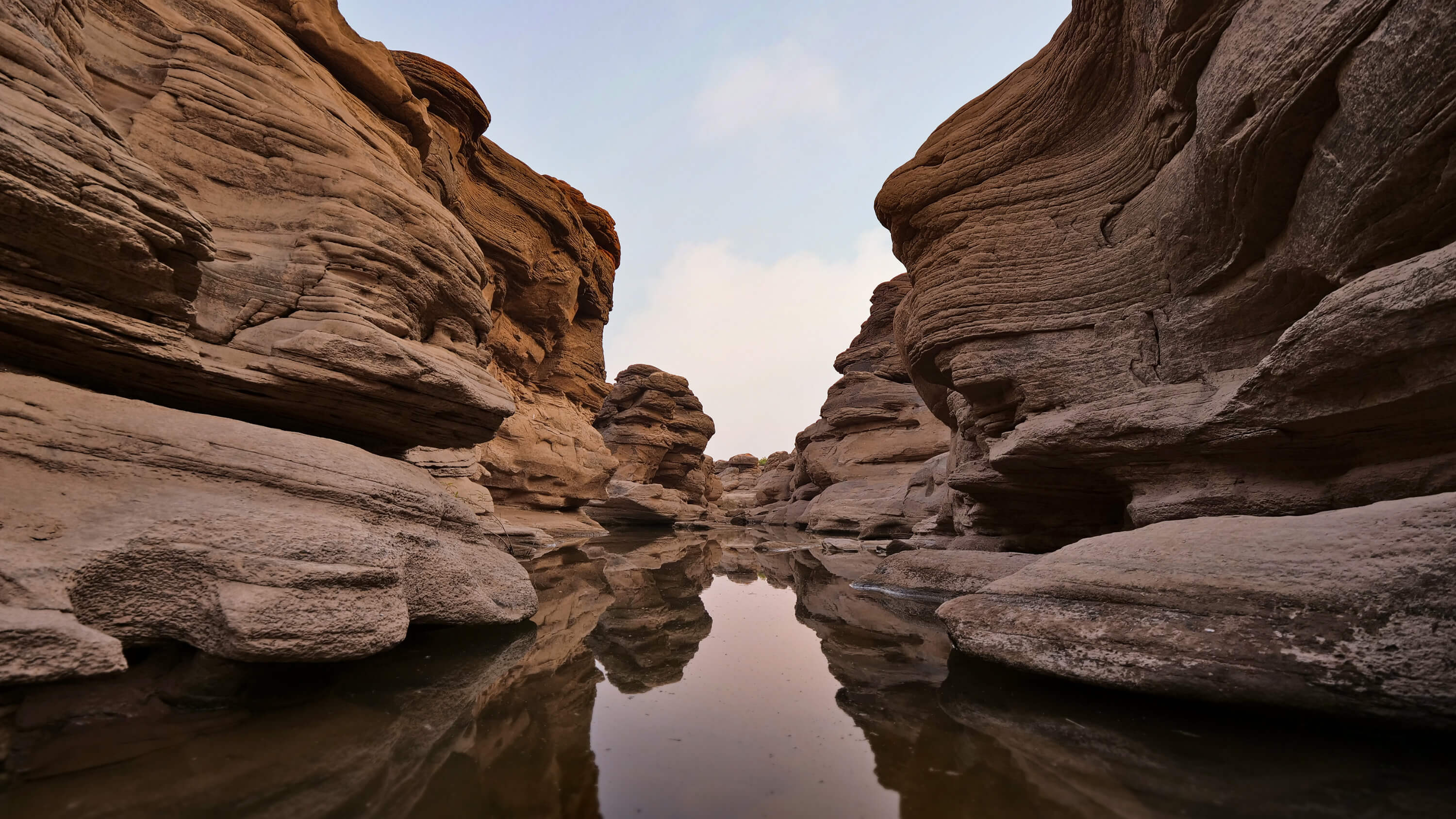 These sandstone formations along the Mekong are full reflective pools. The area is a landscape photographer's dream.
In an area of Ubon Ratchathani Province, the Mekong River forms the border between Northeastern Thailand and Laos. The unique geology of this region has created some incredible natural wonders. Sandstone rocks here are easily eroded away by wind, rain, and the rise and fall of the Mekong. The erosion creates some stunning formations. The area is often called 'Thailand's Grand Canyon'.
The most famous place to visit is known as Sam Pan Bok (สามพันโบก) but we recommend you also check out Had Chom Dao (หาดชมดาว) if you have time. It's similar but with deeper canyons and different formations. The Grand Canyon is definitely our top activity for Ubon Ratchathani.
Note: These areas are only accessible during the dry season, generally from November until early June. They are underwater for the rest of the year.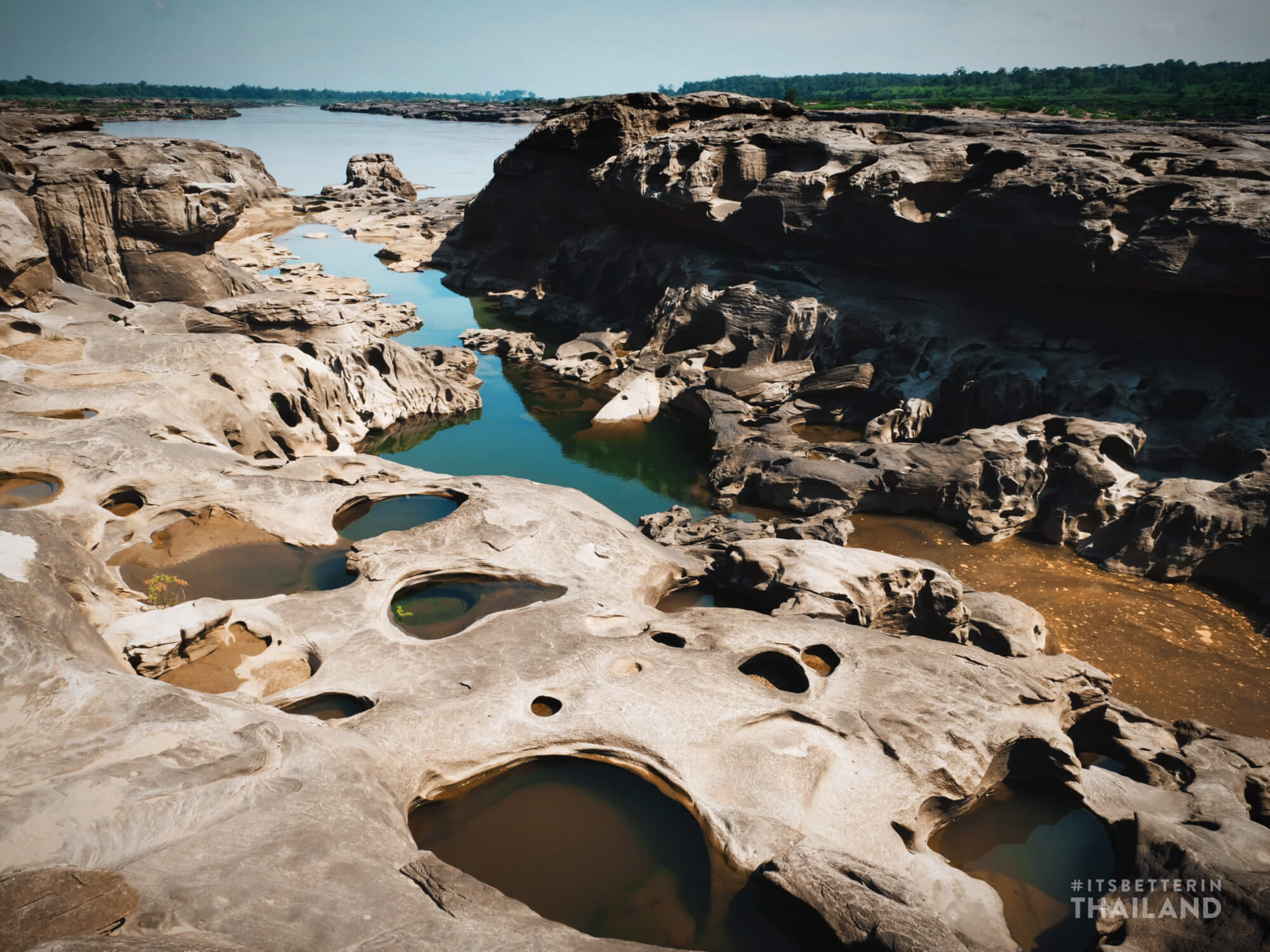 Sam Pan Bok – 3000 lakes
The most famous place to go is Sam Pan Bok, which in the local dialect means 3000 small lakes. Every year, the monsoon rains raise the level of the Mekong submerging the sandstone. The river currents swirl sand and rocks over the soft stone, and wear it down over time. The eddying water carves canyons and bores out holes which are all exposed when the river level falls again. The holes trap water, and are replenished by occasional rain. Some are large enough that they hold water all year, and they can trap fish that live in their own ecosystem for half the year until the river rises and they can rejoin the waters.
Sam Pan Bok is full of these holes, including one very large one called the emerald pool. Some are as small as a football. It also has one large canyon cut through it. The whole area is perfect for photographers, especially if you have a nice wide lens or a drone to capture everything.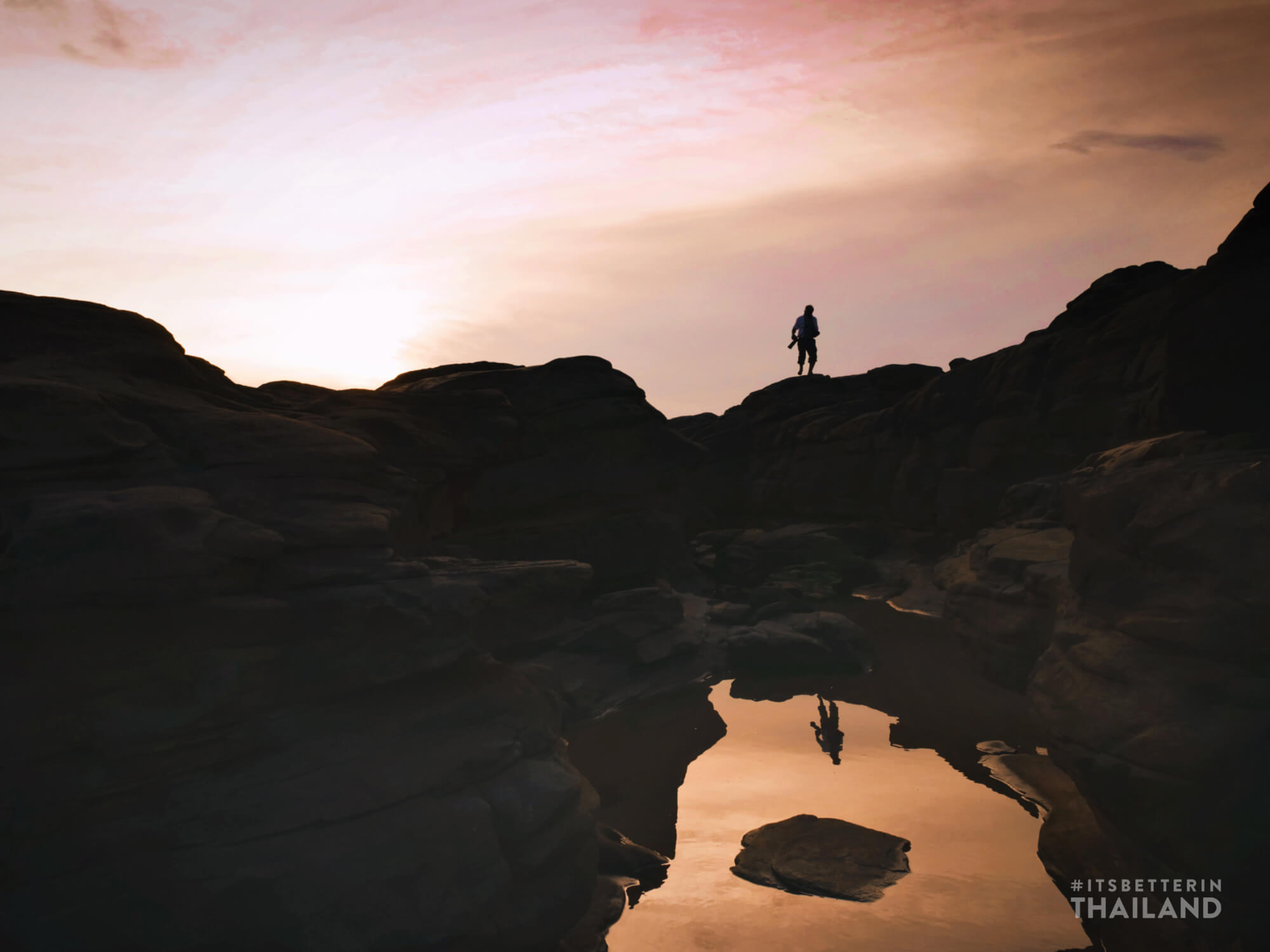 Hat Chom Dao
Not far from Sam Pan Bok is a similar area called Had Chom Dao (หาดชมดาว) which translates to star-gazing beach. It's not actually a beach, and is similar to Sam Pan Bok with the sandstone formations. The two places are honestly similar enough that you could go to one and not the other. It's hard to say which one is better as they are both quite nice; honestly you could just pick whichever is closer to where you're staying. It's worth going to both though, especially if you're hoping to get some great photos.
Best dates to go to Thailand's Grand Canyon
As mentioned earlier, the sandstone is underwater during the rainy season so the only time it's accessible is roughly November to June. Once there, you'll want to visit either early in the morning or in the evening. This will both give you the best light, and keep you away during the hottest time of the day. There is almost no shade at either Sam Pan Bok or Had Chom Dao, so we also would recommend bringing an umbrella if you go in the morning. Within an hour of sunrise it can already be blazing hot on the rocks.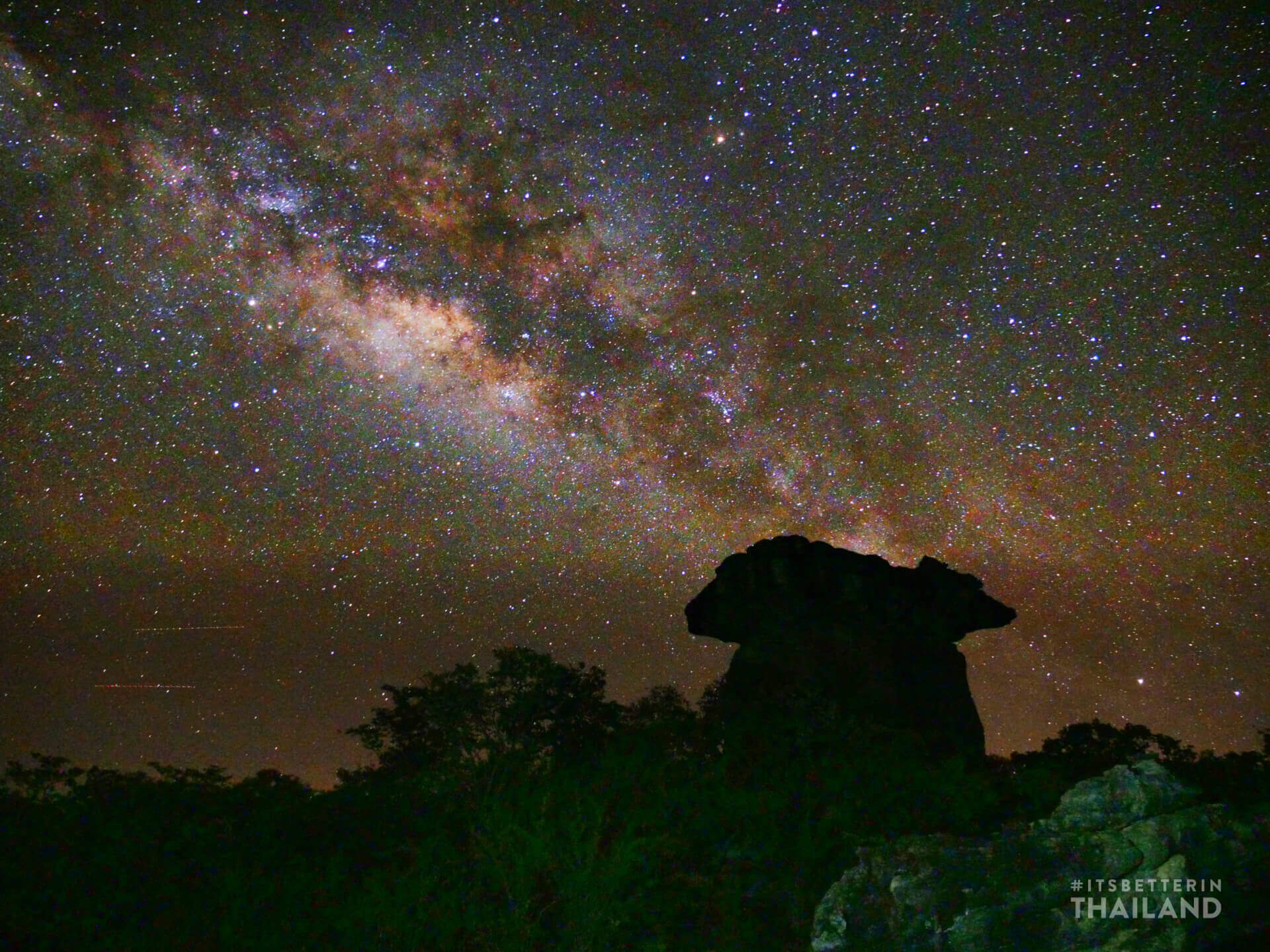 Ubon Ratchathani Grand Canyon photography tips
As mentioned above, a wide angle lens is really helpful here for capturing the incredible landscape here. A drone would also be great. This is also an amazing area for night sky photography as there is not too much light pollution. You can find interesting foregrounds in both the sandstone formations and in the night sky reflecting in the pools of water in the rock.
Most people all go to the same parts of each of these areas, but they are quite big and its easy to find out of the way places without people and that few other photographers go to. Take a look at the satellite view on Google Maps and you'll see what we mean. Also note that the area is always changing. Each year the rocks are re-exposed slightly different than they were the previous year. Even when the rocks are exposed, changing water levels mean some areas can be dry or wet. A protruding rock can be an outcrop one week, and an island the next. Really, you just need to get out there and get snapping.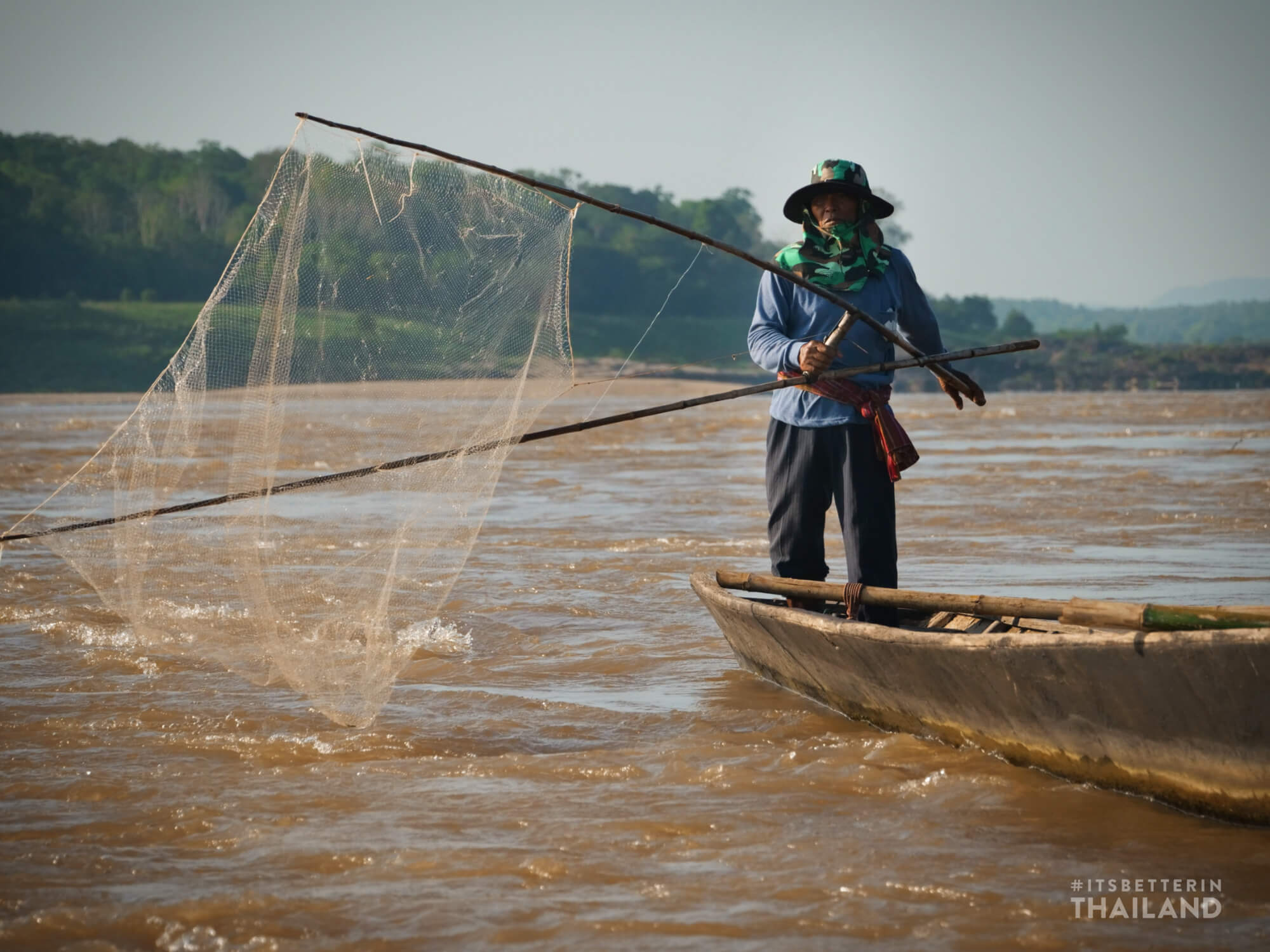 How to get to Sam Pan Bok and where to stay near Thailand's Grand Canyon
There are no public transportation options to this area so the only way to get here is hiring a driver, or renting a car or motorbike. Start by heading to Ubon Ratchathani, either by flying from Bangkok, or taking a bus or train. There are car rental places at the airport, and motorbike rental in the city. The drive out is around two hours.
Most of the accomodation is at Had Salueng (หาดสลึง) (view on Google Maps). Since the area is mainly popular with Thai tourists, if you avoid holidays and weekends you should be able to just show up and find a place easily. There is one place called Plaifah Resort which can be booked online if you want to have something in advance. Everywhere will have parking for a bike or a car.
The last kilometers
All the sights along the river are accessible by car, including Sam Pan Bok, Had Chom Dao, and another area where you can see the narrowest part of the Mekong River and the local fishermen there who dip large scoops made from bamboo and netting into the water trying to bring up fish. You can also do a trip by boat beginning from Had Salueng which will take you to Sam Pan Bok. This should cost around 500 Baht per half hour.
Final tips
The best time It gets very hot out on the rocks during the day! If you're there after 10am and before 4pm, take suncream or an umbrella.
The best time to get there is very early morning – 6-10am or 3-7pm. The light is more dramatic and the sun won't burn you to death.
Take a picnic and don't forget water. There's plenty of cool spots to sit, chill and watch the flow of the Mekong. You can walk far enough out that you'd wish you took some snacks.
The whole area is free to explore, however you may be approached about hiring a guide (actually just someones children who live there). You don't really need a guide… but totally up to you.
Enjoy!