Nong Bua Lamphu
Nong Bua Lamphu is a Northeastern Province on the Korat Plateau. The area is mainly agricultural so tourism is mostly limited to temples and getting an up close look at Issan life. There is also a national park.
Things to do in Nong Bua Lamphu
Introduction
Nong Bua Lamphu is Thailand's second newest province and until the early 1990s was part of Udon Thani. The province is one of Thailand's poorest and mainly consists of agricultural land. Sticky rice has traditionally been the staple crop but recently farmers here have begun planting a lot of sugarcane.
For tourists, there is nothing all that notable to speak of, but the province has its charms and a few places worth stopping off at if you're traveling around Isaan. At under an hour's drive from Udon Thani, it is also easy to do day trips there if you have your own transportation or hire a local driver.
Recommended for
Anyone looking for a non-touristic Thailand experience
Anyone looking for a relaxing town with slow life and good food
A stop for anyone traveling through this part of Isaan
---
Getting there
Nong Bua Lamphu is a small province with few travel options, but its location near Udon Thani gives you a number of options to get there.
By bus – Buses travel to Nong Bua Lamphu from Mochit Bus Station in Bangkok. These should cost between 300-800 Baht. Generally, you get what you pay for on these buses so a pricier ticket should make for a much more comfortable ride.
By plane – Several airlines fly to nearby Udon Thani. Google Flights will search each airline that flies there and get you the cheapest price. On all Thai budget-airlines make sure to prebook enough checked baggage. If you try to do this at the airport they charge an insane fee. From Udon Thani airport take a taxi to the bus station, and from there, there is frequent bus service. Udon Thani airport also has all the major car rental companies. We always find the cheapest rentals using Rentalcars.com.
By train – Trains on the Nong Khai line from Bangkok stop in Udon Thani. From Udon it's easy to reach Nong Bua Lamphu by bus or private taxi.
---
Where to stay
Nong Bua Lamphu has very few options to book online, but there are a few hotels and guesthouses on the Booking.com Nong Bua Lamphu page that have good review scores. Hotels in Isaan in general offer great value for money.
We find our accommodation on Booking.com by first searching for the town or province and our dates, we then filter out any rooms with a score lower than 7 or 8 (depending on availability) as well as any rooms out of our budget. After this, we open the map and hover over all of the pins in the rough location we already decided we want to stay in. Hovering over the pins gives us the price for x nights plus the review score. We click on each pin to open those hotels in a new tab, review them and book our favorite.
---
Getting around
Motorbike – The easiest place to rent a motorbike is from your hotel. If they don't have motorbikes they usually have a contact that does.
Tuk Tuk / Taxi / Songtaew – A variety of taxi options are available. Your hotel is usually able to call one in advance, though we prefer to flag one down and negotiate a price.
---
Nightlife
90's Bar is a decent Thai-style bar with good food, live acoustic music, and drinks. As with most of these places in smaller cities, prices are very reasonable. You can find their location at this Map link.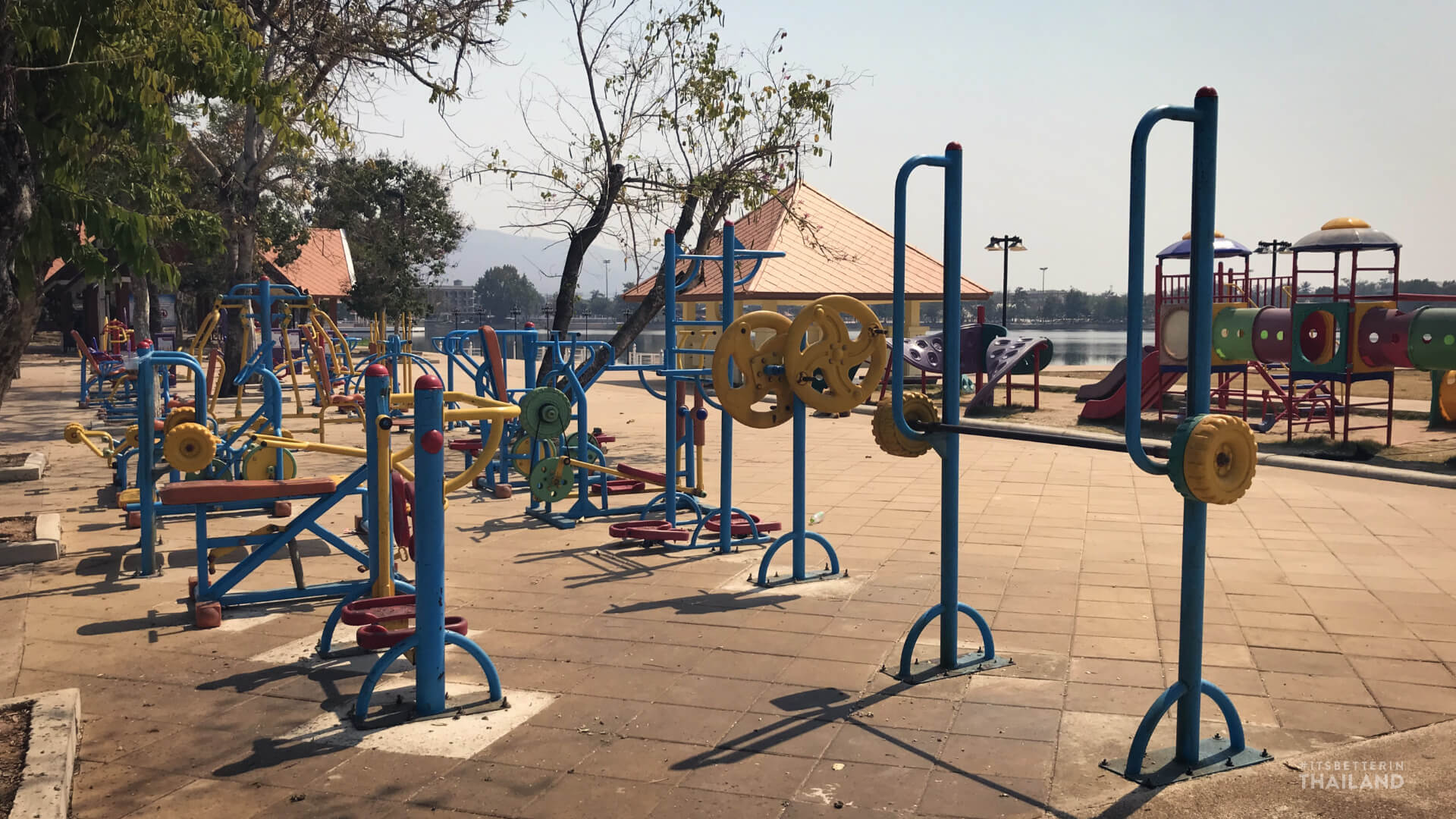 Fitness & gym
The Gym Nongbua Lamphu is a few kilometers out of town along highway 210. A day pass costs just 50 Baht. You can find their location at this Google Maps link. Around the lake in the center of town there is a jogging path and some outdoor exercise equipment that can be used for free. In the evenings this area will be quite lively with aerobics classes, runners, walkers, and fitness buffs. The fitness equipment is located here.
---
Getting out
Bangkok – Take a flight back to Bangkok via Udon Thani and connect to other destinations.
Surrounding provinces – Well-maintained highways connect Nong Bua Lamphu to Udon Thani, Khon Kaen, Loei, and Chaiyaphum. Bus connections are available to all of these from the bus station which is located here.