Chaiyaphum
A mountain range divides Chaiyaphum (ชัยภูมิ) province between the Isaan region to the east and the Central region to the west. Chaiyaphum Province has four different national parks!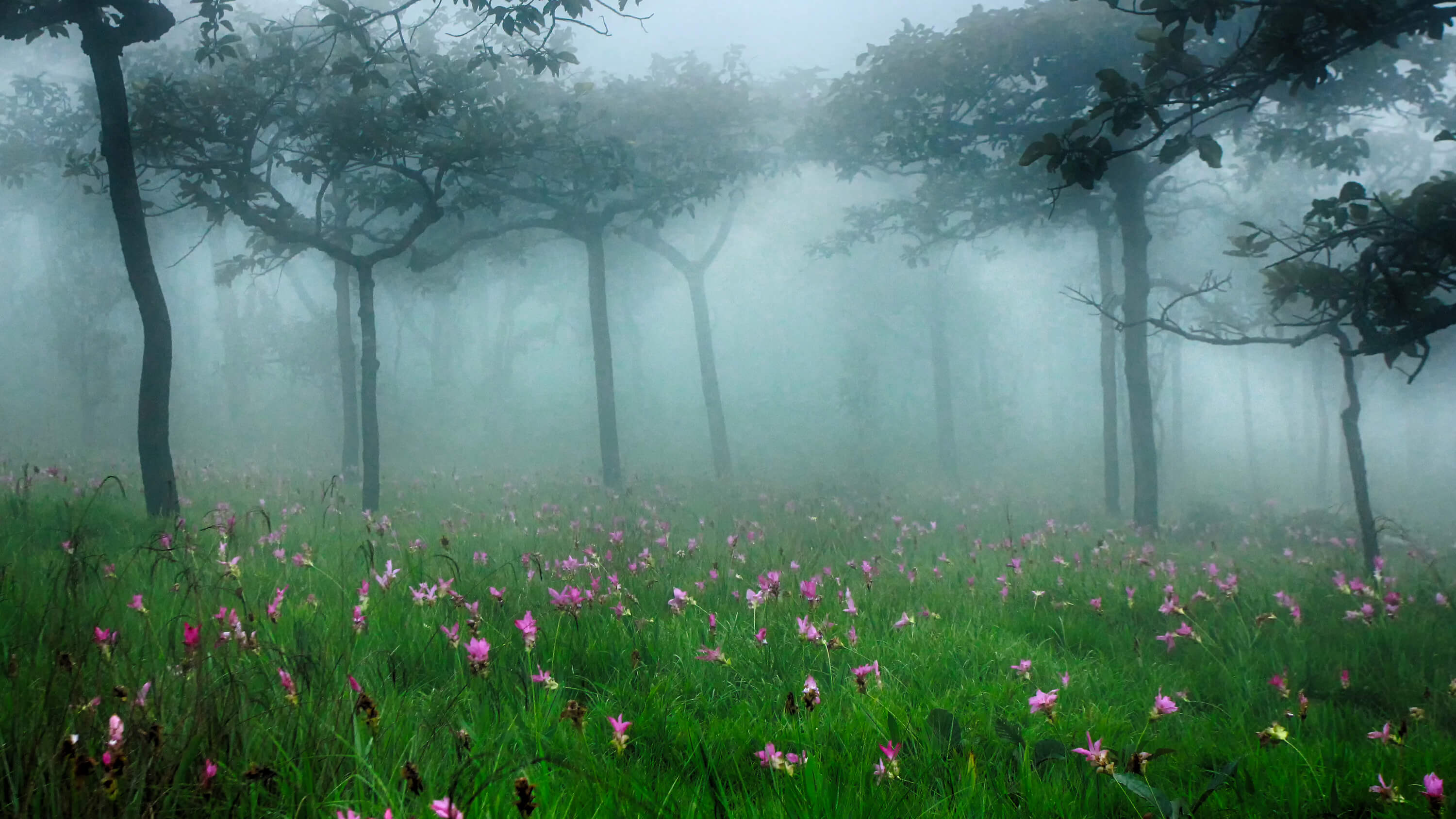 Credit: Yakuzakorat
Introduction
Chaiyaphum is a Northeastern Province of Thailand and is bordered to the west by the North-Central province of Phetchabun. Although it's at the edge of Issan, it is still solidly within the region culturally and most people speak Lao (Issan) as their first language. Lao is closely related to Thai but is a separate language. Nearly everyone can speak Bangkok Thai as well. English is not widely spoken and even some more modern restaurants and coffee shops don't have English menus.
Chaiyaphum is located mainly on the Korat Plateau and is cut through by the Phetchabun mountain range in the west. The province is mainly agricultural. Because the major highways and rail lines miss Chaiyaphum, it is not a place that is visited often but there are definitely a few worthwhile attractions. The Province has four national parks, and a wildflower blooming season in May and June each year that is the main attraction for the (mainly Thai) tourists who visit here.
---
Recommended for
People who like to get off the beaten path and into local culture
Anyone doing a road trip through Isaan by car or motorcycle but looking to avoid the main highways
Nature lovers looking for national park attractions that often have few other visitors
---
Getting there
Chaiyaphum is a four and a half hour drive from Bangkok if going by personal car, and around five and a half hours by bus. There is no airport or train station although there is an option to go by train.
By bus – A number of different bus companies offer frequent service to Chaiyaphum from Morchit Bus Terminal in Bangkok for a few hundred Baht. You get what you pay for on these buses so a few extra bucks should get you a more comfortable ride. The VIP buses from NakhornChai Air company are usually the best buses for Issan inter-city trips. You can also find buses to Chaiyaphum from most other Issan cities though many of these are quite slow and make frequent stops.
By train – To get to Chaiyaphum by train, catch a train from Bangkok on the Northeastern Line toward Nong Khai. After you pass through Nakhon Ratchasima, exit at Bua Yai Junction (ชุมทางบัวใหญ่). From there you can catch a bus or taxi for one hour to Chaiyaphum.
What to do
Chaiyaphum has some pretty nice waterfalls, national parks, and forested areas. While you can find more impressive natural beauty in some other Thai provinces, the lower number of visitors here definitely pushes it up in the rankings. Because most of the tourists in Chaiyaphum are Thai, if you avoid weekends and holidays, you will almost never find a crowd. Here are our favorite things to do here:
Visit Tat Ton Waterfall – This waterfall is mainly popular with locals but it's actually quite a nice place to visit. There is good swimming below the main falls, great photo opportunities, lots of places for picnics (you can bring in food but no alcohol as it's a national park), and a few hiking trails and smaller falls to explore. We love this type of place as there are normally not many foreigners and the Thai families are almost always super friendly. Click the link above for our complete guide.
Mor Hin Khao (Stonehenge Thailand) – Not far from Tat Ton Waterfall is Moh Hin Khao, a grouping of five natural stone pillars jutting up from flat ground. If you were to only visit the actual stones, it probably wouldn't be worth the trip, but paired with a visit to the waterfall, we recommend it. We also recommend exploring a bit beyond just the main area with the five columns as there are some pretty cool stone formations around it that are smaller, but also have way fewer people. There is even a camping area where you can rent everything you need for very cheap. We'd highly recommend doing this if you're into nature and experiencing local culture way off the beaten tourist path.
Wildflower blooming season – Every year at the start of the rainy season, the floors of Chaiyaphum's forests come alive in a beautiful bloom of pink wildflowers. This is really the only time of year that Chaiyaphum gets busy, and even then it's mainly Thai tourists so avoiding weekends and holidays is advised. The bloom peaks throughout June every year, and the cool and misty mornings create a beautiful atmosphere and a landscape photographer's dream. The best places to see the flowers are Pa Hin Ngam National Park, and Sai Thong National Park.
---
Where to stay
If you're on a budget and want to stay in Chaiyaphum City, we recommend Lertnimit Hotel. It's an older hotel but the rooms have been renovated and we got a decent one for under 600 Baht per night.
To stay closer to the province's main attractions and to be out of the city, we like Promma Farm Resort. Rooms are just 500 Baht but are clean and well maintained. As mentioned above, you can also camp for very cheap and rent everything you need at Mor Hin Khao.
---
Getting around
Chaiyaphum can be explored much more easily if you have your own transport. You could rent a car in Korat or Khon Kaen, or drive up from Bangkok. Otherwise, you can rent a scooter locally, or rely on taxis.
Motorbike – You can rent motorbikes in Chaiyaphum from The 1 Bar opposite the night market. Call ahead to check availability 090 398 0341. Your hotel may also be able to assist you.
Tuk Tuk / Taxi / Songtaew – A variety of taxi options are available. Your hotel is usually able to call one in advance, though we prefer to flag one down and negotiate a price.
---
Nightlife
Like pretty much all small-to-mid-sized Issan cities, Chaiyaphum definitely has some nightlife options but they're very much Thai-style and you won't see many foreigners there. There is one farang expat restaurant and pub called The 1 Bar, located opposite the night market. They do drinks, food, and motorbike rentals. For Thai nightlife, T-Bar is a nice place a few minutes drive out of the center of town with good prices on drinks and good food. There was a DJ spinning when we were there but it looked like the type of place that normally has live acoustic music.
Later in the night, Thais head to nightclubs. You can find a local branch of Tawan Daeng (a chain of nightclubs) in town at this location. There are a few other bars on the same road. If you really want to get wild, head to New Oasis Dance Pub. It's down this tiny road that you'd never expect is hiding a nightclub, but it's there. They trade between a pretty solid live band, and a DJ playing thumping beats as six "coyote" dancers in bikinis shake around on stage.
---
Fitness & gym
TG Fitness is a huge gym in town. It's very well equipped with cardio machines, weight machines, and free weights. It is not air-conditioned but has a lot of fans. A day pass costs 70 Baht. We were pretty impressed with the space and value here. Protein shakes are a bit steep at 80 Baht so better to pick one up at 7-11.
---
Getting out
Chaiyaphum is on the edge of Issan so you can continue into the Northeast, or head into Central-Northern Thailand.
Phetchabun – Phetchabun is a really nice province with some great activities like white water rafting, trekking, a stunning temple, and mountaintops with cold weather and views over the clouds.
Nakhon Ratchasima – Nakhon Ratchasima is one of Issan's major cities and lies south of Chaiyaphum. It will lead you toward Eastern Thailand, or toward Southern Issan.
Khon Kaen – Khon Kaen is one of Issan's most import cities and its most central. From there you can easily travel to any other part of the region.
---
Photo gallery
---
Disclosure: This page has some affiliate links. If you click one of these links and make a purchase or booking, we will earn a small commission. This is 100% free for you and it helps us to continue creating great Thailand content that we can offer to you for free.
When to go
Most of Thailand falls in to the generic high and low season categories, including Chaiyaphum.
High season - begins in November and runs through to February, bringing cooler temperatures, lush greenery from the previous months of rain, good air quality, and less rain. The downside is larger crowds and sometimes higher prices for tours, flights and accomodation.
Low season - begins in July and runs through to October. During low season the temperatures are higher, the chance of rain and storms are higher. That doesn't mean it's a bad time to visit though, if you can be flexible, there are deals to be found on flights and accomodation.
Destinations like Chaiyaphum in both northern and north eastern regions can be significantly cooler during the high/cool season than central and southern provinces like Bangkok or Phuket. It's a welcome and noticable change in season which may require a wardrobe change, especially at night.
As Chaiyaphum is in the northern/north eastern region, it's important you consider the smokey/burning season which affects the north, north east and sometimes central/eastern provinces. You can find more information for current and historical air quality on aqicn.org.
Need more? Read our post discussing the best time to visit Thailand.
Where to stay
Instead of recommending hotels, we think it will be more useful to share our process so you can pick based on your own critera for location, budget and style.
We always start our search on either Booking.com or Agoda. They have an easy to user interface and have some extra benefits for "Genius" and "VIP" users. You can also sometimes pay with credit card in advance if you're playing the cashback or air miles game.
Process:
Search for specific province, city or town.
Apply rating filters for a minimum rating or either 7, 8 or 9.
Apply other filters: budget, fitness, breakfast, etc.
If you have a specific location in mind, use map view to browse and make a final selection.
If there are too many properties available to choose from, increase the rating filter for less, higher rated selections.
Final notes: Prices are dynamic. Check the same hotel on both Booking.com and Agoda to see which has the best deal at any given time (go through to checkout to make sure all VAT and service charges are factored in). You can go one step further by calling the hotel and checking the price for booking directly. In our experience this saves money 50% of the time but you have less guarantees.
Emergency contacts
Knowing an emergency number could save your own, or somebody elses life. Take a photo or save these numbers on your phone:
Police & emergencies - 191
The most important number to remember. If the operator is unable to speak English, call 1155 (below).
Tourist Police - 1155 or (+66) 2308-0333
This hotline is available 24 hours a day and they will all speak English. This is an important phone number to remember - They will help you out with any concerns or questions you have and can redirect you to the correct number you may need.
Public Ambulance - 1669
Dialing this number will connect you to a public ambulance service, which will dispatch a vehicle to your location. The average response time for urban areas is around 10 minutes, but may take up to 30 minutes in rural areas. English-speaking staff should be available to assist you.
Fire Department - 199
In case of an emergency such as a house fire, or forest fire, call 199 for the Fire Department to be dispatched to your location.
Highway Police - 1193
If you plan on driving in Thailand, then you may end up needing to use this number if you break down in an unsafe place etc.
---
Videos
Our archive of videos from Chaiyaphum
---
Activities
Our archive of activities and things to do in Chaiyaphum