Tat Ton Waterfall in Chaiyaphum Province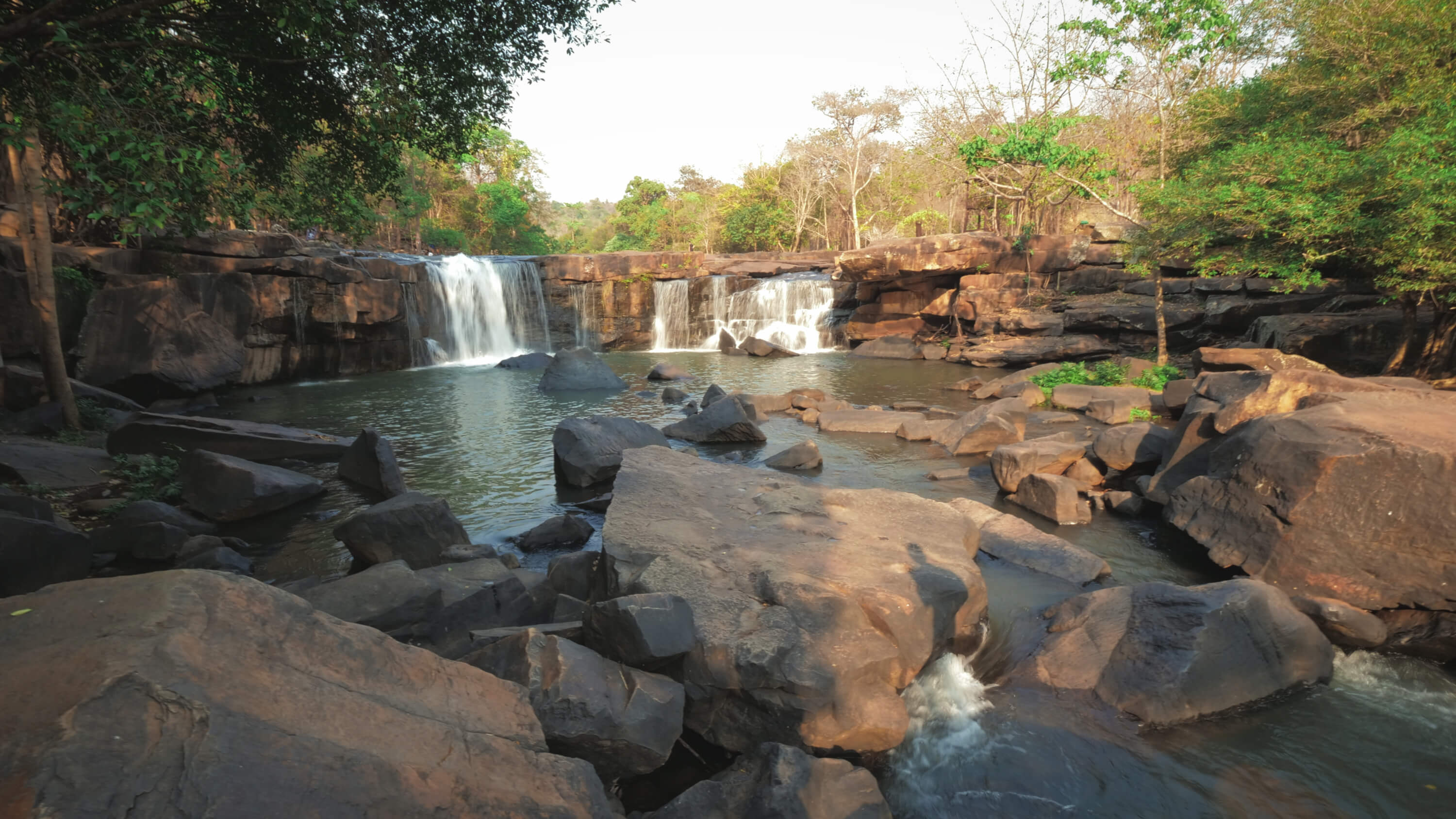 Chaiyaphum doesn't have much, but its got one of Thailand's best waterfalls
Chaiyaphum Province is often overlooked by tourists. Besides the start of the rainy season when blooming wildflowers draw flocks of mainly Thai travelers, most people never come here. That doesn't mean there's nothing to do here though. Tat Ton Waterfall is just 30 minutes drive out of Chaiyaphum city and is actually one of the more beautiful waterfalls we've seen in Thailand.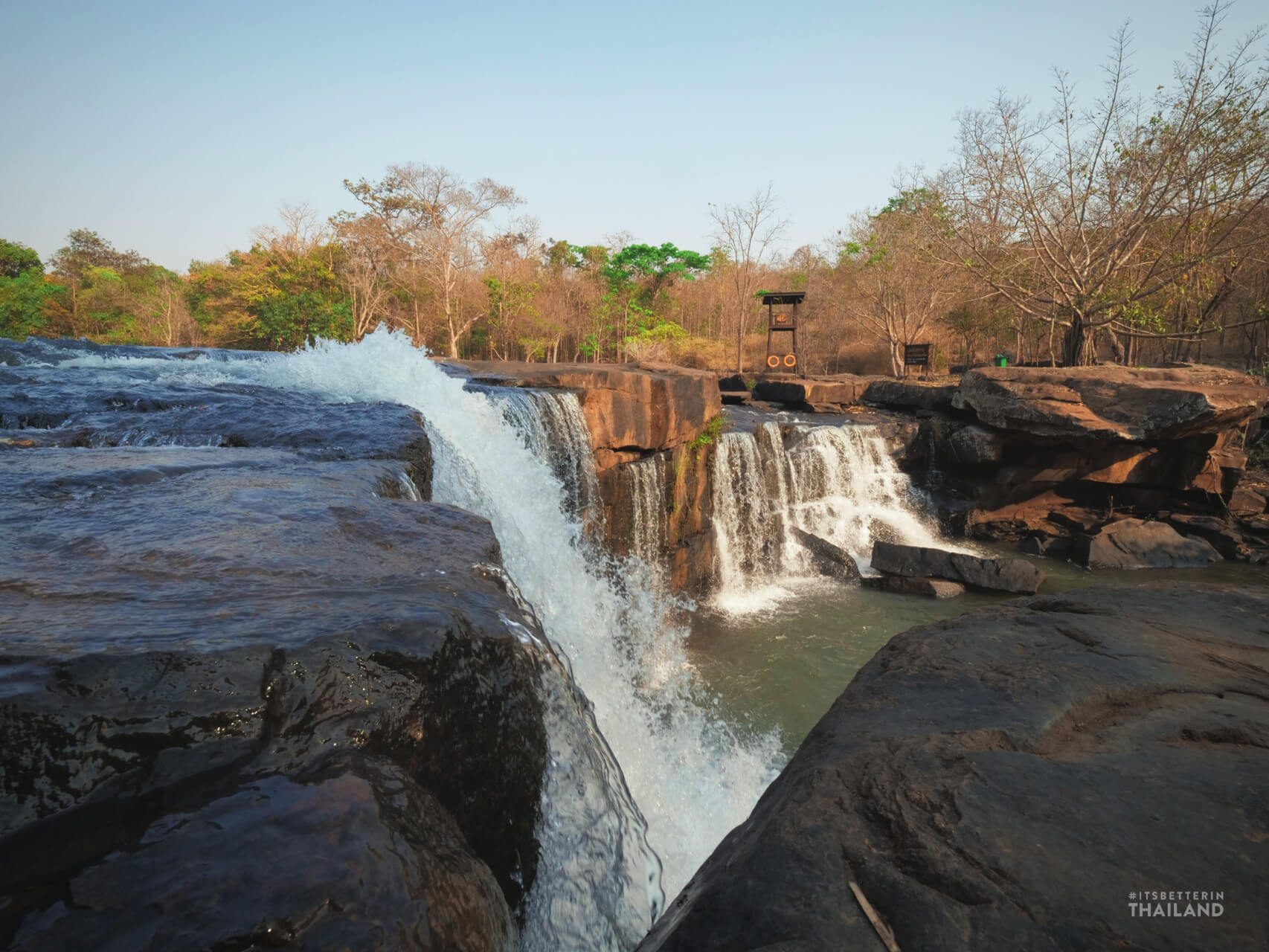 Getting to the waterfall
You'll need your own transportation to get to the waterfall from Chaiyaphum, or to hire a driver to take you. If you need to do this it will be best to organize it through your hotel. The waterfall is marked correctly in Google Maps. There are also a lot of signs along the way directing you. Most of these signs have English but it's good to keep your GPS up if you can't read Thai.
The lovely Mor Hin Khao, aka the Stonehenge of Thailand, is not far from the waterfall and if you're in the area it's definitely worth seeing both. If you come from Chaiyaphum you'll reach the waterfall first, but you may want to visit the stones first.
Tat Ton Waterfall entry fee
The Tat Ton Waterfall is in Tat Ton National Park. Like all national parks in Thailand, this one charges dual pricing for Thais and foreigners. Thai adults pay 40 Baht while foreigners pay 200. Children pay half the adult price. Motorbike and car parking costs 20-30 Baht. No discount is given for foreigners who live and work in Thailand.
There are other nearby national parks, which annoyingly are quite close by but are technically separate parks requiring separate entry fees. We tried to see a viewpoint at the Phu Langka Forest Park but a very rude ranger told us we needed to buy a separate ticket. On the Tourism Authority of Thailand's webpage for this waterfall, it claims that one ticket should be good for nearby parks on the same day but this is inaccurate.
What to do in the park
The main attraction here is the Tat Ton Waterfall and it really is the best one. There are other falls in the park which are clearly signposted and worth a look if you plan on spending all day here or want to do some photography with no other people in the photos. There are also a few hiking trails. At the main falls, you can explore the pool and rocks below and make your way a bit downstream where there will be fewer people. Above the falls is a long, flat stretch of shallow river where Thais will take their children to swim in the evenings.
When to visit Tat Ton National Park
As with most attractions that are popular with Thais, weekends and holidays will get quite busy here. Going during the week will mean seeing way fewer people. Weekends are enjoyable as well as the families and groups of friends playing and picnicking makes for a friendly atmosphere. The waterfall has a good amount of water even during the dry season (November – May) so it's still worth visiting then. During rainy season there will be more water and it will be worth going unless the weather report shows heavy rain all day. At certain times it will be dangerous to swim or go too close to the river, and the national park may close certain areas at these times.