Nakhon Ratchasima
Nakhon Ratchasima (นครราชสีมา) - otherwise known as Korat - is the first major city in Issan as you travel from Bangkok. The Province features a major city, important universities, festivals and two stunning national parks. Korat is Thailand's largest province.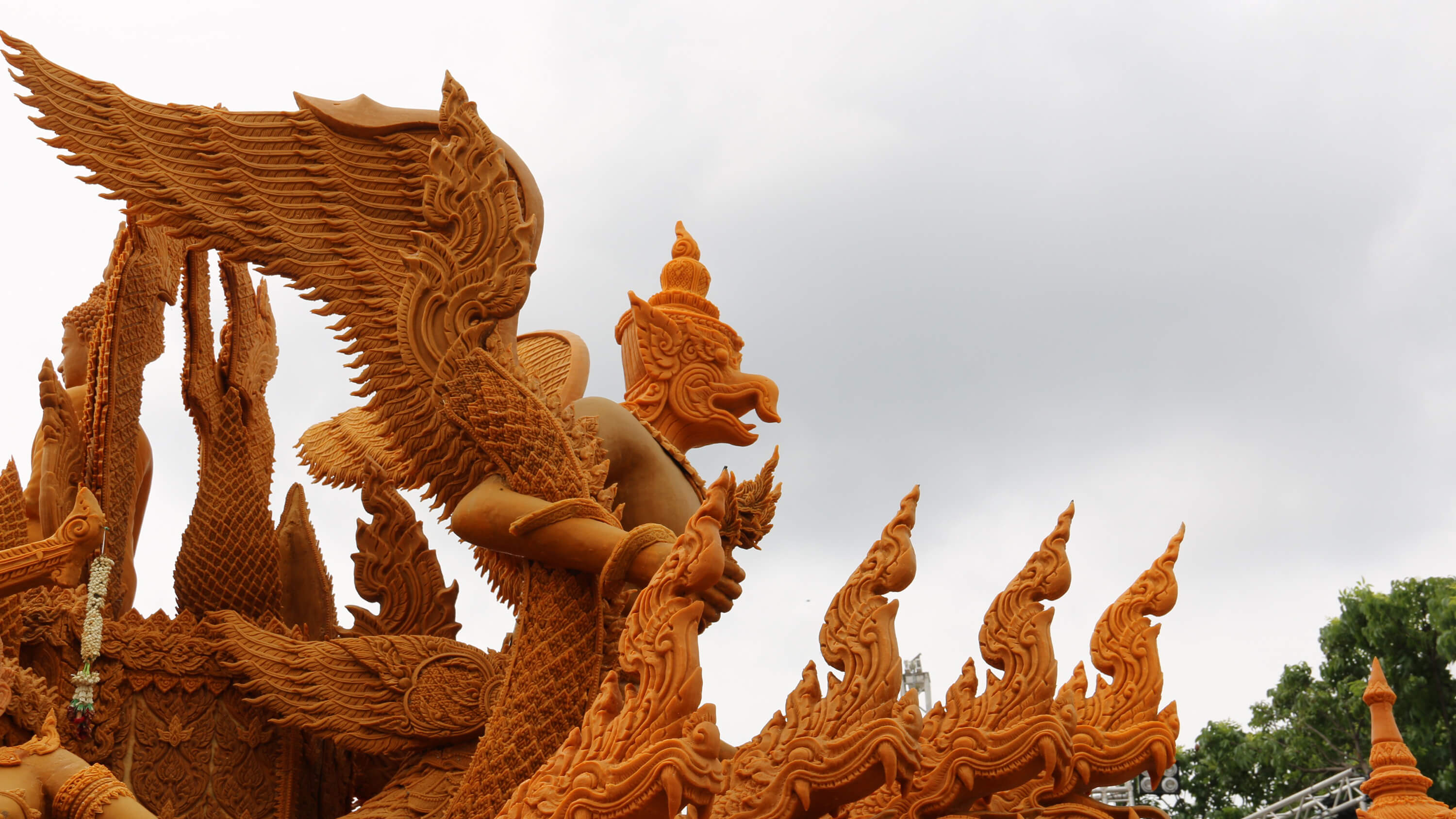 You will often hear people refer to Nakhon Ratchasima – otherwise known as Korat – as the gateway to Issan. Many travelers pass through here to start their journey into the north-east, without paying much attention to the province itself. You will currently not find many backpackers here, but there are a few expats that come here to settle down (usually with their Thai wife or girlfriend).
That being said, there are still a few interesting attractions in Korat, and the city is in the process of being developed. There should be a lot more tourism in the province within the next few years.
Getting to Nakhon Ratchasima
By bus
This is the most convenient and cheapest way to get into Nakhon Ratchasima. From Bangkok, head to the main bus terminal in Mo Chit. Go to the second floor and there will be a few different windows to choose from. My recommendation is to go to window 65. This is the most comfortable bus we have traveled on to Korat. They have free wifi, you can charge your phone, and the chair is actually a massage chair!
Whatever one you choose, they are all going to cost 191 Baht and take about 4 hours to get there. Just tell the driver where you would like to get off.
By train
Another option is to take the train. This can be a rather enjoyable journey with some spectacular views. It is best to choose a 2nd class air-conditioned seat, which will take between four and six hours and cost around 350 baht.
If you are really wanting to save some money and experience a more authentic journey, you could opt for a slower 3rd class train with no air con. This is going to take at least six hours and cost just 50 baht.
Getting around
By car
This province is best explored if you have your own vehicle, so it could be worth renting a car or motorbike for your stay. That way you are free to explore as you like.
By bus
In the city center, you can get buses and songthaews to get about, but they can be difficult to know which one to take, so always make sure you ask before you get on.
By taxi
There are taxis and tuk-tuks available but they are going to be a bit more expensive than other places such as Bangkok. You will find many tuk-tuks outside The Mall (the main shopping center). Bear in mind that not everybody speaks English in Korat, so there may be a bit of a communication barrier.
By Grab taxi
This is another alternative to taking local taxis. You can use the Grab app to say where you want to go and where you want picking up from. It will tell you exactly how much it is going to cost and how far away your driver is.
Things to do in Nakhon Ratchasima
These are the top attractions I suggest you check out:
Nakhon Ratchasima zoo – It can always be a bit uncertain when visiting zoos in Thailand, but this one was pretty clean and the animals seemed like they were well looked after. You can either walk around, take an inexpensive hop on/hop off bus tour or you can rent your own golf cart to drive around in.
Save One night market – This is a huge market and the biggest one in Nakhon Ratchasima. You will be able to find almost anything you want here.
100 years market – A small food market with a range of delicious meals, along with displays of old antiques.
Wat Ban Rai (Elephant temple) – This temple gets its nickname because of the giant elephant head attached to the front.
Khao Yai national park – This area of natural beauty makes for a great weekend getaway from Korat city.
Phimai historical park – These Khmer temple ruins are a must-see in Nakhon Ratchasima. It is one of the largest in Thailand.
Flora Park – This can be a nice day out to capture some great photography shots.
Where to go next
After visiting Korat, we suggest heading over to Buriram to the east or up north to Khon Kaen.
When to go
Most of Thailand falls in to the generic high and low season categories, including Nakhon Ratchasima.
High season - begins in November and runs through to February, bringing cooler temperatures, lush greenery from the previous months of rain, good air quality, and less rain. The downside is larger crowds and sometimes higher prices for tours, flights and accomodation.
Low season - begins in July and runs through to October. During low season the temperatures are higher, the chance of rain and storms are higher. That doesn't mean it's a bad time to visit though, if you can be flexible, there are deals to be found on flights and accomodation.
Destinations like Nakhon Ratchasima in both northern and north eastern regions can be significantly cooler during the high/cool season than central and southern provinces like Bangkok or Phuket. It's a welcome and noticable change in season which may require a wardrobe change, especially at night.
As Nakhon Ratchasima is in the northern/north eastern region, it's important you consider the smokey/burning season which affects the north, north east and sometimes central/eastern provinces. You can find more information for current and historical air quality on aqicn.org.
Need more? Read our post discussing the best time to visit Thailand.
Where to stay
Instead of recommending hotels, we think it will be more useful to share our process so you can pick based on your own critera for location, budget and style.
We always start our search on either Booking.com or Agoda. They have an easy to user interface and have some extra benefits for "Genius" and "VIP" users. You can also sometimes pay with credit card in advance if you're playing the cashback or air miles game.
Process:
Search for specific province, city or town.
Apply rating filters for a minimum rating or either 7, 8 or 9.
Apply other filters: budget, fitness, breakfast, etc.
If you have a specific location in mind, use map view to browse and make a final selection.
If there are too many properties available to choose from, increase the rating filter for less, higher rated selections.
Final notes: Prices are dynamic. Check the same hotel on both Booking.com and Agoda to see which has the best deal at any given time (go through to checkout to make sure all VAT and service charges are factored in). You can go one step further by calling the hotel and checking the price for booking directly. In our experience this saves money 50% of the time but you have less guarantees.
Emergency contacts
Knowing an emergency number could save your own, or somebody elses life. Take a photo or save these numbers on your phone:
Police & emergencies - 191
The most important number to remember. If the operator is unable to speak English, call 1155 (below).
Tourist Police - 1155 or (+66) 2308-0333
This hotline is available 24 hours a day and they will all speak English. This is an important phone number to remember - They will help you out with any concerns or questions you have and can redirect you to the correct number you may need.
Public Ambulance - 1669
Dialing this number will connect you to a public ambulance service, which will dispatch a vehicle to your location. The average response time for urban areas is around 10 minutes, but may take up to 30 minutes in rural areas. English-speaking staff should be available to assist you.
Fire Department - 199
In case of an emergency such as a house fire, or forest fire, call 199 for the Fire Department to be dispatched to your location.
Highway Police - 1193
If you plan on driving in Thailand, then you may end up needing to use this number if you break down in an unsafe place etc.
---
Videos
Our archive of videos from Nakhon Ratchasima
---
Activities
Our archive of activities and things to do in Nakhon Ratchasima