Mor Hin Khao – Thailand's Stonehenge in Chaiyaphum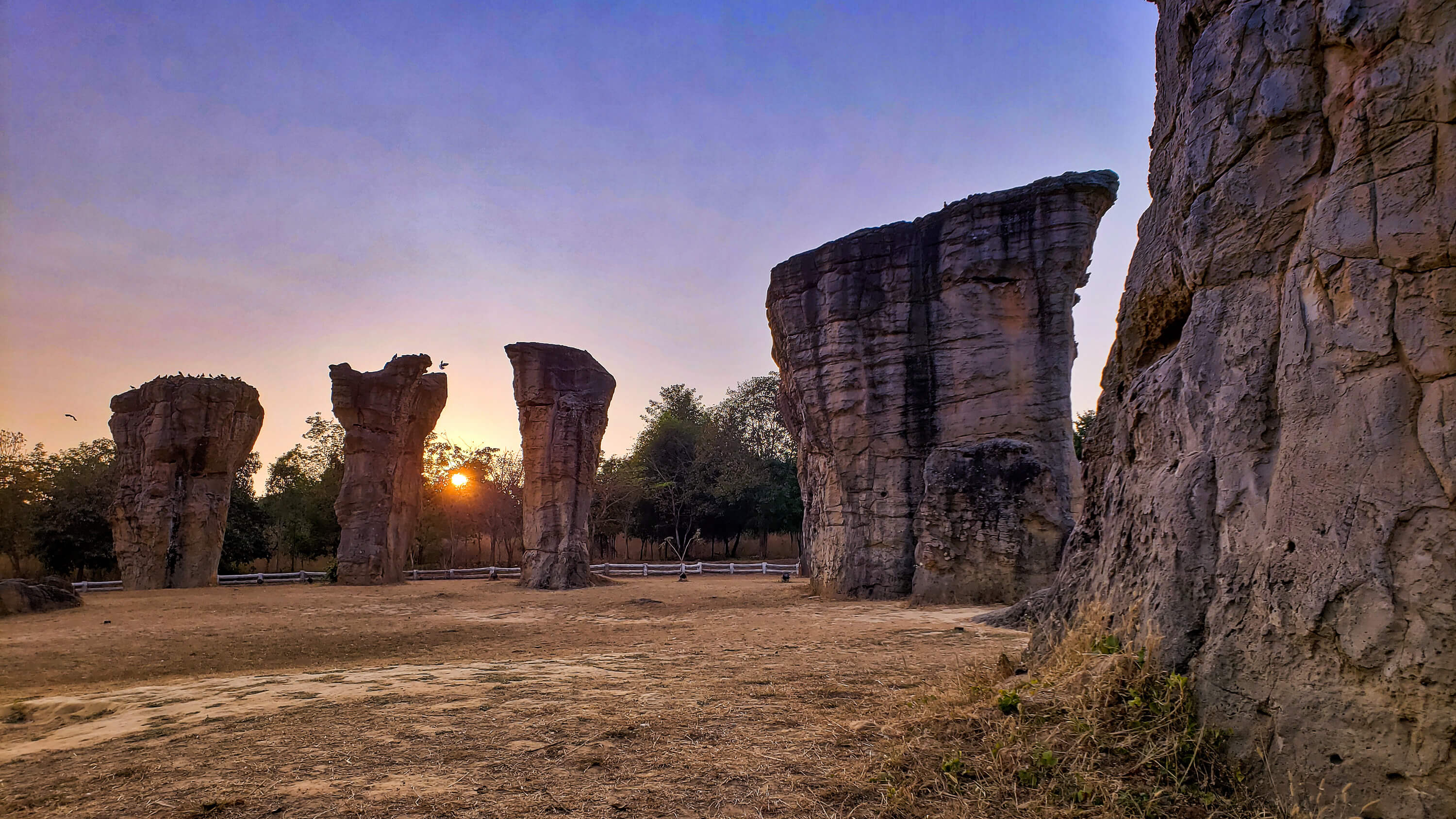 These strange rock formations in Chaiyaphum Province are definitely worth a visit
Chaiyaphum Province isn't visited by too many tourists due to its out-of-the-way location, but there are actually some very nice places to see there. One of our favorites is Mor Hin Khao (มอหินขาว), often called the Stonehenge of Thailand. Unlike the actual Stonehenge, these structures are not manmade, but they do look fairly strange jutting up from the otherwise flat ground. Landscape photographers in particular will like this place, and there are some great nearby National Parks and really nice viewpoints.
Locals believe the rocks hold spirits and praying to individual stones can bring different types of good luck and fortune.
Getting to Chaiyaphum Stonehenge
You'll need your own transportation to get to Mor Hin Khao from Chaiyaphum, or to hire a driver to take you. This will be best done through your hotel. Mor Hin Khao is marked correctly in Google Maps (If it's still marked as permanently closed you can ignore that, it's open). There are also a lot of signs along the way directing you. Most of these signs have English but it's good to keep your GPS on if you can't read Thai as a few are written only in Thai. By car, it is about 45 minutes north of Chaiyaphum city.
On your way here you'll pass by Tat Ton National Park where you can find Tat Ton Waterfall. We'd strongly recommend stopping there as it's quite a beautiful waterfall. Even during the rainy season, there is a lot of water flowing here. Check out our post linked above for everything you need to know about Tat Ton.
Mor Hin Khao entry fee and camping prices
Mor Hin Khao is completely free to visit and to park your car or bike. Off the main road, there is one dirt driveway going in with a dirt parking lot right next to the stones. A two or three-minute drive from that dirt turnout is an actual parking lot and a building with a few small shops set up. You can park here and walk down two minutes to the stones. You can also camp up in that area for free, or you can rent camping gear from the people who are set up in front of the building. I asked and was told 100 Baht for a tent, 50 for a blanket, 30 for a pillow, and 30 for a thin mat. The shops there sell snacks, and instant coffee and noodles.
When to go to Mor Hin Khao
Anytime is fine to visit here. During December and January, the temperatures will get cool at night and it will be a great time for stargazing or star photography. February to May will be dry and a bit dusty, and there may be a fair amount of haze due to the burning season. This will limit visibility at the viewpoints but you'll still be able to see the stones just fine. June through October is the rainy season. Check that it won't storm all day, but otherwise, it should be fine to visit. You may even get some great cloud formations. In May and June, the area sees a bloom of beautiful wild Siamese tulips and crowds of Thai tourists coming to admire them in the nearby national parks.
The stones get hit by sunlight all day and are bathed in golden light at the morning and evening golden hours. This is when you'll get the best photos.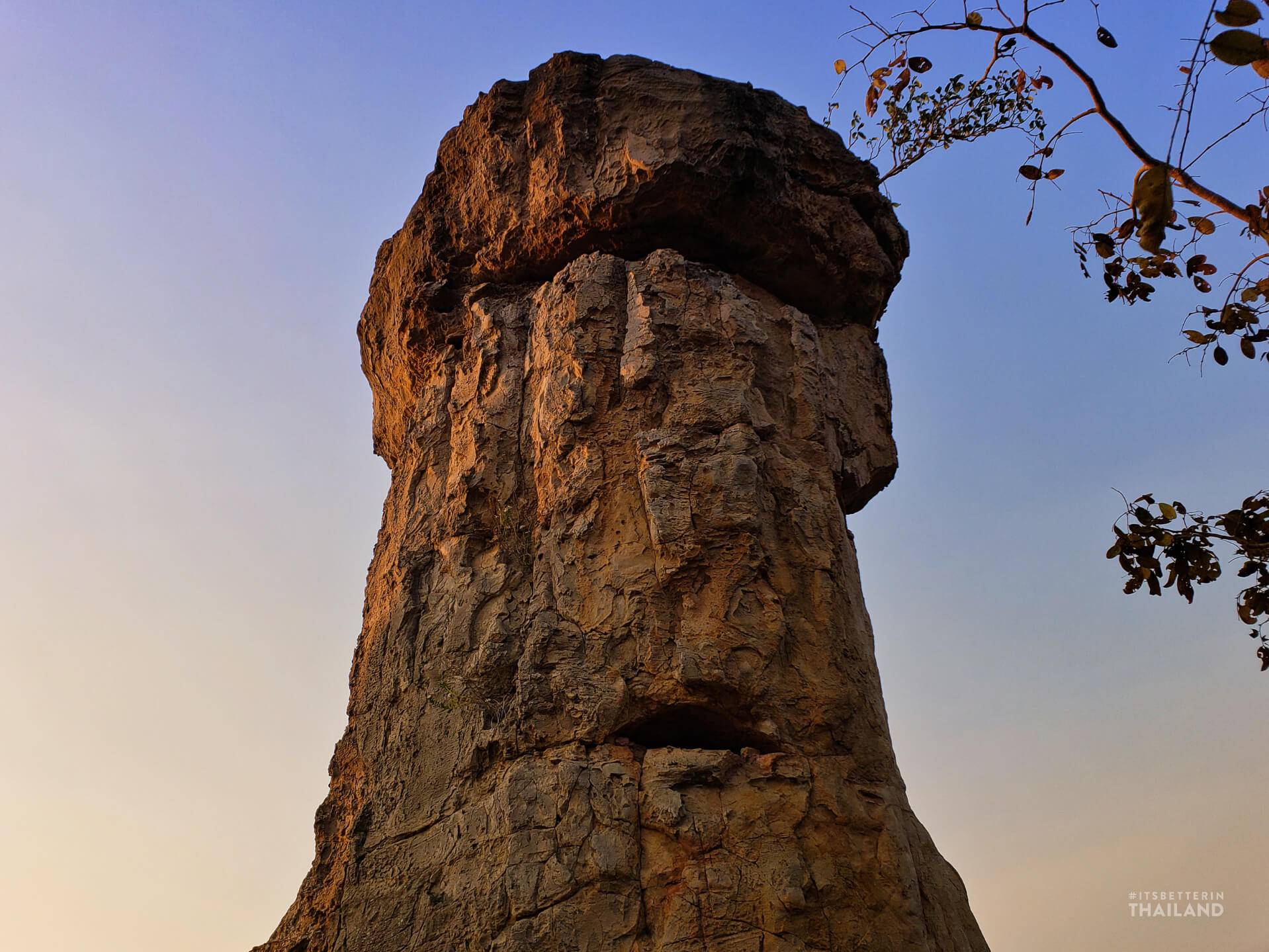 Other sights to see near the Chaiyaphum Stonehenge
The area up near the parking lot mentioned in the paragraph above is worth exploring for a bit. Just a bit further down the road going away from the 'Stonehenge' is another field of boulders called Khlong Chang Stone Group (map link). These ones aren't as tall and prominent as the 'Stonehenge' but they're quite nice and you'll likely be the only people there. It's a great spot for a picnic and definitely worth checking out.
Continuing up past there about a five-minute drive you'll come to the gated entrance to the Pha Hua Nak cliff viewpoint. A not very friendly ranger there demands 100 Baht per person from foreigners. Even if you've paid the 200 Baht entrance fee at Tat Ton Waterfall, your ticket won't work here and you'll still have to pay. It's unclear what the Thai price is as the numbers have been scratched off, but possibly free. It's a public road so it's likely Thais can just say they're passing through and not going to see the viewpoint and they won't be charged.
If you don't plan on paying to stop and see this viewpoint, then you should follow the signposts to Mor Hin Khao. The road is a loop and if you try going the other way around you'll pass by this gate and probably be charged.
One final note: The location we have marked below on Google Maps is marked as 'permanently closed'. We did suggest an edit, but if you see it marked closed, don't worry. It's open.