Samut Songkhram
Samut Songkhram (สมุทรสงคราม) is a Central Province along the coast west of Bangkok. It is best known for the Maeklong Railway Market and the Amphawa Floating Market.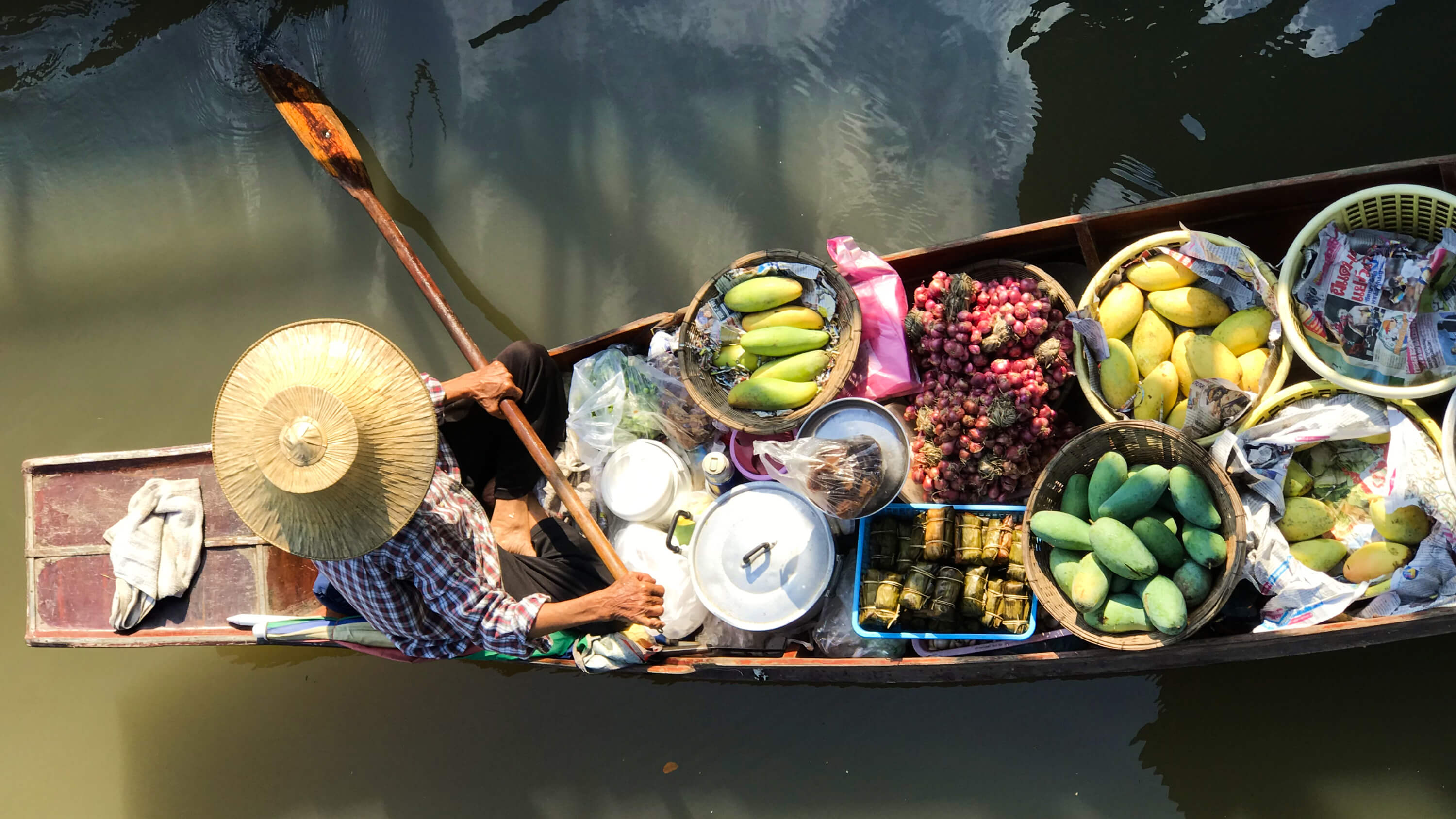 Introduction
Samut Songkhram is the smallest province in Thailand by area. It is just barely outside of the Metropolitan Bangkok Area, but much of it is rural. The Mae Khlong River cuts through the center of the province and feeds into lots of smaller canals. Much of the province is comprised of coconut plantations irrigated by these canals. Along the coast, ponds take in seawater to be evaporated and Samut Songkhram is a major producer of sea salt in Thailand.
The province is best known for its floating markets, and for the famous Mae Khlong Railway Market. It makes a great day trip from Bangkok and an even better overnight excursion.
---
Recommended for
There is enough to do in Samut Songkhram that we really recommend it for all types of travelers.
---
Getting there
By bus – There is frequent bus service to Samut Songkhram from the Southern Bus Terminal in Bangkok.
By car – It is a straight shot right down Rama II road (basically a highway) into the center of Samut Songkhram and quite an easy drive.
By train – Going by train to Samut Songkhram is a great way to travel, but it's not the most straightforward. You have to take two train lines, neither of which connect to the country's main rail network. Start at Wong Wian Yai Railway Station in Bangkok, which is near the Wong Wian Yai BTS Skytrain station. From there take a train to Samut Sakhon (a province next to Samut Songkhram and with a very similar name). From the station there, you have to take a ferry over the river, then catch another train at the Bahn Laem Railway Station. This line has four trains per day in each direction, all of which pass through the famous Mae Khlong Railway Market.
---
Where to stay
We find our accommodation on Booking.com by first searching for the town or province and our dates, we then filter out any rooms with a score lower than 7 or 8 (depending on availability) as well as any rooms out of our budget. After this, we open the map and hover over all of the pins in the rough location we already decided we want to stay in. Hovering over the pins gives us the price for x nights plus the review score. We click on each pin to open those hotels in a new tab, review them and book our favorite.
---
Getting around
Samut Songkhram has plenty of tuk-tuks and motorbike taxis to take you anywhere you need to go. It's not uncommon to see Bangkok meter taxis here. There are also plenty of private cars with drivers for hire if you ask at any hotel.
---
What to do
See life in a fishing village at Khlong Khon – Twenty minutes outside the city, the village of Khlong Khon has done some innovative things around tourism. You can tour the mangrove forests by boat and see the hundreds of crab-eating macaque monkeys that live there. There are also oyster farms, tidal flats full of cockles, and a fun activity they call retro wakeboarding. See our guide to Khlong Khon wakeboarding for more information.
Visit a floating market – Samut Songkhram is most famous for its floating markets. The best-known is Amphawa which takes place from Friday to Sunday every week. Damnoen Saduak is technically in Ratchaburi Province but it's not far away, and it's open every day. Amphawa is very touristy but not so bad. Damnoen Saduak is a tourist trap that we avoid. If you really want to see a great floating market, Tha Kha Floating Market is the hidden gem of Samut Songkhram Province but is only open Saturday and Sunday mornings.
Check out the Mae Khlong Railway Market – This is definitely not an "unseen" attraction like it once was. It's actually quite crowded here now when the train passes through, but we still found it worth a quick look. Check out our Mae Khlong Railway Market guide to see how to get the most out of a visit.
---
Tours
If you'd like to visit any of the above attractions but prefer a tour format, we highly recommend booking through the company Take Me Tour. You can view their Samut Songkhram tours here. Take Me Tour is a central booking engine than handles customer service and payments, and all the guides are local experts. Because the guides are dependent on maintaining a high rating, the tours are nearly always very good.
---
Getting out
Head up to Bangkok, or follow the coast south into Phetchaburi which we find to be one of Thailand's more underrated provinces.
When to go
Most of Thailand falls in to the generic high and low season categories, including Samut Songkhram.
High season - begins in November and runs through to February, bringing cooler temperatures, lush greenery from the previous months of rain, good air quality, and less rain. The downside is larger crowds and sometimes higher prices for tours, flights and accomodation.
Low season - begins in July and runs through to October. During low season the temperatures are higher, the chance of rain and storms are higher. That doesn't mean it's a bad time to visit though, if you can be flexible, there are deals to be found on flights and accomodation.
While it's always hot in Samut Songkhram, the small change in temperature between high and low season can be just enough that the heat isn't unbearable when out and about.
Need more? Read our post discussing the best time to visit Thailand.
Where to stay
Instead of recommending hotels, we think it will be more useful to share our process so you can pick based on your own critera for location, budget and style.
We always start our search on either Booking.com or Agoda. They have an easy to user interface and have some extra benefits for "Genius" and "VIP" users. You can also sometimes pay with credit card in advance if you're playing the cashback or air miles game.
Process:
Search for specific province, city or town.
Apply rating filters for a minimum rating or either 7, 8 or 9.
Apply other filters: budget, fitness, breakfast, etc.
If you have a specific location in mind, use map view to browse and make a final selection.
If there are too many properties available to choose from, increase the rating filter for less, higher rated selections.
Final notes: Prices are dynamic. Check the same hotel on both Booking.com and Agoda to see which has the best deal at any given time (go through to checkout to make sure all VAT and service charges are factored in). You can go one step further by calling the hotel and checking the price for booking directly. In our experience this saves money 50% of the time but you have less guarantees.
Emergency contacts
Knowing an emergency number could save your own, or somebody elses life. Take a photo or save these numbers on your phone:
Police & emergencies - 191
The most important number to remember. If the operator is unable to speak English, call 1155 (below).
Tourist Police - 1155 or (+66) 2308-0333
This hotline is available 24 hours a day and they will all speak English. This is an important phone number to remember - They will help you out with any concerns or questions you have and can redirect you to the correct number you may need.
Public Ambulance - 1669
Dialing this number will connect you to a public ambulance service, which will dispatch a vehicle to your location. The average response time for urban areas is around 10 minutes, but may take up to 30 minutes in rural areas. English-speaking staff should be available to assist you.
Fire Department - 199
In case of an emergency such as a house fire, or forest fire, call 199 for the Fire Department to be dispatched to your location.
Highway Police - 1193
If you plan on driving in Thailand, then you may end up needing to use this number if you break down in an unsafe place etc.
---
Activities
Our archive of activities and things to do in Samut Songkhram