Mae Khlong Railway Market in Samut Songkhram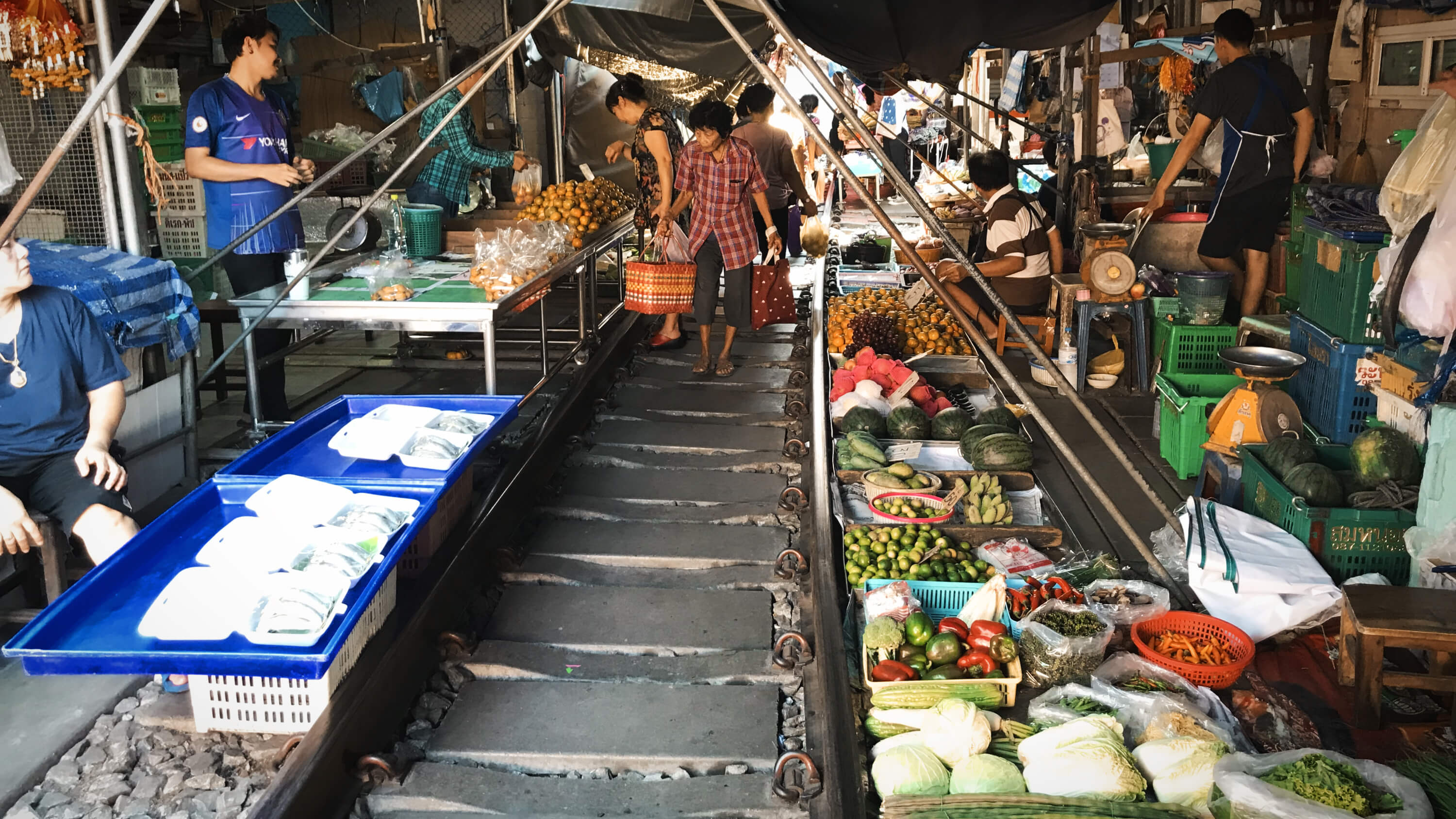 While pretty touristy these days, this market is still cool to see
Once upon a time, the Mae Khlong Railway Market was a hidden gem in Thailand that few people knew or cared about. It's a 100-meter long market that just happens to be located along an active train line in Samut Songkhram Province. Eight times per day, four in each direction, a train passes through this market and the vendors have to pull their awnings up and their goods back away from the tracks to let the train pass. It's a pretty unique thing to see, and starting around 10 or 15 years ago, people started catching on. Today, it's a very popular tourist destination with hundreds of people walking through and waiting for the train to pass so they can snap photos and selfies.
It gets a bit crowded. Check out our video here to get a sense of what the market is like and if you'll actually want to go. Keep reading for all of our tips, including the one time you can see the market without so many other people around.
Is the Thailand train market worth it?
To be honest, I was staying right by the Mae Khlong Railway Market and didn't even plan to visit. I was returning from a morning of monkeys, mangroves and epic Thai retro wakeboarding in nearby Khlong Khon, and right as I was parking at the hotel we saw the railroad crossing lights flashing. At that point, I basically had to go over and check it out. Note that that activity I mentioned is probably the best thing to do in Samut Songkhram Province. Check out our complete guide to Thai wakeboarding in Khlong Khon for more.
Note: The Thai name for this market is Talat Rom Hoop (ตลาดร่มหุบ) which translates to something like 'awning put-away market'.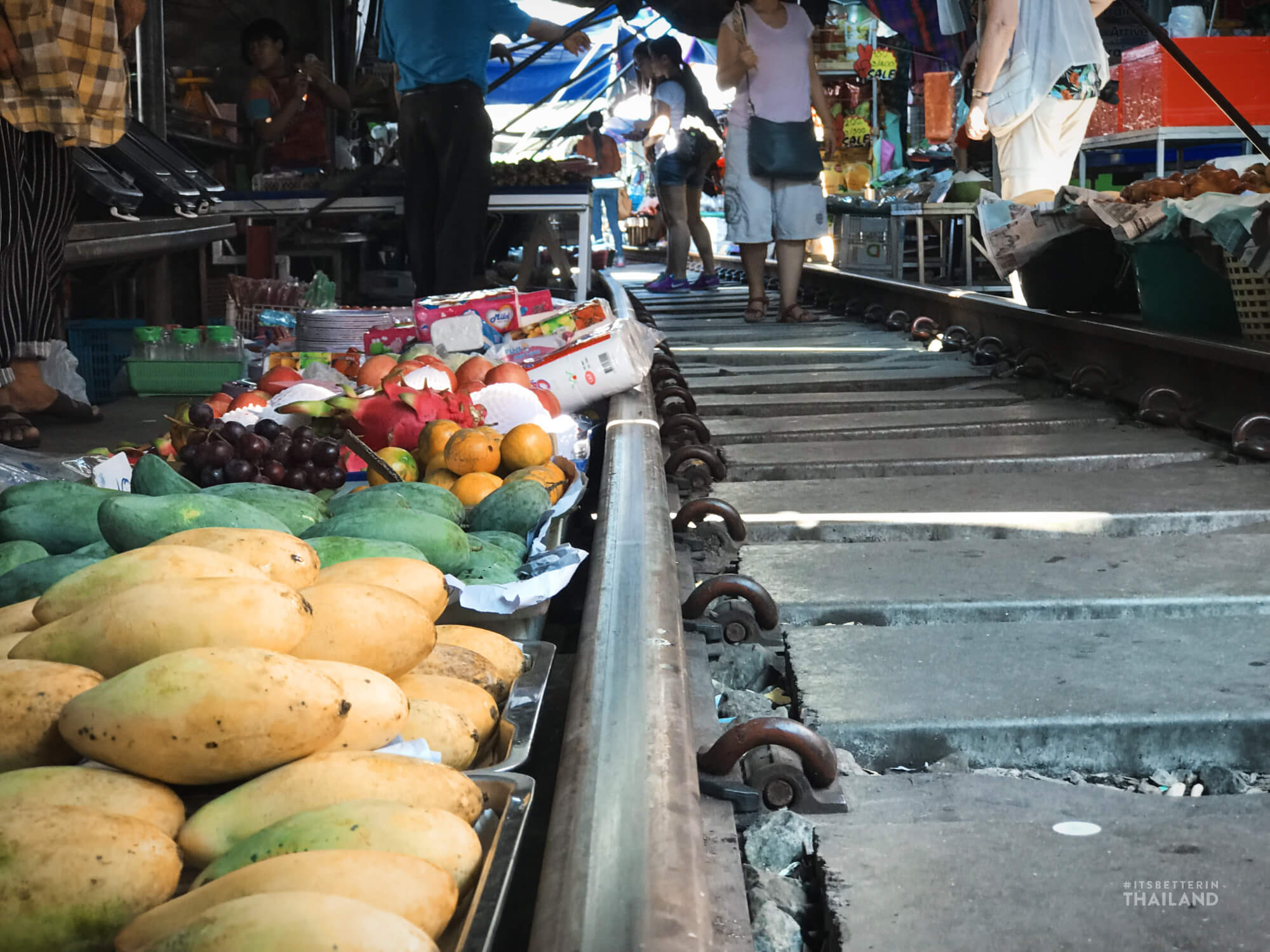 I'm glad I did visit because it's actually a pretty cool thing to see. I love seeing the little ingenious things that Thai people figure out, and the tables with wheels on tracks to make sliding them in and out to let the trains pass definitely qualifies. The market is definitely touristy, and a lot of space has become restaurants, cafes, and souvenir shops catering to them. But most of the market is still a functioning market, with fruits, vegetables, and other necessities being sold.
When to visit the Mae Khlong Railway Market
The first thing to note is that most people try to time their visit to when the trains are passing through. It is cool seeing everything being put away before the train passes and put back out after, but it's also nice seeing it function as a normal market. To see that, you need to visit when there is no train or wait a while after a train passes for the crowds to thin out and things to return to normal. Note that while the awnings go up straight away after a train passes, they come down 5-10 minutes before it arrives.
If you want to see the train go through with as few other people as possible, you need to get there for the first train of the day. As of our visit that means 6:20 am. If you want to do that you should book a hotel nearby to make it as easy as possible on yourself. Use the map view on Booking.com to find a place nearby.
One other way to see the market is from the train, but it's a bit complicated as you need to take two trains from Bangkok. See our guide to Samut Songkhram Province if you want to find out how to do this.
Samut Songkhram train market schedule
As of our visit these times were current, although they may change. Most local businesses around the Mae Khlong Railway Market will be able to tell you the current times. If seeing a train pass through won't fit with your schedule, don't worry, the market is still worth a stroll-through.
Photo gallery