Khlong Khon – mangroves, monkeys & Thai wakeboarding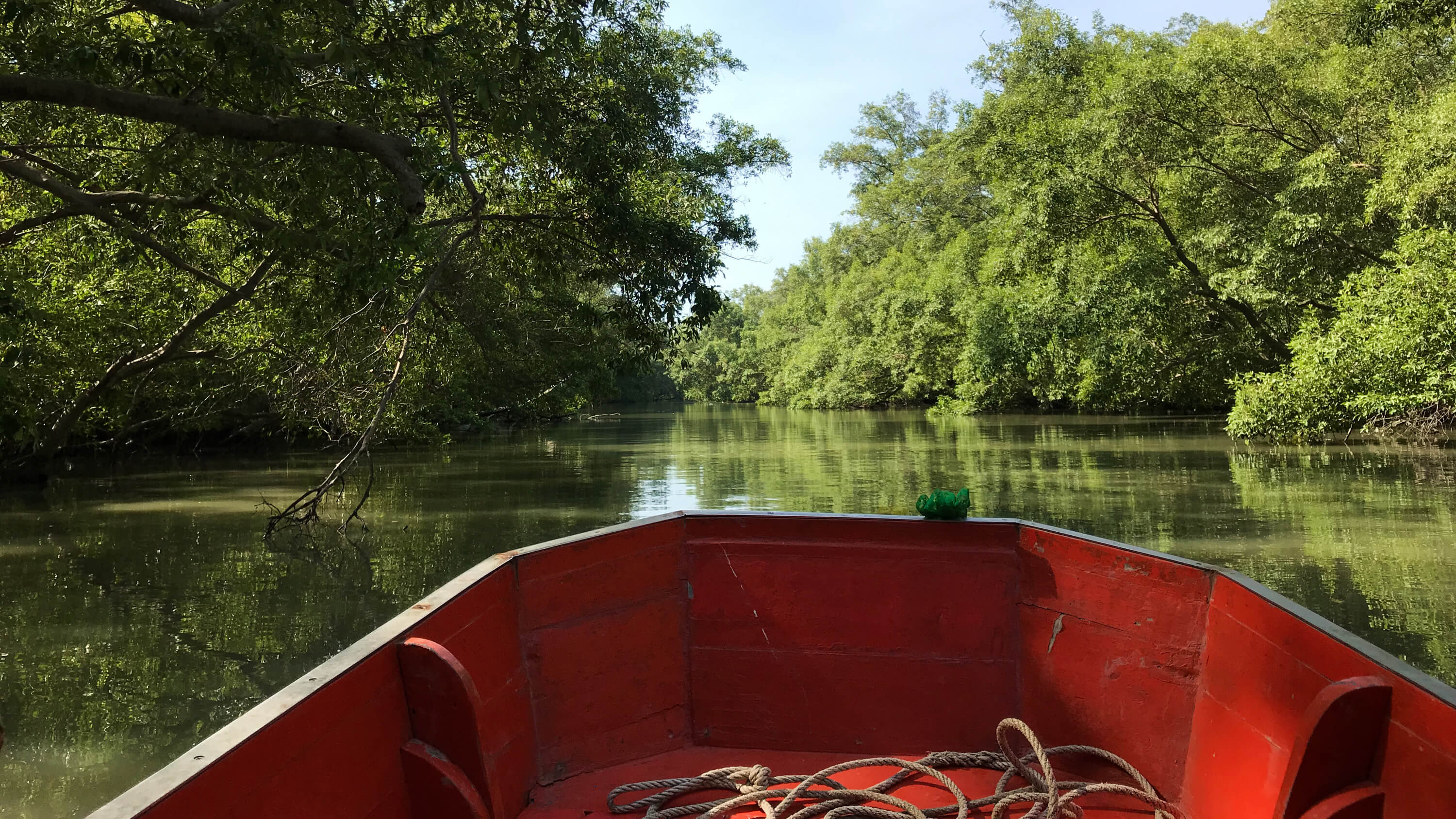 One of the most fun and most interesting day trips you can do from Bangkok
I finally got to go and check out an area I've been wanting to visit for a long time now. Samut Songkhram is only about an hour and a half outside of Bangkok and it makes a great day trip. It's most famous for its floating markets, but I wanted to check out the small coastal village of Khlong Khon. This area has gotten popular as a tourist destination in recent years, but it still mainly draws Thai tourists. That makes it a perfect place to visit during the week as there will be very few other people there.
There is so much to do in Khlong Khon, but it can pretty much all be done in a three to four-hour tour. From seeing the monkeys to mud skating and digging for cockles, to checking out an oyster farm and going Thai-style wakeboarding, this place is really a lot of fun. There's also great seafood around the area, and some nice places to stay if you want to do an overnight.
How to book
As a destination that mainly gets Thai tourists, booking here can be difficult but is usually necessary. You will either need to book through a company like Hivesters, or have a Thai speaker call and book for you. The place we went with we can't really recommend as they pretty much half-assed it. A place that does have very good reviews is Phusit Homestay, and their phone number is 0897456238. They seem to offer an overnight stay with three meals and all activities for 1100 Baht per person, but you should confirm that when you book. Booking is recommended anytime and is a must on weekends and holidays.
You can also book a complete tour that includes pick up from your hotel in Bangkok with the company Take Me Tour. The tour may not include every activity mentioned in this post, so if there is something in particular you want to do such as wakeboarding, make sure to message the guide and ask if it's possible. The tour can be booked here.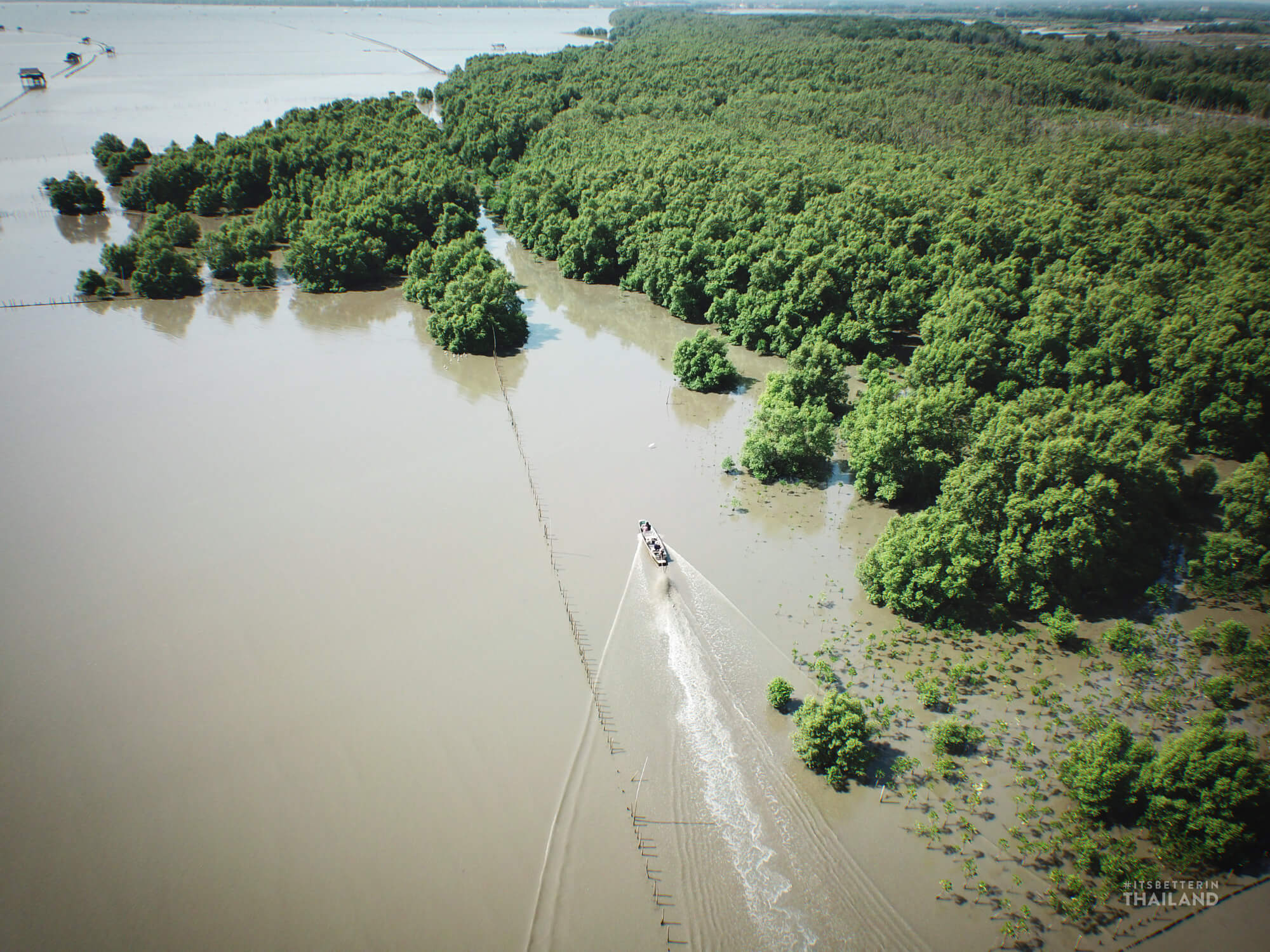 Getting to Khlong Khon
By far the easiest and most convenient way to get to Khlong Khon is with your own transport. We rented a car in Bangkok via Rentalcars.com that cost just 700 Baht per day. You could also go by private taxi or car which for a full day should cost around 3000 Baht return to Bangkok. It is possible to get there on public transportation. From the Mae Khlong Market area in Samut Songkhram you can get a large blue songthaew to Khlong Khon. To get to Samut Songkhram from Bangkok by bus or train, see our complete travel guide to Samut Songkhram Province.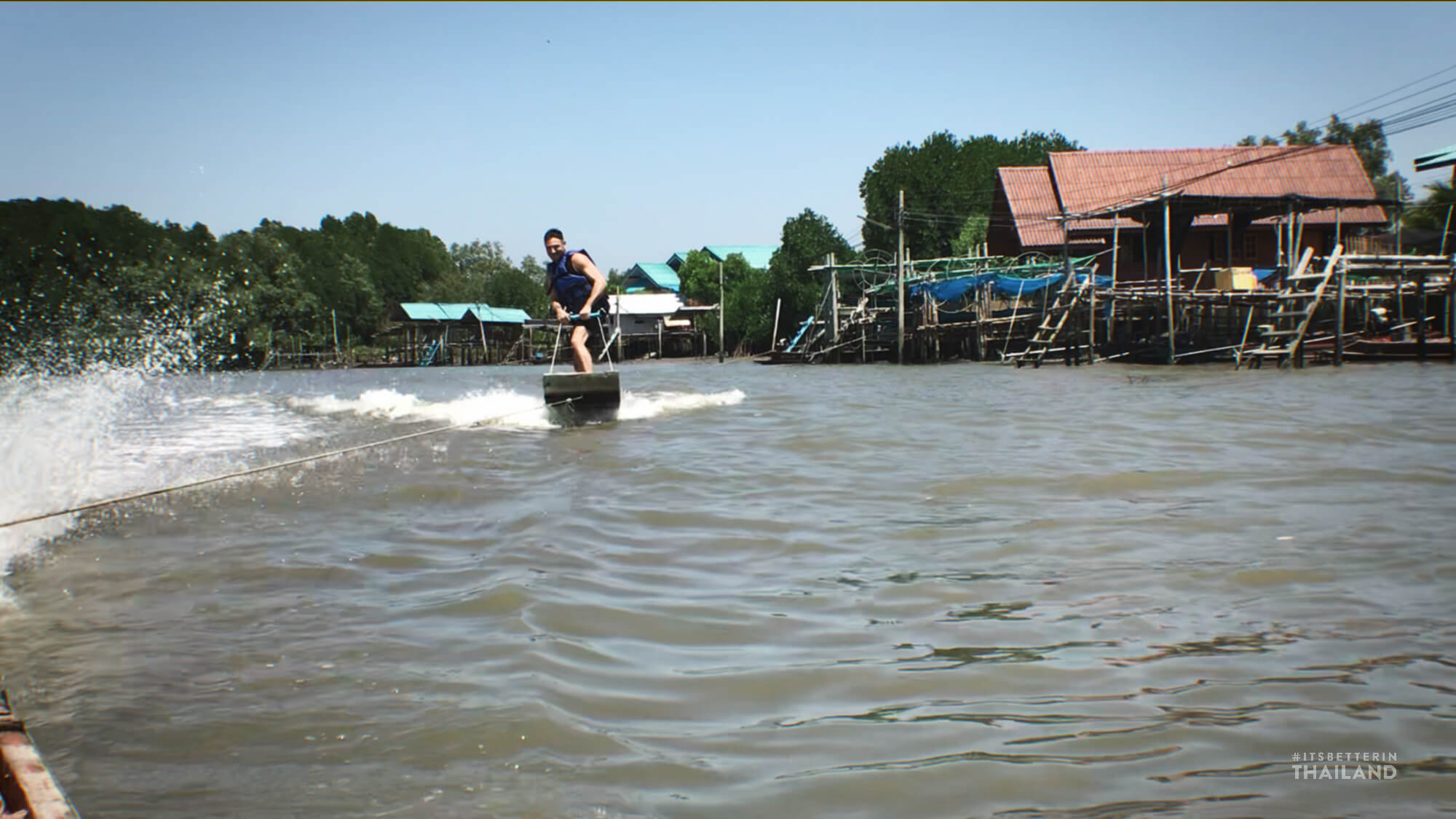 Activities – Thai retro wakeboarding
The highlight for me was definitely the wakeboarding, although the place we went with didn't use the right board. The actual activity involves a sort of ski/sled that is typically used to glide over the mud when harvesting cockles. What they had for us was a very thick piece of foam. In addition to being much less authentic, it is also fairly impractical for bigger people since it flexes, so the weight doesn't distribute well and it can't skim across the surface. I'm not that big either, just 75 kg. I'll have to go back sometime and try it on the real board.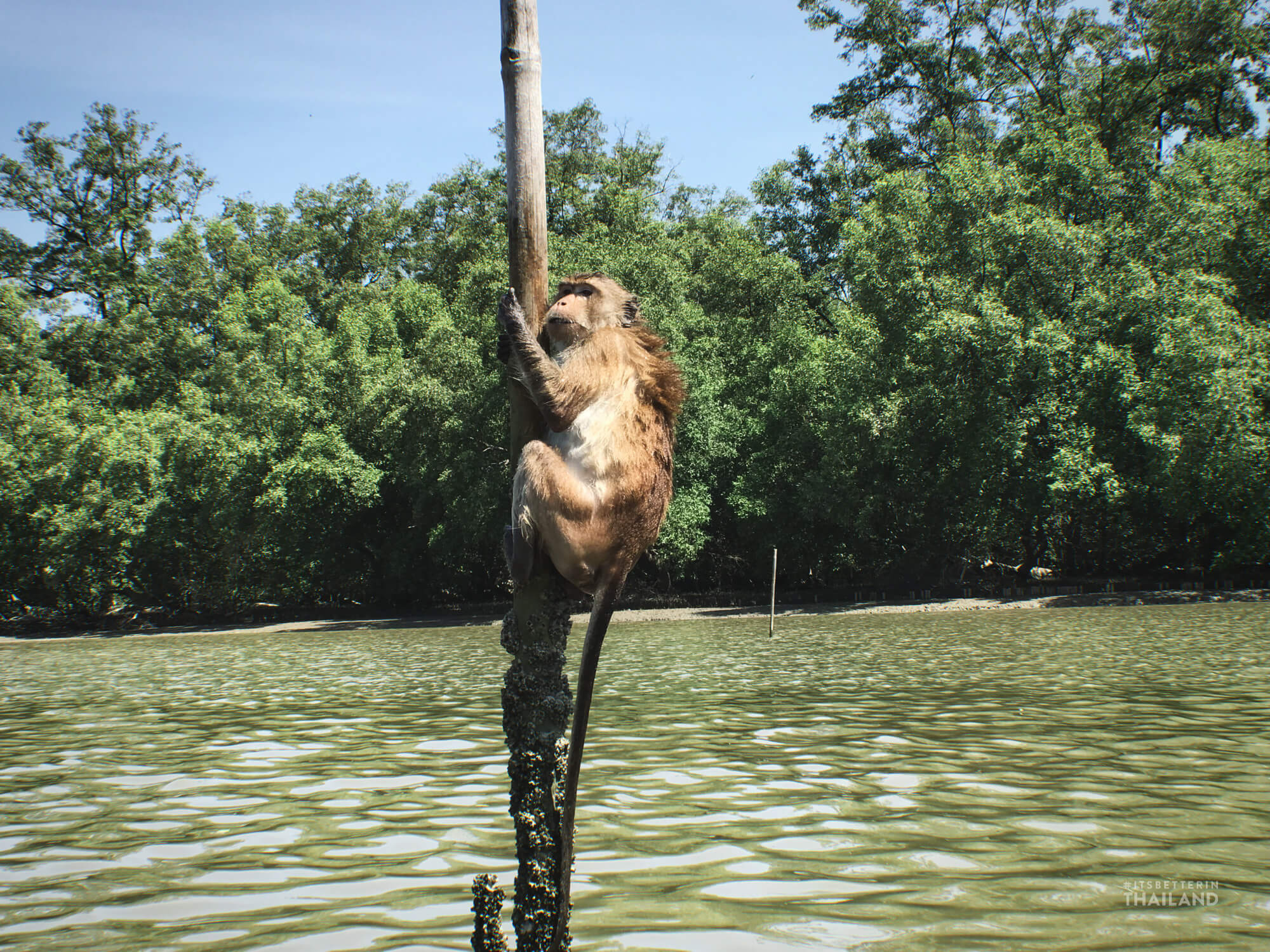 Seeing the mangrove monkeys in Samut Songkhram
The other really great thing here are the mangrove forests which were once nearly destroyed but have been rehabilitated and now provide important habitat for a lot of different land and sea animals, as well as birds. Hundreds of crab-eating macaque monkeys live in these forests and will always come to the water's edge as boats pass by, hoping to get some free food. Typically we advise anyone against feeding wild animals and we skipped it. However, most visitors here do feed them and they still seem to be wild animals and haven't become dependent on it.
As we passed through the narrow channel in the mangroves, monkeys on either side came out onto the branches and looked at us hopefully. At any given time there were five to ten that we could see. We were told that if we started to feed them they'd put out the word and over 100 would then show up. Unlike macaque monkeys in some other parts of Thailand, these ones still seem fairly skittish around humans, although that might change if you give them food.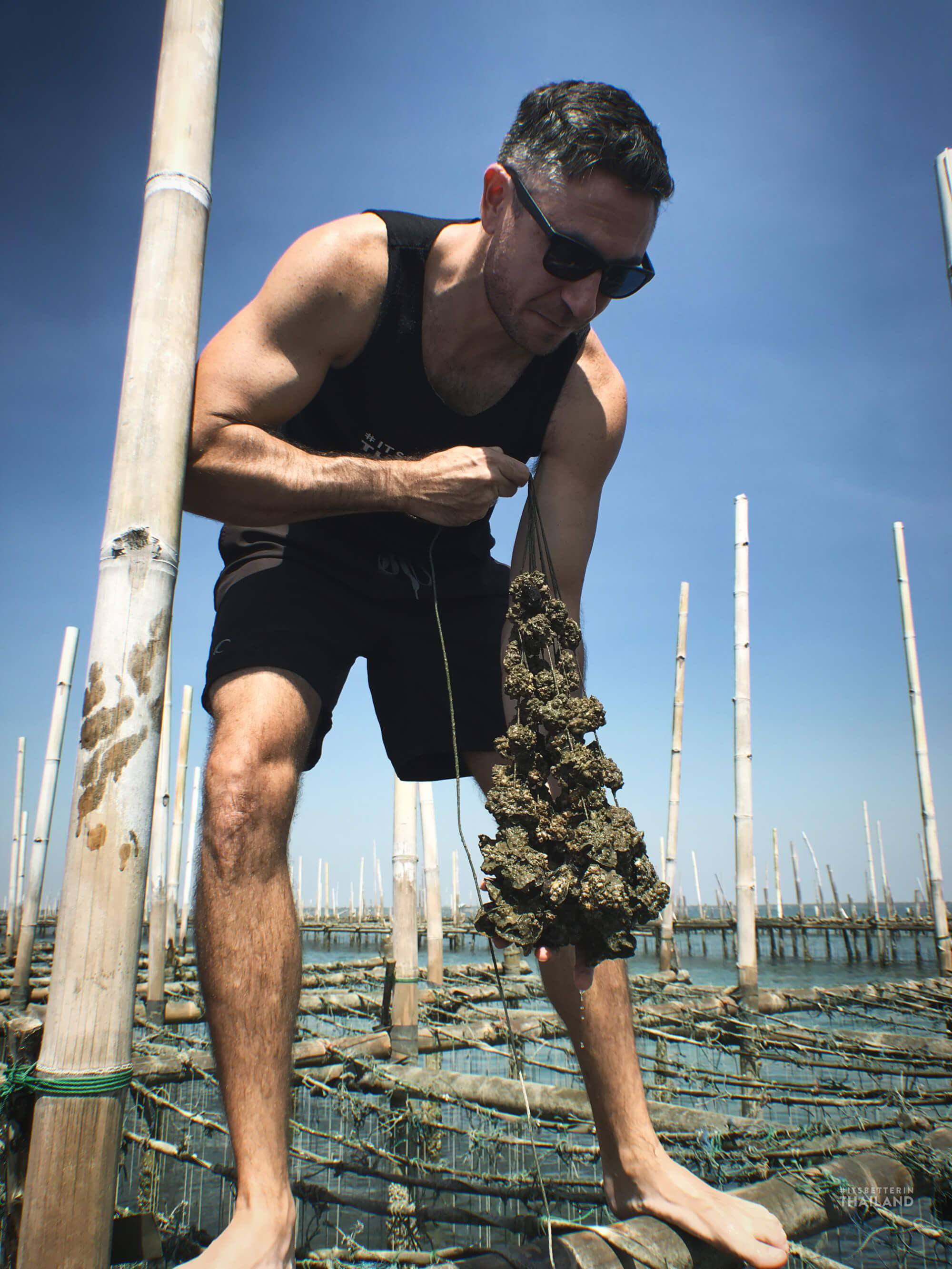 Visiting an oyster farm
After the mangrove forest, we headed out into the sea which is quite flat and shallow for a long way out here. The channels are marked by bamboo fences, and there are a number of houses built on stilts out on the water. The oyster farms are made of bamboo frames with the shellfish growing on ropes hanging down in the water. It was cool to see but only really worth hanging around for a few minutes.
Gathering cockles and playing in the mud
The other very popular activity here is getting down and dirty in the mud. We were a bit short on time and had to spend the next few hours in our rental car so we skipped this, but I regretted that later. Anywhere you go will have showers to wash yourself off, but be warned that the mud is supposedly very sticky. You can play in the mud, make masks, and also slide around on the ski/sled that locals use to travel across the mud without sinking into it. You can also plant a mangrove sapling and do your part to help reforest the area.
If the place you're staying includes food as part of your package, you'll definitely get to try some local catch. If not, we can highly recommend the nearby Gaysorn Seafood Restaurant. We had a truly excellent meal there.
Photo gallery
---
Disclosure: This page has some affiliate links. If you click one of these links and make a purchase or booking, we will earn a small commission. This is 100% free for you and it helps us to continue creating great Thailand content that we can offer to you for free.