Kanchanaburi
Kanchanaburi (กาญจนบุรี) is a paradise for outdoor adventurers and history buffs. Most of the province is jungle, caves, large reservoir lakes, national parks, and waterfalls. It's also home to the notorious WWII "Death Railway" and has some great museums and historical sites from the railroad route.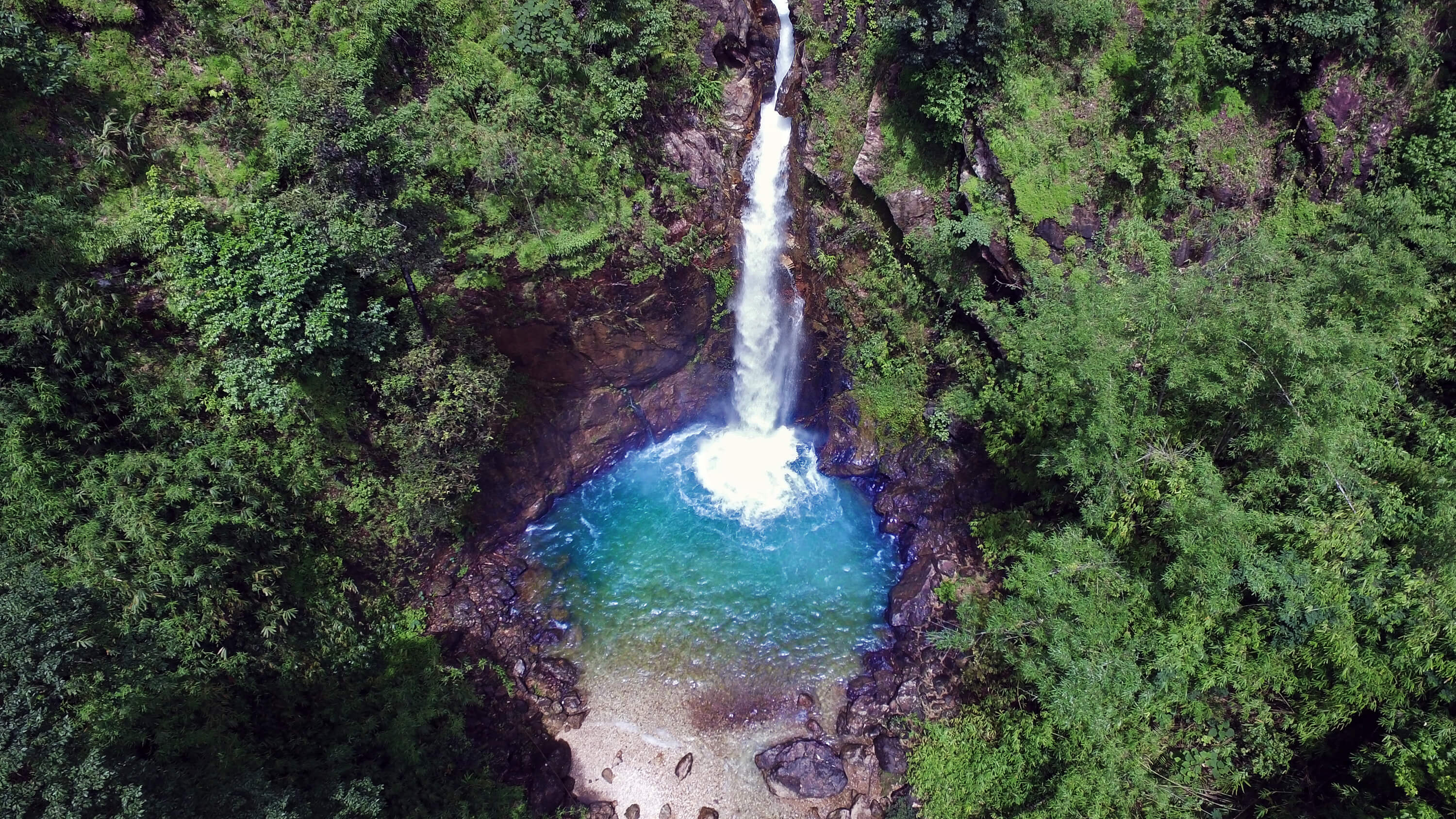 Kanchanaburi borders Myanmar at Thailand's western frontier, just a few hours from Bangkok. It is the third-largest province in Thailand and is dominated by national parks, wildlife sanctuaries, huge manmade lakes, rivers, temples, historic locations, and traditional villages and small towns. If the natural beauty of Thailand inspires you, then Kanchanaburi is a must visit.
The infamous World War II "Death Railway" made famous by the classic film "The Bridge on the River Kwai" ran straight through here and there are a few museum and sites that are well worth visiting.
Getting there
Most people base themselves out of the provincial capital, Kanchanaburi City. This small city is easily accessible from Bangkok by bus, train, private taxi, or by your own transportation. If you're not driving yourself, we highly recommend doing at least one leg of the journey on the train.
By Car – It is pretty advantageous having your own vehicle in Kanchanaburi, so renting a car and driving from Bangkok is a great option for a lot of people. The roads are in good shape the whole way there, and you'll save a lot of hassle and money not having to take taxis everywhere you want to go. We always find the best price through Rentalcars.com, and there are pickup locations all over Bangkok.
We find the risks of driving in Thailand to be lower than what a lot of people will lead you to believe, and we personally rent cars often for our travels. That said, everyone measures risk differently so you'll have to decide if this is for you or not. Personally I feel much safer driving myself than leaving my life in someone else's hands in a taxi or bus.
By Bus – Buses and smaller vans leave the Southern Bus Terminal in Bangkok several times per hour. The journey takes two to three hours and costs around 100 baht depending on which class of bus or van you take. The big buses are much safer than the minibusses in Thailand, but they do take longer to get you to your destination. The Southern Bus Station is located across the river in the West of Bangkok, in the Thonburi area. It is best to go there in a taxi.
There are also a few buses per day from Mo Chit Northern Bus Station, but unless you're staying quite close to here you'll be better off going to the Southern Bus Station. There are usually a few tourist minibusses each day to Kanchanaburi that leave from Khao San Road. these can be convenient if you're staying there, but not very comfortable and with a high likelihood of being stuck with a smelly backpacker for three hours.
Kanchanaburi has two bus stations which are about a block apart from one another. They are located at one end of the city so you may arrive quite close to your hotel, or it might be a few kilometers. There are taxis there that will take you to your hotel for a pretty reasonable price. We find them to be mostly honest here.
By train – We very strongly recommend taking the train for either your outbound or return journey. There are two third-class trains that leave from Thonburi Train Station daily. Don't let "third-class" scare you, these trains are pretty clean and safe, and outside of busy holiday weekends, they don't get too crowded. The windows and doorways between the cars are all open-air which we love since you don't feel so sealed in. The view as you are leaving Bangkok is pretty interesting, and during the second half as you pass through lush rice fields it is quite beautiful.
| | | |
| --- | --- | --- |
| Train | Morning | Afternoon |
| Bangkok to Kanchanaburi | dep: 07:45 arr: 10:20 | dep: 13:35 arr: 16:35 |
| Kanchanaburi to Bankok | dep: 07:25 arr: | dep: 14:48 arr: |
This is the train schedule between Bangkok and Kanchanaburi. Tickets on this line cannot be booked online, but doing so isn't necessary.
The train costs 100 Baht for foreigners. For Thais, it costs almost nothing and is often free. If this bothers you, just try to keep in perspective that you're taking a three-hour train journey for about $3 USD. The train station in Kanchanaburi is centrally-located within the city. Check the map app on your phone because your hotel may be a short walk away, otherwise a taxi will be able to take you there.
To cross the famous railway bridge on the train, stay on for one more station past Kanchanaburi and you'll get to cross. You can then disembark just across the river and take a taxi back. You can also catch the return train to Bangkok here.
By private taxi – Kanchanaburi is close enough to Bangkok that it's pretty easy to take a taxi there. If you can find a taxi driver who knows how to find a return fare, you can probably get a sedan for up to three people for as little as 2,000 Baht. You can potentially negotiate this with any Bangkok city taxi, or you can ask your hotel to help you with it (which may cost a bit more). You can also book this online through 12Go.Asia where a sedan starts at 2,200 Baht, and there are also plenty of SUV options and even minibusses for larger groups.
From cities other than Bangkok – Buses also go to Kanchanaburi from other cities in Central and Western Thailand. These cities include: Suphan Buri, Ayutthaya, Pathum Thani, Hua Hin, Phetchaburi, Samut Songkhram, Ratchaburi, and even Pattaya and Chonburi. The time it takes to get to Kanchanaburi and the cost of the ticket will vary depending on where you depart from.
Kanchanaburi one day tours
We pretty strongly recommend spending at least a night and two partial days in Kanchanaburi, but if you're short on time it is possible to leave in the morning from Bangkok, see a few of the highlights, and return that night. We find that the best and most intimate tours are from the local company Take Me Tour. Most of the tours on this page leave from Kanchanaburi though, so make sure you find one starts in Bangkok.
Get Your Guide also have some decent Bangkok-Kanchanaburi one day itineraries.
Getting around
The central area of Kanchanaburi is fairly small, but walking from the famous railroad bridge to the Railroad Death Museum and War Cemetary would take about 40 minutes, so you'll probably want to choose another option.
Bicycle – You can rent bicycles all over town and there's a good chance your hotel will have them as well. This is a good option for the time you spend exploring the in-town Death Railway sites.
By motorbike – Unless we've rented a car from Bangkok, we personally rent motorbikes in Kanchanaburi since they will get you around town, and out to a lot of the province's other highlights which are around a 60-90 minute drive away. We don't recommend this unless you already know how to ride. Bikes should cost 200-300 Baht per day, and you might find a clutchless-geared bike for 150.
By Samlor (three-wheeled taxi) – The standard taxi for journeys in town is the samlor, a motorbike with a sidecar, topped with an awning. The price to go across town should start at around 60 Baht, but expect to pay double that if you're more than two people. These can seat quite a few people, but you won't go very fast if you pile five big-bodied foreigners on.
By Songthaew (pickup truck taxi) – shared songthaews patrol up and down the main Sangchuto Road and charge a flat 10 Baht per person. If you're really on a tight budget you can take one of these. Tell them where you're going before you get on, and make sure they know you're not trying to hire them as a private taxi.
Getting further out of town – To visit the sites out of town, you'll either need to go by private taxi, on a tour, by your own car or motorbike, or by a privately hired songthaew. There is also a public bus to and from Erawan Falls.
Our recommended "Death Railway" history itinerary
One great option especially if you are very interested in the Death Railway history is to take the train from Bangkok, pass Kanchanaburi City and continue to the end of the line in Nam Tok (น้ำตก). You can then head back and get off at Tham Krasae Bridge Station (ถ้ำกระแซ) and stay at any of the excellent hotels in the area (the best is Suan Sai Yok Resort. It's located literally at the Tham Krasae Train Station, and the grounds of the resort look up at the Tham Krasae bridge.
This out and back train journey will take you across the famous bridge over the River Kwae on the train, and you'll get to pass the famous trellis that hugs the cliff over the river at Tham Krasae twice. You'll then be staying in the area so you can cross it again on foot that evening.
On day two you should visit Hellfire Pass and the nearby Sai Yok National Park. Staying out here puts you only an hour from both locations, rather than the two hours from Kanchanaburi City. You can hire a driver, or rent motorbikes to visit these two attractions.
On the morning of the third day, take the train again to get back to Kanchanaburi City to explore more of the railway history, museums, cemeteries, and of course, see the Bridge on the River Kwai. You could then either return to Bangkok that night or spend another day exploring more of the province, perhaps visiting Erawan Falls.
What to do (in the city)
Bridge on the River Kwai
During World War II, Allied prisoners of war (POWs) and Southeast Asian laborers were forced by the Japanese to build the Burma Railway from Bangkok to Rangoon. Nearly 100,000 civilian laborers and 12,000 Allied POWs died during the construction. This historic and tragic railway cuts through the whole of Kanchanaburi and the most famous spot along the railroad is the Bridge on the River Kwai.
Historical note: The bridge was made famous by the excellent film The Bridge on the River Kwai, but in reality that film was based on a novel which itself was a work of fiction. The novel's author though, was actually a POW laborer on the Death Railway, and his experience absolutely informed the novel. To promote tourism, the name of Kanchanaburi's river was changed to Khwae Noi, meaning "little Khwae". The nearby Khwae Yai ("big Khwae") River may have inspired the title of the book, but the story is fiction. Don't let this detract from the experience of seeing the bridge though, it really is the original bridge built during the war, and you can see certain sections which look different as they were replacements after a successful Allied bombing run.
You can access the bridge from the center of Kanchanaburi and can walk along the bridge and even on the tracks. When a train approaches you can either get off the bridge entirely or stand at platforms placed along the bridge where you will get an up-close look at the train as it passes.
Kanchanaburi War Cemetery and Thailand-Burma Railway Centre
Across town from the bridge is the Kanchanaburi War Cemetery. This is the final resting place of nearly 7,000 prisoners of war who died building the Burma Railway. It is a very somber spot and respect is expected of those visiting. Many of the graves include pictures and stories of the deceased, and spending some time reading and learning about these individuals is a sobering experience.
Across the road from the cemetery is the excellent Death Railway Museum. This museum does a good job of explaining the history of the railroad, the significance of it, and the horrific conditions under which its builders were forced to live and work.
We prefer to skip all the other Death Railway museums around town as this is the best. The only museum that may be better is the learning center at Hellfire Pass. If you're going there, you could probably skip this one, unless you are a big history buff.
Kayaking
There is a nice little shop along the river road right in town where you can book kayak trips on the river. Stop in and ask the lovely owner about the options. When we went they drove us upriver and launched us with our kayaks, and we then floated about three hours back into the city crossing under the railroad bridge. The scenery was really nice along the way and we highly recommend this. You can contact River Kwai Canoe through their Facebook page, or find them at this location.
What to do (outside the city)
Erawan Falls
An hour's drive from Kanchanaburi City is Erawan National Park where you'll find the famous Erawan Falls. This is arguably the most beautiful waterfall in Thailand — it certainly looks that way in photos! — but it is also very popular and it gets crowded. Teal blue water flows over seven tiers of the waterfall making for a stunning sight. You can explore the surrounding jungle and swim at all seven levels. It can get busy here, especially midday. The best times to go are at 8 AM when they open, or at around 3 PM, and stay until they close at 4:30 PM. The entrance price for foreigners is 300 Baht, 100 for Thais.
Srinakarin Dam
If you visit Erawan Waterfall, you should definitely continue just ten minutes further up the road to drive to the top of Srinakarin Dam (เขื่อนศรีนครินทร์). There's not all that much to speak of up here, but the views are pretty impressive and it is actually a pretty big dam. The best time to visit is late afternoon, right after Erawan closes.
Wat Tham Suea
Located a 25-minute drive southeast from Kachanaburi City is the mountaintop temple of Wat Tham Suea. The temple has a large sitting Buddha image encased in an awning. From the temple, there are stunning views of the surrounding countryside and lush green rice fields. This location has become very popular and several cafes and restaurants overlook the fields and the temple with long boardwalks winding their way through the fields providing great photo opportunities.
Sai Yok National Park
While not as popular or as well known as Erawan National Park, Sai Yok National Park provides as much, if not more, natural beauty. Here you will find Sai Yok Noi and Sai Yok Yai waterfalls. Both waterfalls are surrounded by the thick jungle of the Tenasserim Hills and are less busy and more peaceful. Within the national park are three caves: Lawa Cave, Daowadueng Cave, and Kaew Cave. they are filled with impressive stalagmites and stalactites and are easily accessible from within the park. Sai Yok is not far from Hellfire Pass and the two combine for a nice day trip. The entrance fee for the national park is 300 Baht for foreigners, 100 for Thais.
Elephant Sanctuary
We always recommend against visiting elephant riding camps and elephant circuses in Thailand. You will have a much better experience visiting an ethical elephant sanctuary where the animals are well-looked after happy. Kanchanaburi has a few options for this.
We recommend booking one that works with the Elephant Nature Park as because that's the best indicator we're aware of that a given sanctuary is actually ethical. You can book a an elephant experience in Kanchanaburi directly from this page on the ENP website, just scroll to the Kanchanaburi section as most of the projects are in the North. You can read more about ENP and why this is our recommendation in our post on booking ethical elephant sanctuaries in Thailand.
Death Railway and Hell Fire Pass Memorial
The laborers on the Death Railway endured brutal conditions and backbreaking work, and nowhere is this more evident than at Hellfire Pass. Using little more than hammers and chisels, they dug a passageway through solid rock for a train to pass through. The museum here is excellent, the pass itself is haunting, and the trails around the area that follow the old railroad bed and still have some relics around are tragically beautiful.
Prasat Muang Singh Historical Park
This is a 13th century Khmer ruins located between Kanchanaburi and Sai Yok National Park. The red laterite stones stand in contrast to the green of the jungle surrounding it. The prang and the surrounding walls are well preserved and it is worth a short visit.
What to do (in Sangklaburi)
A three-hour drive northwest from Kanchanaburi City, Sangklaburi (สังขละบุรี) is worth visiting for people who like to get off the beaten path (note though that it's popular with Thai tourists). Sangklaburi is famous for its Mon culture and heritage, sites around the Northern end of a huge reservoir, thick jungle, a national park, and the border with Myanmar.
Three Pagoda Pass
The Three Pagoda Pass is located on the border of Thailand and Myanmar near the second largest town in the province, Sangklaburi. This area is historically significant for Thailand and Southeast Asia. It is believed that Buddhist teaching entered the region through the pass 1,700 years ago, and it has been a historic invasion route for both the Burmese, Siamese, and Khmer armies. Here you'll find three small pagodas, a place to buy souvenirs including some from Myanmar, and see some of the hill tribe cultures of the area. Note that Thais can cross the border here, but foreigners cannot.
Saphan Mon (The Mon Bridge)
Stretching 400 meters and spanning the Songaria River, the Mon Bridge is the longest hand-made bridge in Thailand and the second-longest in the world. At any time of year, it is a great location to watch a sunrise or sunset and explore the Mon culture. In the dry season, it is possible to hire a boat or rent a kayak to explore some of the sunken temples that were abandoned when the Vajiralongkorn Reservoir flooded the region.
Where to stay
There are a lot of accomadation options in Kanchanaburi, both in the city and all around the province. You'll find everything here from cheap backpacker digs to some of Thailand's most stylish hotels. One popular choice here are floating bungalows that are anchored right at the river's edge. Here are our top picks:
If you're on a budget, you'll want to stay in closer to the center of town. Our budget pick is conveniently located right in the middle, a short walk to the train station, and an easy stumble home from most of the bars. You can find rooms a bit cheaper than Siam Guesthouse, but you'll be taking a significant downgrade. This place offers great value for the money.
Our favorite mid-range pick is the U Inchantree Kanchanaburi. This is one of the better value hotels we've ever stayed in and has one of the best breakfasts we've come across as well. Best of all, it's located about a four-minute walk from the Bridge on the River Kwai. There's a nice pool and beautiful river views from the grounds, but the rooms here are set back from the river.
Our luxury pick is undoubtedly the best hotel in the Kanchanaburi City area. The X2 River Kwai Resort is located near the Wang Lan train station three stops past the famous bridge, and it's just a ten-minute drive by car into the center of town. If you want luxury floating bungalows right on the River Kwae, this is our favorite.
If you want a luxury option but also want to stay right in the city (basically, if you plan to party and want to stay in nice digs), you should definitely stay in our in-town luxury pick. Natee The Riverfront Hotel is a stylish, design-forward hotel with nice river views, and an unbeatable location along the river right in the middle of town.
Nightlife
Kanchanaburi has a decent nightlife scene, and most of it is right along the Mae Nam Kwae Road which runs parallel to the river. There are a few sports bars along here mostly catering to foreigners, and a few "lady bars" for men who are looking for some female company. A few of our favorite spots are:
Where to go next
Head back to Bangkok or go due east into Central Thailand and visit Ayutthaya. You can also go south to check out Ratchaburi, and continue from there into Phetchaburi, the start of Southern Peninsular Thailand.
When to go
Most of Thailand falls in to the generic high and low season categories, including Kanchanaburi.
High season - begins in November and runs through to February, bringing cooler temperatures, lush greenery from the previous months of rain, good air quality, and less rain. The downside is larger crowds and sometimes higher prices for tours, flights and accomodation.
Low season - begins in July and runs through to October. During low season the temperatures are higher, the chance of rain and storms are higher. That doesn't mean it's a bad time to visit though, if you can be flexible, there are deals to be found on flights and accomodation.
While it's always hot in Kanchanaburi, the small change in temperature between high and low season can be just enough that the heat isn't unbearable when out and about.
Need more? Read our post discussing the best time to visit Thailand.
Where to stay
Instead of recommending hotels, we think it will be more useful to share our process so you can pick based on your own critera for location, budget and style.
We always start our search on either Booking.com or Agoda. They have an easy to user interface and have some extra benefits for "Genius" and "VIP" users. You can also sometimes pay with credit card in advance if you're playing the cashback or air miles game.
Process:
Search for specific province, city or town.
Apply rating filters for a minimum rating or either 7, 8 or 9.
Apply other filters: budget, fitness, breakfast, etc.
If you have a specific location in mind, use map view to browse and make a final selection.
If there are too many properties available to choose from, increase the rating filter for less, higher rated selections.
Final notes: Prices are dynamic. Check the same hotel on both Booking.com and Agoda to see which has the best deal at any given time (go through to checkout to make sure all VAT and service charges are factored in). You can go one step further by calling the hotel and checking the price for booking directly. In our experience this saves money 50% of the time but you have less guarantees.
Emergency contacts
Knowing an emergency number could save your own, or somebody elses life. Take a photo or save these numbers on your phone:
Police & emergencies - 191
The most important number to remember. If the operator is unable to speak English, call 1155 (below).
Tourist Police - 1155 or (+66) 2308-0333
This hotline is available 24 hours a day and they will all speak English. This is an important phone number to remember - They will help you out with any concerns or questions you have and can redirect you to the correct number you may need.
Public Ambulance - 1669
Dialing this number will connect you to a public ambulance service, which will dispatch a vehicle to your location. The average response time for urban areas is around 10 minutes, but may take up to 30 minutes in rural areas. English-speaking staff should be available to assist you.
Fire Department - 199
In case of an emergency such as a house fire, or forest fire, call 199 for the Fire Department to be dispatched to your location.
Highway Police - 1193
If you plan on driving in Thailand, then you may end up needing to use this number if you break down in an unsafe place etc.
---
Videos
Our archive of videos from Kanchanaburi
---
Activities
Our archive of activities and things to do in Kanchanaburi