How to book an ethical elephant sanctuary in Thailand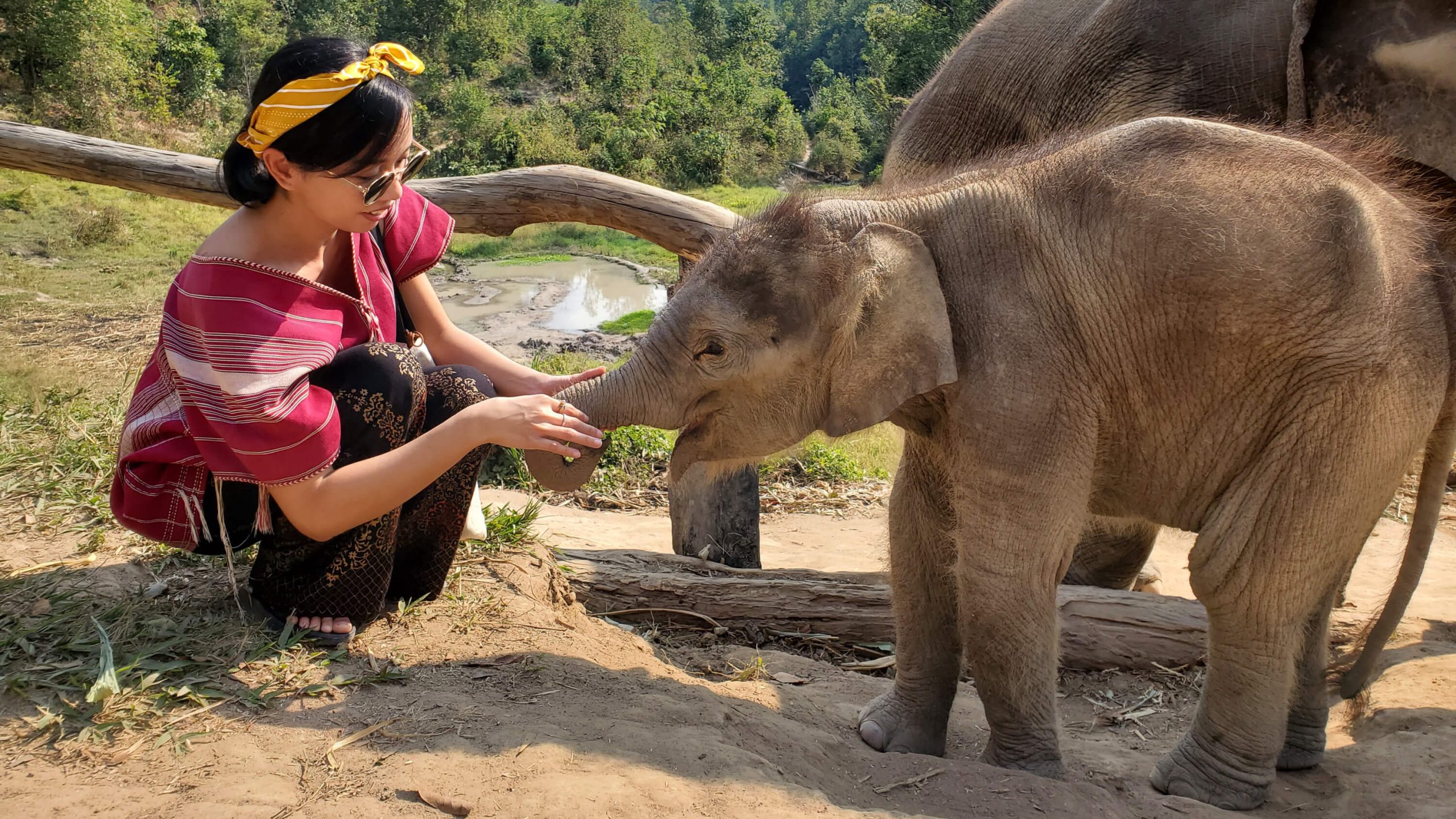 It can seem almost impossible at first to find out which "elephant sanctuaries" in Thailand are actually ethical, and which are just using that word while abusing their animals. Fortunately, there is an organization that oversees a lot of different elephant projects and that ensures visitors are supporting a good cause. This guide will explain why the Elephant Nature Park is most trusted elephant care organization in Thailand, and how to book elephant sanctuaries in Chiang Mai, Kanchanaburi, Pattaya, Koh Samui, Phuket, and Surin.
Interacting with elephants is right up at the top of a lot of people's Thailand bucket lists, and these days an increasing number want to do so in an ethical way. This is a great sign that things are changing for the better for Thailand's captive elephants, but a lot of existing elephant camps have responded not by changing the way they treat their elephants, but by simply rebranding themselves as "sanctuaries". Unfortunately, there are no laws governing who is allowed to call themselves a sanctuary, foundation, or rescue center. There is also no independent certifier of which places treat their animals well, and which do not.
Luckily, the Elephant Nature Park (ENP) is an organization that is fighting the good fight to protect elephants. Their sanctuary and those that they partner with are all trustworthy and ethical. Booking through them is the best way to ensure you're supporting a good cause while visiting elephants in Thailand.
Note: We don't earn anything by referring you to ENP or the partner projects mentioned here, we just recommend them because we believe in their model. There are other elephant organizations which we could earn commissions from, but choose not to.

About Elephant Nature Park
ENP has been around since the 1990s. From their center in rural Chiang Mai Province, they create a sanctuary for elephants rescued from the logging, tourist, and street begging industries. The park also takes care of rescued dogs, cats, buffalo, and other animals, and there are volunteer opportunities with those as well.
What makes ENP really special is that they don't just take care of their own elephants. ENP puts a lot of effort into education and into the conservation of wild elephant habitat. These are probably the two most effective ways to ensure that elephants in Thailand can continue to thrive. The park also actively scales its model, helping elephant riding camps transition away from abuse and towards a way of doing business that ultimately benefits the elephants, the owners, and the guests that go to visit.
How to book in Chiang Mai
ENP has its own sanctuary, and it also supports over a dozen other projects in Chiang Mai Province and a few others in Kanchanaburi and Surin Provinces. You can book all of those through the ENP website. See the section below for how to book ethical sanctuaries in Phuket, Pattaya, and Koh Samui.
Once you're on the Visit & Volunteer page on the ENP website, you'll see that the first few rows of experiences are all at the main ENP site. These range from half-day to weeklong volunteering opportunities. You'll then see the "Saddle-Off" projects which are elephant camps that ENP worked with to transition from riding camps into ethical experiences. For all the projects on the page, there are key symbols that show which experiences include feeding, observing bathing, bathing with the elephants, trekking, rafting, and a few others. Choose a project that suits you, then book it right through the ENP website. They take care of all the logistics including transportation. It's best to already know what hotel you'll be staying at in Chiang Mai when you book.

Pro Tip: Most of the saddle-off projects can be found in Google or Google Maps by searching the name. To find more info on these places than what's listed on the ENP website, you can search for the name there and see photos and reviews from other travelers. We still recommend booking through ENP though.

Booking in Phuket, Koh Samui, and Pattaya
ENP does not have any projects in these areas that can be booked through their website. However, ENP has partnerships with some sanctuaries in these locations, and we believe that makes them trustworthy. You can book these places through their respective websites:
Visiting ENP vs an ENP "Saddle-Off" Project
If you're browsing the various projects and trying to decide where to book, you should think about the type of experience you want to have. The "saddle-off" projects are much smaller and typically have just a few elephants. They also tend to be located in smaller villages or in rural areas. The ENP main sanctuary is a fairly large facility with close to 100 elephants. A lot of their animals there are quite old and have almost no economic value, but are obviously still deserving of care.
Either way, you are supporting a good cause, but I'd say that visiting ENP is more directly supporting elephants in general as well as education and habitat conservation while visiting a "saddle-off" project you're supporting the individual animals that live there, as well as the livelihoods of the villagers who take care of them. There is no right or wrong choice and no matter what you will support a good cause, have an amazing day, and probably have some amazing photos to post on your IG.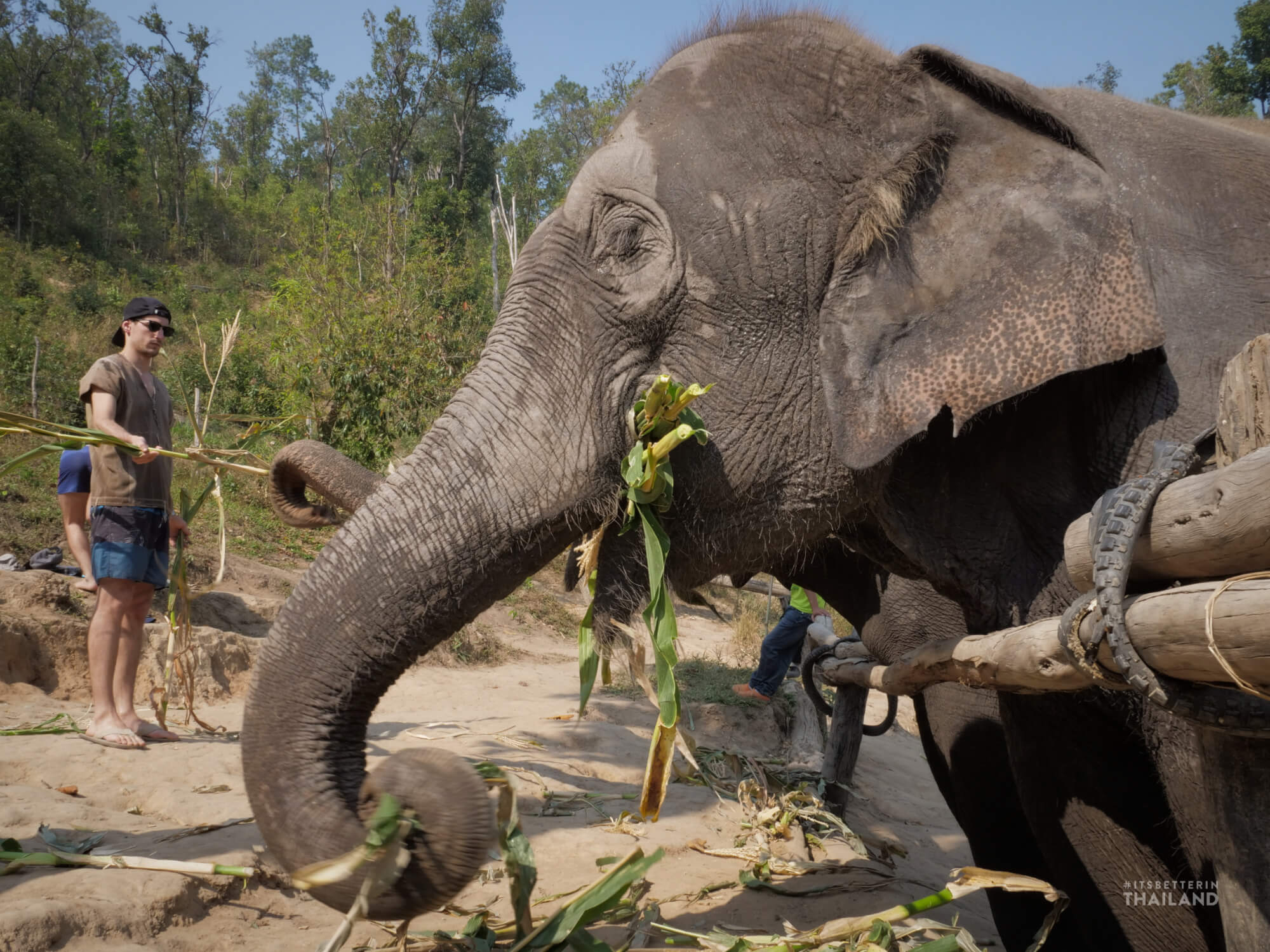 Where we went
We visited the Karen Habitat. "off-saddle" project about an hour south of Chiang Mai city and had an amazing time. The area is stunningly beautiful and the people there are really kind and friendly and obviously love their elephants. When we visited in January 2020, they had four elephants, a mama and an auntie, a daughter just a few years old, and a six-week-old baby girl. Check out the photos below for a cuteness overload.
Photo Gallery