The 17 best things to do in Khao Lak, Thailand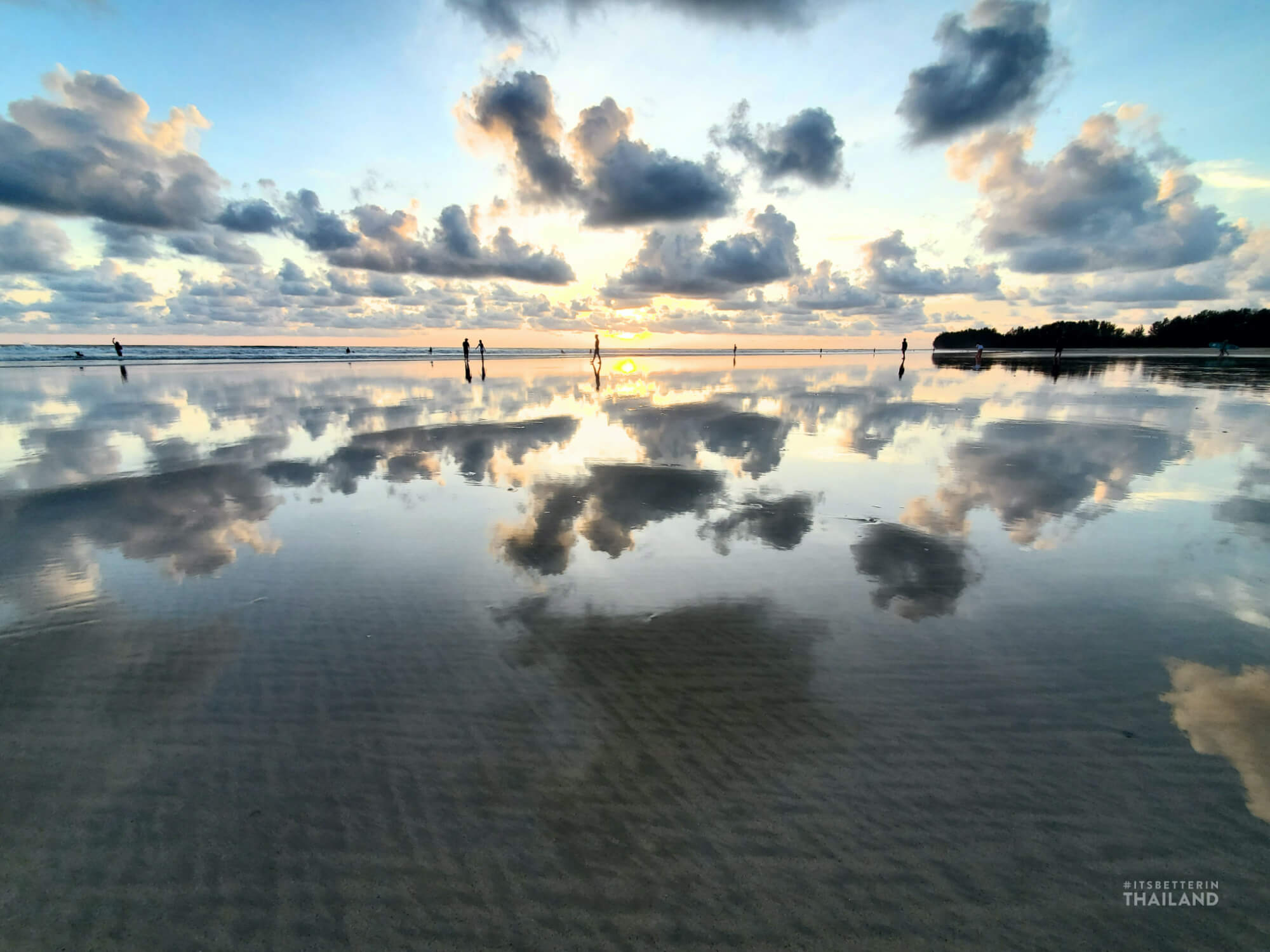 People know Khao Lak for diving, and maybe for surfing, but there's so much more to do here!
Khao Lak (เขาหลัก) is a part of Thailand that most people miss. Of the people that do make it here, even then, most never really see just how great this area actually is. Khao Lak is a bit of a well-kept secret, but if you're reading this, you're already at least somewhat clued in. Here are our top Khao Lak activities:
Scuba diving in the Similan and Surin Islands
For half the year, diving is Khao Lak's main draw, and I'd guess that most of the foreign tourists that pass through the area come for scuba diving. Most speed boats and liveaboard dive boats to the Similan and Surin islands depart from the Khao Lak area, as it's a much more direct trip than from Phuket.
The diving here is the best in Thailand, with extensive reefs, marine life, and large pelagic species all living on and around the large granite boulders that make up the islands. Visibility is often 30 meters+.
These marine parks are only open between October 15 through May 15 (subject to slight changes each year).
The dive boats actually depart from Thap Lamu, a town on a river estuary that forms a natural harbor. This area is often referred to as Khao Lak, and many of the best Khao Lak hotels are around here, but it's actually a 20-minute drive south of Khao Lak itself.
Snorkeling
The clear water and stunning marine life mentioned above isn't just available to scuba divers. Snorkeling tours from Khao Lak to the Similan and Surin Islands can be an unforgettable experience.
You can book single day trips on a speedboat, or multi-day trips on a liveaboard dive boat. Being able to wake up at dawn on your dive boat and have the Similans to yourself for a few hours before the day trippers arrive is definitely the best way to see it.
Surfing
During the rainy season when Khao Lak's scuba diving scene goes into hibernation, its surfing scene kicks into gear. It's definitely not Bali, but Khao Lak really does have some good surfing.
Check out our guide to Khao Lak surfing to learn more
The main surf scene is centered around Memories Beach Bar, at the northern end of Khuk Khak Beach. This area is a 10 to 15-minute drive north of the actual town of Khao Lak.
For beginners, Khao Lak is an ideal place to learn to surf. The beach break in front of Memories Bar is all sand making it quite safe. The ultra-flat beach creates long rolling white waves that are perfect for newbies learning a proper popup.
Out at the back at Khuk Khak Beach, there are often great waves for intermediate and more advanced surfers, with the swell getting overhead on some days. You can rent boards at Memories, and beginner lessons are offered as well. Lessons should be booked in advance if possible, which you can do through the Better Surf Thailand Facebook Page.
There are also a number of good reef breaks nearby, some that can be surfed in low, mid, and high tides. We can't give away the locations in this guide (if you surf, you'll understand), but you may find some if you go look around Cape Pakarang.
A better bet though is to hang around Memories Bar surfing and talking to locals in the lineup and on the beach. You should find someone who will clue you in. It's a friendly place and localism is not very strong.
Rafting
Phang Nga Province has both whitewater rafting options, and slower bamboo rafting trips.
Waterfalls
With mountains and jungle running all along the coastline here, and even sitting directly behind the town of Khao Lak, there are a lot of waterfalls in the area.
The closest to Khao Lak town is the Ton Chongfa Waterfall. This is located in the Khao Lak–Lam Ru National Park so there is an entrance fee of 200 Baht for foreigners, and 20 Baht for Thais. Whether or not this is worth it is up to each individual. The waterfall has multiple levels and is in a beautiful jungle.
There are some pretty nice free waterfalls around. If all you want is a waterfall to play in, go to one of these. A ten-minute drive south from Khao Lak, the Ton Pling Waterfall is a very nice free spot.
A fifteen-minute drive north (not far from the surfing around Memories Beach and Cape Pakarang) you'll find Sai Rung Waterfall. We really like this one. Parking here costs 20 Baht, but it's otherwise free. The friendly owners have set up some tables and chairs in the cool stream where you can order food, smoothies, or a cold beer.
Little Amazon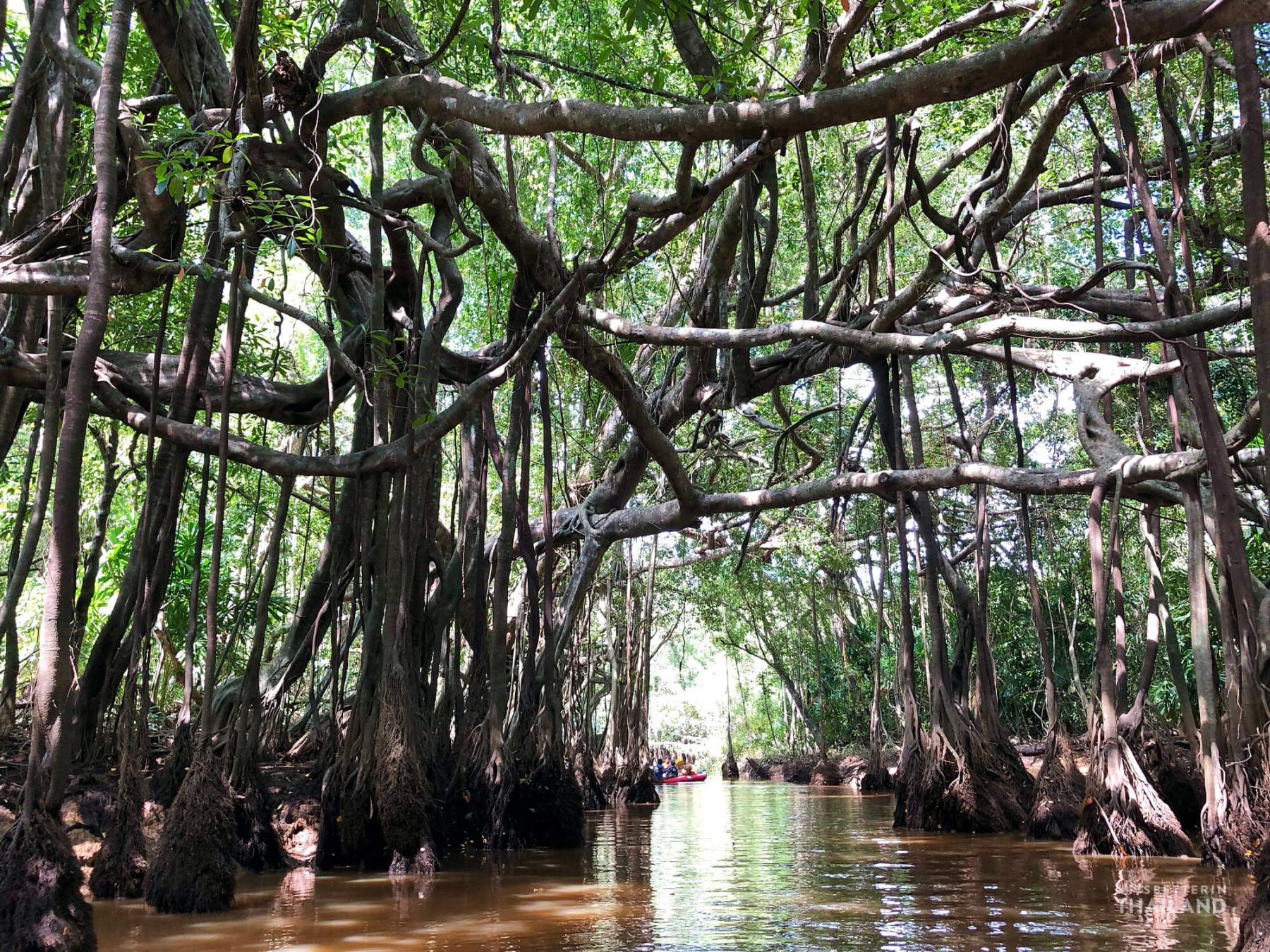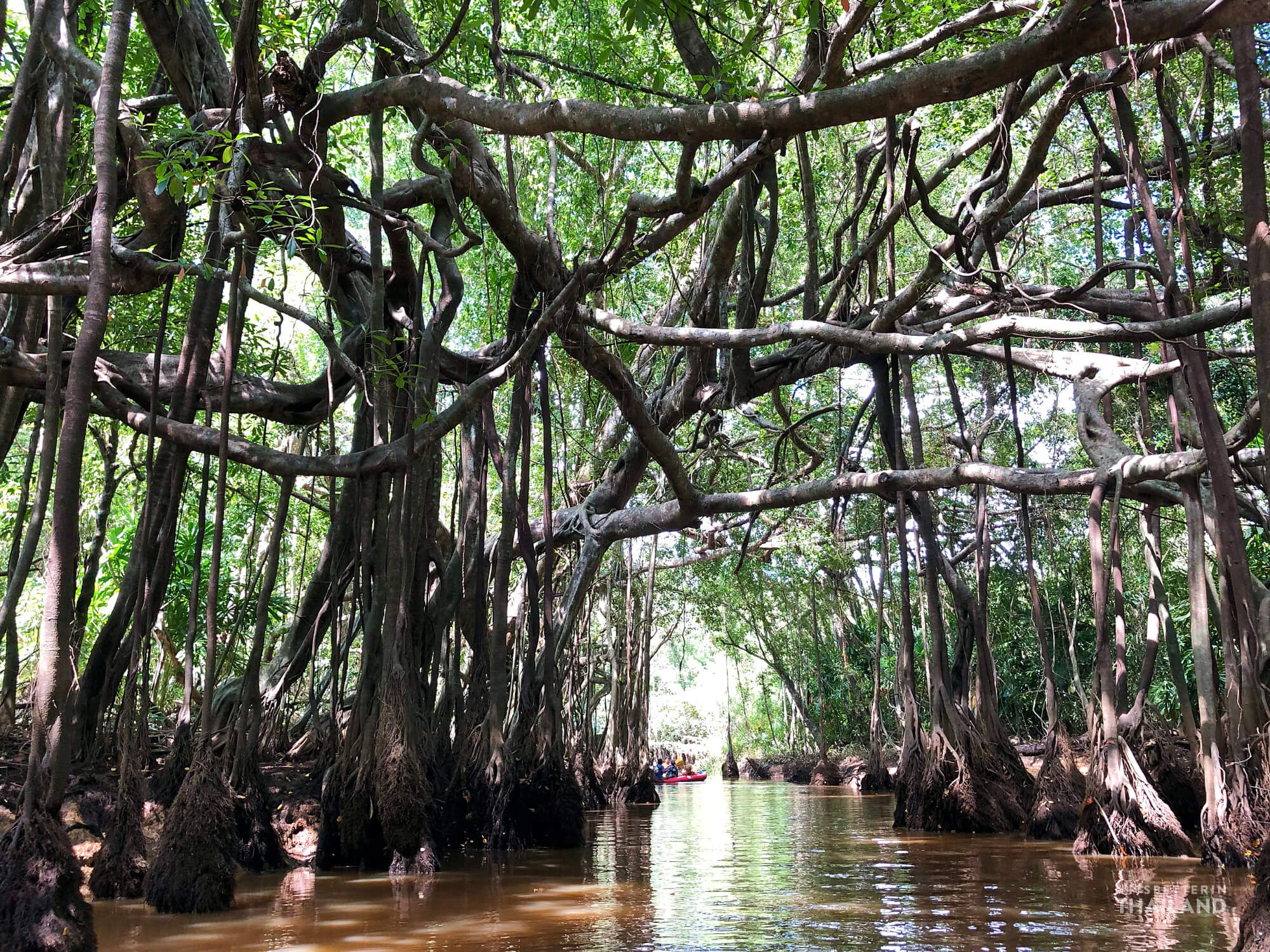 Nature lovers should not miss a trip to the "Little Amazon" in Takua Pa, 30 minutes north of Khao Lak. This small mangrove forest is dotted with huge banyan trees that put out incredibly elaborate root systems that look like something out of the deepest heart of the jungle.
500 Bath gets you a small inflatable kayak and a guide to paddle it. The kayak sits two people, and for one hour you can just relax, enjoy the jungle, and look for wildlife.
It's very common to see monkeys, oriental pied hornbills, snakes resting in the trees (quite safe, don't worry), monitor lizards, kingfishers, and more. You can get excellent wildlife shots here with a zoom lens, but you're often close enough to get some great shots just with your phone.
There are two competing companies here. We prefer the one with the red flag in their parking area. You can just turn up and go, but on a weekend or holiday, it's better to book ahead, which you can do through their Facebook page.
Night Market
In Bang Niang, 5 minutes north of Khao Lak town and just south of Khuk Khak where the surfing is, you'll find a great little night market. The Bang Niang Night Market.
We love these types of markets where you can try all types of food, grab a table, order a beer, and listen to live acoustic music. This Khao Lak night market is open every Monday , Wednesday , Thursday and Saturday from early evening until 9 or 10pm.
Khao Sok
While it's not even in Phang Nga Province, Khao Sok National Park in neighboring Surat Thani Province is one of the most spectacular places in Thailand.
The Eastern portion of the park with jungle trekking and waterfalls is a one-hour drive from Khao Lak, and the pier where boats leave for day and overnight trips on Cheow Lan Lake is two hours.
The day trips are nice, but we highly recommend an overnight stay in one of the floating bungalows on the lake, and if you have the time, you should stay two nights. Read our guide to Khao Sok National Park for more details.
Beaches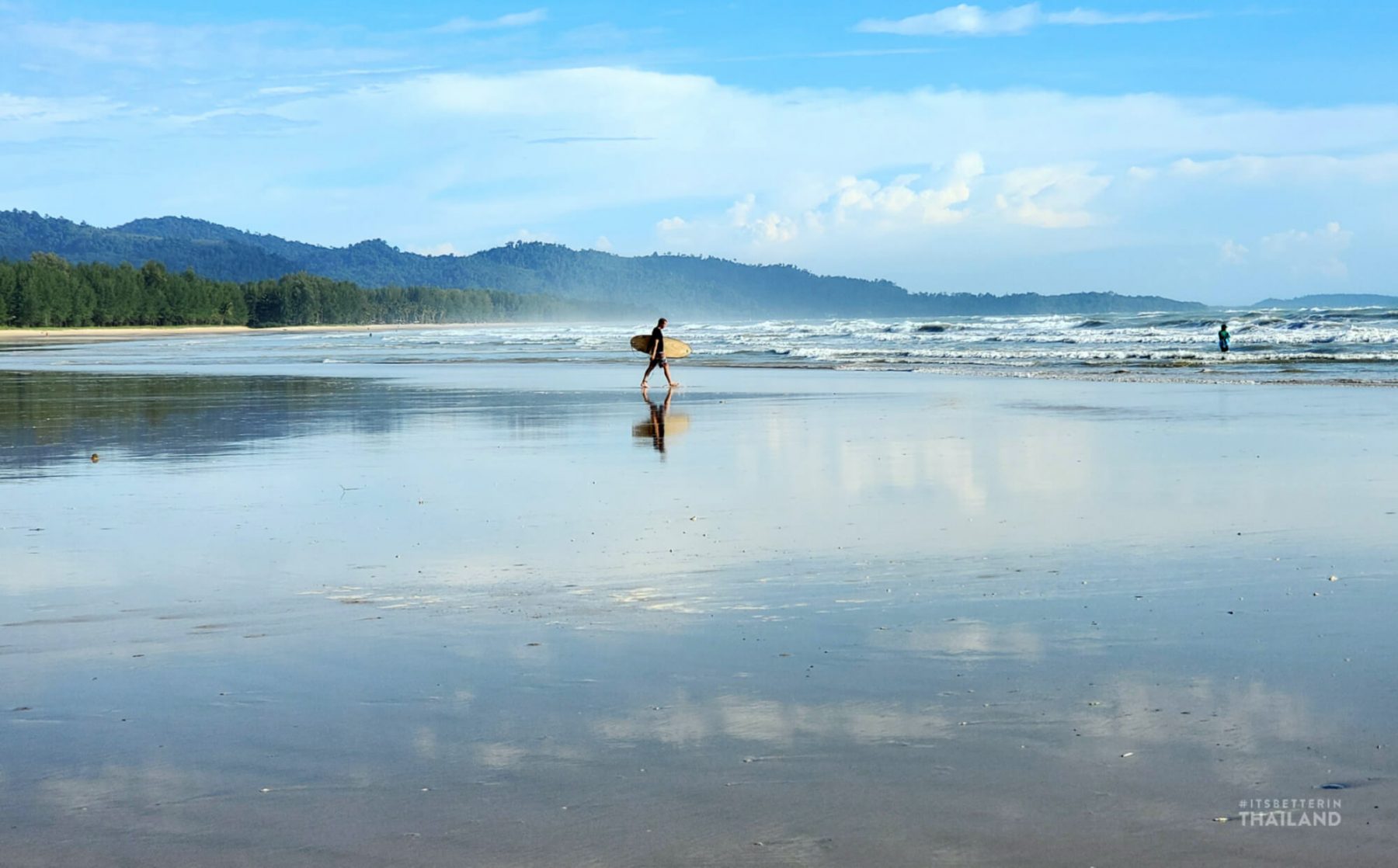 There are a lot of beaches along the coastline across Phang Nga Province. Most of these are not quite as postcard picture-perfect as the likes of Koh Phi Phi, but they more than makeup for it in local charm, and never being crowded. It's not hard to find a long stretch of beach here all to yourself.
Our favorite is Khuk Khak at Memories Beach Bar. Even if you don't plan to surf, the vibe here is just so good. It's like someone mashed up the Thai Sabai Sabai attitude with Hawaiian Aloha. The bar draws a crowd, but just one hundred meters down the beach, and for hundreds more beyond, it's empty.
In Khao Lak town there are plenty of other good beaches, and further south near Thap Lamu Pier there are others as well. Further north from Khuk Khak Beach on the other side of Cape Pakarang, White Sand Beach is one of the most beautiful in the area, and never crowded.
Jungle Trekking (?)
Tsunami Memorial Museum
In Bang Niang, five minutes north of Khao Lak town is a small museum memorializing the lives lost in the devastating Boxing Day Tsunami. As a museum, you may find it a bit lacking. It's not so well-maintained and doesn't feature too many exhibits, although there are a few.
It's still worth a stop though, especially to contemplate the sheer power and devastation of the tsunami. The museum is centered around a police patrol boat that was washed up to here, over a kilometer from the ocean. The museum is at this location.
Black Sand Beach
Khao Lak has a black sand beach! Well, ok, that might be a bit of a stretch, but there are a few patches of beach in Khao Lak town where a thin layer of black sand forms above the golden colored sand.
It's not like the volcanic black sand beaches you find in Indonesia and Hawaii, but it is a cool little spot that can be worth a quick stop if you're looking for something a little different to post on the ol' Instagram.
If you go too early in the morning, the beach is in the shade and you don't see the glistening of the sun on the black sand. The sand moves with the waves and certain times will have more or less. You can find the Khao Lak black sand beach at this location.
Hot Springs
Hot springs in Thailand never look as beautiful as you'd like them to. The concrete pools that are typically made tend to look tacky and cheap. For Thais, the highlight always seems to be boiling eggs near the hot spring's source.
Still, they're nice enough to be worth a visit, especially if you're an early riser and can get there before the heat of the day. From Khao Lak there are a few options.
Rommanee Hot Springs (บ่อน้ำพุร้อนรมณีย์) is a 45-minute drive along the road leading to Khao Sok. This one is mainly concrete pools
An hour due east from Khao Lak, Plai-Poo Hot Spring (ธารน้ำพุร้อนปลายพู่) has a more natural look and local feel. While there is a sign that says 'no swimming', all the locals seem to ignore it and there are small pools formed from rock each with different water temperatures.
For a more upscale experience, check out The Hot Spring Beach Resort & Spa. This very nice four star hotel with a private mineral hot springs is located along a beach halfway between Khao Lak and Phuket, and it's a great place to relax and unwind.
The rooms are quite nice here. If you really want to splurge, get a hot springs pool villa. Day passes are also available for 500 Baht per person.
Samet Nangshe Viewpoint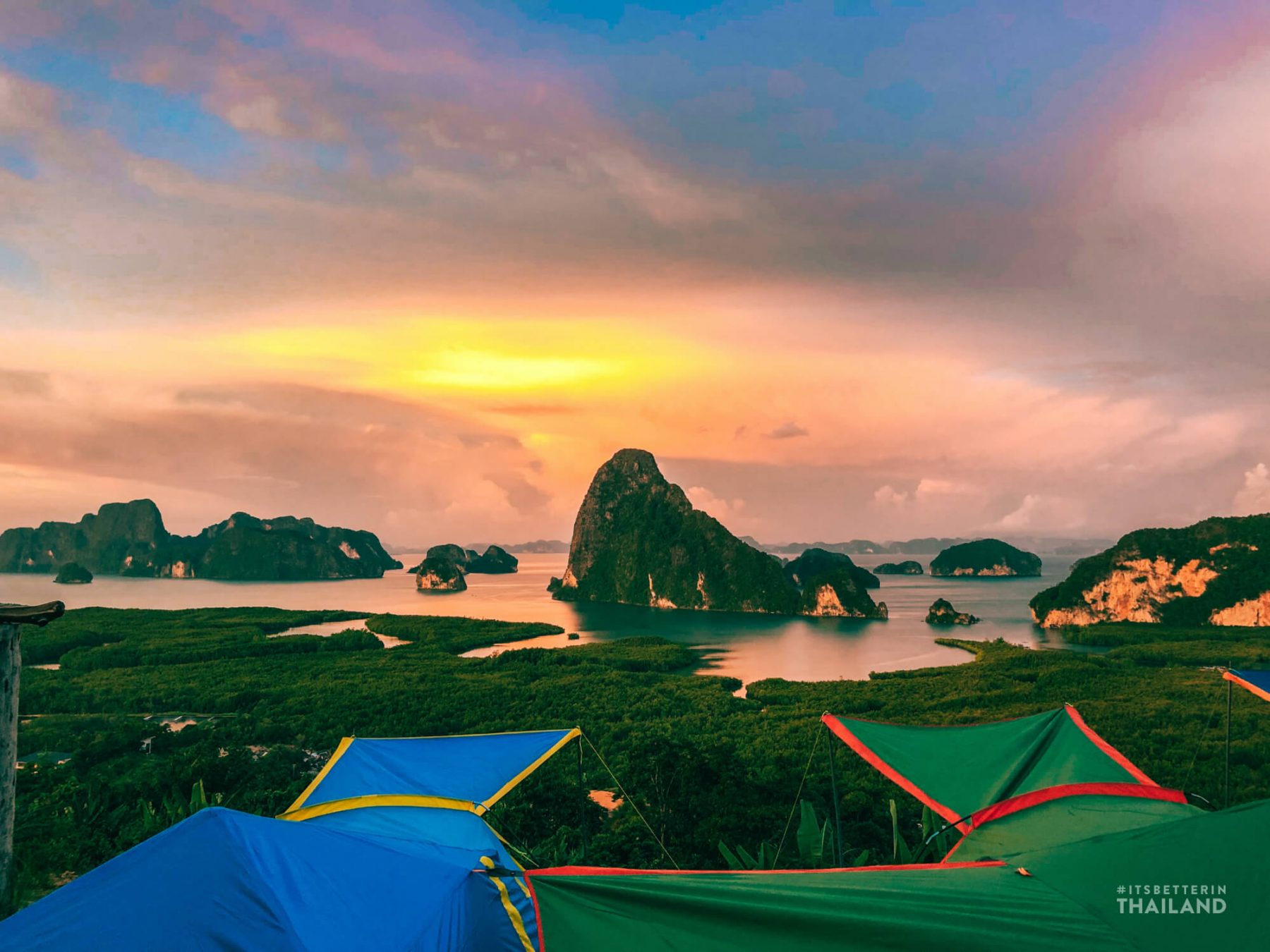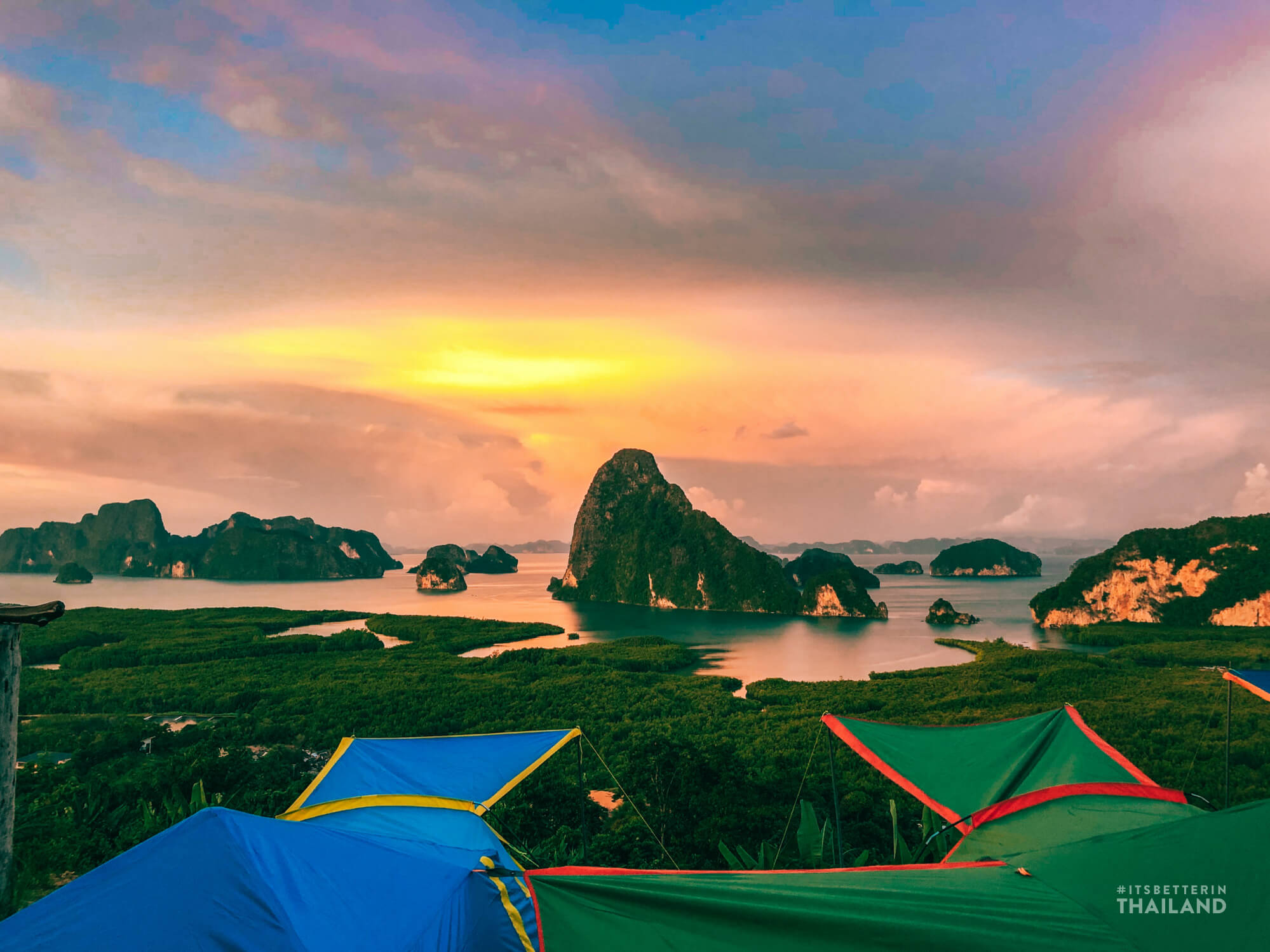 A one-hour's drive southeast from Khao Lak, you'll find the most beautiful viewpoint in Thailand. Samet Nangshe is a vantage point on a hillside overlooking the limestone islands in the north of Phang Nga Bay.
This is a place we absolutely love and strongly recommend visiting as a day trip or an overnighter. There are actually a few different viewpoints you can visit, plus a pretty stunning hotel. See our guide to visiting Samet Nangshe for more information.
Phang Nga Bay Boat trip
In the same area as Samet Nangshe, an hour from Khao Lak, you'll find one of Thailand's most popular boat trip destinations. The limestone islands of Phang Nga Bay are beautiful and iconic… They're also touristy.
Most trips drag you along between islands, caves, hidden lagoons, mangrove forests, and of course the famous "James Bond Island" where part of The Man With the Golden Gun was filmed.
The better trips work hard to avoid the crowds, so book those if you can.
Fishing
There is some decent deep sea fishing out from Khao Lak. The area has a fish attracting device (FAD) which brings in a lot of different species. It's one of the few areas we know of in Thailand where mahi-mahi (dorado) are caught regularly.
Stay in Style
While Khao Lak has plenty of great value budget accommodation, it's also an area with some fantastic hotels and resorts if you have a higher budget or are looking to splurge.
Within Khao Lak town itself, La Vela, Devasom, JW Marriott, Casa de la Flora, and The Haven Khao Lak are all excellent. If you want to pamper yourself at a spa as well, then definitely go with the JW Marriott.
If you're going to be diving or snorkeling in the Similans, it's better to stay in the Thap Lamu area. Our favorite hotel there is Kalima.
If you're coming to surf, Apsara Beachfront is a great resort and it's by far the closest accommodation to Memories Bar of any property at any price range.