Samet Nangshe: Visiting the stunning viewpoint in Phang Nga Bay [2020]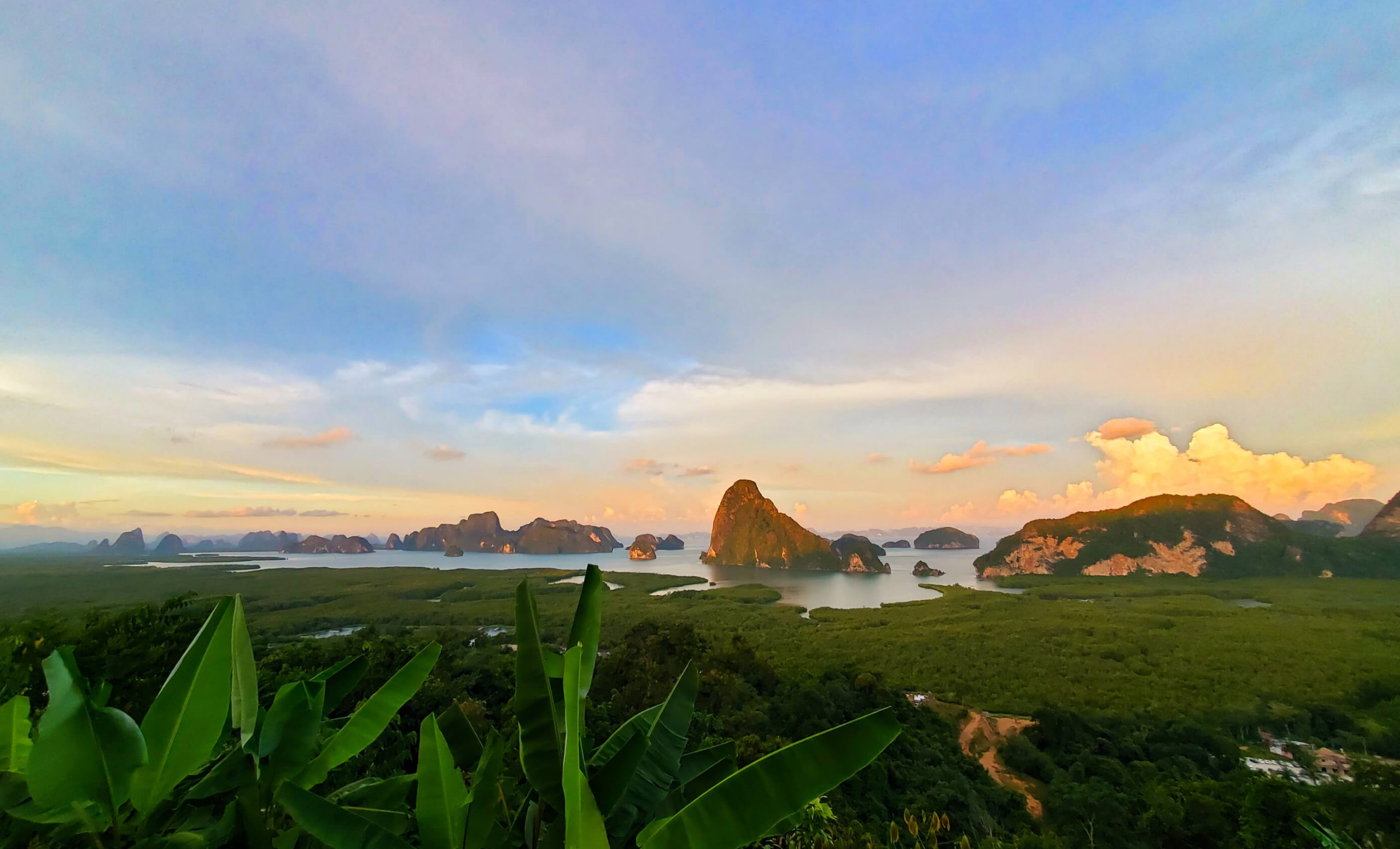 Probably the best place in Thailand to see the sunrise, highly recommended!
Most people think of Samet Nangshe as one viewpoint, but there are actually a few places you can get the view from. The most well-known spot is not really the best one. In this guide, we'll cover all of them, and the best options for visiting for a day trip, or an overnight stay.
Samet Nangshe is a series of viewpoints along a hillside in Phang Nga Province, Thailand. From the viewpoints, you look down on a large mangrove forest cut through with numerous rivers and streams. In the distance beyond that, limestone karst formations jut up as dramatic islands from the calm waters of the far north of Phang Nga Bay. Samet Nangshe is arguably the most beautiful vista you'll find anywhere in Thailand.
About Samet Nangshe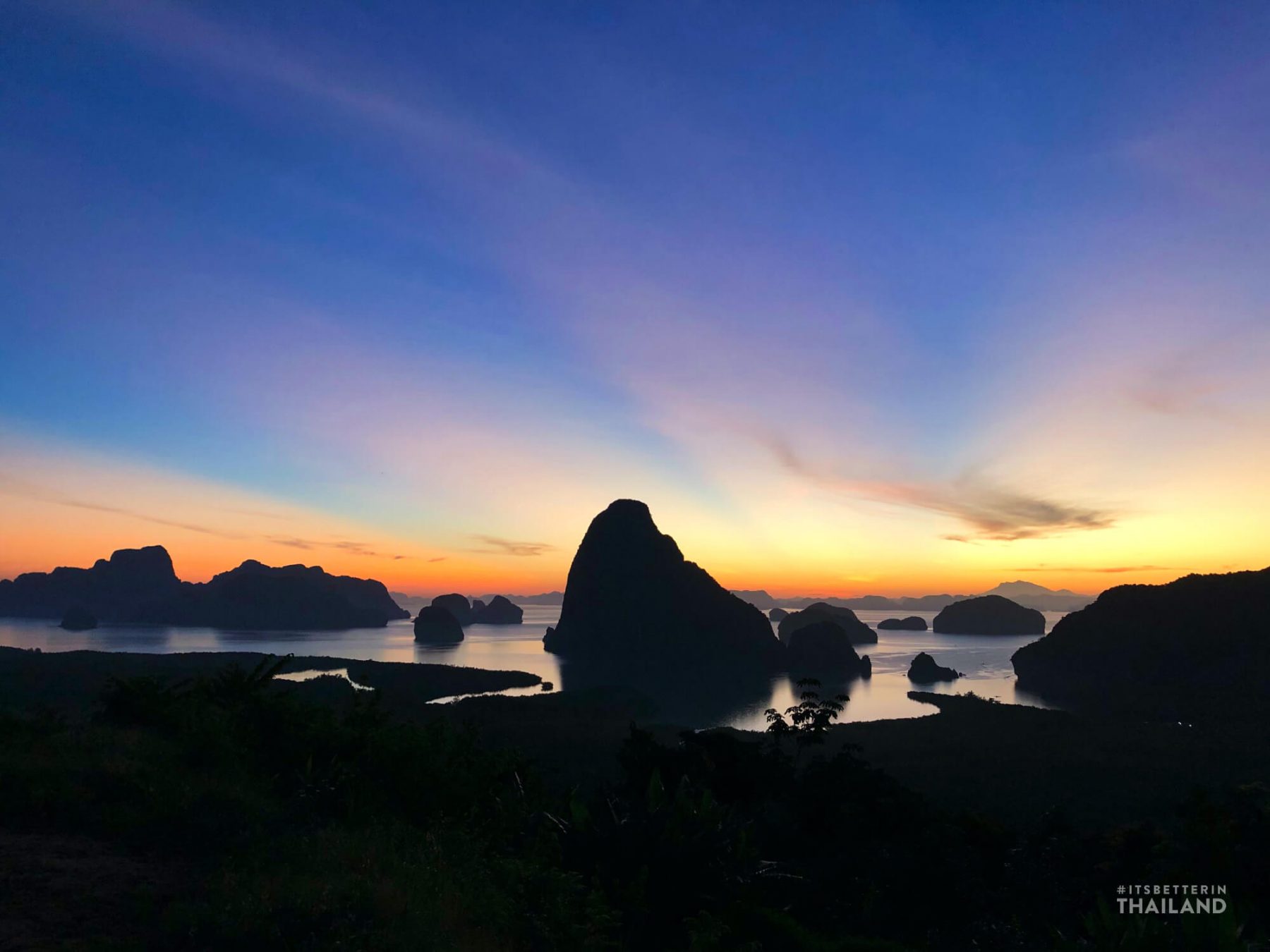 The viewpoints on this hillside sit above a few small predominantly Muslim fishing village set along the rivers in a large mangrove forest. The area was "discovered" only fairly recently by tourists, and it still flies somewhat under the radar considering how close it is to Phuket, Khao Lak, and Krabi.
From any vista point, you are looking due east. This makes sunrise the best time to see it, but there are pretty stunning sunsets here as well. You can find sunrise times throughout the year near the end of this post.
The three main places you can see the view from are:
Samet Nangshe Viewpoint – the original and best-known spot with very basic bungalows and tents.
Samet Nangshe Boutique Resort – The best option for anyone with a higher budget and looking to sleep in comfort, plus a nice cafe with an incredible view.
Ao Tho Li Viewpoint – about a kilometer south of the main viewpoint. A slightly diminished view but much less crowded and with friendlier people and better accommodation.
We'll give more information on each of these below, plus give recommendations on the best way to visit.
Getting there
There are no public transportation options to Tha Yu (the town where Samet Nangshe is located. The best way to get there is by car or motorbike.
The drive takes under an hour from the north of Phuket, and up to an hour and a half from the south. It's just over an hour from Khao Lak, and an hour and forty five minutes from Krabi Town.
The roads are in good condition the whole way (but if you're coming from Krabi Town, follow Google Maps and don't try to take what looks like a shortcut unless you have four-wheel drive).
You can rent a car easily in any of those locations. We always find the best prices through Rentalcars.com.
If you want to hire a car and driver, you can do so through the reputable company TakeMeTour. They offer the best prices we've seen for Phuket. Click here for a car for up to 3 people, or here for a van for larger groups.
Best Samet Nangshe Tours
If you want to save the hassle of organizing this yourself, there are some tours that come to Samet Nangshe.
From Phuket there are two very well-reviewed tours that both include the viewpoint and a boat trip in the bay, which we highly recommend pairing with a visit here.
From Khao Lak there are a few options but we can't personally vouch for these and at the moment they have no reivews.
Samet Nangshe Camping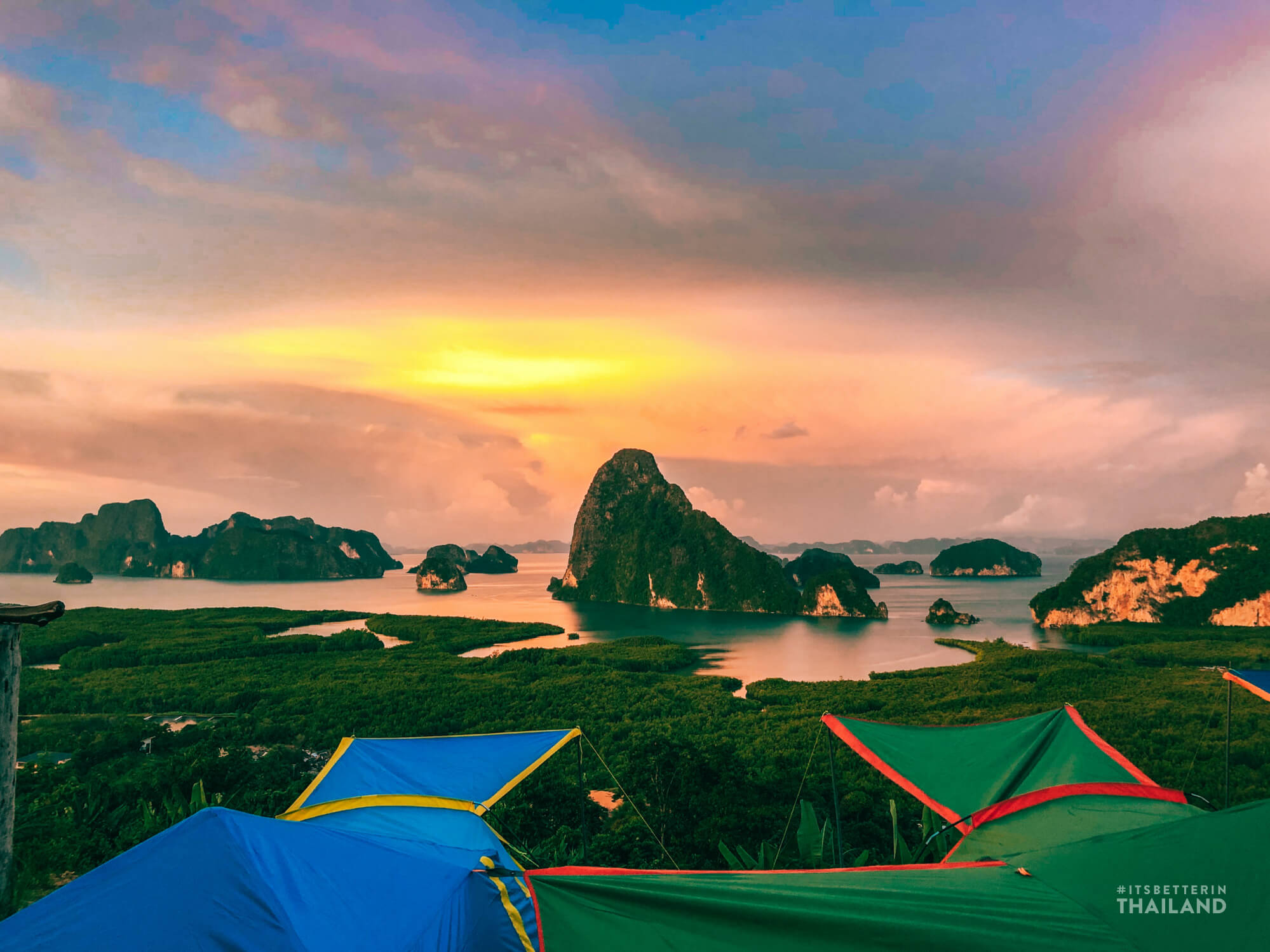 Waking up at sunrise and opening your tent to the most stunning view in Thailand is a pretty unforgettable experience. If you're a person who likes camping, then we highly recommend doing this.
Camping is available at all three of our 'where to stay' options below, and you can bring your own tent to the two viewpoint options (but not to the boutique resort).
If there's is rain in the forecast for your stay, we'd recommend avoiding tents, although the better quality tents at the resort would probably hold up well enough.
Where to stay
There are three choices for accommodation in this area and you'll have to weigh up the pros and cons of each one. Here's a quick cheat sheet of each one, and more info on all of them below that.
Pros
Cons
Notes
Samet Nangshe Viewpoint
‣Best view of all
‣Restaurant is not bad
‣Most crowded
‣Rude and inhospitable staff
‣Poor-quality accommodation & dirty bedding
‣Extra 90 Baht for the shuttle up and back
‣We recommend avoiding staying here if you can
‣One option is to stay elsewhere and just come here for sunset
‣It's fine if you have your own tent
Samet Nangshe Boutique
‣Views nearly as good as Samet Nangshe Viewpoint
‣Luxurious rooms
‣Swimming pool & other hotel amenities
‣Most expensive option (but nice tents start from 1200 Baht)
‣Often fully booked
‣If it's in your budget, stay here
‣It fills up fast so book in advance (Book on Booking.com)
Ao Tho Li Viewpoint
‣Less crowded than Samet Nangshe Viewpoint
‣Friendly, welcoming & hospitable
‣Cleaner rooms & bedding
‣Good food
‣Can drive up yourself
‣View is not quite as good (though still stunning)
‣Still a bit expensive for the room quality (you're paying for the view)
‣We really like this place as they are friendly and actually put in effort
‣A great option is to stay here and visit either the main viewpoint, or the restaurant & coffeeshop at the Boutique to see the main view
Samet Nangshe Viewpoint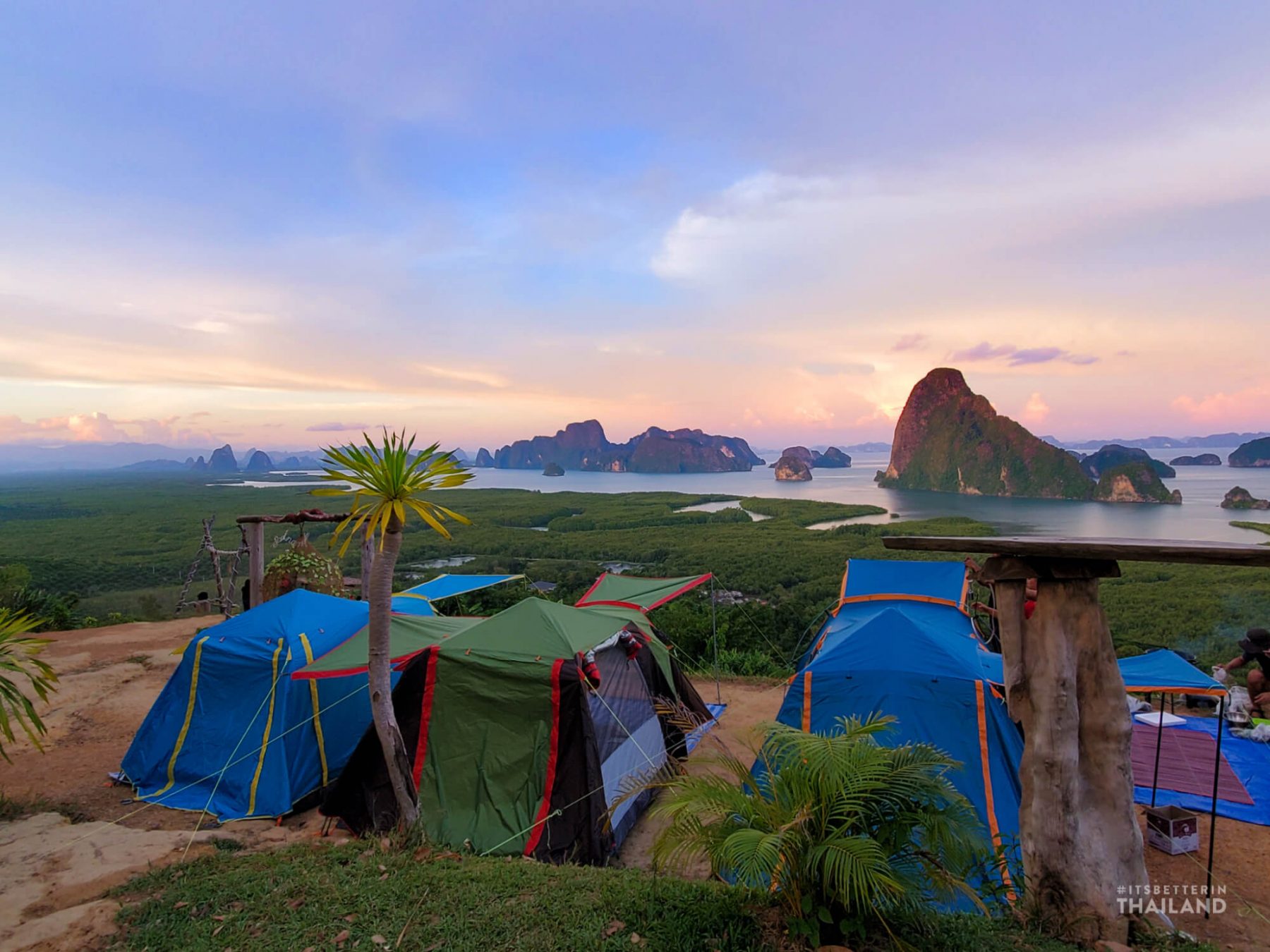 This is the most popular option as it's the best known. It's also our least favorite. The staff up here put in absolutely zero effort, and are indifferent to the point of rudeness. We spoke with other people we met up here, and they are the same to both Thais and foreigners.
If you do want to stay here, a bungalow costs 700 Baht and includes a thin mattress, two pillows, two small blankets, and a fan. They allow you to sleep three people in one, but it's a squeeze, and they'll charge you extra for additional bedding. The rooms have two power outlets.
Tents here sleep two people and cost 450 Baht. This includes two very thin mats (you'll feel the stony gravel through them), plus two small pillows and blankets. The tents are pretty bad quality — the zipper on ours constantly came off the track.
They seem to often give dirty bedding for both tents and bungalows, but will replace them with clean ones if you ask.
Getting up there
When you arrive, you have to park in the lot at the bottom. The dirt road up is quite steep and they only allow their own 4×4 pickups to go up and down. You have to pay 90 Baht for a ride up, which includes the ride back down. If you really want, you can pay only 30 Baht and walk up yourself, but it's a long steep climb and almost definitely not worth doing.
Other amenities
There is a restaurant at the top that serves decent food at ok prices. A beef and mushroom pad graprow (stir fried with chili and Thai basil) costs 80 Baht. They have a few snacks and drinks for sale, but no alcohol (more on that in our 'other tips' below).
In our two visits, they never opened the restaurant in the morning, in fact we never saw any staff around except the shuttle driver coming up and down.
Behind the restaurant is a block of pretty basic toilets. There are two toilet rooms and two shower rooms. These are Thai style showers where you scoop up buckets of water from a big barrel and pour them over yourself.
Our tips and what to bring
They ask that you do not bring any pork up, which you should respect. They do allow alcohol. If you plan to bring some, you should buy it well before arriving since most of the nearby towns are all-Muslim and you can't find it. Drink quietly and discretely if you choose to, both out of respect for them, and the other campers.
Avoid weekends and holidays if possible. If you can't, call ahead to book.
Bring mosquito spray for sure.
It can get a bit cold at night so a light jacket is nice to have, but you can also use the blanket they provide.
It can also stay quite hot in the tents which is why we'd recommend booking a room (with fan) instead of a tent.
If you need coffee in the morning, there is none available so bring a thermos or a can of sweet coffee from 7-Eleven.
If you stay in a tent, you can charge electronics in the restaurant for 10 Baht.
Thais aren't known for their good etiquette when camping. If your neighbors are still being loud late at night, none of the staff will say anything so it will be up to you to do so. Bring earplugs especially if you'll stay in a tent.
They pitch the tents right under bright lights which they leave on all night. If you sleep in one bring a sleep mask.
To book ahead here, you have to call. You'll need a Thai speaker to help you. There are four different numbers which all might work. We got through to the third one. 0818941159, 0847263575, 0848469427, 0879187895.
Samet Nangshe Boutique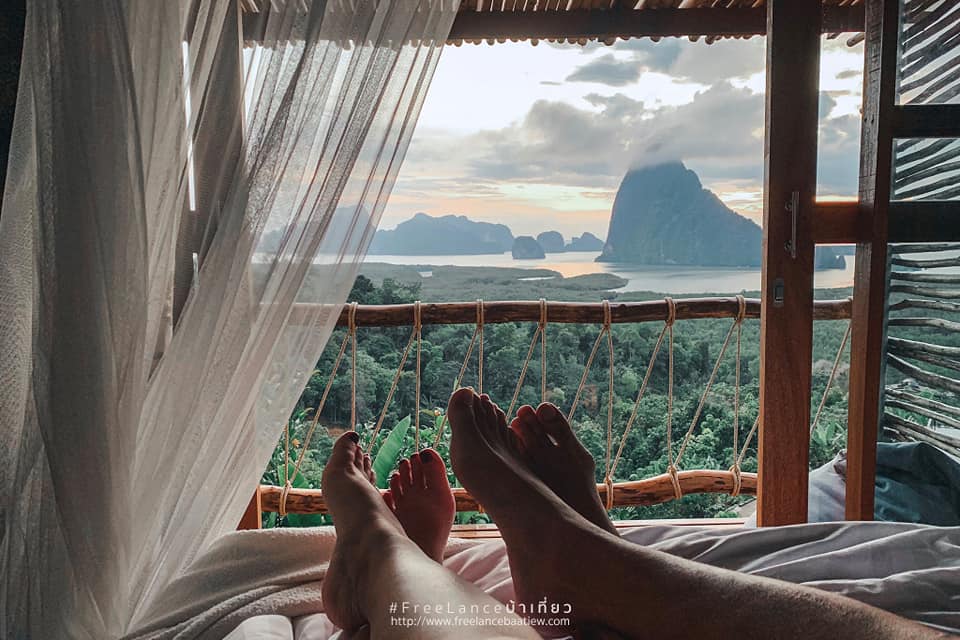 If you have it in your budget, this is absolutely the place you should stay. It's just about 200 meters away from the main viewpoint, and only about 100 meters lower down the hillside (a bit further for most of the rooms), but it's essentially the same view.
Pretty nice tents that include a fan go for just 1200 per night which isn't all that much more than the other camping options, especially when you add in the extra fees.
Pro tip: Avoid Saturdays and public holidays, as room prices increase by 1000 Baht on these dates.
If you have one splurge night in your trip budget, this is a pretty good place to do it. It's a very nice four-star property with well-appointed rooms, all of which have incredible views. There's also an infinity pool with the view behind it that's one of the more Instagrammable spots you'll see.
Rooms here fill up quickly so you should book as far in advance as you can. You can see available rooms here on Booking.com but they don't always have the tents so you may need to call to book those — 0632298855 (+66632298855 for international).
Bay View Cafe (Recommended!)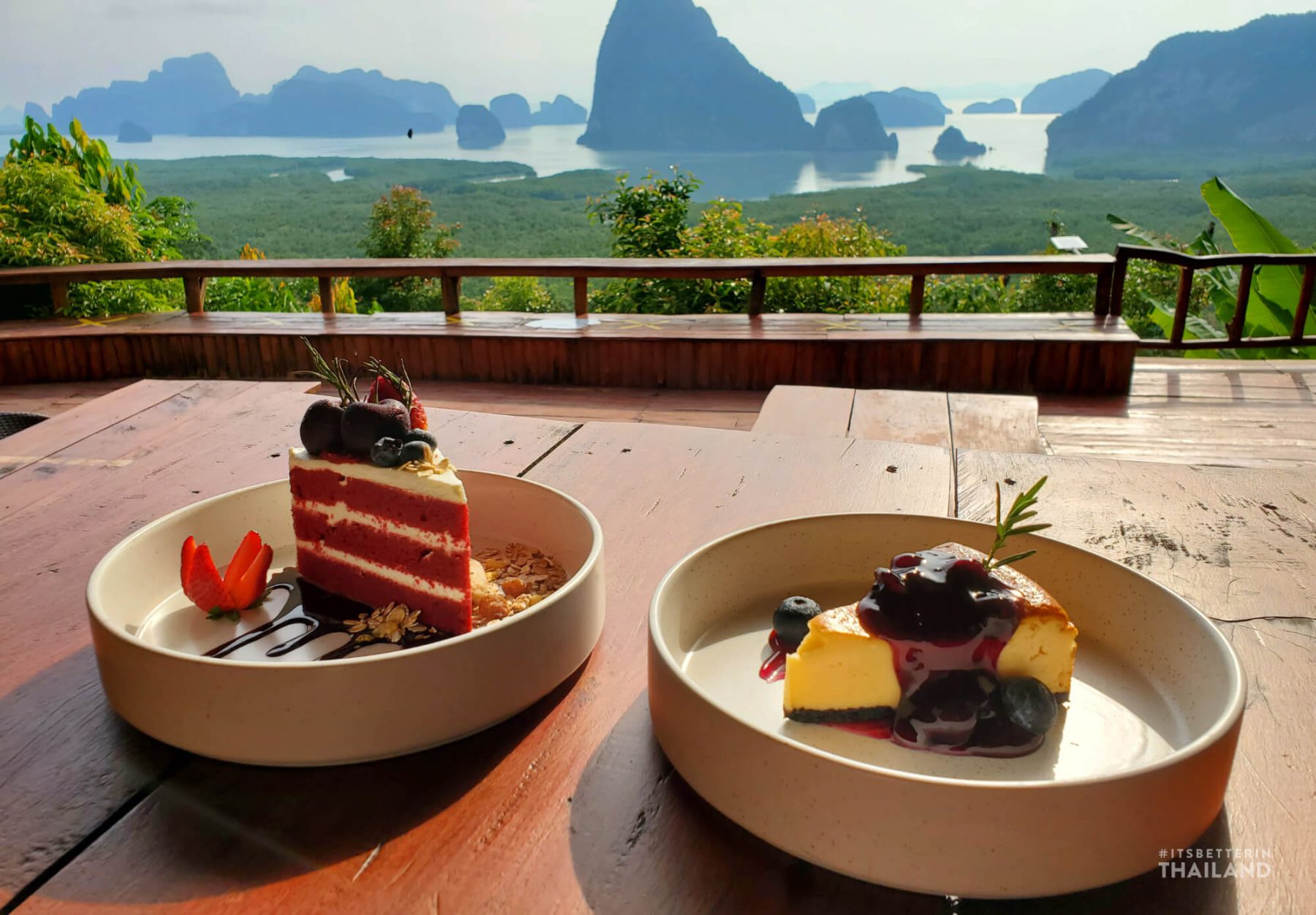 If you can't stay at the hotel, you can still visit by going up to Bay View Cafe. This restaurant and coffee shop is quite good, and has a spectacular view, almost the same as the main viewpoint.
A good espresso drink costs 80-90 Baht, and they have delicious cakes for 120 per piece. Thai food costs around 100 Baht, and foreign dishes go for 200-ish.
If you're just passing through for a day, we'd go as far as to say you should just skip the main viewpoint and come here instead.
You have to take a shuttle up from the parking area, but this one costs just 50 Baht (instead of 90 at the viewpoint), and with the receipt, you get a 30 Baht credit in the cafe. The photos you take from here are nearly identical to the viewpoint, which is just a stones' throw away through the jungle.
Ao Tho Li Viewpoint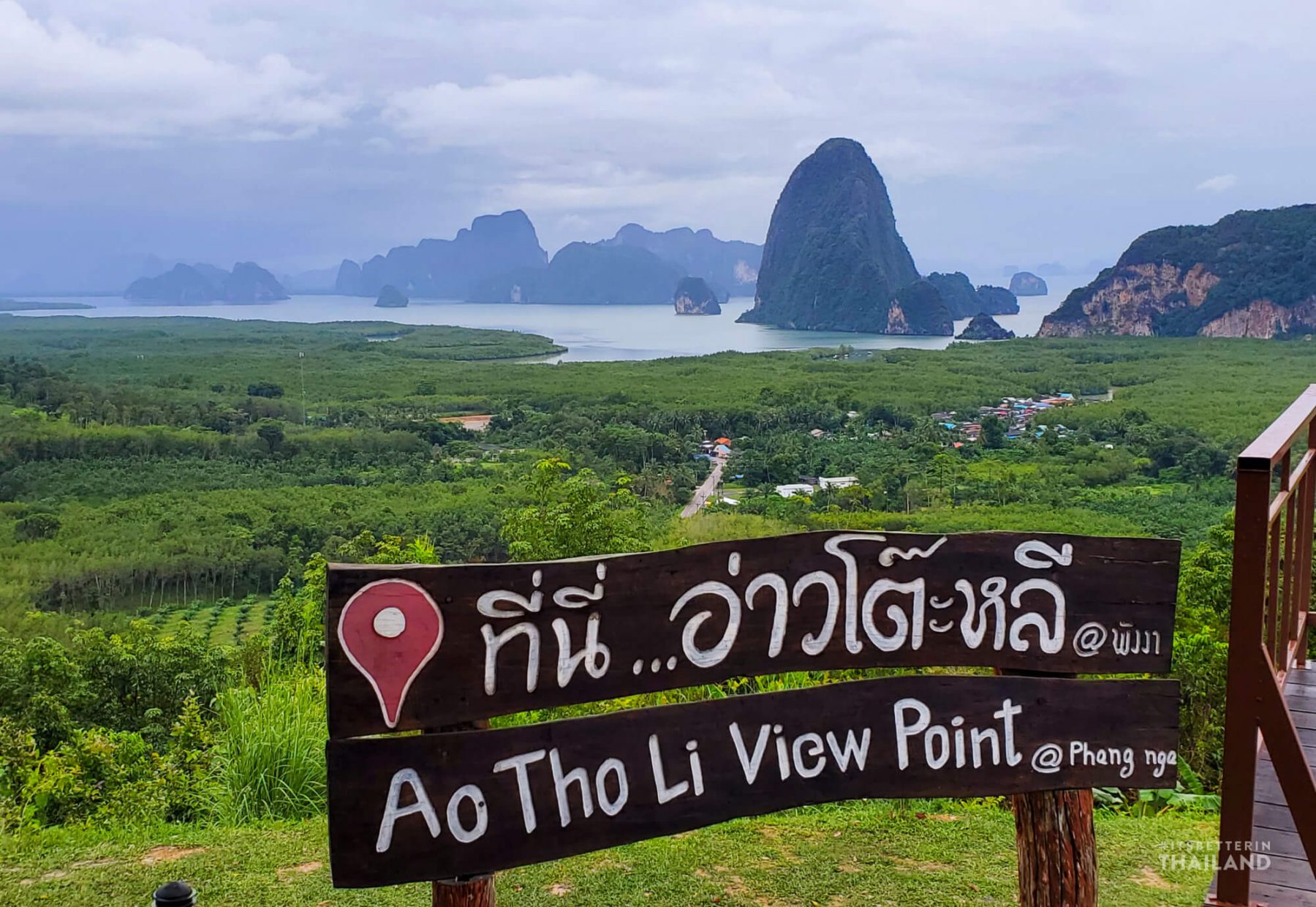 The third accommodation option is Ao Tho Li Viewpoint, just two kilometers further down the road from the main viewpoint. As you can see in the photos below comparing the view from here and the other viewpoint, the vista from here is not quite as good as the at the main viewpoint. What they lack in scenery though, they make up for in friendliness and hospitality.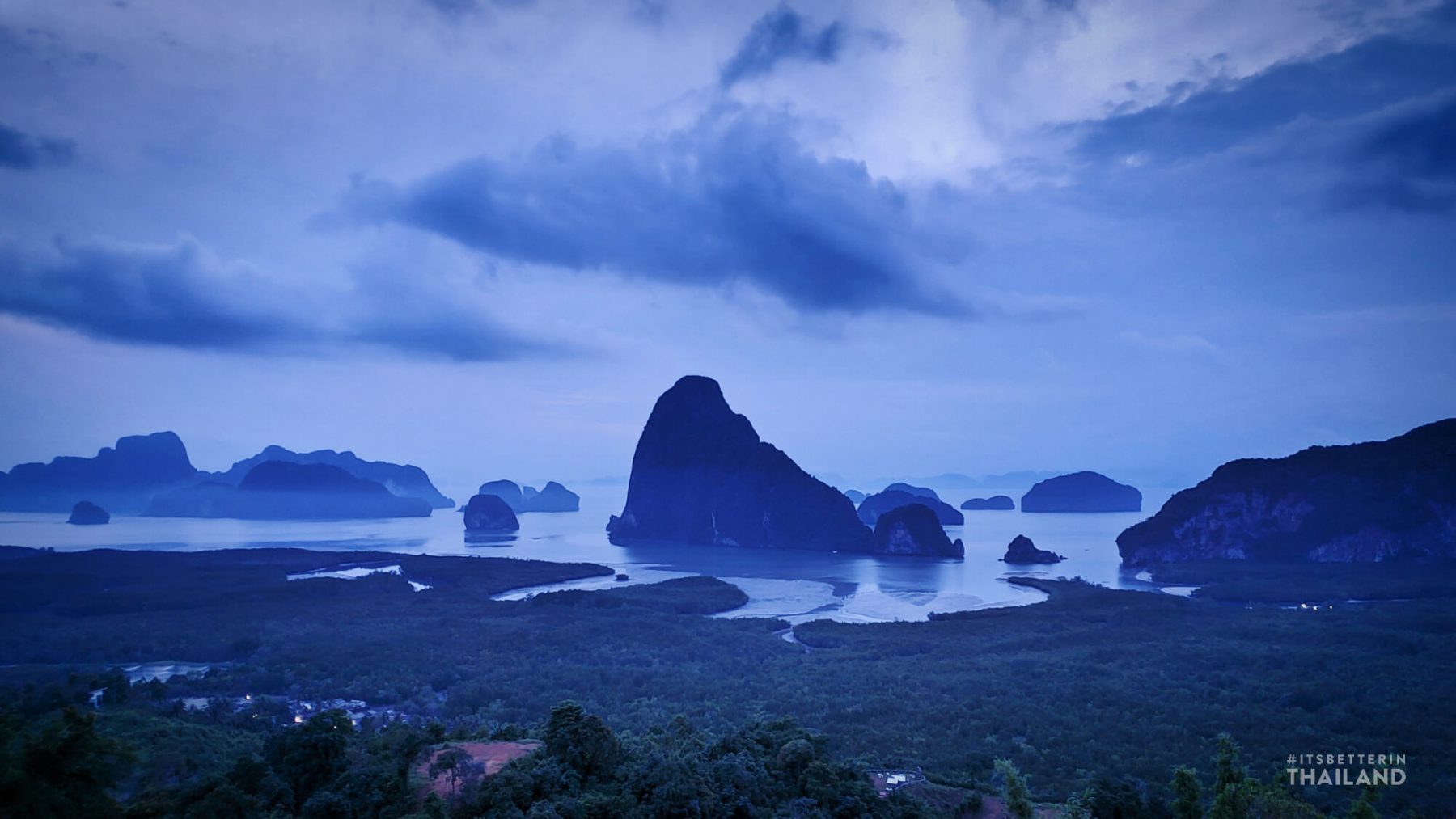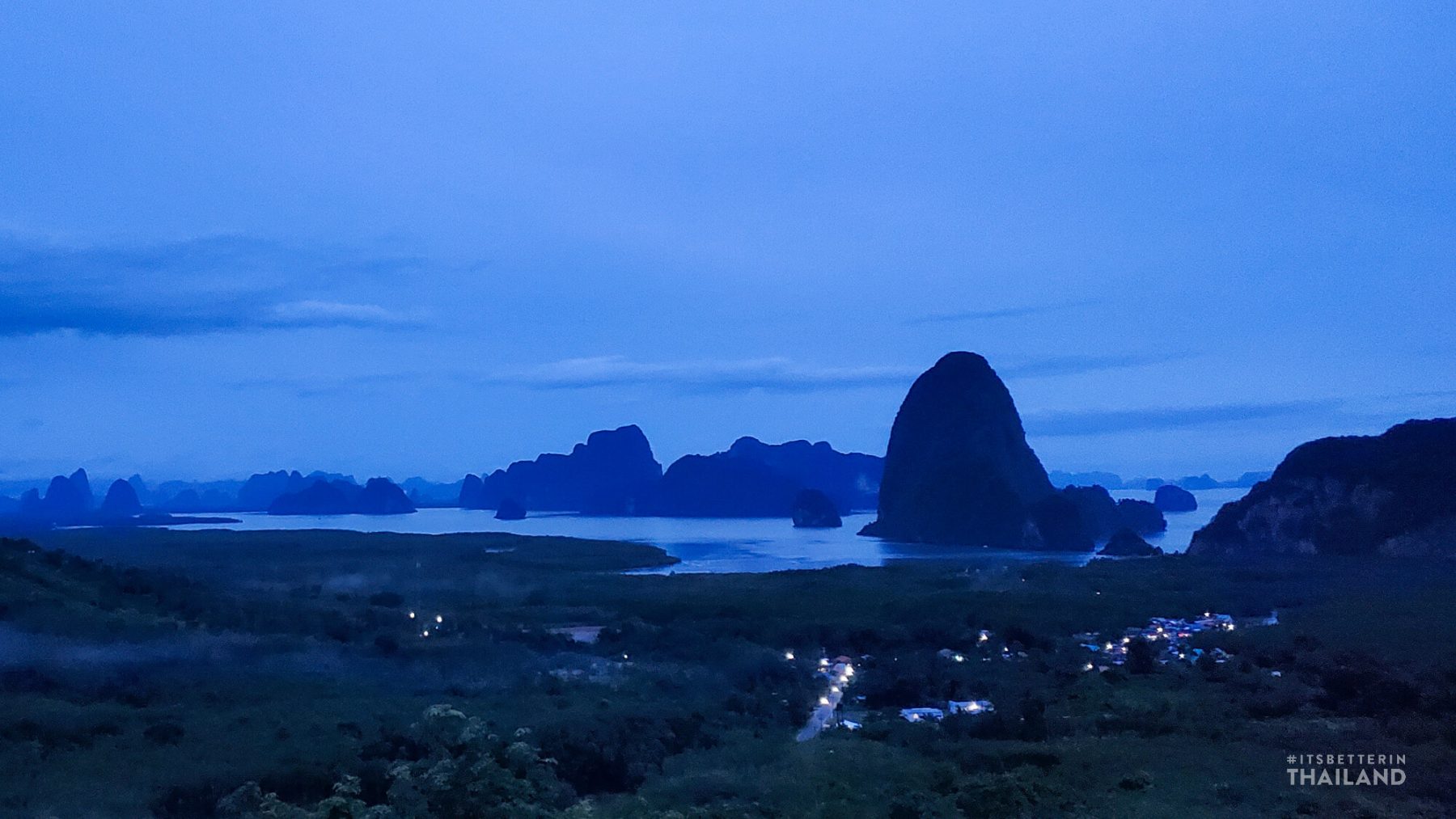 If you can't score a room or tent at Samet Nangshe Boutique, we'd recommend to most people to stay here, and then visit Bay View Cafe for sunset or after sunrise to see the other view.
It costs 50 Baht per person to visit here, but it seems they waive the fee if you are paying them for accommodation. You can book Ao Tho Li on Booking.com, call them at 0895910569 or message them through their Facebook page.
Rooms and tents
A small and basic room here costs 1200 Baht, but they are clean and have air-conditioning and an attached private bathroom. There is no hot water so you should shower before it gets too cold at night. This is the room we recommend.
Tents for two people cost 500 Baht. We didn't see them but based on everything else up here, we would assume everything is cleaner and better maintained than at the other viewpoint. Pitching your own tent costs 200 Baht.
They also have non-aircon huts made from woven bamboo paneling for 700 per night. These can sleep three people, and don't have ensuite bathrooms. The shared bathrooms and showers are very basic.
Getting up
You can actually take your own vehicle up to the top at Ao Tho Li. The road is paved but quite steep. You could get pretty much any car up there when the road is dry, but it could be a problem trying it when the road is wet. Also if you meet a car coming the opposite way, you'd have to be pretty confident in your driving skills. You can park at the bottom, and call them and ask for a ride if you're unsure.
If you're on a motorbike, you should be at least an upper-intermediate skilled driver to try this road.
Tips & what to bring
Avoid weekends and holidays if you can. If you cannot, call ahead and book.
Bring mosquito spray, it gets buggy from sunset until sunrise.
It can get a bit cold at night so a light jacket is nice to have, but you can also use the blanket they provide.
Instant coffee and 3-in-1 coffee packets are available in the morning.
Earplugs are a good idea in case you get loud neighbors, and the camping area lights stay on at night so a sleep mask would be good if you're staying in a tent.
The restaurant is quite good and very reasonably priced.
You can rent a grill with charcoal for 100 Baht if you want to barbeque.
As at Samet Nangshe viewpoint, do not bring pork. Alcohol is okay but be a bit discrete about it.
Best time to visit
The dry season (November through May) is the best time to visit in terms of weather. That said though, you can get a great sunrise any time of the year, and some of the best ones happen in the rainy season.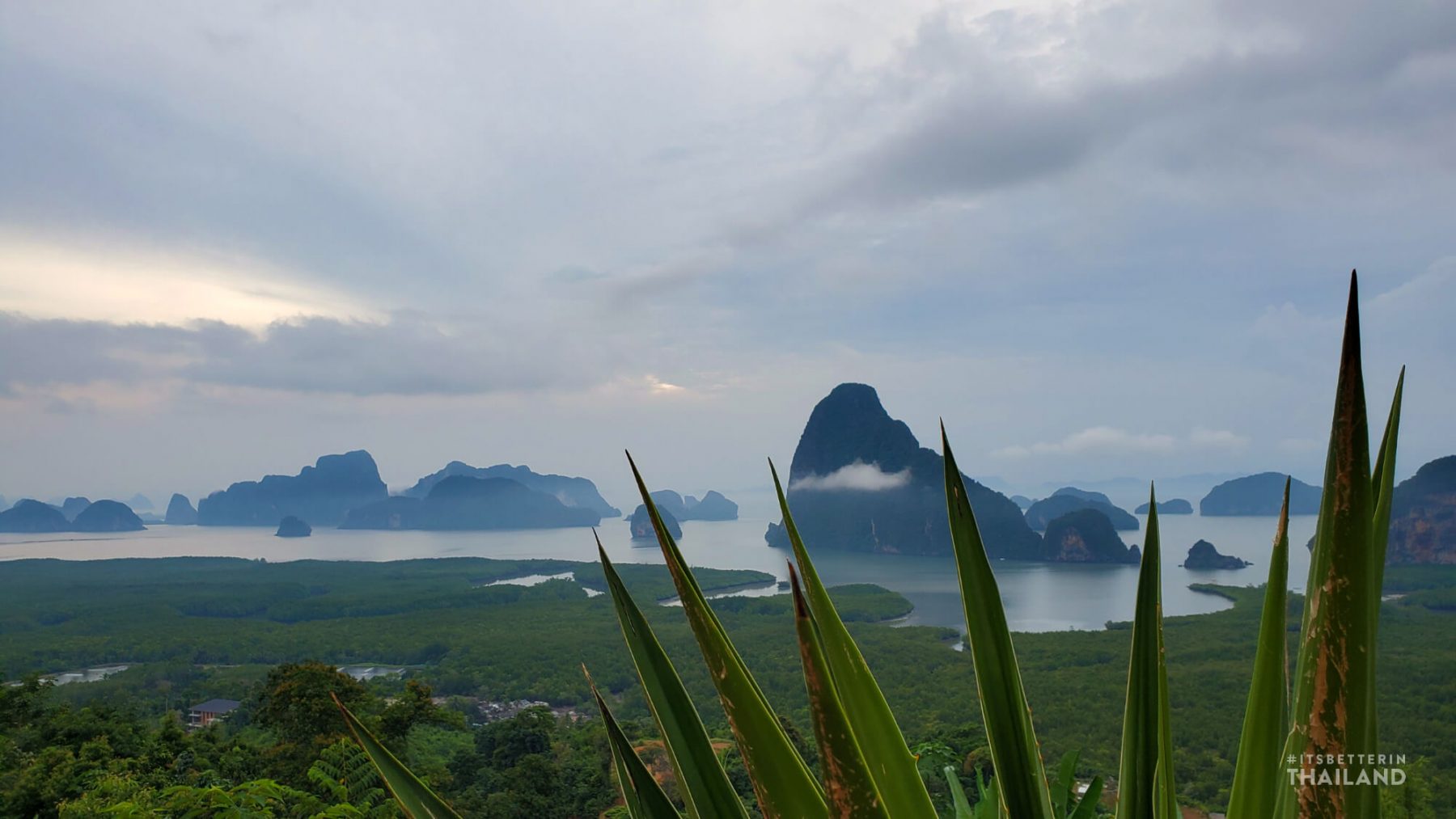 We'd recommend visiting here any time of the year, and even if you're unlucky and it rains, you might still some cool photos of clouds forming around the limestone islands.
Samet Nangshe is also a popular star photography spot. The dry season tends to be better for this due to less cloud cover. At the right time of year, you can photograph the Milky Way above Phang Nga Bay.
Activities around this area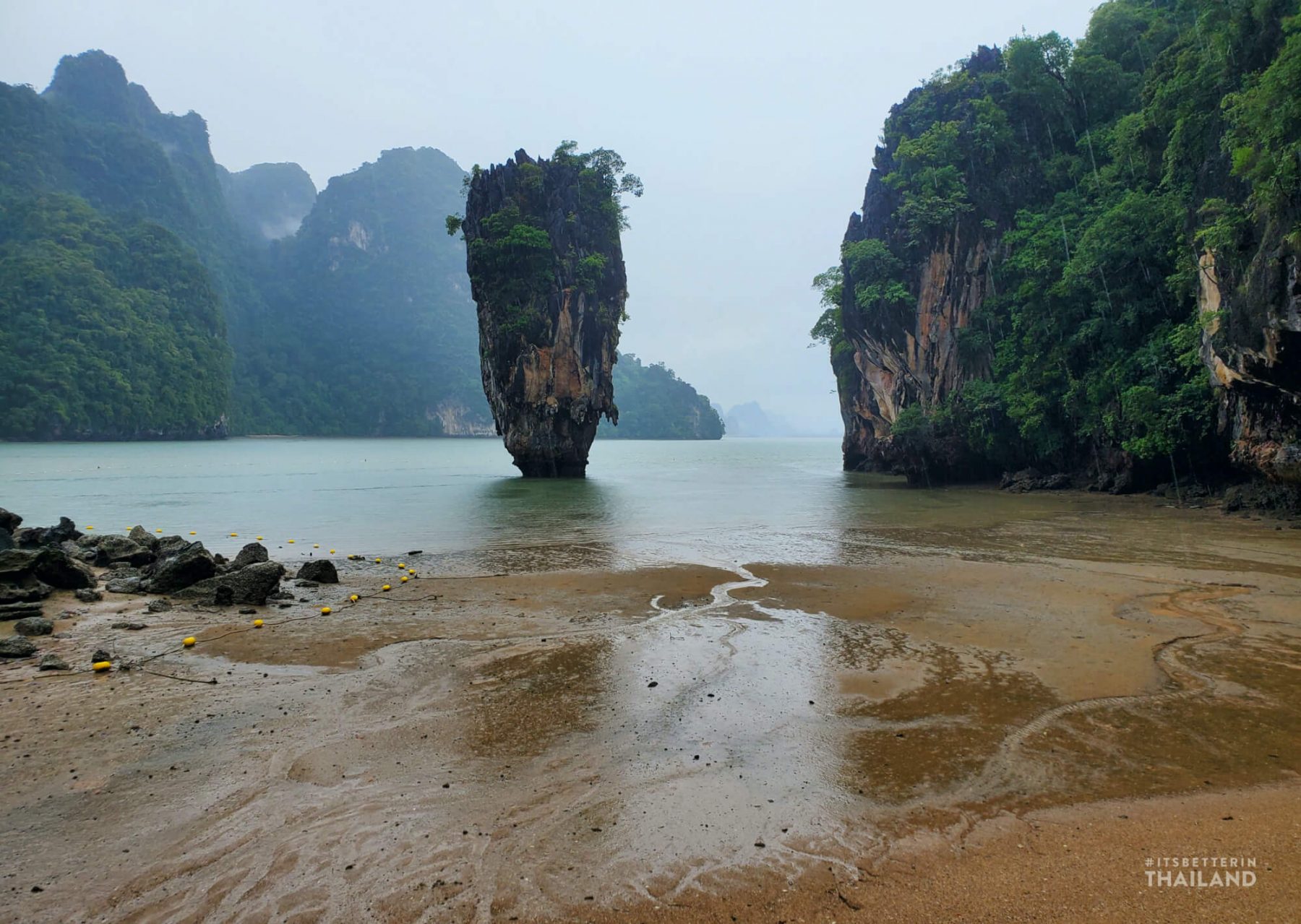 That stunning view you'll be staring out at while you're here, you can also get into the scene by taking a boat trip out among the islands. A boat tour of Phang Nga Bay is one of the most amazing things you can do in Thailand.
Unfortunately, most of the boat trip in the Bay follow a mass tourism model that will have you being herded from one place to the next, generally at the same time as all the other boats.
You can book a longtail boat trip by driving out to the Banhinrom Co-op Pier (at this location) about two kilometers away. Trips to just "James Bond Island" start at 2500 Baht, and go up to 3500 as you add in more stops at various islands, caves, mangrove forests, and the hidden lagoon inside the cave at Koh Hong. A full day costs 5000 Baht.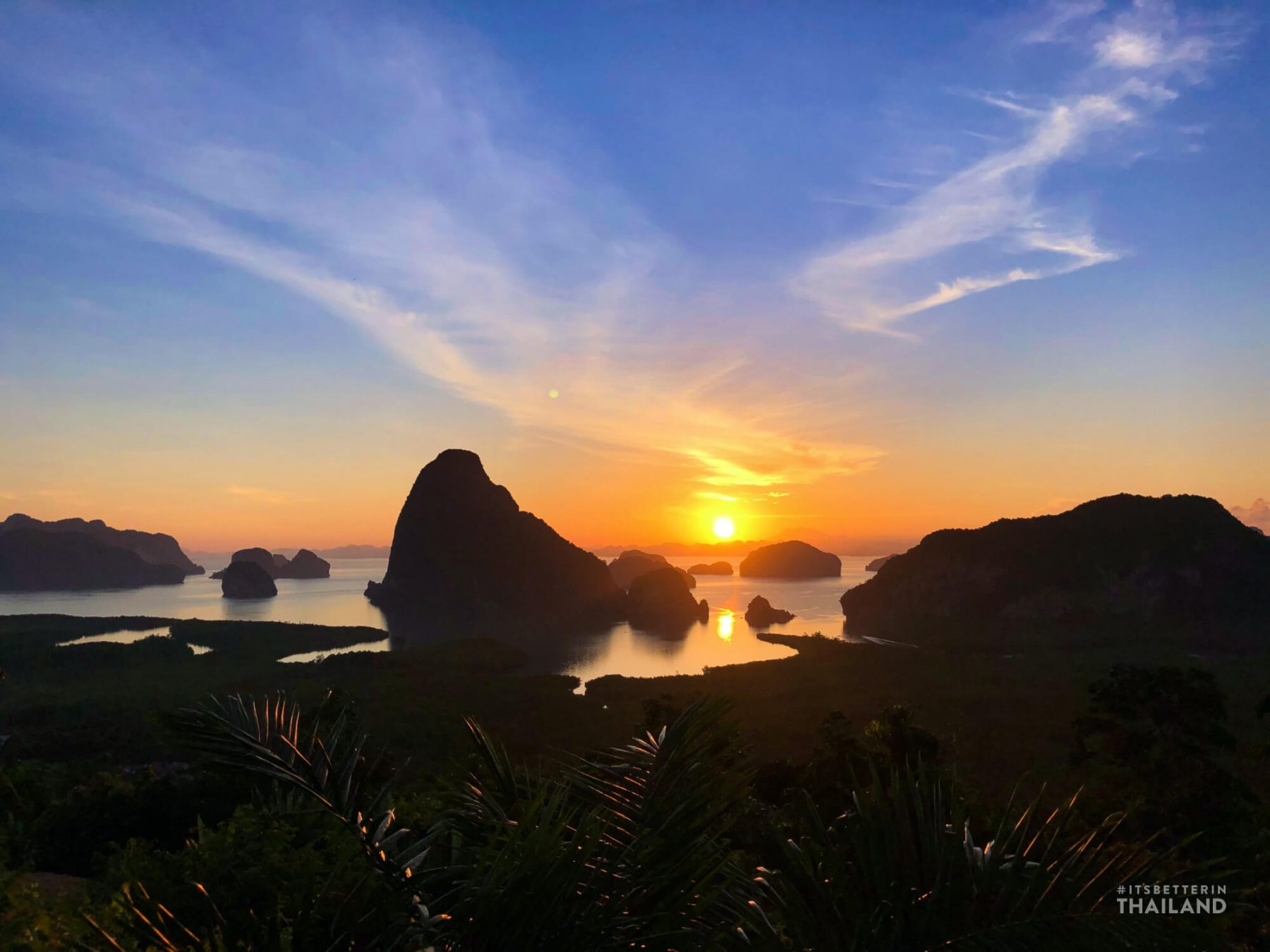 Sunrise and sunset times
The table below has the times of sunrise and sunset on the first of January, April, July, and October. You can get a pretty good idea of when the times will be for your visit from this table. If you want the exact sunrise and sunset times for Samet Nangshe for specific dates, you can find those on this page.
There are a number of pretty technical terms for the different times of dawn, but basically "sunrise" is when the sun pokes up over the horizon. If you want to sit and watch the sunrise, you should go out at "nautical dawn". If you want to shoot a timelapse the starts in complete darkness, you will need to have it running before "astronomical dawn"
| | Astronomical Dawn | Nautical Dawn | Sunrise | Sunset |
| --- | --- | --- | --- | --- |
| January 1 | 5:25 | 5:51 | 6:40 | 18:19 |
| April 1 | 5:14 | 5:38 | 6:24 | 18:36 |
| July 1 | 4:55 | 5:22 | 6:12 | 18:47 |
| October 1 | 5:05 | 5:29 | 6:14 | 18:17 |
Photo gallery