Khao Sok
Khao Sok (เขาสก) is a large national park in the middle of Surat Thani Province. It is an area of jungle-covered limestone mountains, caves, wild animals, and an enormous reservoir created by a dam. Khao Sok's floating bungalows are getting more popular but it's still a quiet place that's absolutely stunning.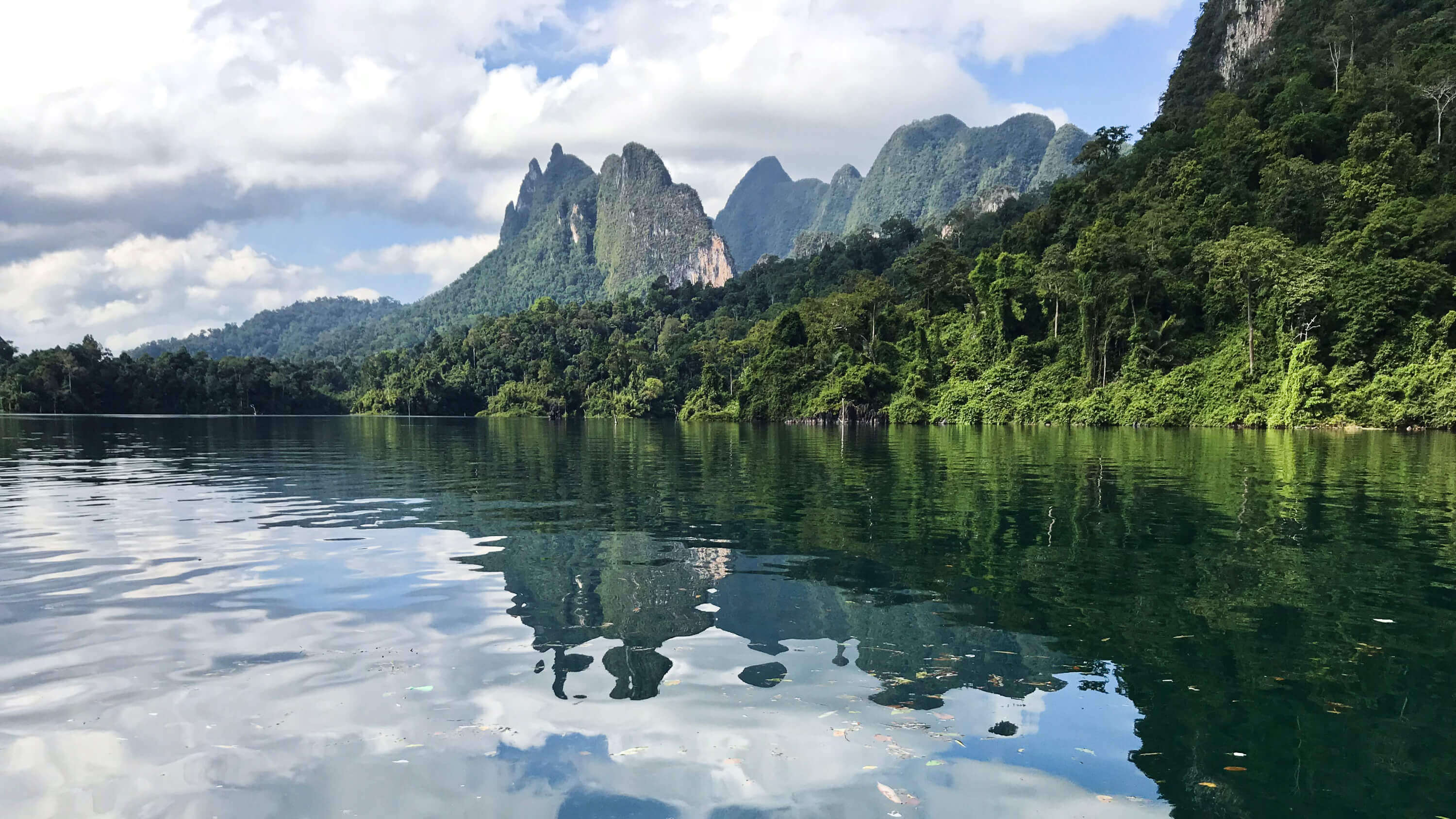 Khao Sok is a national park in Surat Thani province in Southern Thailand. The national park preserves some of the country's most pristine jungle and diverse habitat for wild animals and exotic plants. This tropical forest would normally be mostly inaccessible, but a reservoir created by a dam has made a huge lake right in the middle. Cheow Lan Lake is the highlight of Khao Sok, and nearly everyone who visits takes a trip onto the lake. The towering limestone karst formations over the emerald water look like Koh Phi Phi or Halong Bay in Vietnam, but Khao Sok is fresh water and set in a vast wilderness that feels far removed from mass tourism.
Note: There are two main areas of Khao Sok National Park where travelers might want to visit. The west entrance is in a small town and has the national park headquarters. There are a lot of guesthouses here, and in general, most transportation "to Khao Sok" will take you here. The east entrance to the park is at Ratchaprapha Dam. Boats leaving for floating bungalows on the lake depart from here. Be aware that it is about an hour's drive between the two entrances.
Getting to Khao Sok
Despite its remote location, Khao Sok is actually quite conveniently located between Phuket, Surat Thani (Koh Tao, Koh Phangan, Koh Samui), and Krabi (Koh Lanta, Koh Phi Phi, Ao Nang, Railey) Provinces. While it's still not as popular a destination as you would think once you've seen how stunning it is, there are a number of easy transportation options to get there. From any of the major tourist hubs in the South of Thailand, minibuses can easily be booked directly to the area with all the guesthouses at the west entrance to the park.
How to get to Khao Sok from Surat Thani Airport
There is not any great way to get to Khao Sok from the airport on public transportation. Technically, the way to do it is to get a minibus to Talad Kaset 2, and then take another minibus from there to Khao Sok. The first one is 100 Baht, and the second one 200 Baht. This second bus won't even get you all the way into the town with the guesthouses near the National Park west entrance. It will drop you two kilometers out and you have to walk or arrange a pickup with your guesthouse. It will also take around three to four hours. In other words, don't go this way.
A private taxi for up to four people can be hired at the airport for around 1,700 Baht. Sharing between two people is pretty manageable, and if you ask around among fellow passengers it's easy to find others who are heading there to share the cost with. If you can get four people together, it ends up costing just 100 Baht more and saving you hours of time.
Khao Sok National Park entrance fee
Like all national parks in Thailand, Khao Sok has dual pricing. Thais pay 40 Baht (20 for children), and foreigners pay 300 (150 for children). A work permit might get you the local price but a Thai drivers license will not. See our note in the section on things to do about when you can use the same ticket over two days.
Getting around
In the small town near the west entrance to the park, you can easily walk from most guesthouses to any restaurants and to the park entrance. Transport from here to the pier at the east entrance will be included in pretty much any tour on Cheow Lan Lake that you can book. On the lake, longtail boats take you wherever you need to go.
Things to do in Khao Sok
From the guesthouses near the west entrance to the park, you can explore into the national park. There are a few waterfalls, some good hiking trails, and when one is blooming, you can sometimes see the Rafflesia, the world's largest flower. There are also guided night hikes you can arrange. On the lake, there are caves, waterfalls, treks, wildlife safaris, swimming, and kayaking. In general, these are included in your tour packages.
Pro tip: If you go into the national park near the west gate and you are going to stay in floating bungalows the next day, you will need to pay the national park entrance fee twice. The exception to this is if you enter after 4:30 PM in which case the ticket will still be valid the next morning. You could see one of the closer waterfalls before dark doing this, but not the further ones. You can also do a night safari this way.
Where to stay
You can find a page of Khao Sok hotels here, but note that some of these places are on the Lake, some are in town near the west gate, and others along the road between the two park entrances. Use the map view to find exact locations. If you book a place on the lake and show up at the pier you will likely have to hire a private boat to take you there which will cost a few thousand Baht. To avoid this, contact the hotel and ask if they have scheduled boats bringing people there.
The easiest way to stay on the lake is to book an overnight tour through one of the guesthouses near the west gate of the park. This can be risky though as all rooms may be full if you're booking on short notice. The best thing to do is find out where you would like to stay and call them and try to book your stay over the phone. You may need to book a first night in town and go from there to the pier, but it's possible you'll be able to arrange it so you can just meet at the pier at a certain time.
If you really want to live it up, we highly recommend the luxurious 500 Rai Floating Resort.
The best Khao Sok tours for birding and wildlife viewing
If you're serious about seeing wildlife, a company called Paddle Asia do the best Khao Sok wildlife tours on longer kayak expeditions. The photos at the link are all taken on their trips and are of animals they commonly see in the park including elephants. If you absolutely want to see wild elephants in Thailand, they can get you as close to a guaranteed sighting as you'll find, but you might spend a lot of time waiting in your kayak for the elephants to come down to bathe.
How many nights for Khao Sok and Chieow Lan Lake
Most tours to Cheow Lan Lake go for a burn-and-turn, get-em-in, get-em-out business model. This isn't to say the tours are bad, just a bit rushed. If you can arrange it to stay at least a second night, you will be able to see much more wildlife and really enjoy your stay a lot more. Most places on the lake have no wifi or cellular signal and it really forces you to unplug. Having more time to do this can be a beautiful thing.
Where to go next
From Khao Sok the world is your oyster. Get to Phuket, Krabi, or Surat Thani and you can fly to the main destinations around Thailand. Pretty much all the island and beach destinations in Southern Thailand (in the Gulf of Thailand and on the Andaman Sea side) are accessible from Khao Sok.
When to go
Most of Thailand falls in to the generic high and low season categories, including Khao Sok.
High season - begins in November and runs through to February, bringing cooler temperatures, lush greenery from the previous months of rain, good air quality, and less rain. The downside is larger crowds and sometimes higher prices for tours, flights and accomodation.
Low season - begins in July and runs through to October. During low season the temperatures are higher, the chance of rain and storms are higher. That doesn't mean it's a bad time to visit though, if you can be flexible, there are deals to be found on flights and accomodation.
While it's always hot in Khao Sok, the small change in temperature between high and low season can be just enough that the heat isn't unbearable when out and about.
Need more? Read our post discussing the best time to visit Thailand.
Where to stay
Instead of recommending hotels, we think it will be more useful to share our process so you can pick based on your own critera for location, budget and style.
We always start our search on either Booking.com or Agoda. They have an easy to user interface and have some extra benefits for "Genius" and "VIP" users. You can also sometimes pay with credit card in advance if you're playing the cashback or air miles game.
Process:
Search for specific province, city or town.
Apply rating filters for a minimum rating or either 7, 8 or 9.
Apply other filters: budget, fitness, breakfast, etc.
If you have a specific location in mind, use map view to browse and make a final selection.
If there are too many properties available to choose from, increase the rating filter for less, higher rated selections.
Final notes: Prices are dynamic. Check the same hotel on both Booking.com and Agoda to see which has the best deal at any given time (go through to checkout to make sure all VAT and service charges are factored in). You can go one step further by calling the hotel and checking the price for booking directly. In our experience this saves money 50% of the time but you have less guarantees.
Emergency contacts
Knowing an emergency number could save your own, or somebody elses life. Take a photo or save these numbers on your phone:
Police & emergencies - 191
The most important number to remember. If the operator is unable to speak English, call 1155 (below).
Tourist Police - 1155 or (+66) 2308-0333
This hotline is available 24 hours a day and they will all speak English. This is an important phone number to remember - They will help you out with any concerns or questions you have and can redirect you to the correct number you may need.
Public Ambulance - 1669
Dialing this number will connect you to a public ambulance service, which will dispatch a vehicle to your location. The average response time for urban areas is around 10 minutes, but may take up to 30 minutes in rural areas. English-speaking staff should be available to assist you.
Fire Department - 199
In case of an emergency such as a house fire, or forest fire, call 199 for the Fire Department to be dispatched to your location.
Highway Police - 1193
If you plan on driving in Thailand, then you may end up needing to use this number if you break down in an unsafe place etc.
---
Videos
Our archive of videos from Khao Sok
---