Surfing in Khao Lak, a complete guide [updated 2023]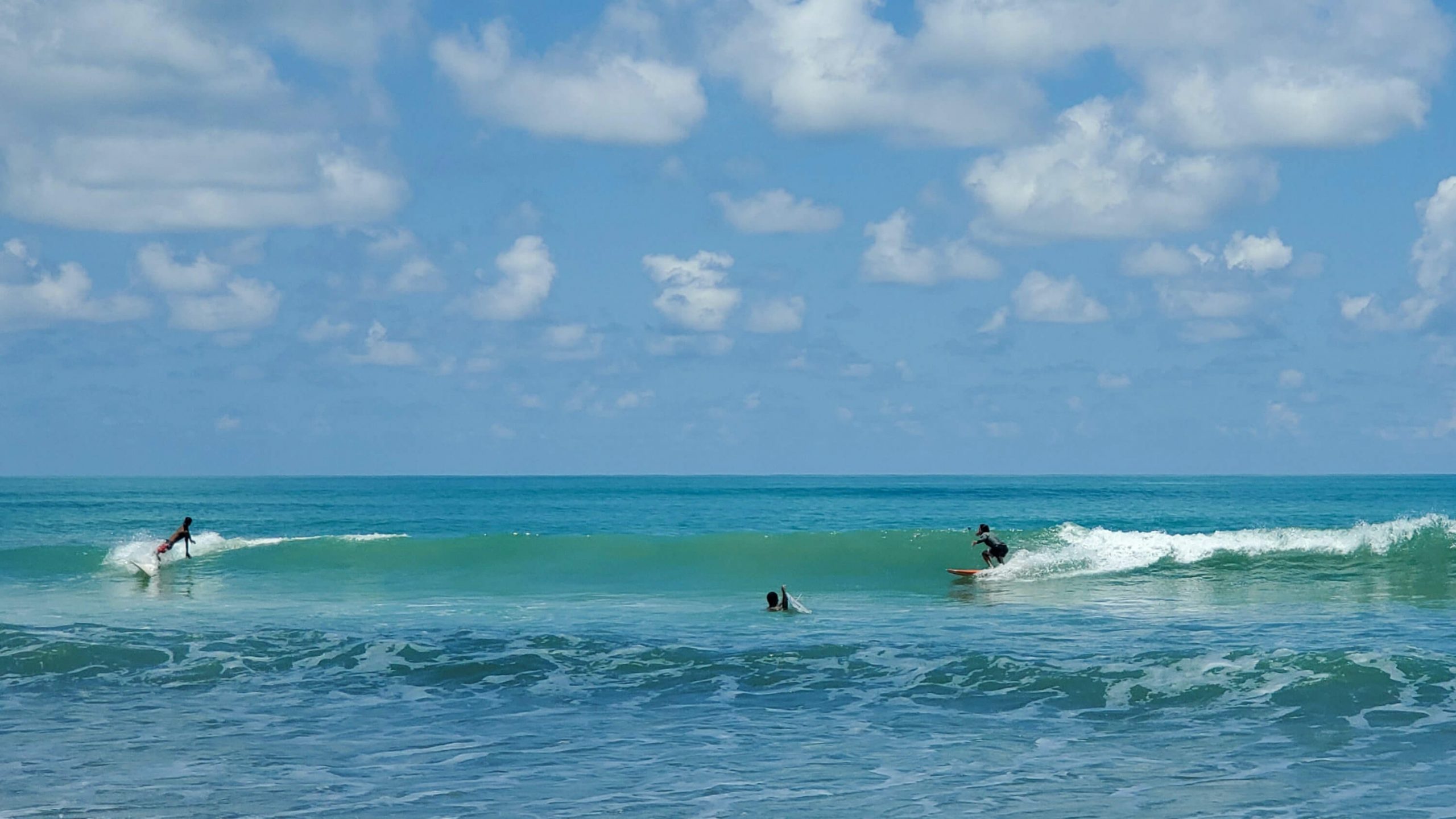 Thai Sabai Sabai meets Aloha vibes in this chill little surf spot an hour and a half north of Phuket. Some very decent waves here!
This guide will cover everything you need to know about surfing in Khao Lak. Whether you're a beginner planning to learn, or an experienced surfer looking to rip, we've got you covered on the best breaks, where to rent or buy a board, surf reports, details on the surf scene, plus some bonus tips.
Khao Lak is one of Thailand's premier surfing destinations. The area features gentle beach breaks great for beginners, as well as reef breaks for more experienced surfers. Surfing lessons and surfboards for rent are easy to find here, as is local knowledge of the surf spots. The Khao Lak surfing season coincides with the monsoons of late-April through mid-November.
Check out our video of the surfing in Khao Lak
About Khao Lak
Khao Lak is a town along the Andaman Sea in Phang Nga Province, about an hour and a half's drive north from Phuket. Although the town itself is quite small, people generally use "Khao Lak" to refer to both the town, and the nearby areas both to the north and south of the town itself.
This part of Thailand was the worst-hit in the 2004 Boxing Day Tsunami and pretty much all locals here lost friends or family in that tragic event. There is a museum in Khao Lak commemorating the tragedy that is worth a look.
The natural harbor in Thap Lamu just south of Khao Lak is the departure point for most day trips and liveaboard scuba diving boats heading for the Similan Islands. As the islands are only open during the high season, Khao Lak's burgeoning surf scene nicely rounds out the tourism calendar keeping people coming during the low season.
Surf Forecasts
Locals all mostly rely on Magic Seaweed which can be download as a free app on any platform. You can also see the forecast in your browser here.
The Khao Lak Surfing Scene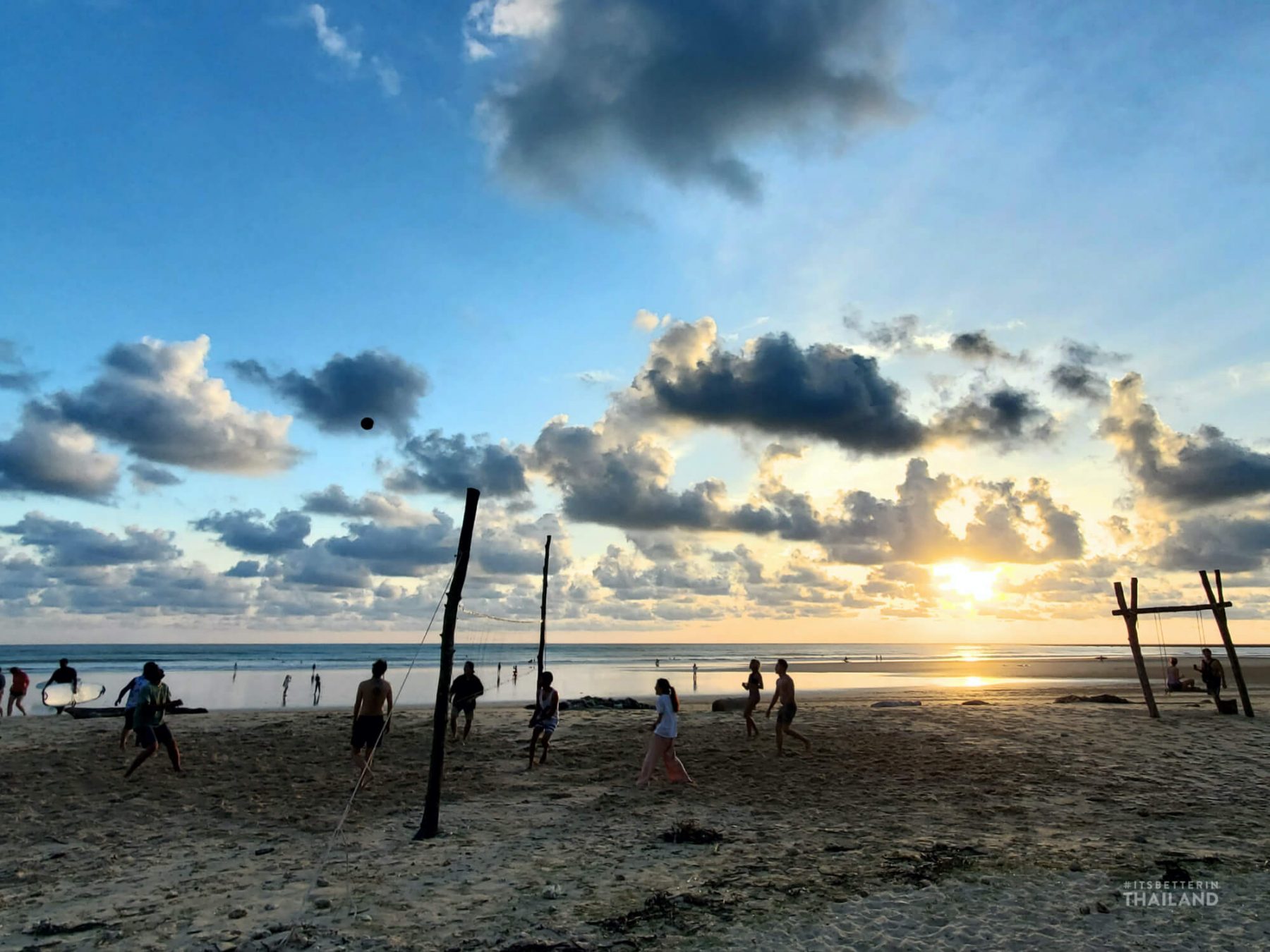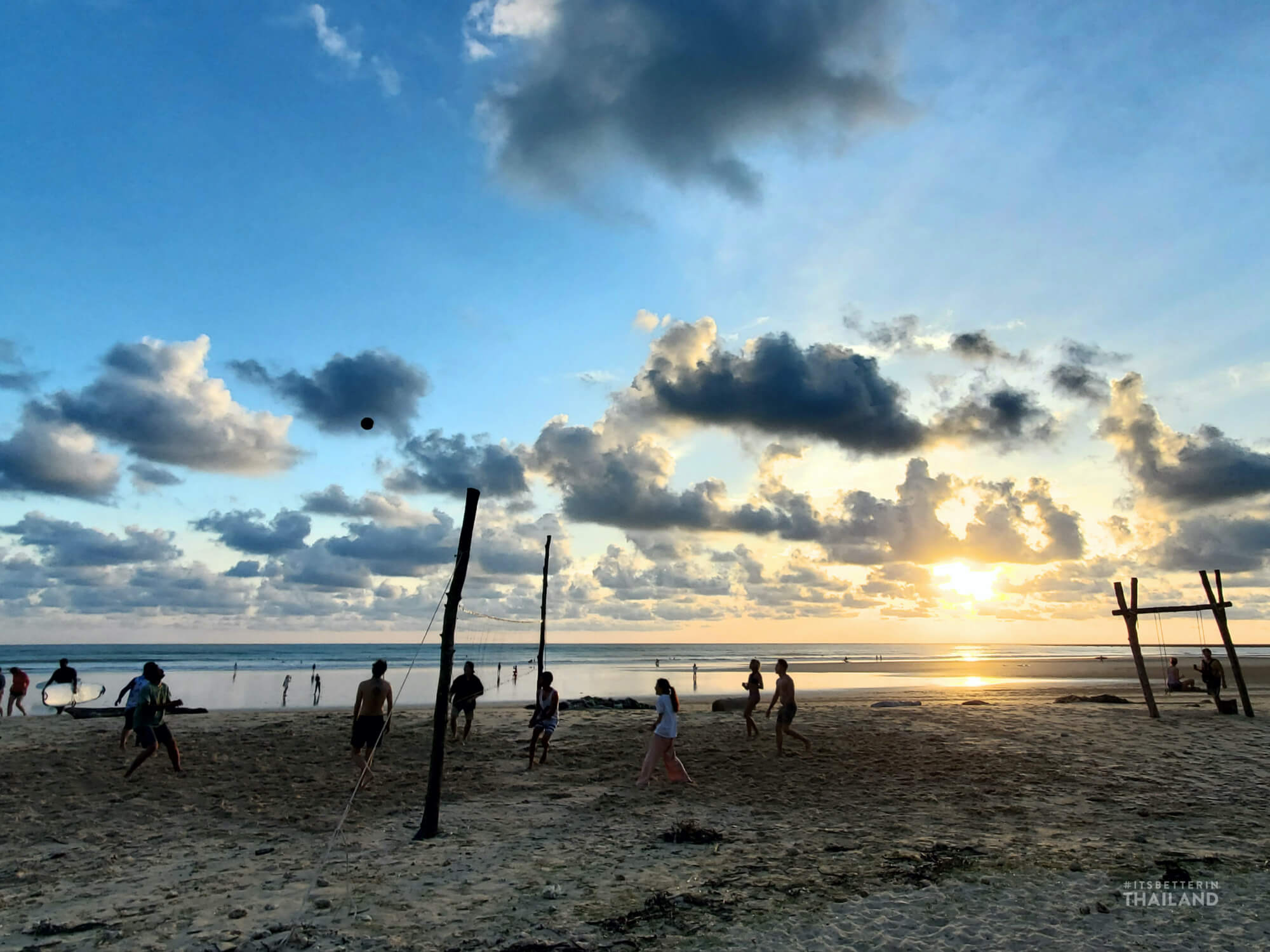 The heart of the surf scene in Khao Lak is at Memories Beach Bar at the northern end of Khuk Khak Beach. The bar and restaurant itself offers good food and drinks at reasonable prices, and the connected Pakarang Surf Shop has all the boards and gear you need.
The other breaks almost never have surfers on them, although locals do rip them occasionally.
Localism is not strong here and locals and visitors hang together at the beach, and after-hours (see the Where to Stay section below for more on that).
Memories Bar and the Khuk Khak Beach Break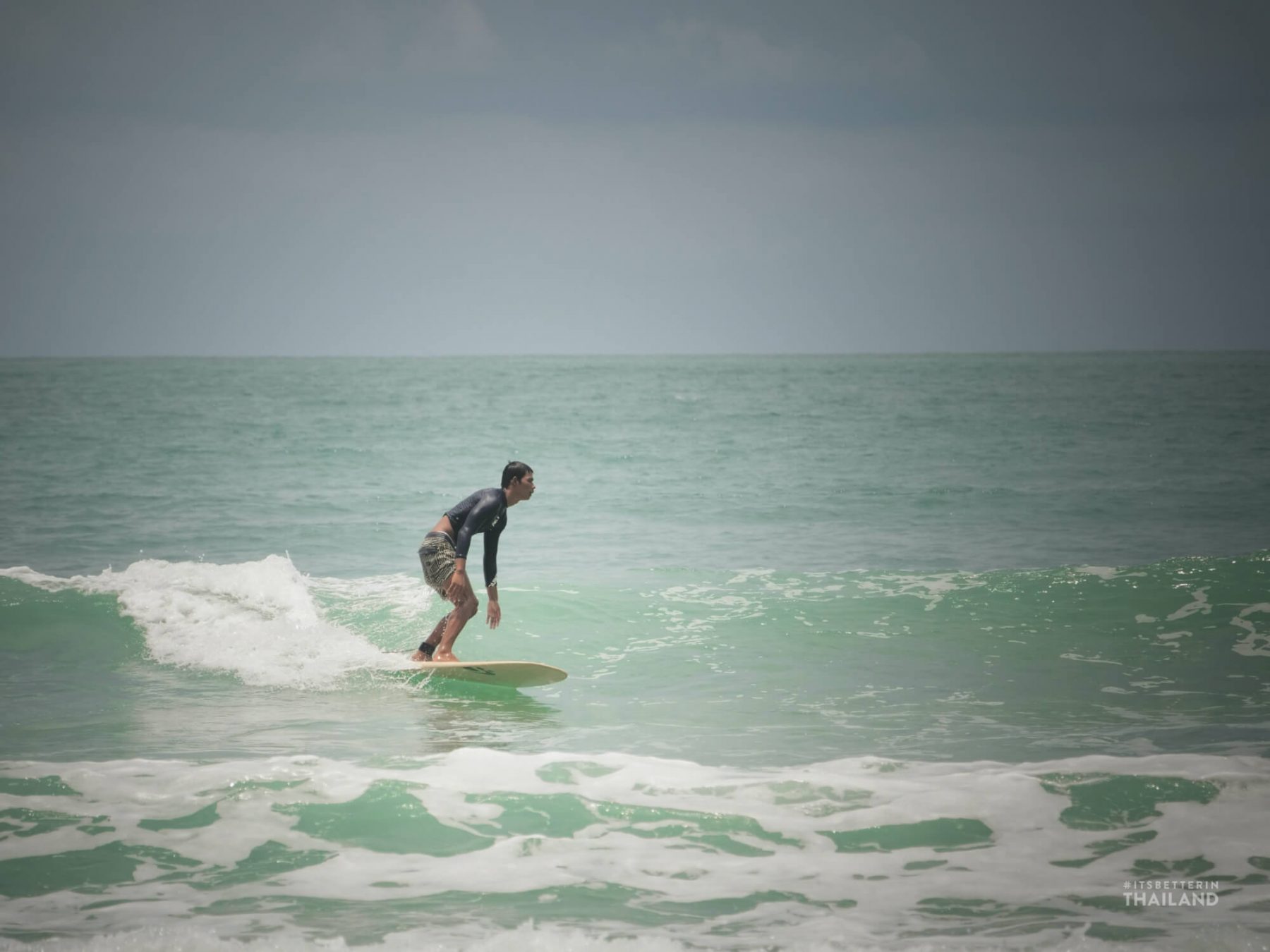 Khuk Khak is a gently sloping sandy beach. Waves here break out at the back, then roll in a long way as gentle white waves perfect for beginners trying to learn the popup, or at least to clamber up long enough to get that surfing photo for the 'Gram.
Out at the back the waves vary by day but can be quite good at times. Some days are small, others can be windy, and sometimes the swell throws nothing but closeouts, but there's almost always something to catch at least with a longboard.
Fairly often you can get great conditions with occasional overhead waves. It's definitely not Bali, but Khao Lak does get some "Indo days". The wave is normally very good for longboards, but often has nice fast sections to provide good fun for shortboard riders.
Despite that, Khuk Khak is definitely a beginner's beach. The waves break all over the place so there is not real queue in the lineup; expect a fair amount of drop-ins. People here are very forgiving of these newbie mistakes, so follow their lead and don't try starting any fights. It's a very laid-back scene here and people want to keep it that way.
Other Khao Lak Surf Breaks
There are some other surf spots around Khao Lak, most of which are nearly always empty. It seems that the Khao Lak surf scene is pretty sociable, and is almost always centered around Memories Bar. Occasionally, locals all go out to one of the other breaks together.
I can't give away the local spots in this guide, as you can hopefully understand. Most of them are out around Cape Pakarang which is just north of Memories Beach Bar, but is a separate turnoff from the main road.
There are a number of reef breaks out along Cape Pakarang. Each is generally best at one tide level, and there is at least one that works in any tide, low, mid, or high.
If you head out that way, you will probably see the waves working if the conditions are good. A better bet is to hang out at Memories and just be friendly and chatty on the beach and in the lineup. As we mentioned, localism isn't that strong here and people will most likely tell you where the spots are, and possibly even take you to surf there.
Surfing lessons in Khao Lak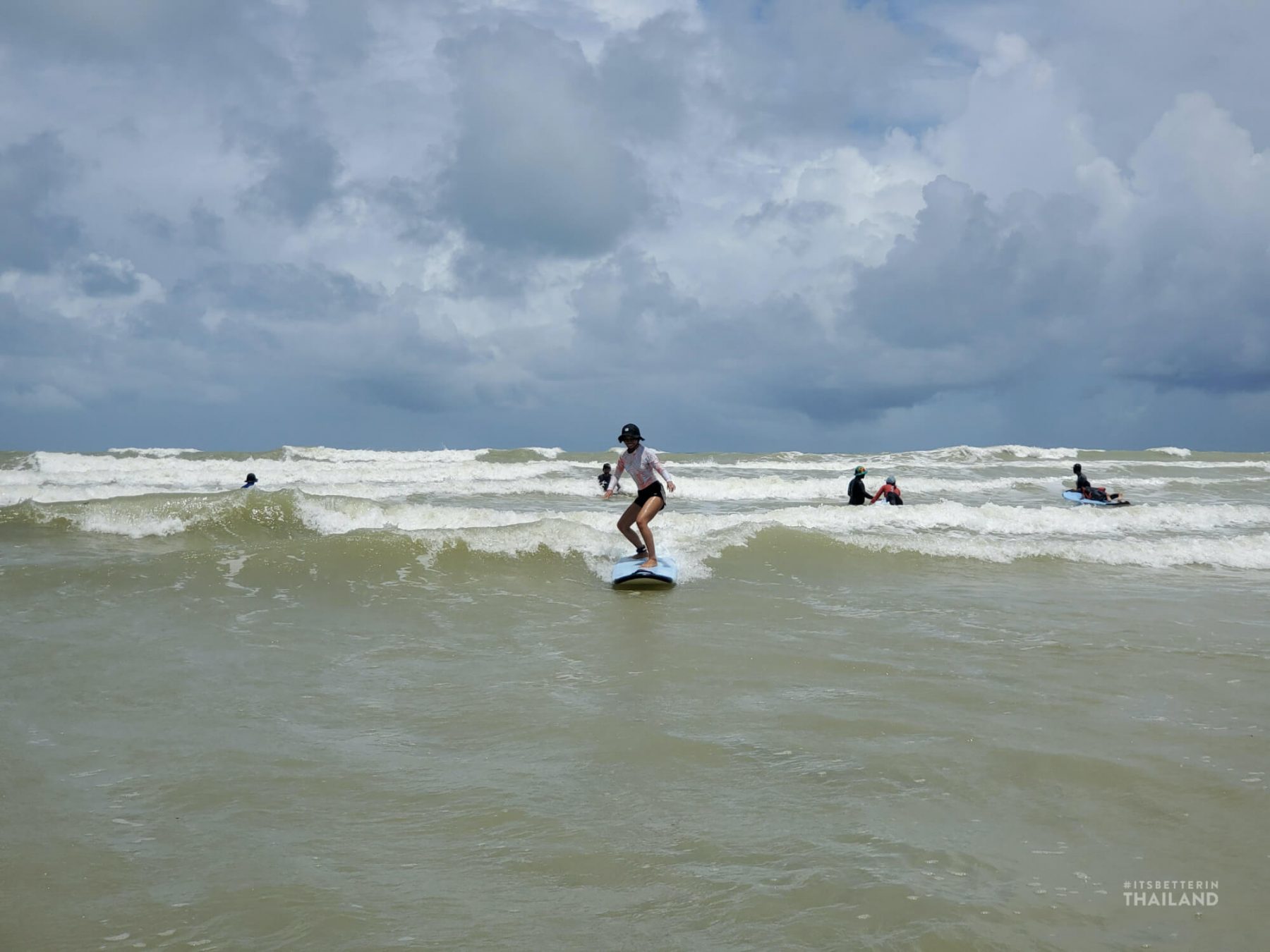 Surfing lessons are available at Memories Beach through Better Surf Thailand. The overwhelming majority of their students are Thais coming down from Bangkok as surfing is pretty in vogue here these days. They do have English-speaking instructors as well.
Because of this, the lessons tend to focus only on getting yourself up long enough for your friend to snap that photo (or you can pay extra for that service). Lessons go for 1200 Baht and include a half-hour group lesson on the beach, plus an hour in the water with an instructor helping push you onto the white waves.
If you're a total beginner, it's worth doing, but you won't learn much beyond the popup. After your lesson without the push start, you'll struggle a bit learning to paddle better and fighting through the waves with a longboard. Stick with it though and you can figure it out.
You can also get private lessons which can help you take the next steps.
This has been incredibly popular among Thais lately and the lessons get booked up quickly in advance. If you want to take one, you should book ahead via the Better Surf Thailand Facebook Page.
Surfboard Rental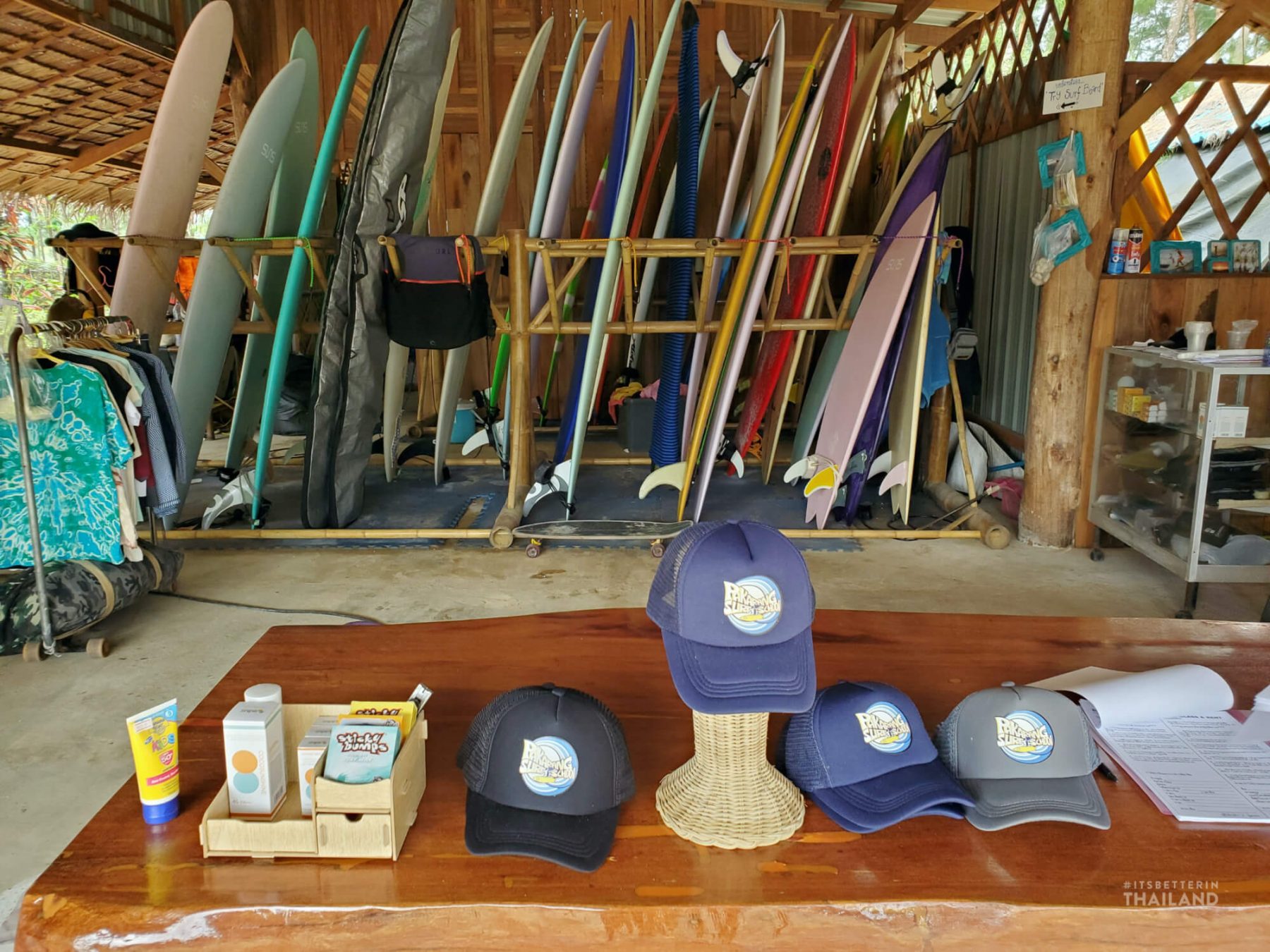 Pakarang Surf Shop rents longboards and shortboards for 500 Baht per day. You can also get bodyboards (boogie boards) for a bit less, and SUP boards for more. It's a pretty good spot for standup paddle surfing. The shop also has board storage if you're staying a while.
If you want something more specialized, you can rent surfboards, foilboards, and skimboards at the very cool Sunova Surfboard Factory on the main road just north of the turnoff to Memories Beach.
The Sunova factory is actually a pretty cool place to check out in its own right. They manufacture and distribute award-winning boards to customers worldwide. The owners are passionate about surfing and foiling and if you are interested in buying a board they will provide you with amazing help.
They have a small coffee and smoothie shop and a showroom that's worth a look, and big plans to expand. Stop by and say hello if you're interested in boards, good coffee, foiling, or LEAN manufacturing. It's really an interesting place.
Skateboarding scene
Where there are surfers, there are skaters. If you've got your board, there's a halfpipe at Memories Beach Bar, and another one at the Sunova Factory. If you're really desperate to skate, you could probably rent one from Sunova.
How to get there
The closest airport is Phuket (HKT), a 90-minute drive away. It's much easier getting around Khao Lak if you have your own transportation so renting a car or motorbike is a great option if you're comfortable driving. We always find the best price at RentalCars.com
There is no reliable public transportation from the airport. If you need a taxi, the cheapest option is to book ahead with the company Taxi @ Boss. We've used them and they're reliable, and easy to book right through their Facebook Page.
From Phuket Town Bus Terminal #2, a number of buses heading for Takua Pa, Ranong, and other destinations will stop in Khao Lak.
Where to Stay
Khao Lak has a lot of great accommodation options from budget rooms that offer great value to some beautiful luxury resorts. If you're only there to surf, you can stay in the Khuk Khak area nearer to the surf spots. If you want more nightlife after surfing, staying in Khao Lak town is the better bet.
For surfing, the absolute closest you can get to Memories Beach is at Apsara Beachfront. Their villas are directly behind Memories, and their main rooms are just on the other side of the small river that flows out next to the beach bar.
For the best social scene, Monkey Dive Hostel is a 20-minute drive from Memories Beach Bar in the heart of Khao Lak. You can often book a package that'll include your accommodation here, plus transport to and from the beach each day, and surf lessons. There are usually people hanging out in the hostel, and there is some nightlife nearby if not. It's a hostel but also has private rooms
There aren't really any other walkable options to the beach besides Apsara, so for other accommodation options you'll need your own transport. Fairly near Memories Beach Bar (but still a drive away) is The Retreat Resort Khao Lak, one of the best value for money hotels you'll find in Thailand. We got a really great room, access to the nice pool, and a fantastic breakfast for 1100 Baht per night.
Khao Lak has plenty of rooms at even cheaper per night rates. You can see all of them here on Booking.com
Photo Gallery