Khao Kho
Thailand is a tropical country so for a lot of people here, cold weather is a novelty. Because of this, most of the higher elevation areas in the mountainous north of the country have become tourist areas. Khao Kho (เขาค้อ) in Phetchabun Province is a perfect example of one of these areas.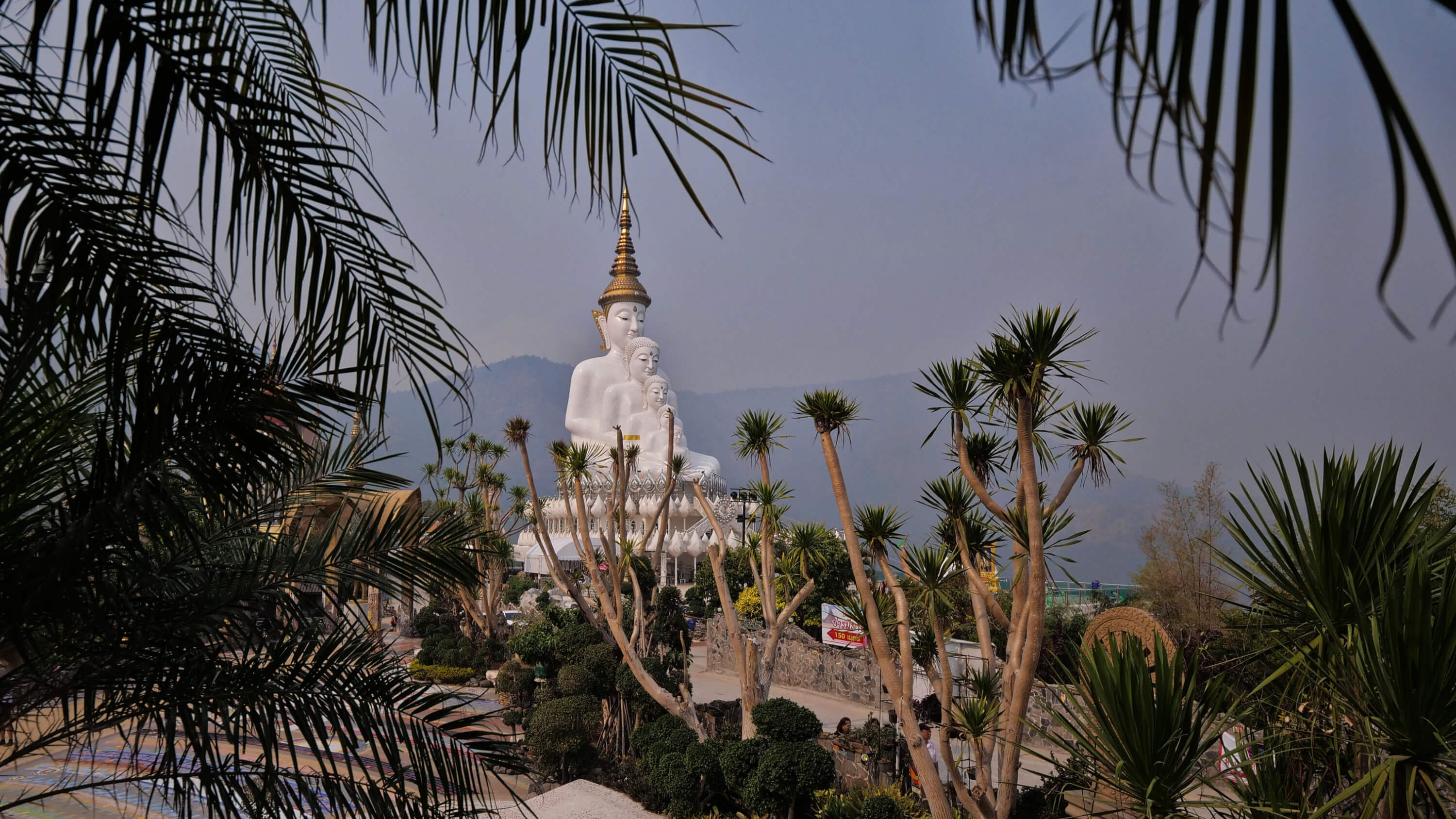 Thailand is a tropical country so for a lot of people here, cold weather is a novelty. Because of this, most of the higher elevation areas in the mountainous north of the country have become tourist areas. Khao Kho (เขาค้อ – pronounced Cow-Caw) in Phetchabun Province is a perfect example of one of these areas. Most tourists here are Thai so most businesses are catering to them, but we'd recommend this place to just about anyone looking for a getaway to the mountains. Khao Kho also has lower lying areas in the valleys below where waterfalls, national parks, and river rafting can be found
How to get to Khao Kho
The nearest airport to Khao Kho is in the neighboring province of Phitsanulok. Nok Air offers a fly and ride service from Bangkok Don Meuang (DMK) to Phitsanulok and then by minivan to Khao Kho. You can find the times at the link above. Car rental is available at the Phitsanulok airport. We usually find the cheapest price using Rentalcars.com. You can arrange a private transfer to your hotel in Khao Kho from other nearby cities, but it will be hard to get around once you arrive without your own vehicle.
In our opinion, the best way to get to Khao Kho is by your own transportation, either a rented car or motorbike. One of the big draws of this area is that it's much closer to Bangkok than most of the mountainous areas further north. Driving here from Bangkok by car takes just five hours. It can get cold so if you go by motorbike, be sure to dress warm and bring a wind and waterproof layer.
What to do in Khao Kho
The biggest draw here is the sunrise over a sea of clouds in the valleys below. Waking up early for this is definitely worth it. During the rainy season from mid-May through October and cold season from November through early February, the fog should be around most days. In the hot season, it's not always cold enough at night for fog to form. There are a number of different viewpoints around the top of the mountain to see it from. You'll find plenty of cute signs and flower beds for Thais to take selfies with and show off their cozy hats and sweaters, if you're into that sort of thing. A lot of hotels and resorts have their own viewpoints where you can watch the sunrise. The Weapon Museum has a great view too, as does the post office.
There are a lot of nice coffee shops and restaurants in Khao Kho, most of which have a great view. One of our favorite activities in a place like this is just finding a nice spot and chilling out for a few hours so a good cafe can be perfect. Another popular activity for Thais here is picking and eating strawberries, and you'll see small farm plots everywhere.
Driving down into the valley 10-15 minutes you'll find the very nice Sri Dit Waterfall (น้ำตกศรีดิษฐ์). We visited during the dry season when there was much less water and still found it worthwhile. We saw photos taken when the water is really flowing and it looks very nice. Entrance is 10 Baht. There are some shops around the entrance selling drinks and Thai food and snacks. Swimming is not allowed near the falls. The Google Maps location is correct and the turnoff is clearly marked.
Khao Kho's famous temple
There is one pretty stunning temple near Khao Kho, and even if you're not normally into visiting them, this one could be worth it. Wat Pha Sorn Kaew has a really nice statue of five seated Buddhas layered over one another. The temple also has some incredible mosaic work that is quirky and sort of reminiscent of Spanish architect Antoni Gaudi. Check out our guide to Wat Pha Sorn Kaew for more information on visiting.
Khao Kho military history
Khao Kho has an interesting history and a small museum and memorial to commemorate it. In the 1970s into the early 1980s this area was a stronghold of the Thai Communist Party. Insurgents here hid out in this mountainous area and carried out guerrilla warfare attacks. The Thai army had a firebase atop Khao Kho and today the Khao Kho Weapons Museum sits in that space.
The museum isn't overflowing with information, but a few old planes, helicopters, machine guns, and small artillery pieces, as well as some bunkers, are displayed. You'll also find the wreckage of a few planes and an armored vehicle. Entrance is only 10 Baht and just the views alone make it worth it. A few minutes further along the road there is a marble memorial to the Thai soldiers who died fighting in this area. Inside, around 1000 names are inscribed. We found both places to be very worth a short visit.
Activities down in the valleys
Ten minutes further down the road past the above-mentioned Sri Dit Waterfall, you'll come to the entrance to Thung Salaeng Luang National Park. You can't see anything more than the campsite near the park entrance unless you have a pickup truck or 4×4 as the road is too rough for a normal car. You could hike but the ranger told us it's around 14 kilometers. This park also charges the highest price for foreigners we've seen anywhere in the country – 40 Baht for Thais, 500 for foreigners!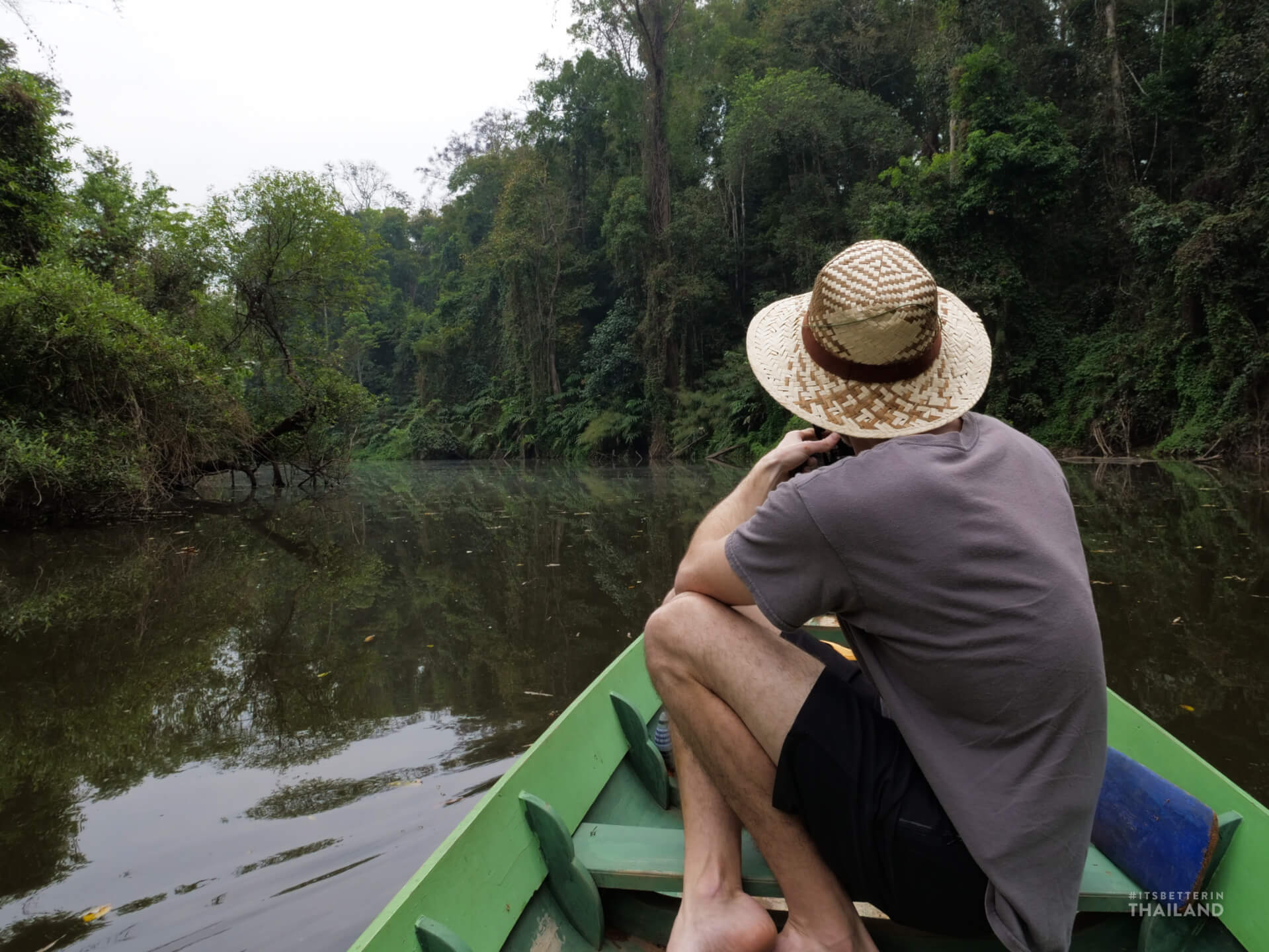 Just outside the park in Ban Nong Mae Na village, there is a much more reasonably priced rafting excursion that we accidentally stumbled upon and really enjoyed. The Khek River down in this valley is quite beautiful and runs along the edge of the national park. They offer everything from one-hour boat trips to multi-day trekking and rafting. You can find them at the Bang Rachan Islet at this location in Goole Maps. Read our full guide to rafting in Ban Nong Mae Na for more information.
Where to stay
There are lots of options for Khao Kho hotels on Booking.com We recommend you use the filters to select all the amenities you want. You should only book places with at least a 7.0 rating, and ideally at least an 8.0
When to visit
Khao Kho is beautiful during the rainy season from mid-May through October. You should get the sea of fog on most days, and generally, there should be plenty of time without rain. It's always possible a big storm system will be moving through though, so it could rain nonstop. Cold season from November through late January is also great, with chilly weather, thick fog in the morning, and an all-around vibe that feels different from most other places in Thailand. From February into early May during dry season, agricultural burning can obscure the views and reduce air quality. The fog usually won't form at this time as the nights don't get cool enough. You can check air quality around Thailand at this link.
What to bring
Khao Kho gets cold, and in November through early February, it can get very cold. Even at just 12° C (53° F) you will feel cold. You might think that's nothing in your home country, but when it hits that temperature when you're home it's not still getting hot during the day. You also probably use the heat when it's that cold, but most rooms here won't have heat. A windproof shell that at least beads away moisture is important too as the fog can soak everything if you're out in it.
When to go
Most of Thailand falls in to the generic high and low season categories, including Khao Kho.
High season - begins in November and runs through to February, bringing cooler temperatures, lush greenery from the previous months of rain, good air quality, and less rain. The downside is larger crowds and sometimes higher prices for tours, flights and accomodation.
Low season - begins in July and runs through to October. During low season the temperatures are higher, the chance of rain and storms are higher. That doesn't mean it's a bad time to visit though, if you can be flexible, there are deals to be found on flights and accomodation.
While it's always hot in Khao Kho, the small change in temperature between high and low season can be just enough that the heat isn't unbearable when out and about.
Need more? Read our post discussing the best time to visit Thailand.
Where to stay
Instead of recommending hotels, we think it will be more useful to share our process so you can pick based on your own critera for location, budget and style.
We always start our search on either Booking.com or Agoda. They have an easy to user interface and have some extra benefits for "Genius" and "VIP" users. You can also sometimes pay with credit card in advance if you're playing the cashback or air miles game.
Process:
Search for specific province, city or town.
Apply rating filters for a minimum rating or either 7, 8 or 9.
Apply other filters: budget, fitness, breakfast, etc.
If you have a specific location in mind, use map view to browse and make a final selection.
If there are too many properties available to choose from, increase the rating filter for less, higher rated selections.
Final notes: Prices are dynamic. Check the same hotel on both Booking.com and Agoda to see which has the best deal at any given time (go through to checkout to make sure all VAT and service charges are factored in). You can go one step further by calling the hotel and checking the price for booking directly. In our experience this saves money 50% of the time but you have less guarantees.
Emergency contacts
Knowing an emergency number could save your own, or somebody elses life. Take a photo or save these numbers on your phone:
Police & emergencies - 191
The most important number to remember. If the operator is unable to speak English, call 1155 (below).
Tourist Police - 1155 or (+66) 2308-0333
This hotline is available 24 hours a day and they will all speak English. This is an important phone number to remember - They will help you out with any concerns or questions you have and can redirect you to the correct number you may need.
Public Ambulance - 1669
Dialing this number will connect you to a public ambulance service, which will dispatch a vehicle to your location. The average response time for urban areas is around 10 minutes, but may take up to 30 minutes in rural areas. English-speaking staff should be available to assist you.
Fire Department - 199
In case of an emergency such as a house fire, or forest fire, call 199 for the Fire Department to be dispatched to your location.
Highway Police - 1193
If you plan on driving in Thailand, then you may end up needing to use this number if you break down in an unsafe place etc.
---
Videos
Our archive of videos from Khao Kho
---
Activities
Our archive of activities and things to do in Khao Kho