Phanom Rung Historical Park, Guide to Visiting [2020]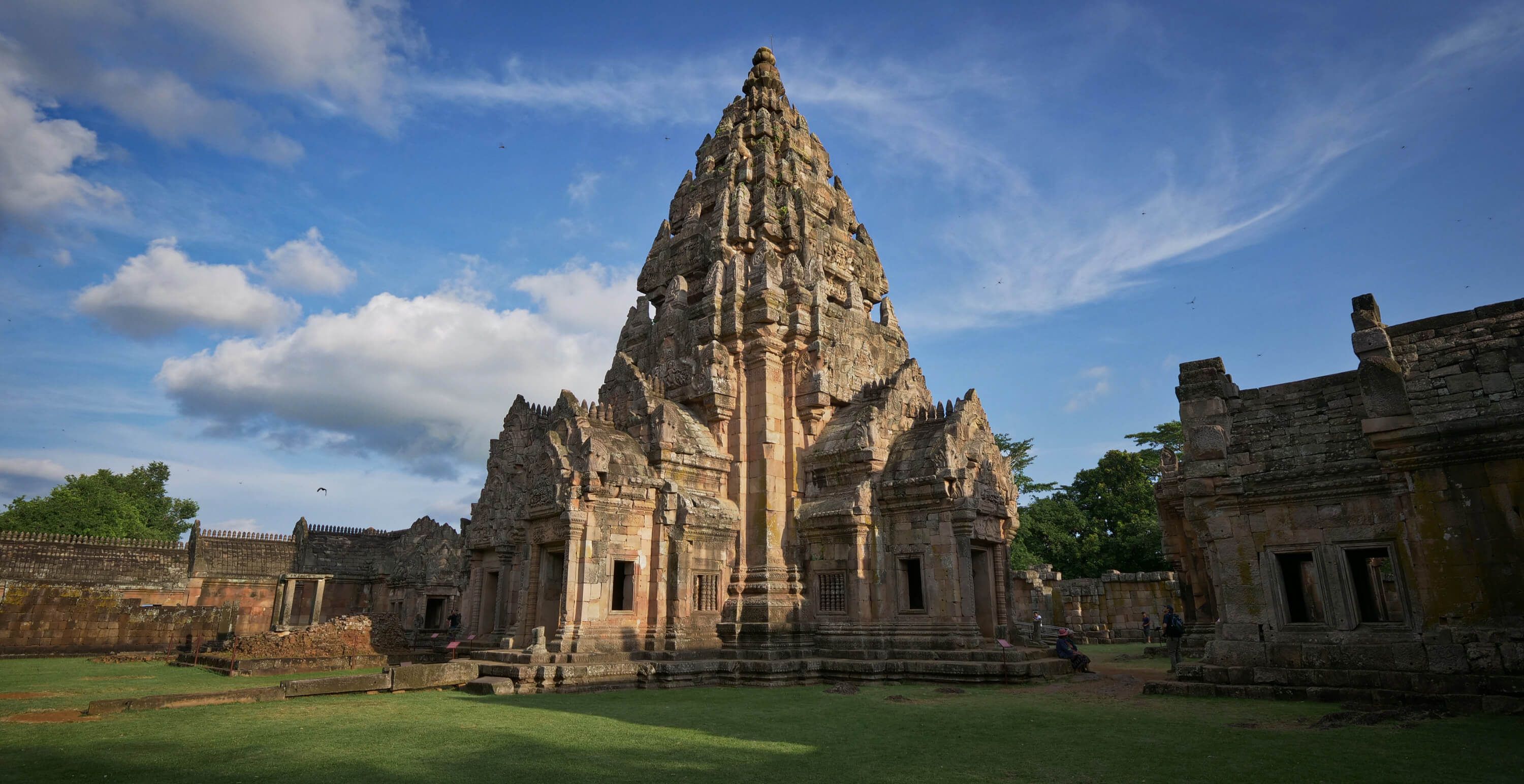 This Angkor-Era Khmer ruin is a must-see for anyone visting Southern Issan
At its historical peak, the Khmer Empire extended over much of modern Thailand reaching far into the country's Northern and Western regions. Khmer ruins can be found all around Thailand, but the most famous sites are in the provinces that border modern Cambodia. Buriram Province has two of the best ruins, and if you are traveling in Southern Issan these are a must-visit. The most beautiful and best-known of these is Prasat Hin Phanom Rung (ปราสาทหินพนมรุ้ง).
In this guide we'll cover everything you need to know to visit including the history, entrance fees, how to get there, the best tour option if you don't have your own transport, highlights of the historical park, how to combine a visit here with the nearby Prasat Muang Tam (ปราสาทเมืองต่ำ) ruins, and information about the yearly festival held here with the Stonehenge-Esque sunrise alignment.
Phanom Rung History
Prasat Phanom Rung was built by the Khmer Empire between the 10th and 13th Centuries. As is typical of Khmer architecture, the buildings have a foundation of laterite, while the upper portions and carvings are sandstone. It is this stone construction that gives the name "Prasat Hin" which means "stone castle" in Thai. Phanom Rung was built during the early part of the Khmer Empire when it was a Hindu society before later converting to Buddhism. The entirety of Phanom Rung is built as a shrine to the Hindu god Shiva. The temple sits at an elevation of 402 meters on an extinct volcano which symbolizes Mount Kailash, the heavenly dwelling of Shiva.
Note: While the Khmer Empire and much of mainland Southeast Asia converted from Hinduism to Theravada Buddhism, belief in the Hindu gods did not disappear. Even today, many Buddhist Thais still believe in these old deities. People commonly make offerings at shrines devoted to these gods and still use talismans that honor them. While you don't need to take off your shoes to visit here, general temple etiquette should still be observed.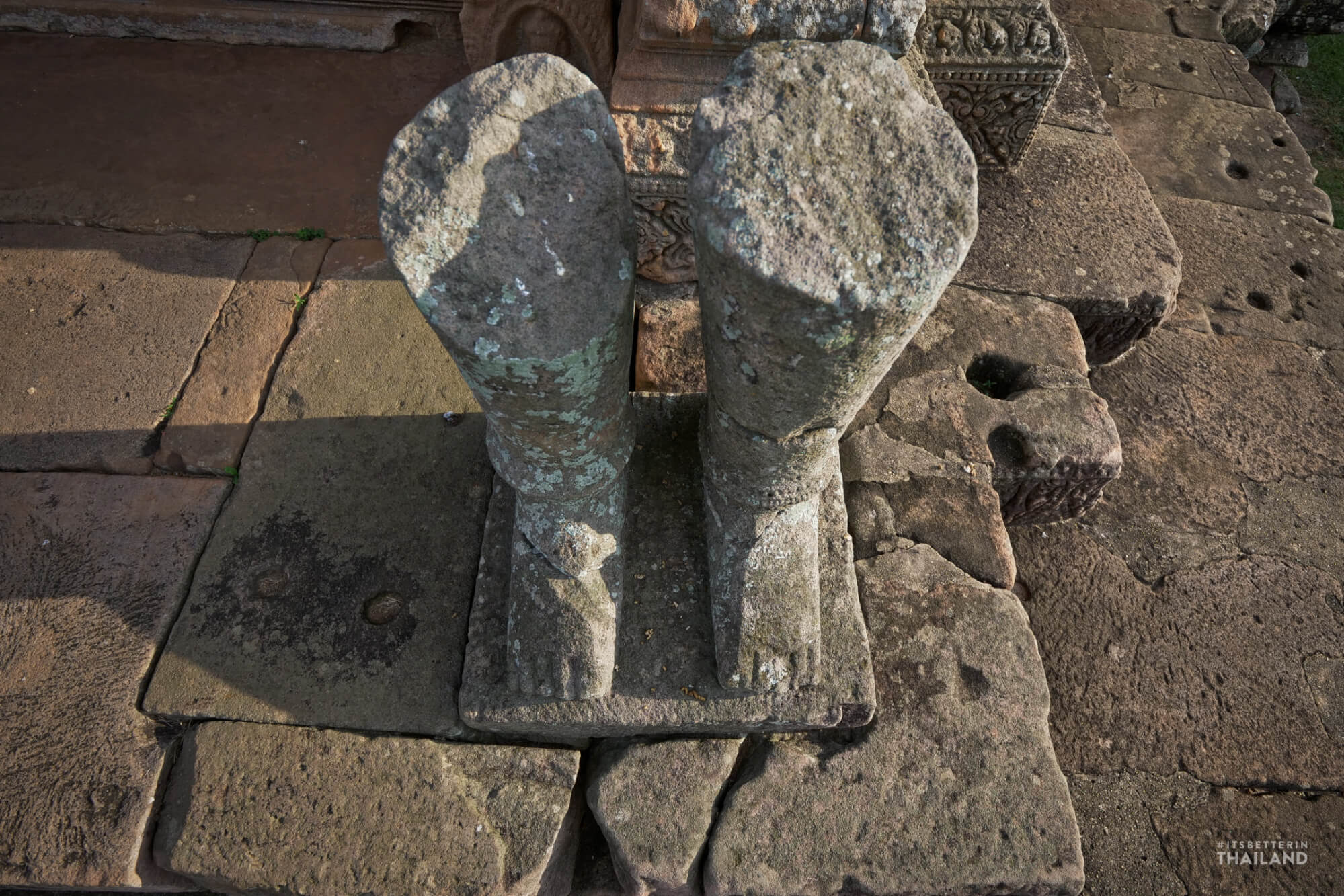 Like many Khmer-era sites, this one has been restored from a near-ruined state. Many of the statues and carvings had broken or were stolen, and numerous structures had toppled over or were in danger of doing so. The Thailand Department of Fine Arts painstakingly rebuilt and restored the site over 17 years beginning in the early 1970s.
Entrance price and hours
Prasat Hin Phanom Rung has dual pricing. Entrance for foreigners is 100 Baht, or you can buy a combined ticket that also allows entry at the nearby Prasat Muang Tam (ปราสาทเมืองต่ำ) ruins for 150 Baht. Entry for Thais is 20 Baht or 30 for the combined ticket.
Phanom Rung is open year-round, every day, from 6 am to 6 pm.

Site highlights
The whole Phanom Rung site is quite beautiful, and you can get some great photos from nearly anywhere you stand. The main highlights of the structure are:
The Processional Walkway and Naga Bridges – Entrance to the site is along the 160-meter Processional Walkway, a pretty impressive path paved in laterite blocks and lined with 70 sandstone posts, each topped with an ornamental lotus flower bud. This path leads to a series of three bridges, each edged by a low barrier that raises into the figure of a Naga, a mythological five-headed snake.
The first Naga Bridge is the largest and features carved snake figures that face the four cardinal directions and date to the 12th Century. This bridge represents the divide between earth and heaven. Beyond this, sets of stairs lead up, passing terraces with lotus-filled reflecting pools, and two smaller Naga Bridges, then entering into the main temple compound.
The Phanom Rung Temple compound – Passing through the antechamber, you'll come into the main sanctuary area. There are a few different buildings inside this walled area that once housed alters and libraries for sacred texts. The grassy area between the walls and structures produces a beautiful contrast of colors, and the central tower in the middle of it all is truly striking.
The Central Sanctuary – The focal point of the site, then and now, is the cruciform-shaped sanctuary and tower at the center of the temple. You can still go inside here through any of the four entrances, but you should also take some time to wander the perimeter and notice all the intricate carvings, especially the lintel pieces over the doorways.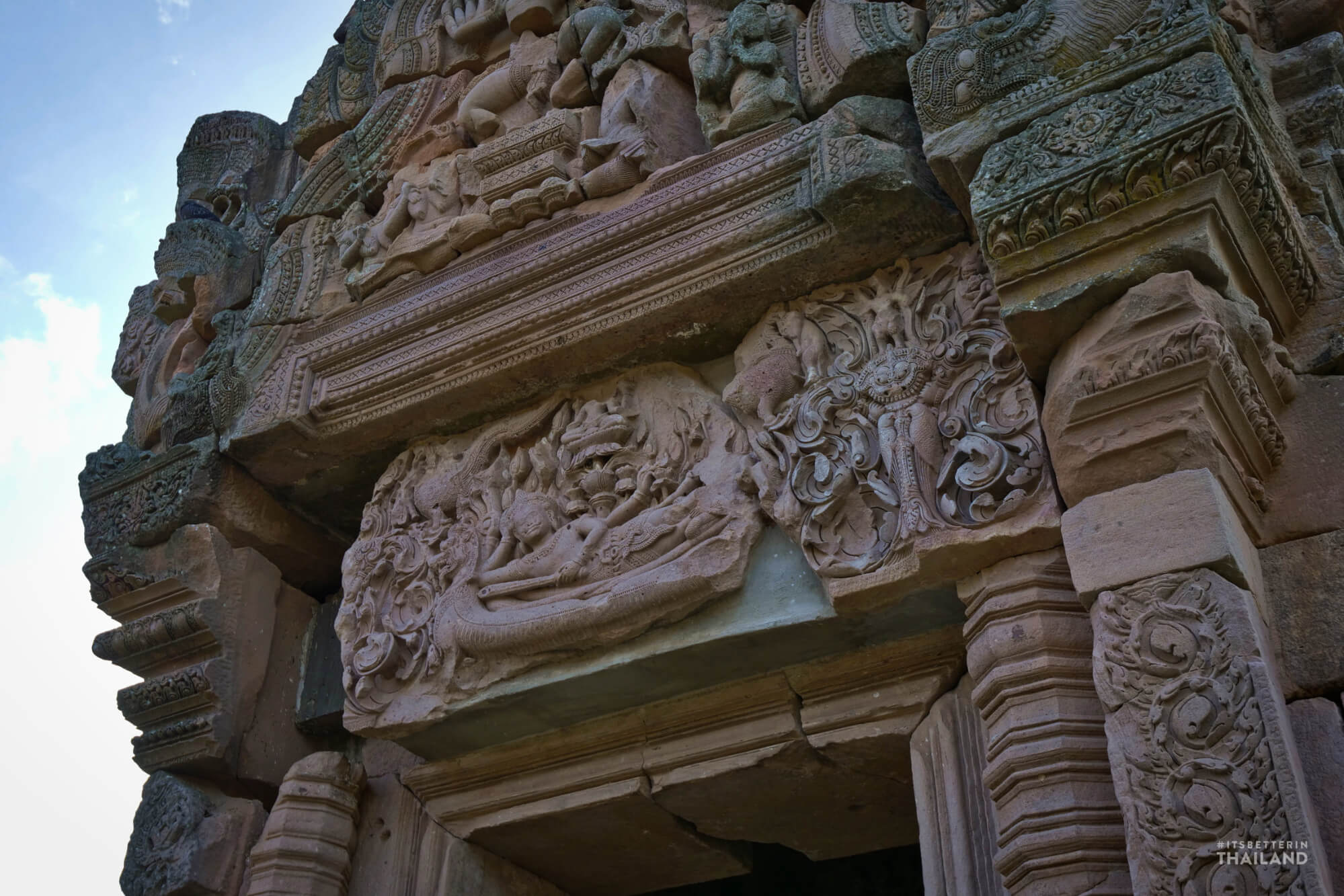 Phra Narai Lintel – Above the eastern entrance into the main sanctuary is perhaps the most famous part of Phanom Rung. This relief carving of the birth of the god Brahma, with a reclining Vishnu, was stolen from the site in the 1960s and turned up at the Art Institute of Chicago a few years later.
Near the completion of the restoration of Phanom Rung, there were growing calls for the lintel to be returned, many taking on strong nationalistic and anti-American tones. The legendary Thai rock band Carabao recorded a song demanding the piece be returned, and it's pretty excellent. It's definitely worth a listen on your way to the site. The chorus translates to "Take back Michael Jackson, Give us back Phra Narai".
Getting there
Phanom Rung is located about an hour's drive from Buriram City, and around an hour and twenty minutes from Surin. You could also visit from Korat (Nakhon Ratchasima) but if you're visiting there, the Phimai Historical Park is closer and we'd recommend those Khmer ruins instead. There is no reliable public transportation option to Phanom Rung, so you'll need to either drive yourself, hire a taxi to take you, or go by tour.
You can rent a car at Buriram Airport from either Avis or Thai-Rent-a-Car (a reputable local company). We always find the best price by booking through Rentalcars.com. The roads to both Phanom Rung and Muang Tam are in good shape and Google Maps will take you there without any problem. Phanom Rung is located here, and Muang Tam is here. You can also easily find motorbikes for rent in Buriram or Surin. Your hotel should be able to provide one or point you in the right direction.
If you want to hire a car and driver, your hotel should be able to help with that as well, but we'd recommend instead choosing the tour we recommend below if you decide to go that route. You'll get the ride there and back, but also a local expert who can tell you a lot about the history of the ruins and of the area, plus better food than you'd likely find on your own, and a few extra stops.
The best tour option
We usually recommend the local company Take Me Tour which works similarly to Airbnb "Experiences". The company handles the payments and booking engine, but the guides are independent locals who can create their own tour itineraries. The company vets the guides to make sure there are no scams, and the guides rely on their ratings and reviews so the tours are almost always excellent. The Buriram tour is no exception.
The Hidden Ancient City of the Khmer Empire tour visits Phanom Rung, stops for lunch, goes to Prasat Muang Tam, continues with some light trekking at a nearby forest park, then returns to Buriram City for one final stop at iMobile Arena, home of Thai football legends Buriram United. If you're lucky and there's a match on, you'll see that, otherwise you will take a stadium tour. Take Me Tour guides are usually open to customizing the tours however you like, so feel free to ask for modifications. Since there is currently only one guide doing these tours on the platform, we recommend booking in advance if possible.
Where to stay
Hotel de l'amour is the best hotel in Buriram Province and is located halfway between the city and Phanom Rung. Buriram City also has a lot of excellent hotels, nearly all quite modern, and all priced well. During big football matches, or when major car and motorcycle races take place at the Chang International Circuit, prices go up and rooms fill up fast, but otherwise, Buriram has some of the best value hotels you'll find in Thailand. Here is the Buriram City page in Booking.com, and here's the city page for Surin City which also has some great value picks.

Visiting Prasat Muang Tam
Prasat Muang Tam is worth visiting if you're already seeing Phanom Rung, and you won't need as much time here. I've personally only actually visited during a festival after dark when there was a show, but I could tell that you would be able to get some great photographs at the site. There is also a large pond or moat next to the temple that would make for some great reflective shots. It's just ten minutes away from Phanom Rung, and an extra 50 Baht with the combined ticket.
The "Stonehenge-Esque" solar alignment
Twice a year, for a few days, the rising sun aligns in a way that it shines directly through 15 different doorways, going straight through the main sanctuary of Phanom Rung and creating a pinpoint of light when seen from near the Naga Bridge. Yes, this does sound amazing, but from all accounts we've heard, it's not very impressive when you're fighting hundreds of other people to see it. The epic photo you hope to get of the phenomenon is ruined by people's protruding heads and selfie sticks.
This takes place every year from April 3-5, and from September 7-9. It also happens from the other side with sunsets on March 5-7 and October 5-7. These dates can shift one day earlier during some years.
More interesting than fighting the crowds would be seeing the Phanom Rung Festival that takes place around the time of the April sunrise alignment. These types of cultural festivals are a lot of fun in Thailand, especially when they're in Issan. This one mixes ancient rituals with a modern light show and choreographed reenactment of Khmer times, and it's very impressive. Of course, there's also lots of great food, music, dancing, and fun. We'd recommend going for this and adding on the sunrise as an afterthought. The festival takes place during the first weekend in April.
Photo gallery