Sukhothai Historical Park 1 to 2 day itinerary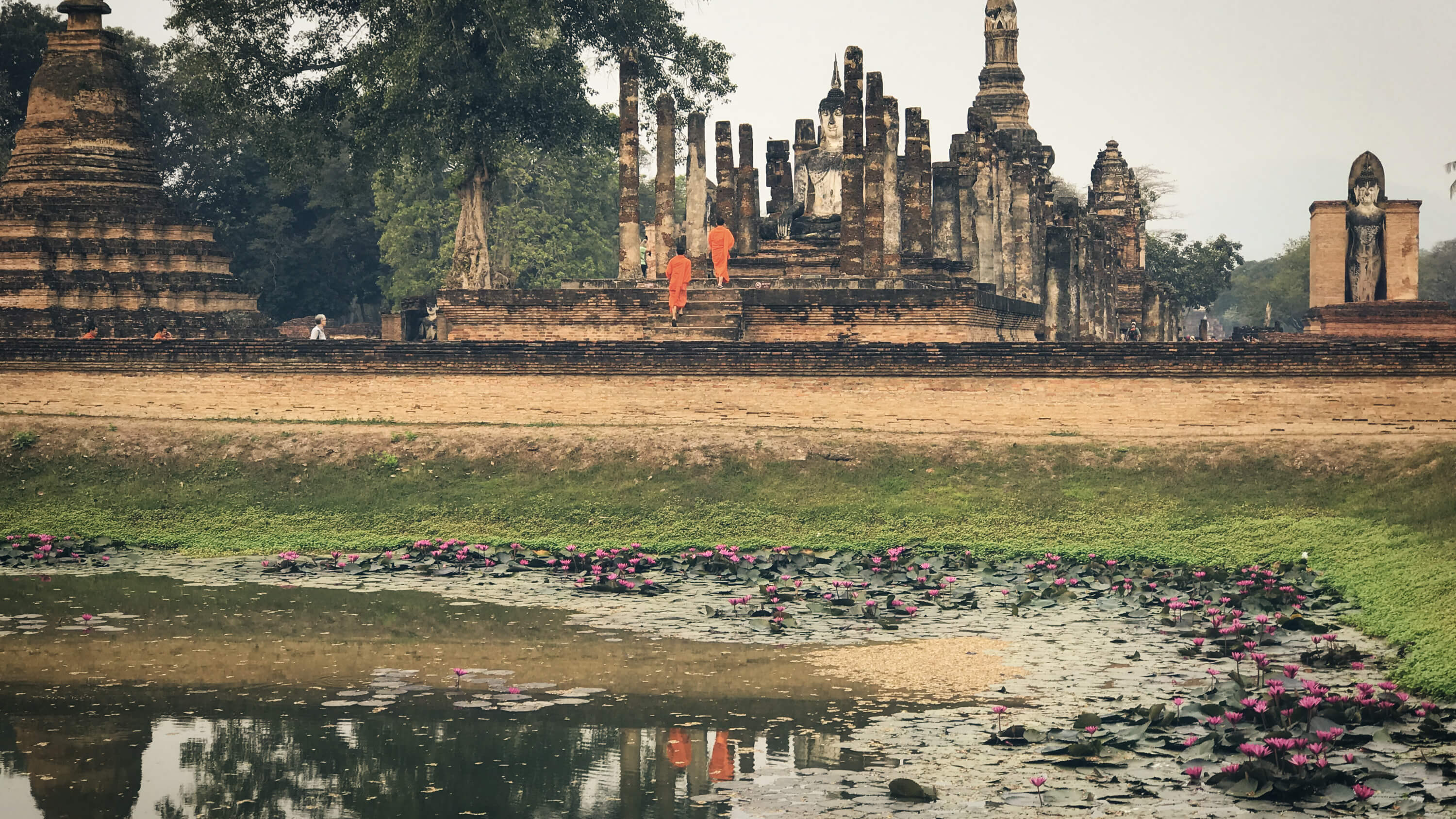 Ride a bicycle through ancient ruins on a plain of tamarind and mango trees
The 13th and 14th Century ruins of the temples of the Kingdom of Sukhothai are incredibly beautiful, and some travelers will want to spend days and days soaking them in. For people like us, one to two days is enough to see the best temples, visit the best museums, and find the best food and markets. If you are interested in seeing the park but are the type of person who knows there's only so much of this type of activity they can enjoy, this Sukhothai Historical Park itinerary will be perfect for you.
Our itinerary begins at lunch on day one and ends at lunch the next day. You could also do it all in one day by starting early and beginning with the day-two morning activity.
Pro tip: If you can plan far enough ahead, make sure you are here on a Friday or Saturday night to visit one of the best night markets in Thailand.
Sukhothai Historical Park areas and admission fees
The park is broken up into five different zones – Central, North, South, East, and West. Entrance into each one costs 100 Baht for non-Thais, and tickets are good for one day only. There used to be a combined all-zone pass but it's no longer available. Aside from the dual pricing, we actually liked this pricing strategy. We only visited two zones, so we only had to pay for two. The museum is separate from the zones and admission is 150 Baht.
Pro tip: All the temple names in this post are linked to their Google Maps locations. You should also pick up a map when you pay the entrance fee to any zone. These are there for the taking, but they won't just give you one.
Getting around the ruins
The best way to get around inside the historical zones is by rented bicycle. You can either get one from your guesthouse or if you drive to the park, you can rent it just outside. These rentals outside the park cost just 30 Baht. We didn't have to leave any deposit whatsoever. The bikes were fine, but check your brakes and tire pressure before you take off. Bringing a bicycle into each zone costs an extra 10 Baht.
There are also some electric tricycle type things that can be rented which could be perfect for anyone who is less mobile. They also look like they could be quite fun. Rentals cost a couple hundred Baht. They can seat three people. If you look around some of the shops elsewhere, there may be larger golf carts as well.
Sukhothai tour day one – afternoon
We began our day in nearby Phitsanulok and took our time driving in. Because this itinerary begins at lunchtime, you could even start this from Bangkok and fly into Phitsanulok or Sukhothai in the morning. (For more info on getting here, check out our complete guide to Sukhothai Province).
Noon – Eat Sukhothai noodles for lunch. This city is famous for its noodles and we found some very good ones at Jae Hair Noodles. This restaurant is closer to the new city than the old, so if you don't have your own transportation, you can try the dish at one of the restaurants nearer to the old city, which is how locals refer to the Historical Park.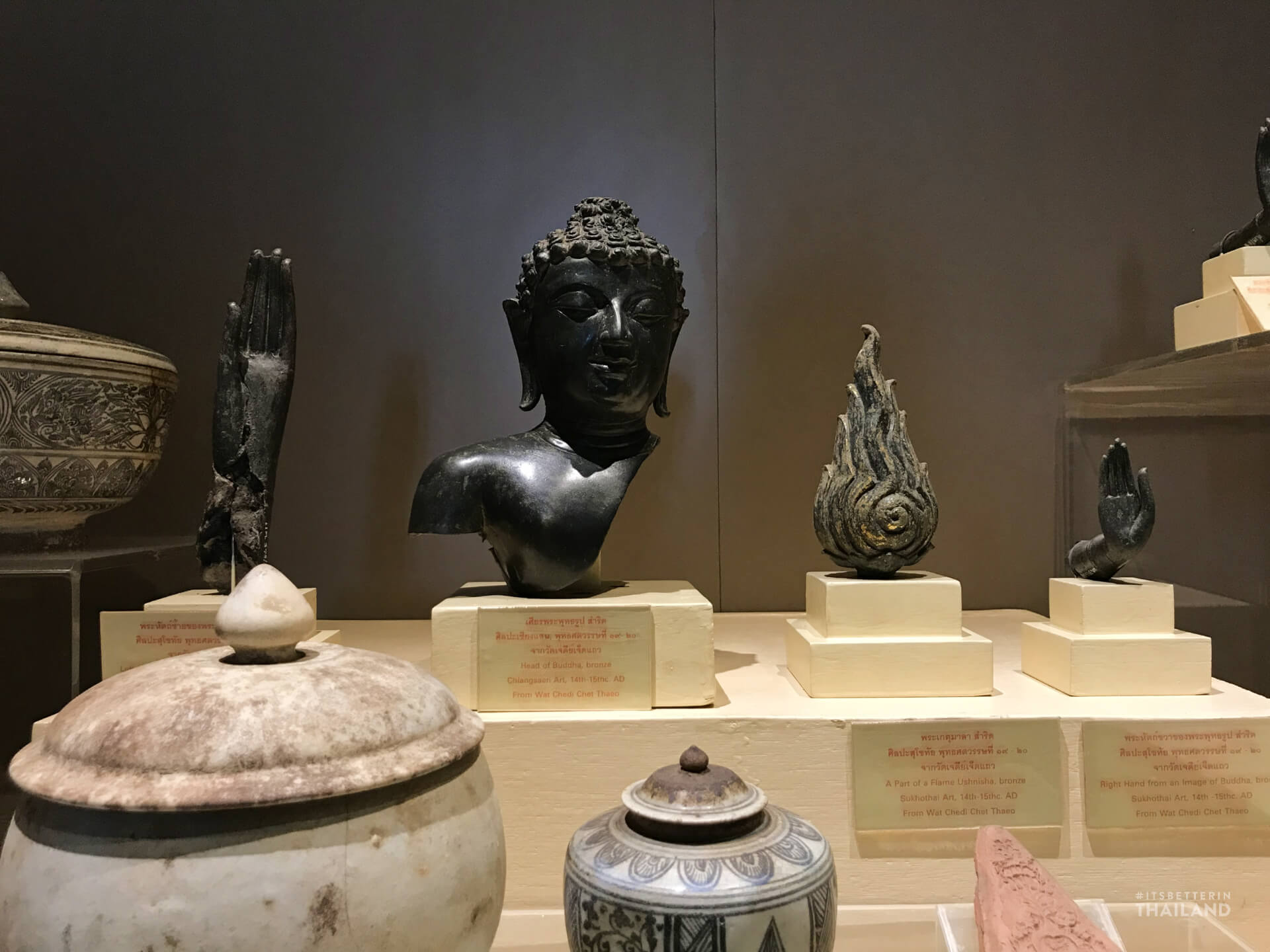 1 pm – Visit the Ramkhamhaeng National Museum. Most of the artifacts excavated from the ruins are housed in this museum. We found that the museum has some very beautiful artifacts that highlight the wonderful aesthetics of the Kingdom and that strongly influence Thai art and culture today. Unfortunately, there is little in the way of historical context provided. This is disappointing if you're interested in history but also makes the museum lack any narrative flow. Still, at 150 Baht for foreigners (around $5 USD), it's worth checking out. The air conditioning also makes for a nice break during the heat of midday. Check out our full guide to the Ramkhamhaeng National Museum in Sukhothai for more information on visiting.
Day one – evening
After the museum, we headed over to check out the North Zone. Based on our research and asking around, we decided to skip the South, West, and East Zones altogether. We headed first to Wat Si Chum, a nice temple featuring a large seated Buddha inside of an open-roofed chamber. From outside, you can just glimpse the Buddha through a very tall, very narrow doorway. The ruins in front with still-standing pillars make a great foreground to get some stunning photos here.
Photo tip: The evening light doesn't illuminate the inside, but there is still plenty of light for photos. If you are shooting from inside looking up and the sky is cloudy, it will be washed out as you expose for the darker interior. If you really are coming just for photos, you may want to visit here in the morning as well since the sunlight will be hitting the temple from in front, not behind. Note though that the early morning light at the Central Zone is even better.

After Wat Si Chum you could check out Wat Phra Phai Luang, a Khmer-era temple that predates the Sukhothai era. As there is a more impressive Khmer-era temple in the Central Zone, we decided to skip this, but it wouldn't be a bad place to watch the sunset. We chose instead to head to Wat Mae Chon, a simple but nice temple with a newer seated Buddha statue. The sun sets behind this, and there will likely be nobody else there, which gives it a big boost in our eyes.
You could also go check out Wat Chang Lom, a nice pagoda with 32 elephant head statues around the base. Like most statues in Sukhothai Historical Park, these are reproductions. It's still a pretty nice spot though, and not crowded at all in the evening.
Day one – night
If you are able to be there on a Friday or Saturday, you should absolutely check out the weekend night market that takes place amid the ruins in the Central Zone. Check out our full guide to the Sukhothai Weekend Night Market for more information.
Day two – sunrise at Wat Mahathat
We are not at all morning people, but this is worth waking up at dawn for. The Historical Park Central Zone is by far the most beautiful part of the whole park. That's even more true at sunrise when the ruins are bathed in golden light. While it's not empty, it's much better at this time than later when the larger tour groups begin to arrive. There are a lot of great photos to be had here, and with a bit of patience, you can basically get any of them with no other people in the shot.
Begin by cycling straight over to Wat Mahathat, the most beautiful of all the Sukhothai temples. This is a large area and there's a lot to explore. You'll want to stay here at least half an hour, and longer if you want to really explore and find hidden details, or if you want to set up camera shots and wait for people to clear out. We weren't lucky enough to get a proper sunrise illuminating the temple, but if you are you can get some amazing pictures.
Day two – continued
After Wat Mahathat, cycle a few minutes to Wat Si Sawai. This Khmer-era temple predates the Sukhothai Kingdom and was built around the same time as the early ruins of Angkor in Cambodia and in a similar style. It was built as a Hindu temple and later became Buddhist, as is the case with most early Angkor era temples. Wat Si Sawai is really beautiful but not very big. It's worth 15 minutes of exploration, and there are some great photos to be had here if you take the time.
From there, cycle a few minutes to Wat Sa Si, a nice temple on an island reached by bridge. We only stayed a few minutes here as there was a pretty annoying tour group, but maybe you'll have more luck than us. It certainly is photogenic, but by this point, your camera will be full of great shots. If the heat of the day still hasn't kicked in yet, this is a good time to just cycle around aimlessly, enjoying the quiet, the ruins, and the endless tamarind and mango trees planted across the plain. From there, head out to find something to eat, and you can check Sukhothai off your Thailand bucket list.
What's next
You can see this Sukhothai Historical Park itinerary leaves a lot of flexibility, and you could easily add in or subtract out anything you want. If you would like to add in another zone, you could do so at the end of this one. You could also travel 60 km north to Si Satchanalai Historical Park, a whole other area similar to this one and from the same Kingdom and era, only with fewer visitors.
Photo gallery