It's easy to see wild elephants in Thailand – Kuiburi National Park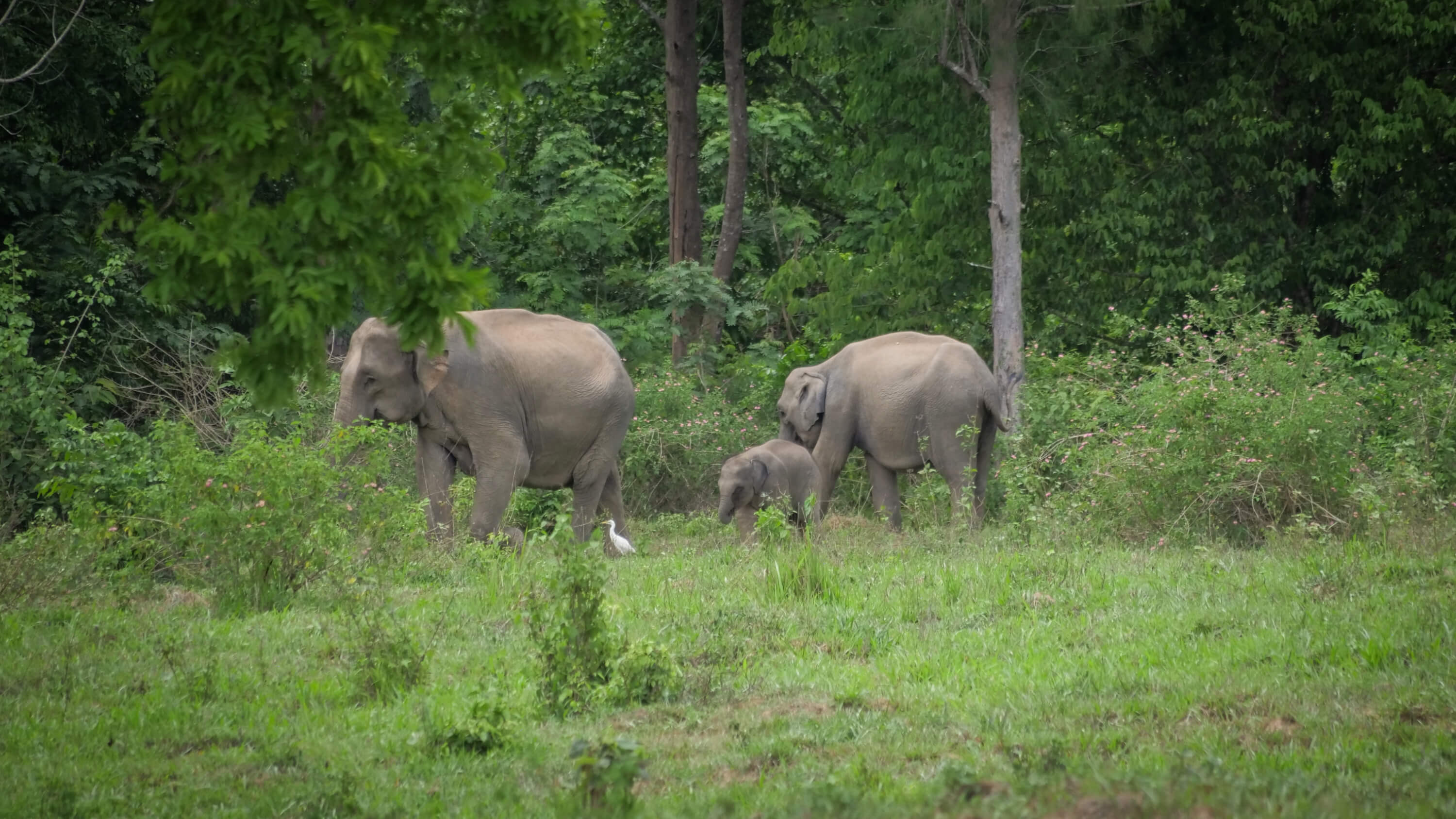 Seeing these incredible animals in the wild is an amazing experience that may be the highlight of your trip
It's actually really easy to see wild elephants in Thailand. Does that surprise you, because it definitely surprised me. I first came to Thailand over nine years ago, and I consider myself pretty knowledgable about traveling here. But I had no idea about this. I've even had people ask me where to see wild elephants, and had to tell them it's something that just takes a lot of luck. A visit to Kuiburi National Park in Prachuap Khiri Khan Province changed all that.
This is a smallish national park, and on the surface, it doesn't look too special. While it connects into the huge and spectacular forests of Kaeng Krachan National Park, the trees here seem to be mostly new growth eucalyptus and pines. I wouldn't even call it jungle. There are also some open areas of grassland between the trees. It sort of seems like an area that was logged, and then partially replanted. There are much more scenic areas all over Thailand. What makes Kuiburi so special though is a population of around 230 wild elephants. The thin forests and open fields make seeing these amazing creatures much easier than in other areas. The elephants keep their distance but seem unbothered by the daily visitors.
It's great that so many travelers and locals today want to avoid exploitative elephant tourism and visit sanctuaries instead (we also have a guide on how to book ethical elephant sanctuaries). But what's even better than that, is seeing real wild elephants living completely free. And by visiting and supporting a place like this, you support a model of tourism that creates value for habitat conservation, which is the most important thing for the long-term survival of wild elephants in Thailand.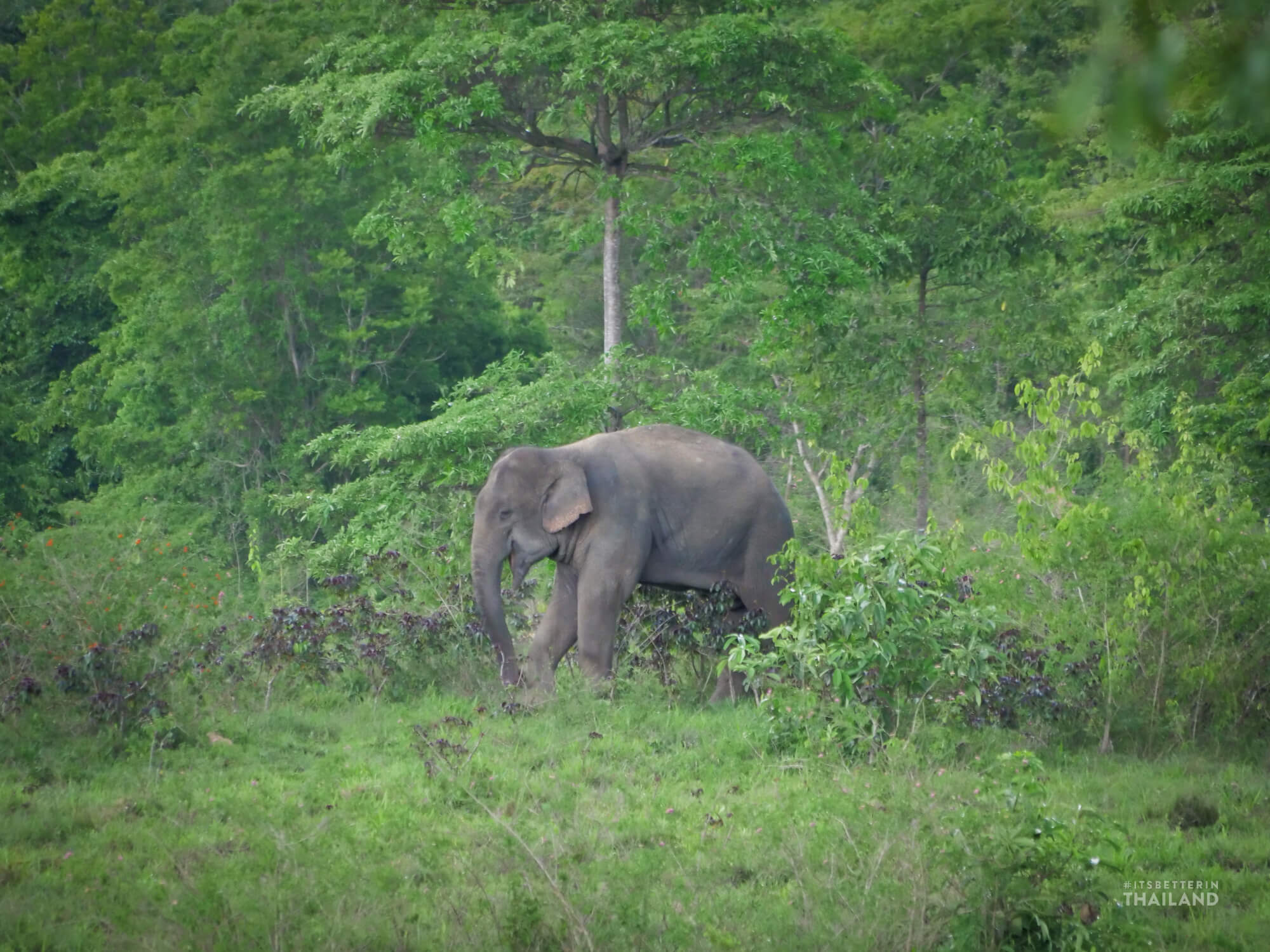 How Kuiburi elephant safaris work
This is a national park so you need to pay an entrance fee. Foreigners pay 200 Baht for adults and 100 for Children. For Thais, the price is 40 Baht for adults, 20 for children. When you arrive there is a parking lot, some toilets, and a ranger station. From here you must go by a pickup truck with a driver and guide from the park, which all together costs 850 Baht total for up to eight people. Considering what you're getting this is a pretty great deal. If you arrive at 2 pm and want to stay out the whole time, that's four hours with a driver and guide for around $25 USD plus the entrance price.
Once you've paid, you climb into the back of a pickup truck which has three rows of lightly padded benches, then you head into the forest. The piles of elephant poop on the road tell you that you could see one at any minute, and your guide will be looking into the trees from the moment you leave. You should help out, it's totally possible you'll see one when the guide was looking elsewhere.
Pro tip: You might get extra lucky and wind up with an up-close encounter, but you'll mostly be seeing elephants from 100 meters or more. Binoculars are highly recommended, and you can rent a decent pair from the park for just 100 Baht. You will probably need a telephoto lens to get decent pictures here, although with steady hands you can use a smartphone and binoculars for a decent shot.
Will you see elephants?
They don't offer any guarantees, but they say 99% of the time visitors see elephants. The rangers here do a great job staying in contact by two-way radio so they are able to get reports on where elephants are, not just hope to stumble on them. Besides the rangers in each pickup truck, there are also teams posted at different lookout points where elephants and other animals are commonly seen. We were really impressed at the level of effort they put into making sure visitors here have a great experience.
The guide and driver also seemed very intent on making sure we had a great time. If you are photographing an elephant through some trees, you can ask them to move the truck a bit forward or back or to stop the engine if you're using a tripod. You can stay watching any elephants as long as you want, or move on and try to find others. It seems like they will do the type of tour most visitors want by default, but if you want to do anything else, just ask.
At most locations, you have to stay in the pickup truck, but there are a few areas where you can get out and walk around. At one spot there's a two-story building where you can sit and watch an open field, and also take cover if it rains.
When to see the wild elephants at Kuiburi
Kuiburi is open year-round and there are tours every day. The tours can only go between 2 pm and 6 pm. You should really make sure to get there by 2 pm to get the most out of it, and get the best chance of seeing elephants. It's also possible the trucks could all be rented, though this is unlikely outside of busy holiday weekends. To be extra safe aim to get there a bit early.
The pickup trucks have open beds where you sit, so if you go in the rainy season you could get rained on. They do have ponchos for sale there and we wouldn't recommend letting rain stop you unless a big storm is predicted.
Other wildlife at Kuiburi
Besides elephants, a few other impressive species are found here. A herd of gaur — the largest wild cow in the world roams around here. Red Bull energy drink is originally from Thailand and is named for this species. A herd of smaller red cow called a banteng can also be found. Lucky visitors might see a Malay tapir — an animal that looks like a cross between a pig and an anteater but is most closely related to horses. There is also some great birdwatching at Kuiburi. We saw a few Indian rollers and two kingfishers of some type. The guides seem to look mostly for larger mammals and will drive by the birds, so if you want to stop to see any, let them know. If you are into birdwatching, you're not far from one of Thailand's best spots, and we recommend going to both these parks. Check out our guide to Kaeng Krachan bird and wildlife watching for more information.
Getting to Kuiburi National Park
If you search for Kuiburi National Park in Google Maps, there are a few different locations that come up. The correct one for the wild elephant safaris is this location. It's a three and a half hour drive from Bangkok, under one and a half from Hua Hin, and just an hour away from Khao Sam Roi Yot which has a very nice national park of its own. There is no public transportation to the park, so you will either need to drive yourself, hire a car and driver to take you, or take a tour. You can book a very good tour of Kuiburi at this link through Take Me Tour, a company we highly recommend.
---
Disclosure: This page has some affiliate links. If you click one of these links and make a purchase or booking, we will earn a small commission. This is 100% free for you and it helps us to continue creating great Thailand content that we can offer to you for free.