Kaeng Krachan National Park – Wildlife viewing paradise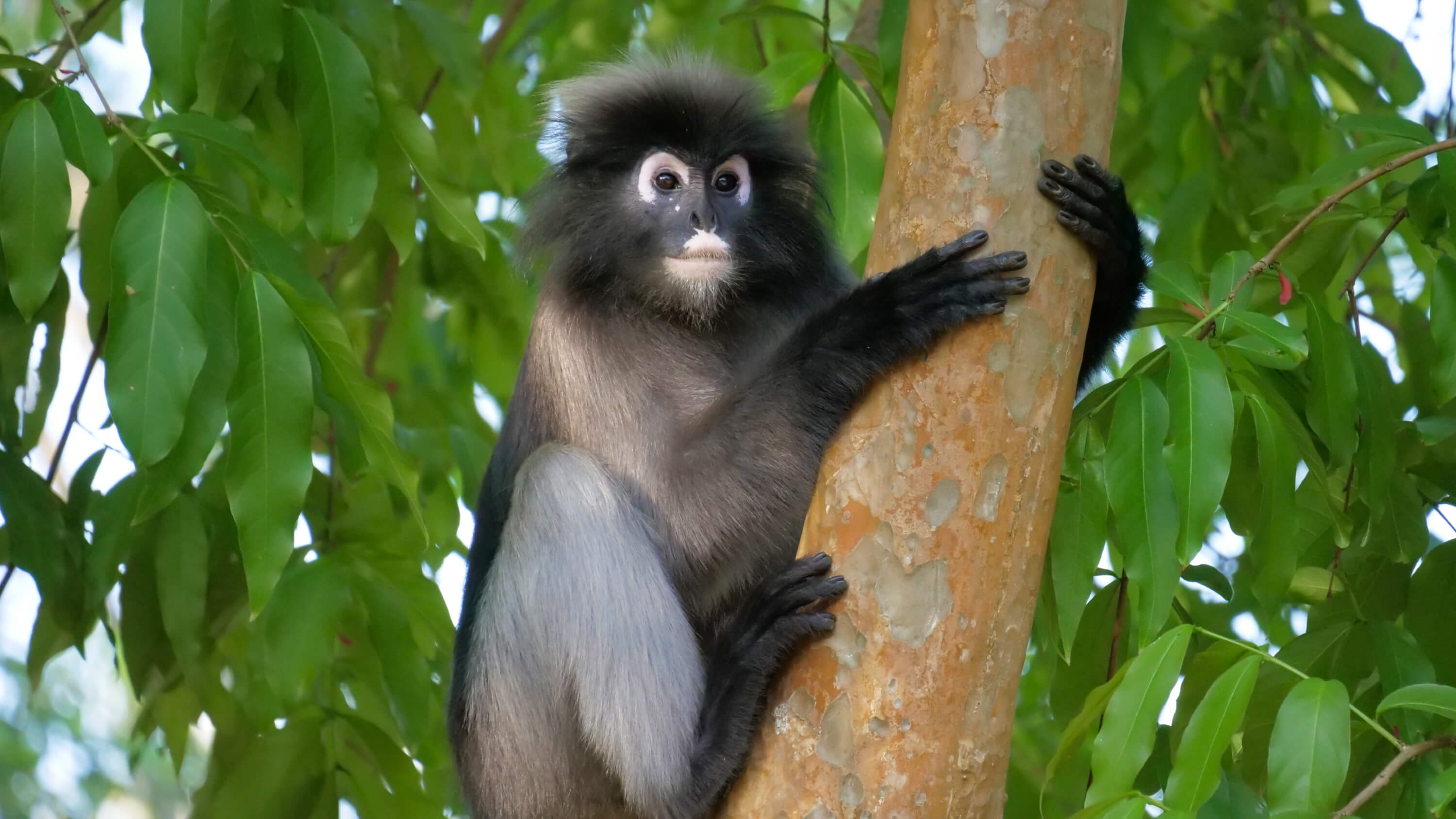 One of Thailand's best locations for viewing wildlife
Kaeng Krachan (อุทยานแห่งชาติแก่งกระจาน) is the largest National Park in all of Thailand. It is located in Petchaburi Province along the border with Myanmar, and it is contiguous with another large national park across the border. This huge protected area makes it one of the country's largest nature reserves, creating a massive habitat for a large number of species. Kaeng Krachan National Park is perfect for anyone looking for an escape into nature, and especially anyone who enjoys wildlife viewing. It's especially popular with bird watchers, but even if you just have your naked eye, there's still plenty to see. Check out the video below to see how much wildlife I was able to see and film in under 24 hours.
Getting to Kaeng Krachan
You can think of Kaeng Krachan National Park as being divided into three sections. To the north, there is the area around the dam that forms Kaeng Krachan Reservoir. The park headquarters are located here, and there is a grassy area overlooking the water where you can camp. At the southern edge of the park, there is road access to Pala-U waterfall. This nice falls is actually in Prachuap Khiri-Khan Province and is a popular trip from the resort town of Hua Hin.
The truly beautiful part of the park, and what this guide will cover, is the central road that leads into two campsites deep in the lush jungle. To get here you first need to drive to the park entrance checkpoint where you pay the entry fee (more on that below). The checkpoint is located here so set your GPS to that point and you'll find your way no problem. From there it is around a 15-minute drive into Ban Krang Camp (บ้านกร่างแค้มป์). Ban Krang Camp is where we really recommend you visit.
Important: You can only enter the park by car. Bicycles and motorbikes are not allowed, for your own safety and for the safety of the elephants. Also, the central area of the park is also closed from August 1st through November 1st.
Visiting Phanoen Thung Camp
After Ban Krang Camp, the road continues on unpaved toward Phanoen Thung Camp (เขาพะเนินทุ่ง). At around 1200 meters above sea level, this stunning viewpoint is popular in the early morning when a sea of mist rolls across the lush jungle below. Many visitors drive up early to see it either from Ban Krang Camp, or accommodation outside the park. When the camp is open, you can also tent camp up here.
Normally, you are allowed to drive up here but under strict conditions. You must have a four wheel drive vehicle, and the road is entirely closed in the rainy season. The narrow track operates as a one-way road only with certain times allowed for traffic heading up and down. You can drive up from 05:30 to 07:30 and 13:00 to 15:00, and back down to Ban Krang Camp from 09:00 to 10:00 and 16:00 to 17:00
Important: As of this writing in March 2019, the road to Phanoen Thung is indefinitely closed to both traffic and hiking.
Around the autumn of 2018, the park announced that construction would begin on paving this road. An environmental group sued over concerns about disruption to the natural habitat. Currently, the project is tied up in court and the whole road has been closed. It is unclear how long it will stay this way, but if you have any updated information please let us know in a comment below. This forum on Kaeng Krachan closures seems pretty up to date so you can check it if you want real-time information or updates.
Camping at Ban Krang Camp
Kaeng Krachan National Park is an amazing place to view jungle wildlife, and Ban Krang Camp is the best base to view it from. There is plenty of space to pitch a tent, and another area up above ranger station that is scenic but doesn't have much shade. The bathroom and shower facilities up here are newer and nicer, but the ones in the main site are fine. You can bring your own tent and camp for a 30 Baht per person, per night fee which you pay at the park entrance. You can also rent a tent, a thin mat, pillow and blanket in the ranger station in the campsite. A tent is 200 Baht, and another 50 got me a mat, pillow, and blanket.
From what I heard, it is not uncommon for wild elephants to enter the campsite at night. I saw a pile of elephant poo in the small stream just behind the campsite that smelled like it hadn't been there more than a couple of days. Wild elephants are dangerous, and people in Thailand are killed every year by them. There is a room off to the side of the small restaurant at the campsite where campers are moved to if elephants enter the campsite at night. One regular visitor I met there told me he would never camp out in the campsite because of this danger. You can ask the rangers to let you pitch your tent on the upstairs balcony of their station if you're worried about this.
There is a restaurant at Ban Krang Camp that does standard Thai dishes. The food is good and the portions are plentiful, and everything is very cheap. They close at 7 pm but may stay open later if it is busy. Alcohol is prohibited in all national parks in Thailand.
Kaeng Krachan National Park entrance fee
The entry price for Kaeng Krachan is 300 Baht for foreign adults, 200 for foreign children. For Thais, the price is 100 for adults, and 20 for children. There is a 30 Baht fee for the car. These are all one-time fees, so whether you stay one day or four, you only pay this once. The 30 Baht per person camping fee is per day and you pay it at the main gate. If you decide to stay longer after arriving at Ban Krang Camp, you could pay to extend there.
Kaeng Krachan wildlife viewing tips
Kaeng Krachan is one of mainland Southeast Asia's best-preserved wildlife habitats and has some of the region's rarest animals. There are tigers, leopards, deer, Malayan tapir, gibbons, elephants, langurs, numerous reptile species, and some 460 bird species throughout the year. The rangers have a pretty good idea about where the wildlife is and the best time to spot it, but they weren't very forthcoming with me.
There are definitely areas where you'll be much more likely to spot wildlife, such as bathing holes, salt licks, and trees that have ripe fruit at that time. A guide would be the best way to visit if you are serious about seeing wildlife. If you are interested in a guided tour, I can't personally vouch for but have heard good things about Tontan Tour.
Photo tip: Obviously a zoom lens is a big advantage for photographing wildlife, but you can get close enough to much of it to use even just a cell phone. The long shot in the start of the video above looking at the group of langurs in the tree was shot on an iPhone.
Even just going on your own, you can see plenty of wildlife. I saw everything in the video above in under 24 hours just on my own. I also saw a water turtle and a fox, but wasn't able to get footage. The dusky langurs are in the trees around the campsite pretty much all day. They do not interact with humans at all but are not overly bothered by their presence. They pretty much just sit in the trees eating and will ignore you as long as you don't try to get too close. There are three species of hornbill that visits the camp area. Civets are not uncommon, and porcupines frequently come into the campsite after dark looking for food.
The nature trail
Near where the road continues up toward Phanoen Thung, a trail leads off into the forest. It follows the stream that passes by the campsite for a bit over 2 kilometers. It is not marked as such, but this is not a loop trail. This trail ends on the road to Phanoen Thung which is currently closed. There is no marking as to which way will lead back to camp, presumably because the road is closed even to hikers (although from my GPS I believe you would make a right to head back down). From the end, you just retrace your steps the way you came. There is plenty of wildlife to be seen out here, but you have to move slowly and quietly to see much of it.
Tip: Download the data for this area in your maps app before you come so your GPS will still work.
When to visit Kaeng Krachan
Kaeng Krachan National Park is most popular with Thais, so it can get crowded on weekends and holidays. This weekend crowd will be there more for spending time with friends and family and less for nature, so it won't be a very peaceful or quiet experience. We highly recommend going during the week. On a Tuesday, there were only about ten other campers there, plus a few visitors who came in for the day. Everyone was there for nature, and quite a few seemed to be serious bird and wildlife watchers or photographers.
As noted above, this part of the park is closed from August 1st through November 1st. While currently closed indefinitely, the road to Phanoen Thung is always closed during the rainy season. The park is worth visiting year round. I visited in early March which is the height of the dry season. Outside the park, the fields and forests were dry and mostly brown but inside the park, the jungle was still lush and green.
What to bring
Even in the hot season, it gets cold at night here so a jacket is a good idea. If you're like me and don't bring one, the blankets you can rent for camping will do. There are a few lights at night, but for managing your things when camping a flashlight will be a big help. If you will need any contact with the outside world, you will need a sim card from AIS. The other companies have no signal up here. Bring a zoom lens if you want to photograph some wildlife. This is also a good spot for star photography as it gets quite dark so a fast, wide lens might be useful too. Binoculars would be great for wildlife viewing, but it's worth going with or without.
Photo gallery