Little Amazon Takua Pa: Kayaking in a jungle wildlife paradise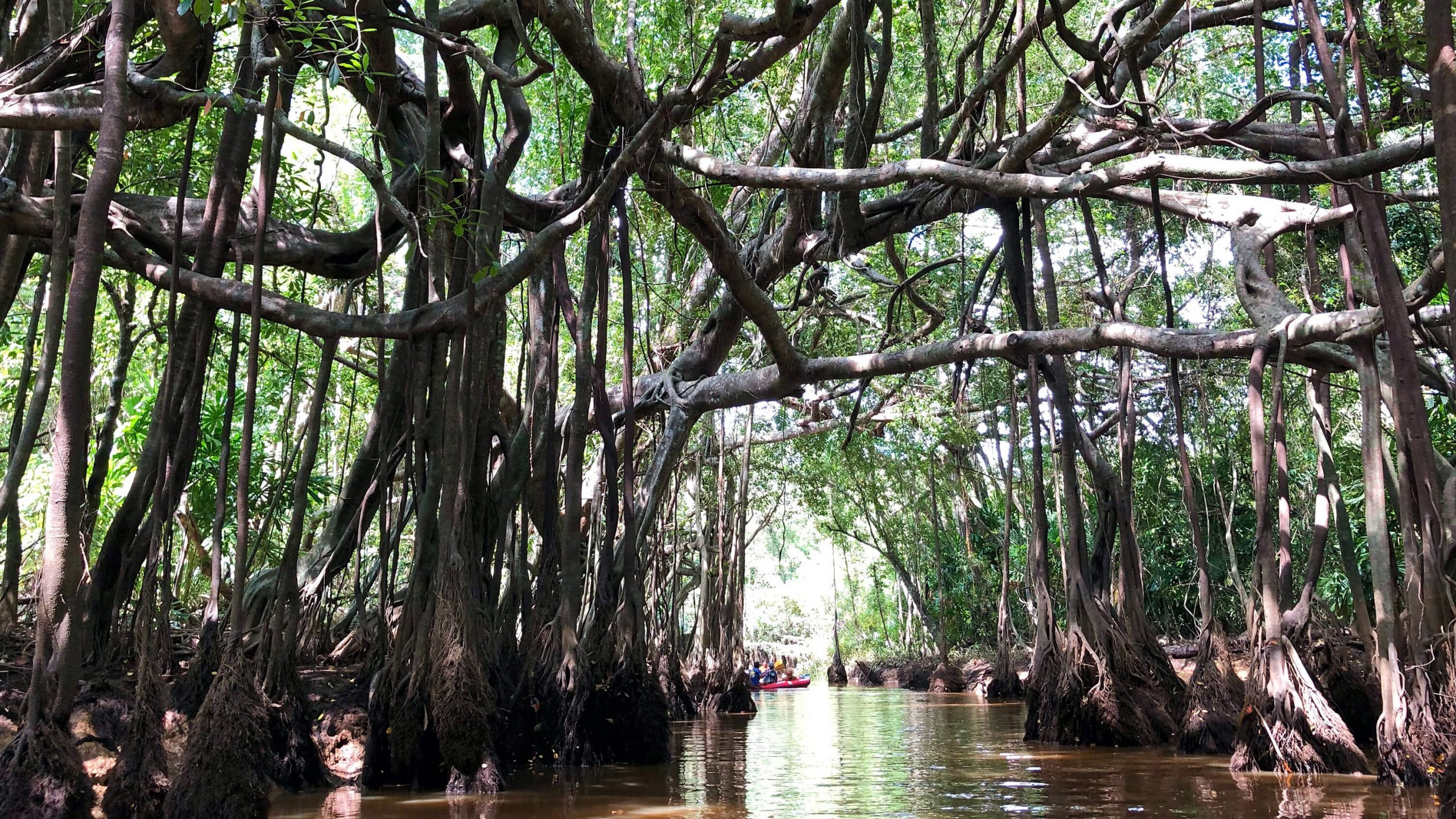 Kayak through a beautiful ecosystem of mangrove and banyan trees that's full of wildlife
There are a lot of mangrove forests in Thailand. Pretty much every island has one, and on most stretches of coastline, you're never too far from one. They're always beautiful and we rarely pass up a chance for a boat ride or paddle through one, but they're mostly all pretty similar.
The "Little Amazon" in Takua Pa is different.
Sang Ne Canal, AKA "The Little Amazon" is a small stretch of mangrove forest located in the town of Takua Pa in Thailand's Phang Nga Province. The notable feature of Sang Ne Canal is the massive banyan trees whose intricate root systems create archways over the small waterway. The Little Amazon is a haven for wildlife, and visitors commonly see macaque monkeys, reticulated pythons and other snakes, oriental pied hornbills, monitor lizards, kingfishers, and more.
In this guide, we'll cover everything you need to know to visit either independently with your own transport, or on a tour.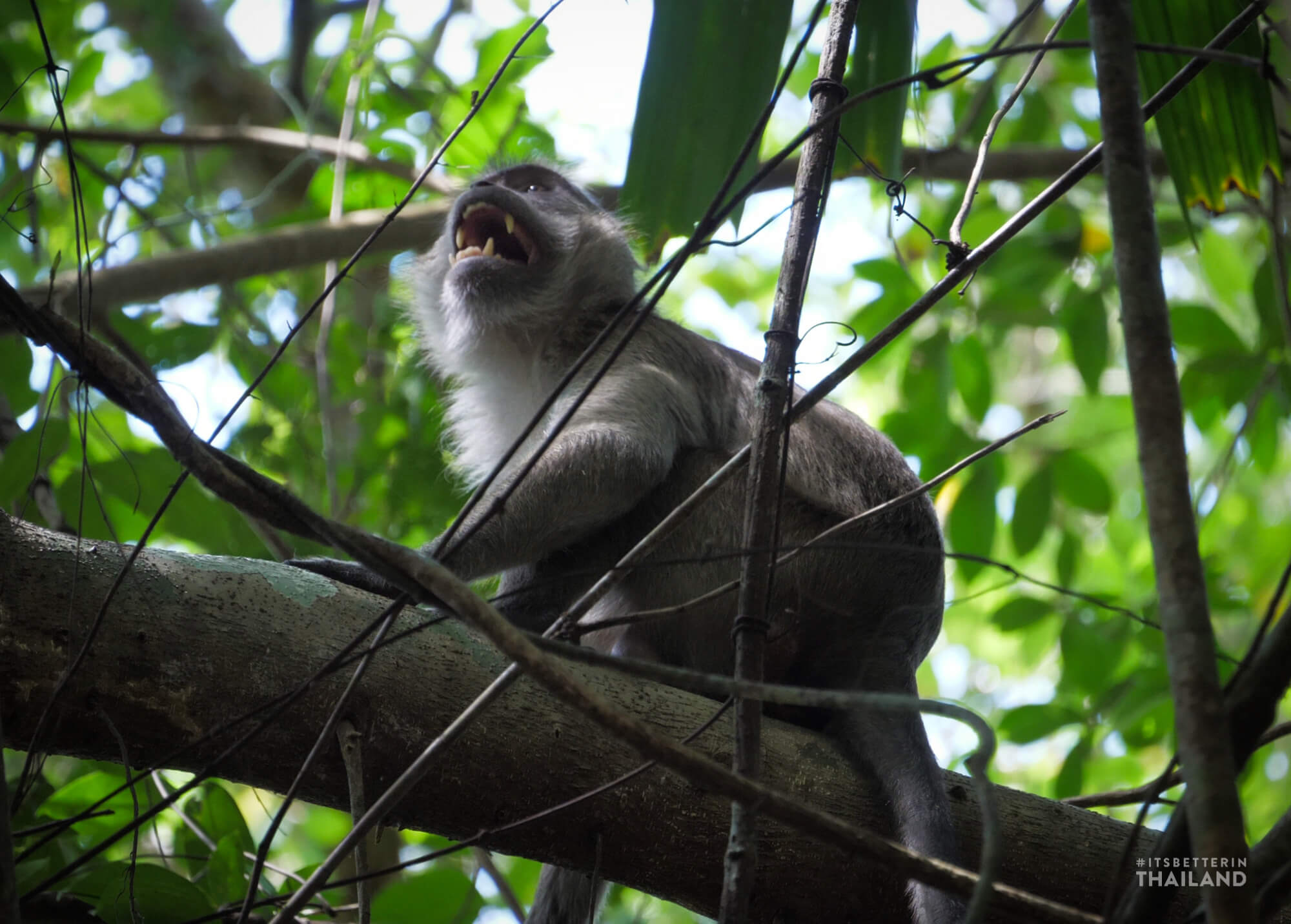 What You'll See
A typical visit to The Little Amazon in Phang Nga Province consists of a one-hour paddle in an inflatable kayak. A guide accompanies you and does all of the paddling. Besides the guide, each kayak can hold two people.
There is no loop here, the journey is just an out-and-back to the same launch point.
The highlight here is the massive banyan trees with their elaborate root systems. These 100+-year-old trees, as well as the various mangrove species, provide a wonderful habitat for a variety of wildlife. We shot all of the photos in this post in one visit.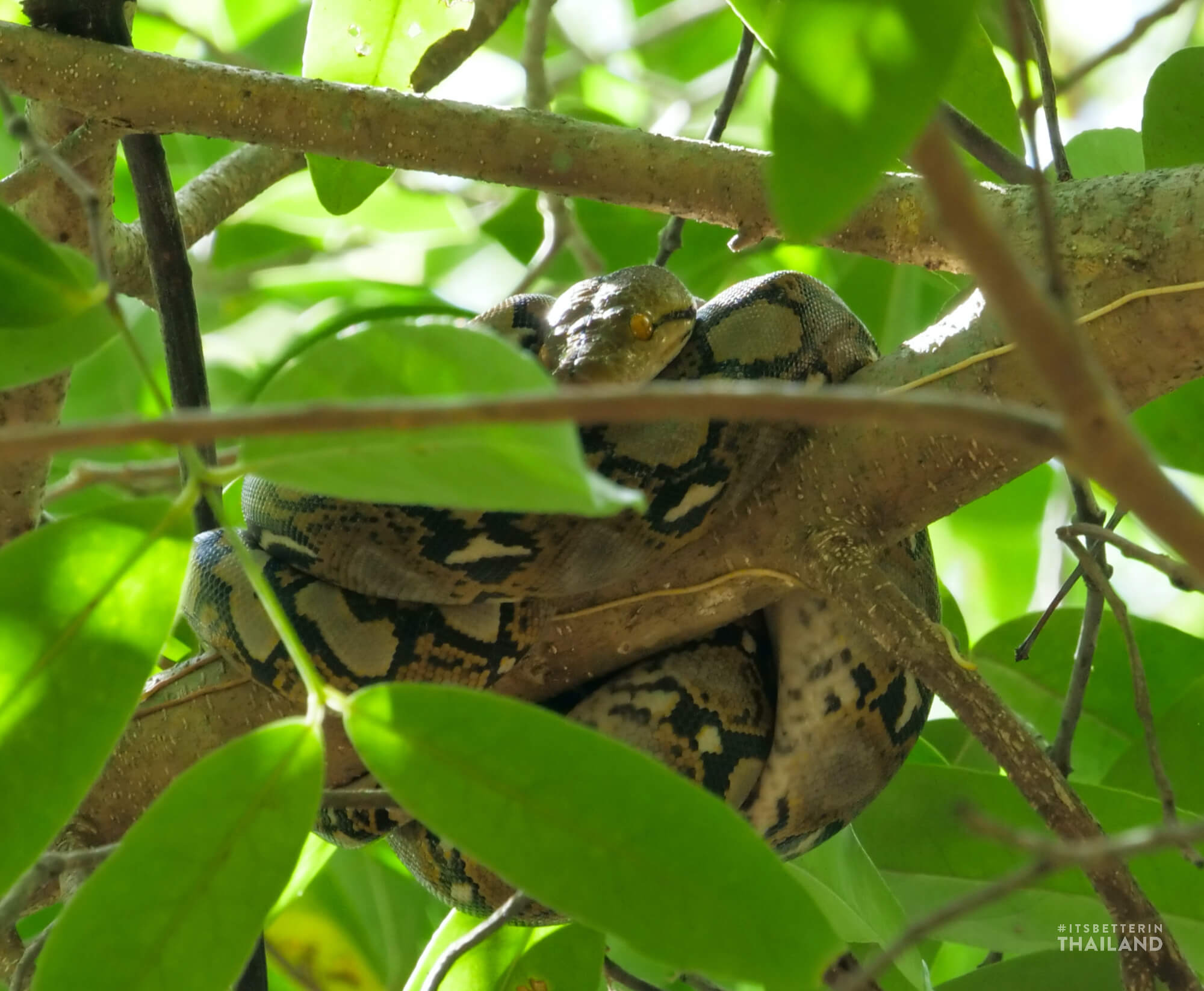 In our one-hour paddle, we saw a macaque monkey, two monitor lizards including one very small young one, two young reticulated pythons on branches just a meter or two above our heads, a few egrets, some collared kingfishers, and lots of mudskippers.
After kayaking, we also walked the 200-meter elevated walkway through the trees which we'd recommend doing if you have time. Out there we saw a pair of oriental pied hornbills. You'll see in the photo below that they are very cool birds. The walkway is just beyond the stairs that lead down to the boat launch.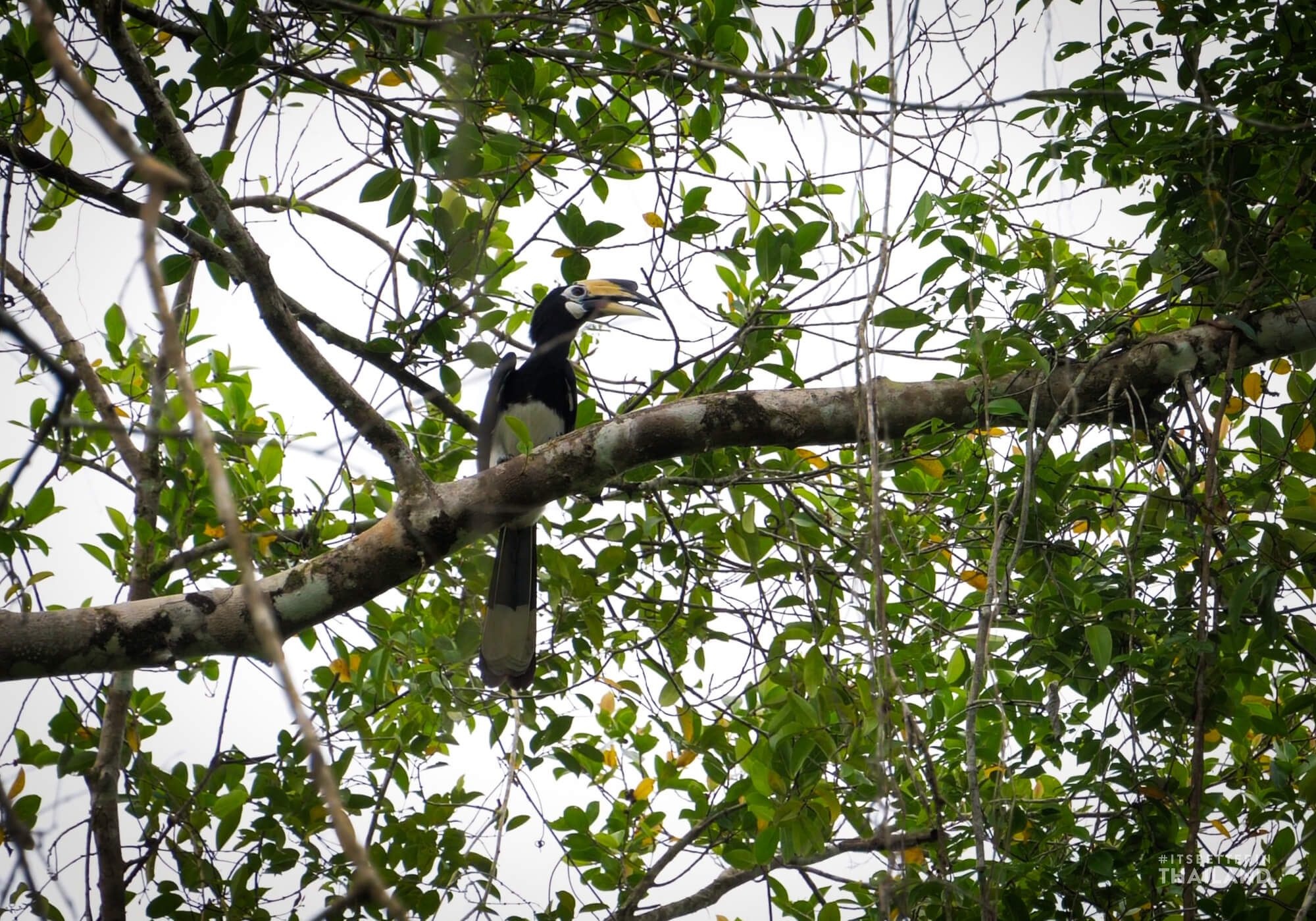 Kayak or Motorboat
You do have the option here to do either the kayak paddle that we did or go in a small motorboat. You will go further with a motor and out of the small waterway where the kayaks go. These faster boats will take you out into a larger branch of the river estuary.
We strongly recommend doing the kayak tour. Once you're into the main waterway, you'll be in a mangrove system like you can find anywhere else in Thailand.
The unique part of The Little Amazon is the small waterway with the banyan trees and all the wildlife. Going in a kayak you'll see this part for longer, and have much better odds of seeing animals.
Getting There
The Little Amazon is located in Takua Pa. It's a 30-minute drive north from Khao Lak, and about two hours from the northern parts of Phuket. It's also not far out of the way when traveling between Khao Sok, and Khao Lak or Phuket.
The roads are all in good shape and it's easy to find The Little Amazon by setting the GPS to this location. If you won't be driving yourself, you can have your hotel book a taxi for you, but you should also consider booking one of the tours we list below. It ends up not much more expensive, and you generally pair this visit with other fun activities.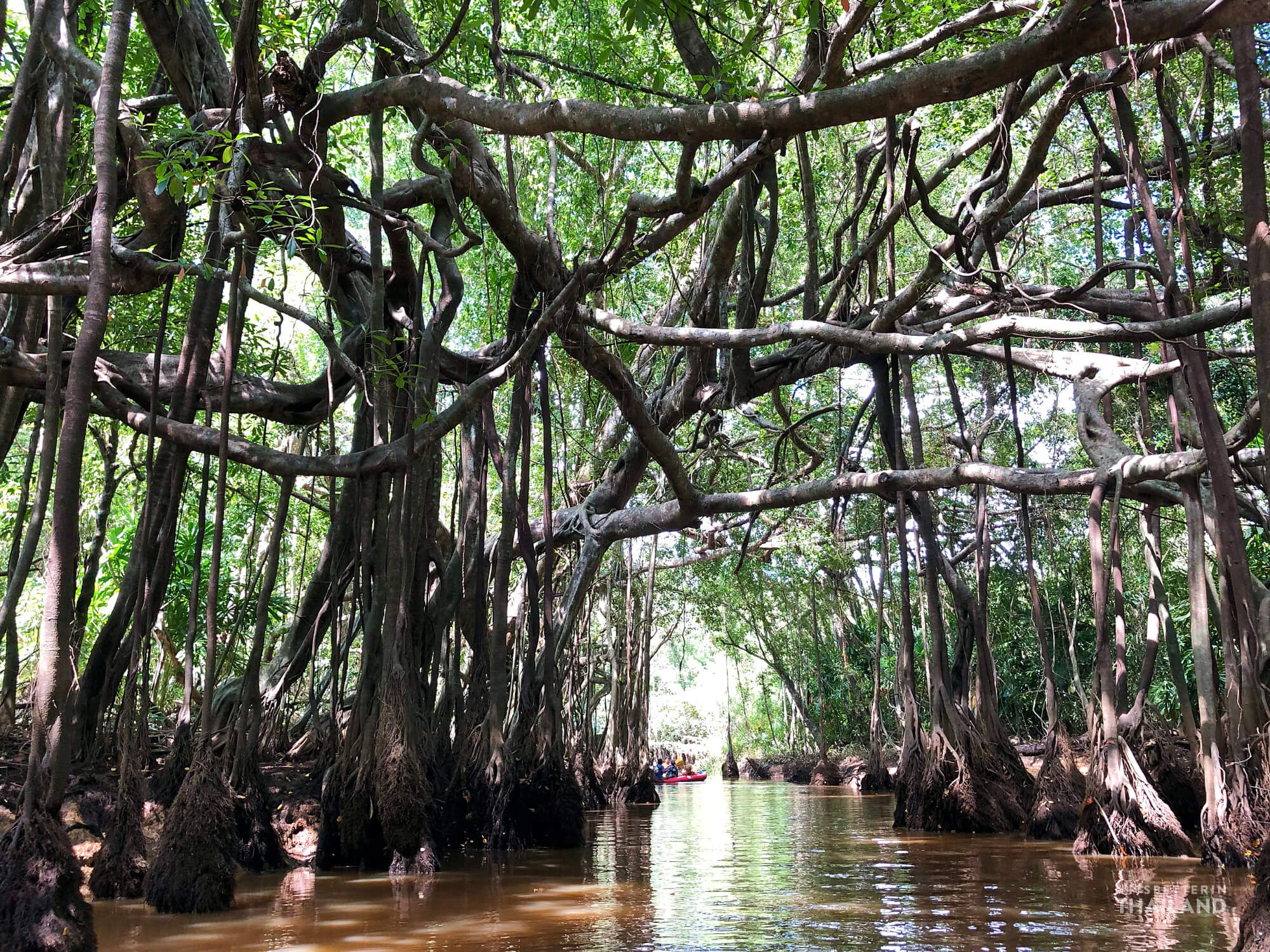 Price and How to Book Ahead
There seem to be two competing companies at the boat launch. When you arrive you'll see their respective parking areas, the first one marked with a red flag, and the second with a yellow flag.
We booked ahead with red flag and are glad we did. On arrival, the yellow flag people were aggressively waiving us into their parking area. They also scolded us for crossing their parking area (once it was clear we were going with the other guys) instead of walking around it on the main road.
The red flag company told us they're more of a community cooperative, but we never verified that. Either way, they were friendly and it was a great tour.
You can book with them either by having a Thai speaker call them at 0872807009 or through their Facebook page.
We contacted them in Thai and were told 500 Baht for the one-hour ride for two people. This is the standard price for Thais.
Looking through Google Reviews, some foreigners who just turn up seem to get hit for 700-1000 Baht if they don't negotiate, but it's not clear if just one or both companies do this. Either way, by booking ahead you have the leverage to get the correct price.
Little Amazon Takua Pa Tours
There are a few tours to Little Amazon from Khao Lak if you don't have your own transportation.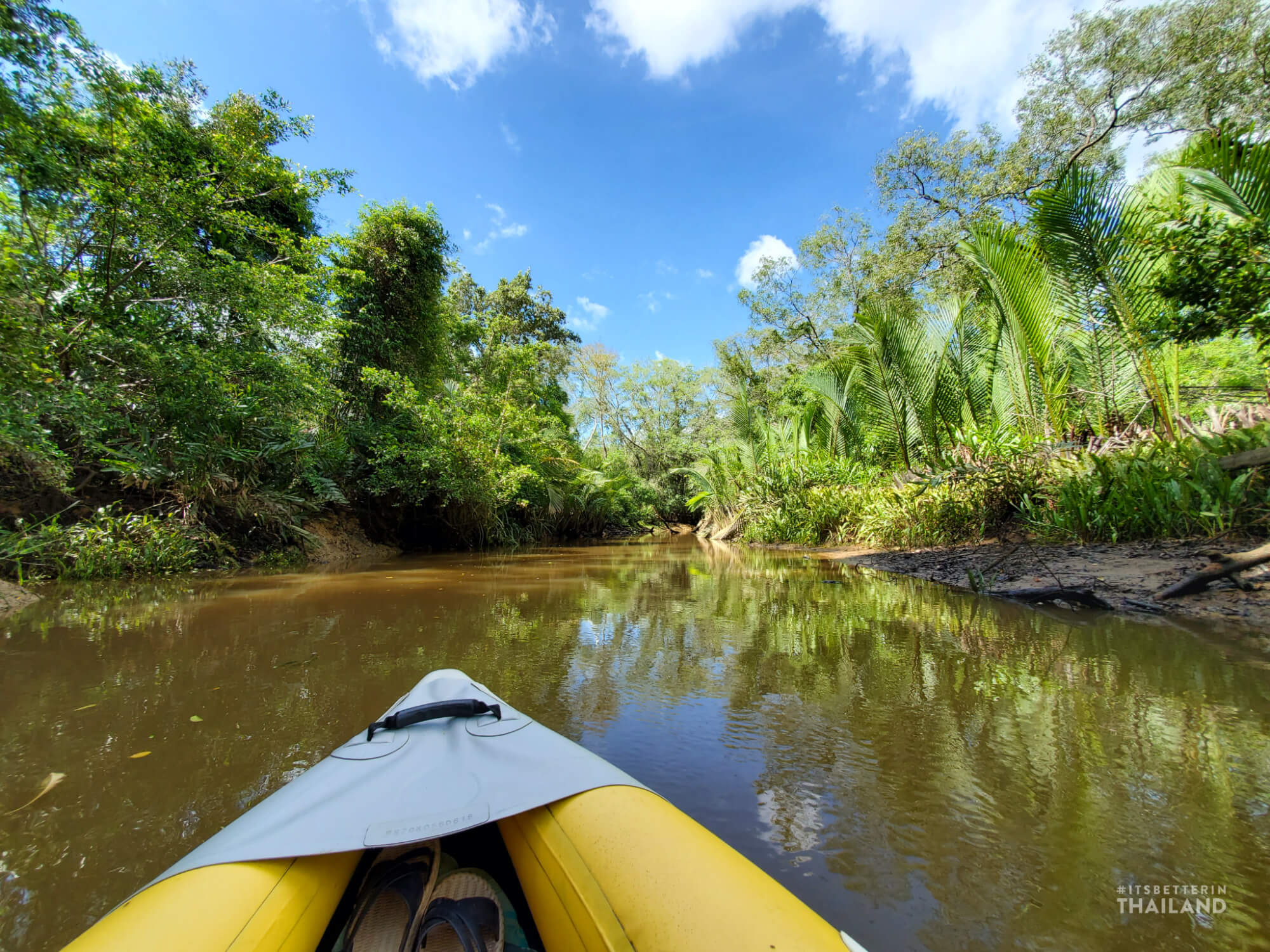 When to Go
Little Amazon is open year-round and is worth the trip whether it's the dry or the rainy season. The kayaks can go out at normal low tides, but on certain ultra-low tides, the water may be too low for an hour or two during the day. This is another reason to book ahead.
If you can, you should avoid weekends and Thai holidays. Khlong Sang Ne is still mostly popular with Thai tourists and avoiding those dates will mean it's much less crowded.
What to Bring
The inside of the kayak stays dry so you can wear whatever you like. You will need to take your shoes off so keep that in mind.
If you're going in the rainy season, bring a rain poncho or umbrella.
Much of the Little Amazon waterway is shaded, but you will be in the sun about half the time, so bring whatever suncream, long sleeves, hat, or parasol you need for sun protection.
Nearly all the wildlife we saw was close enough to get a decent photo on our phones, but of course, a zoom lens will get you much better pictures.
Photo Gallery