Ang Thong National Marine Park: Highlights & best boat trips [2020]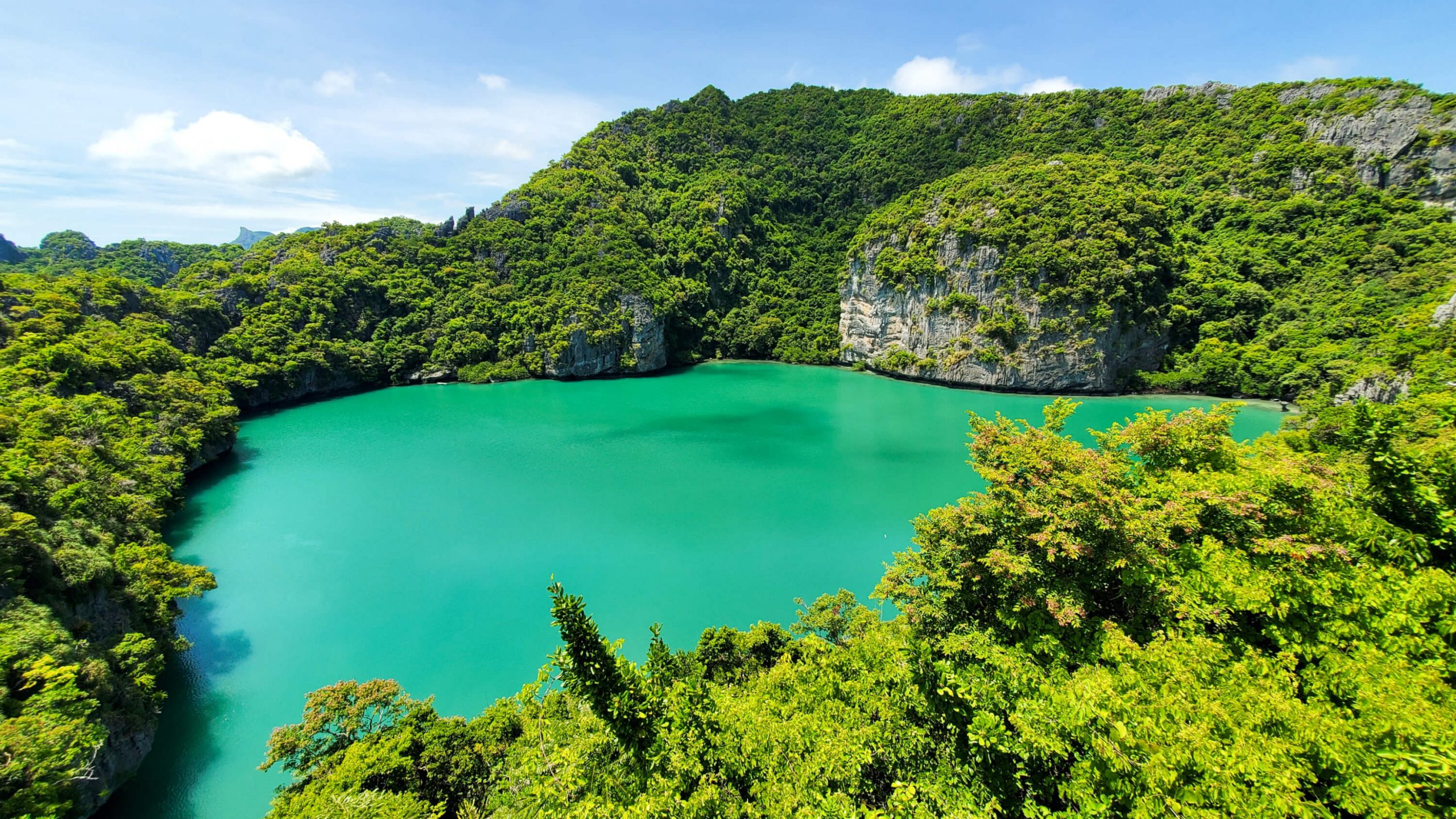 If you're in Koh Samui, Koh Phangan, or Koh Tao and looking of a day trip out from the island, a visit to Mu Koh Ang Thong (หมู่เกาะอ่างทอง) should be one of the options at the top of your list. In this guide we'll cover all the highlights, the best trips and tours, as well as one reason some travelers might want to give this park a miss and take a different boat trip.
Ang Thong National Marine Park is a Thai National Park encompassing 42 islands over a 102 square kilometer area of sea. The limestone karsts here are more reminiscent of Krabi or Koh Phi Phi on Southern Thailand's West Coast, but this archipelago is on the Eastern Coast, in the Gulf of Thailand. Ang Thong has been a Marine National Park since 1980.
Fun fact: While the film The Beach with Leonardo DiCaprio was filmed in Koh Phi Phi, the novel by Alex Garland on which it was based was set here in Ang Thong Marine Park.
Mu Koh Ang Thong entrance price
The entry fee for Ang Thong costs 300 Baht for foreigners, and 200 for foreign children aged 3-14. Thai nationals pay 20 Baht for children from 3-14, and 40 Baht for adults. If you do stay overnight in the park, you still only need to pay the fee on your first day.
What to see in Ang Thong National Park
There are a few main attractions in this park, but in general, it's just a pleasant place to cruise around on a boat. The jungle-covered limestone cliffs jutting up from the blue water are simply stunning.
If you came here on a boat trip and never even set foot on an island, it would still be worth it. That said, there are a few things we highly recommend doing, and that most tours will offer as options:
Thale Nai – the hidden lagoon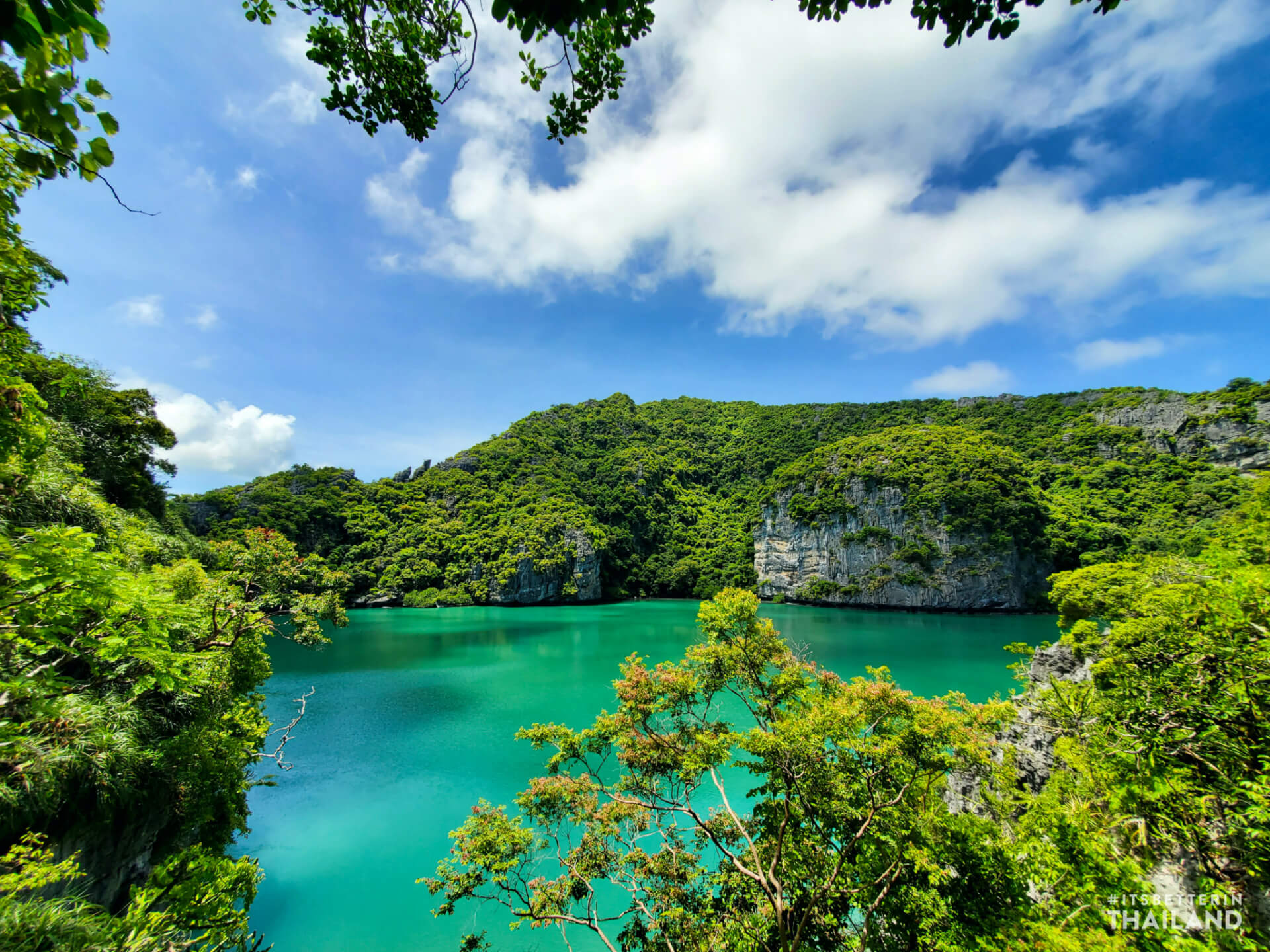 Hidden inside the island of Koh Mae Koh (เกาะแม่เกาะ) is a large saltwater lagoon completely encircled by high limestone cliffs. You could sail around the island a hundred times and never know it was there.
The National Park has built a stairway up from a small beach to the rim overlooking the lagoon, and then down inside to a platform just a few meters above the water.
You are not allowed to swim here as it's a protected area. Drones are also not allowed which is slightly unfortunate as it would really show how amazing this place is. It's also nice though to not hear the constant buzzing of a drone. If you take a panorama photo from the top, you can see both the green of the lagoon and the blue of the sea outside.
The stairs are quite steep, but are sturdy and always have handrails. We saw a group of elderly Thais all managing it easily, but you should definitely take your time. It can get crowded here as well, but we think it's still worth it.
Fact: The lagoon looks totally cut off from the sea, but there are underwater caves connecting it. From the platform at the bottom, we saw a number of groupers, as well as a barracuda and some big trevally coming in to hunt
The archipelago viewpoint
Pha Jun Jaras Viewpoint (จุดชมวิวผาจันทร์จรัส) on the island of Koh Wua Ta Lap (เกาะวัวตาหลับ) gives the secret lagoon a run for its money. It's really one of the best viewpoints you'll find in Thailand (But not as good as Samet Nangshe Viewpoint which you should absolutely visit).
From the top, you get a panoramic view of the whole of the archipelago which is the only way to truly appreciate the beauty here. If you like hiking, it's a great hike, if not, it's a hard slog, but it's worth it.
Not all tours stop long enough on Koh Wua Ta Lap for you to do the hike, so make sure yours does if you plan to hike. The walk up should take 30-45 minutes, or more if you're like us constantly stopping to snap photos of the increasingly beautiful views.
It's doable in flip flops if you're used to hiking in them (shout out to the Thailand pro travelers!), but otherwise you should wear decent shoes. Take water and some type of sun protection.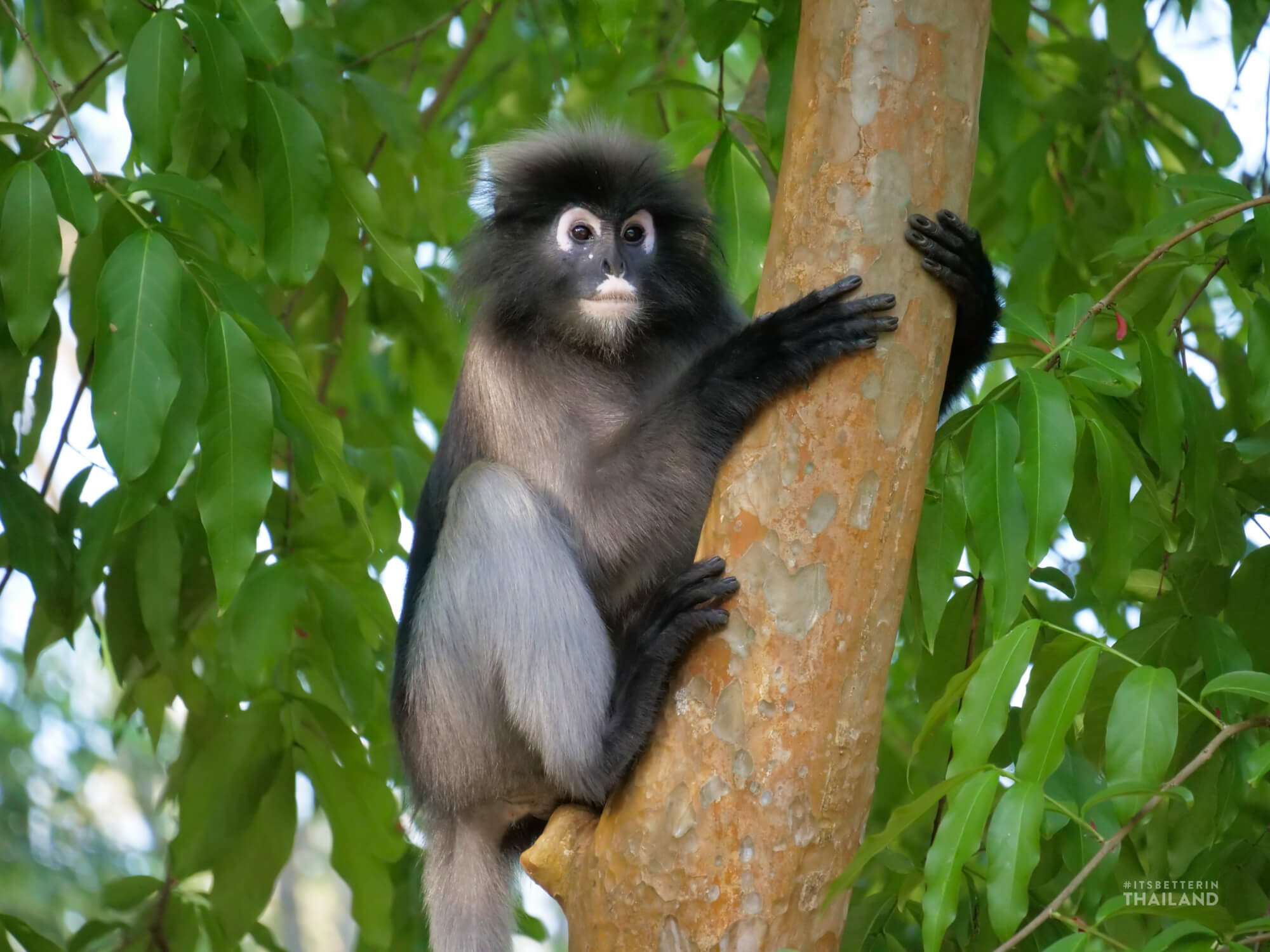 Keep your eyes and ears peeled for the troop of dusky langur monkeys that live here. They're absolutely adorable and not at all aggressive like macaque monkeys. They will never approach humans, but if you're quiet they aren't too bothered to be close to you either.
Other attractions on Koh Wua Ta Lap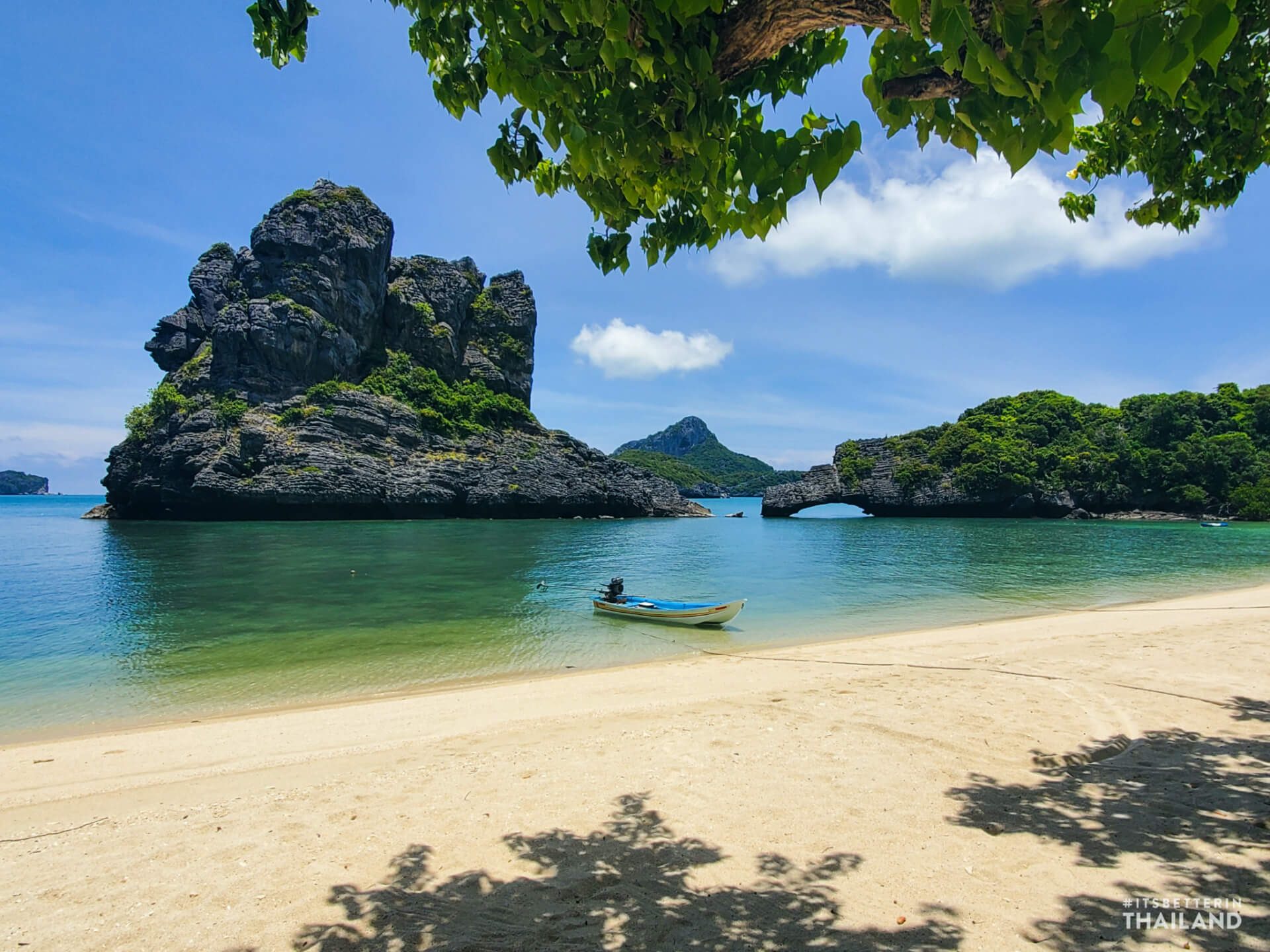 Besides the viewpoint, Koh Wua Ta Lap has a nice long sandy beach where you can relax. There's snorkeling, but it's honestly not very good – it's easy to find better in Koh Samui, Koh Phangan, and Koh Tao.
You can also kayak here. Depending on the tour you book this may be included, but probably will cost extra. It's probably not worth doing. The kayaks are cheap and pretty uncomfortable to sit in, and most operators charge hundreds of Baht which is way more than the experience is worth.
There is a limestone arch offshore that you can paddle under. It's worth taking ten minutes to do, but only if the kayak is free.
You can also stay overnight on Koh Wua Ta Lap, which we cover further down in this post.
Koh Phaluai
There is one inhabited island partially inside the Marine Park called Koh Phaluai (เกาะพะลวย). A lot of tours will stop for lunch here at the numerous seafood restaurants.
We ate at Phaluai Seafood and had a pretty fantastic meal. Besides the restaurants, there's not that much to do here, but it is a pleasant little fishing village that is quite picturesque.
Getting to Ang Thong Marine Park
You will need to join a trip or charter a boat to get to the Ang Thong islands. This will start from around 1000 Baht per person for a shared trip on a slower wooden boat. The sky is the limit for what you can spend when you get into chartering a speedboat or a yacht. Luckily, there are plenty of choices that can suit most budgets, and often the slower group boats can be the most fun.
Here are our favorite trips from Koh Samui, Koh Phangan, and Koh Tao:
Ang Thong trips from Koh Samui
Koh Samui has a lot of options for getting to the marine park.
Marine Park trips from Koh Phangan
Trips from Koh Tao
Staying overnight in Ang Thong Marine Park
It is possible to book very basic accommodation on Koh Wua Ta Lap, but you'll need to organize with a boat trip that goes daily and can drop you one day and pick you up the next (although you can stay up to three nights if you want).
There are only a few rooms so you should book in advance, but you can only book as far out as 60 days. The rooms are very basic and electricity is from a generator which is shut off overnight.
The only way to book is through the Department of National Parks website. which is buggy but is available in English. If you're booking from outside Thailand you'll need to pay by bank transfer which is actually quite easy to do using Transferwise (see our guide to sending money to Thailand with Transferwise for more information).
The Downside: Why Some Travelers Might Want to Give This a Skip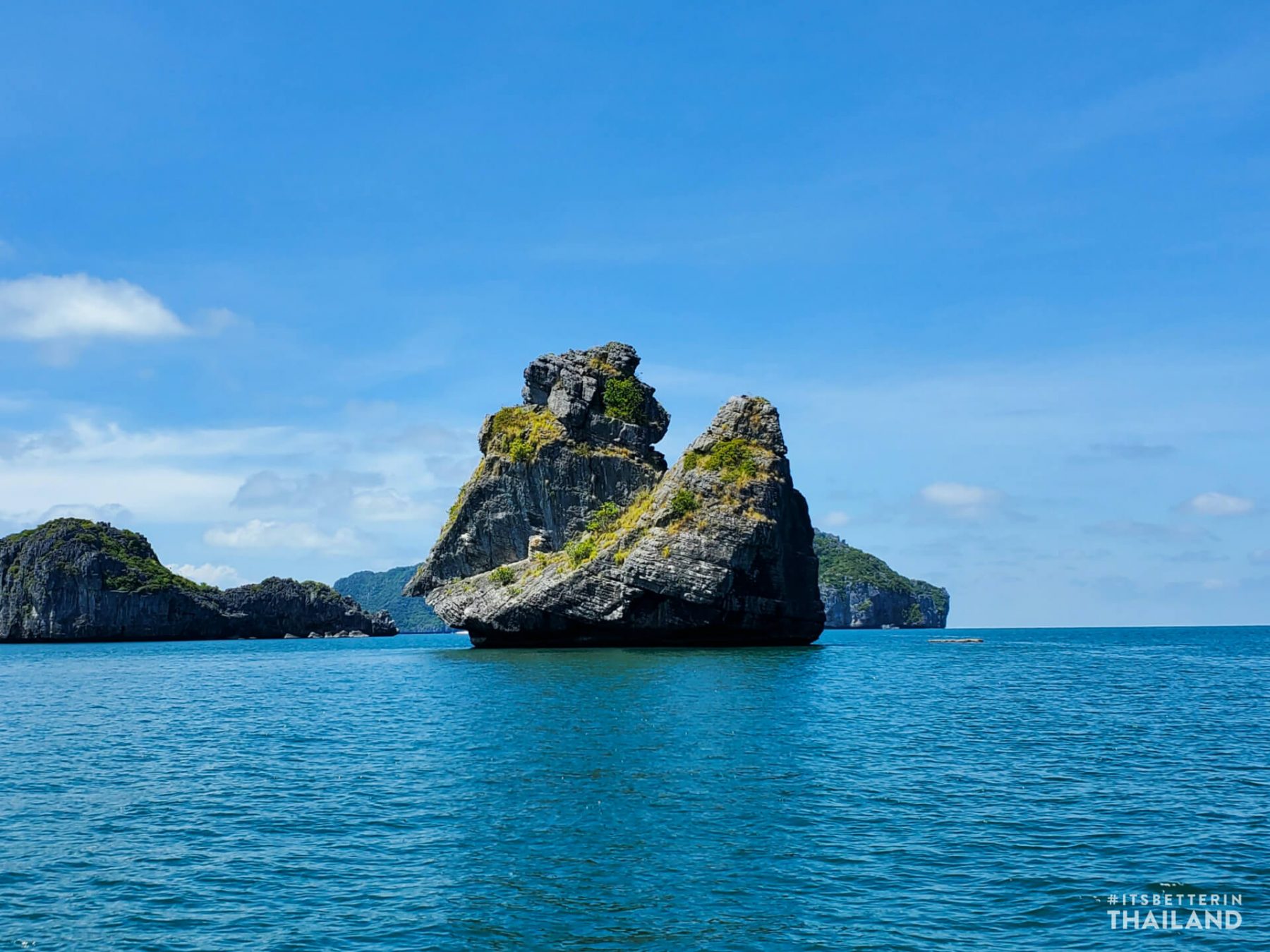 If we had one complaint about Mu Koh Angthong, it would be that it is a very "hands-off" experience. What we mean by that is that everything feels very look but don't touch.
The water isn't all that clear so the snorkeling isn't great, and in the one place that would be amazing to snorkel (Thale Nai), it's not allowed.
As far as we know, there is nowhere to climb up any of the limestone rocks, no cliff jumps you can do, and no real adventure besides the viewpoint hike. You pretty much go where they allow you to go, which is really just a few places.
Please do let us know in a comment if we just missed all the cool adventure stuff, but that was our impression. Still a cool place to visit, but it seems like it could be better.
Photo Gallery