Koh Nang Yuan: How to visit the iconic Koh Tao beach viewpoint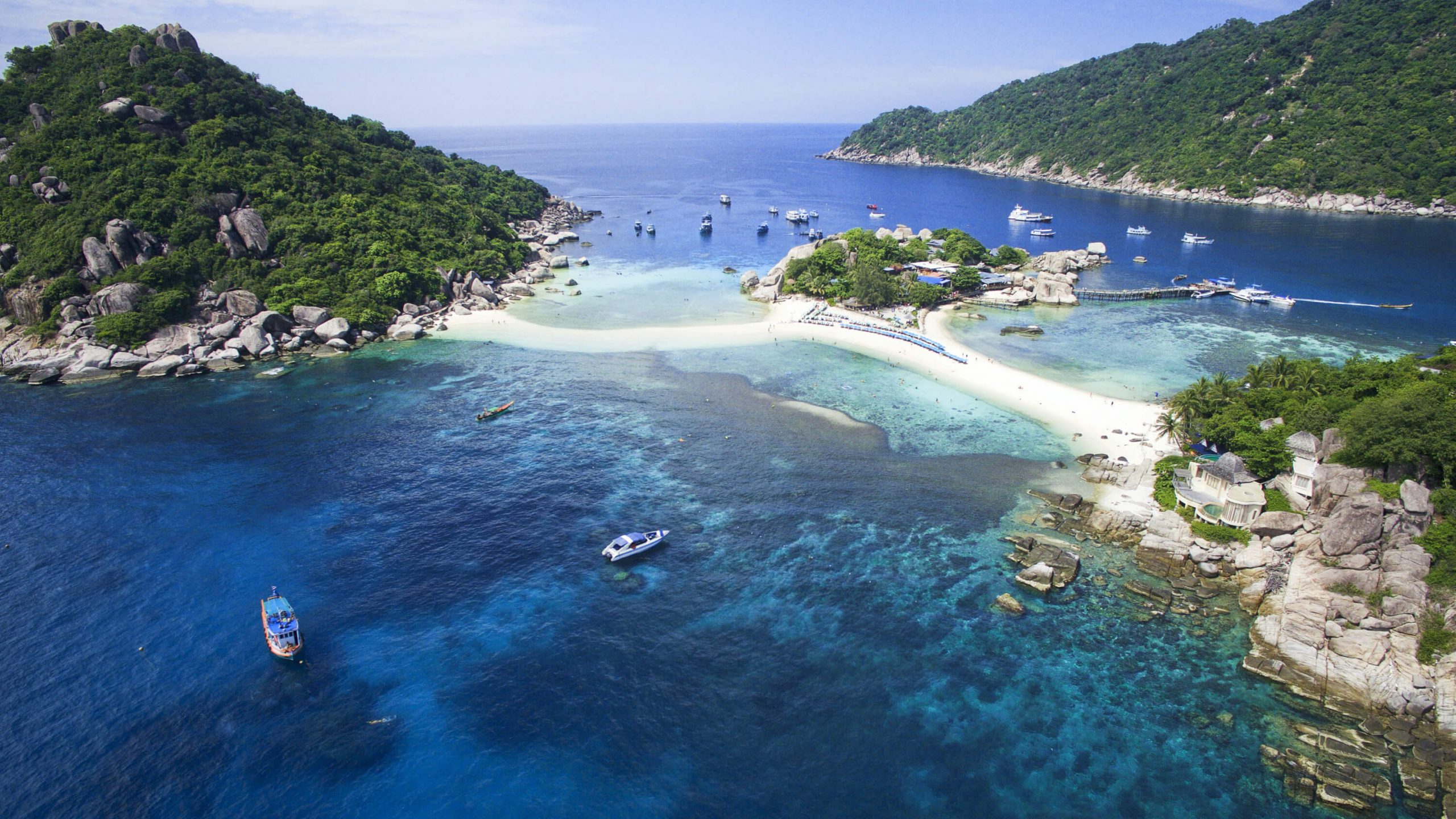 Koh Nang Yuan (เกาะนางยวน) is one of Thailand's most beautiful islands. Located just a few hundred meters off the coast of Koh Tao, Koh Nang Yuan consists of two small islands covered in jungle and studded with granite boulders, and connected in the middle by a thin strip of white sand. There is a restaurant, coffee shop, dive center, and a hotel all located on the island.
The one big drawback of Koh Nang Yuan is its popularity. It can get quite crowded here. In this guide we'll give you a few tips for getting photos with fewer people, but truly the best way to experience it is to stay in the island's resort.
The island is closed to everyone but guests from 5pm to 9:30am, meaning you can have the beach and viewpoints mostly to yourself during the golden hours. You can check availability or book a room here on booking.com.
Entrance price
Entry to the island costs 200 Baht for foreigners, and 30 Baht for Thais. If you booked a room in the resort, entrance to the island is included in that price.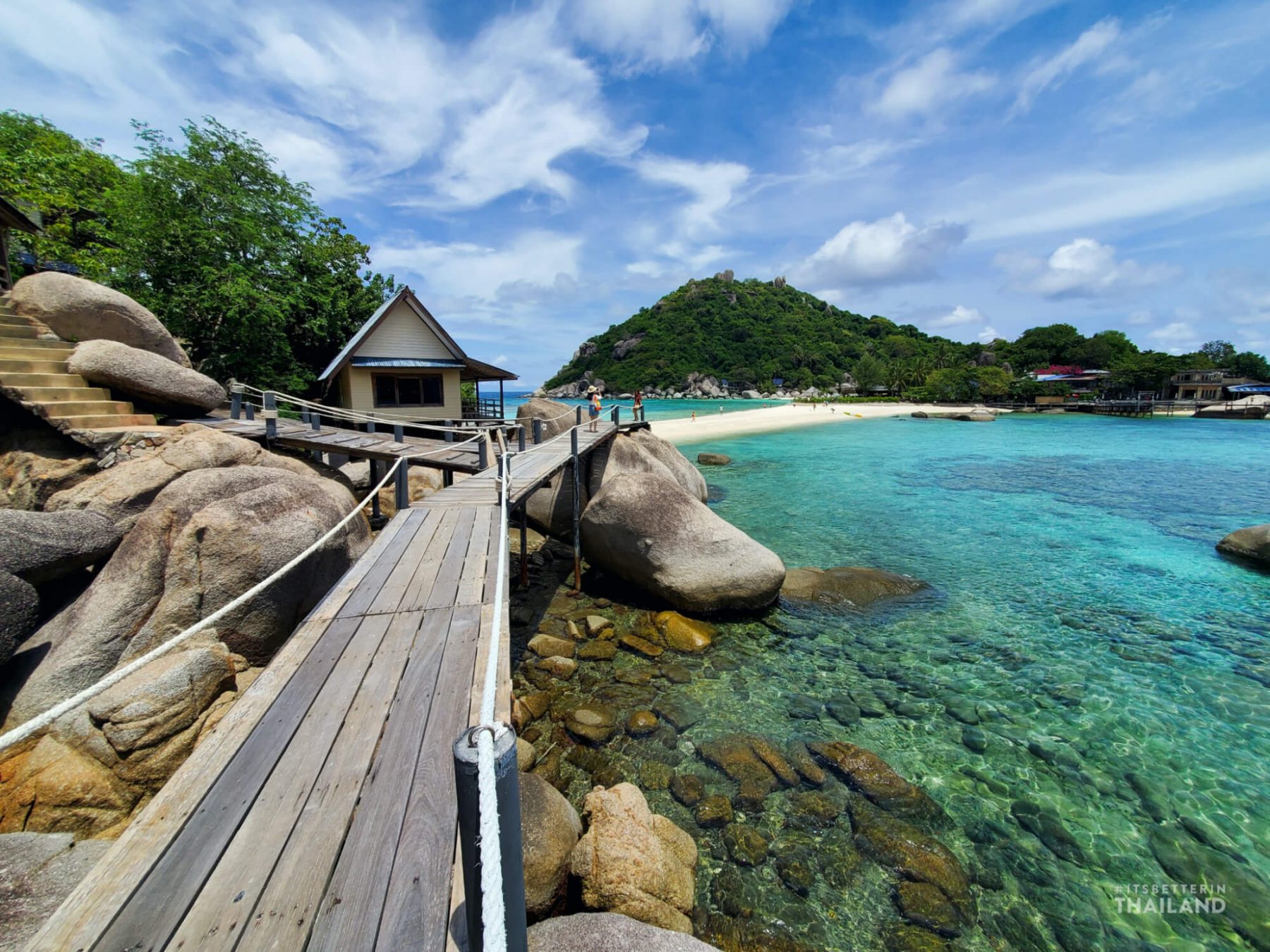 Staying at the resort
As we mentioned at the top, the best way to see this island is to stay there. Day-trippers are only allowed on the island from 9:30 am – 5 pm, so you can have the beaches all to yourself during the morning and evening golden hours.
You can watch both the sunrise and sunset from the beach here, which is pretty cool, but only if you stay on the island.
If you're on a backpacker budget, the price here will be a bit steep, but you might find it's worth the splurge.
Note: The rooms here are pretty nice, but a good chunk of the the price is for the location. If you only have one splurge night in your travel budget, you should weigh staying here against staying in a much nicer luxury hotel somewhere with a less exclusive location.
Room prices range from 2000-4800 Baht during the low season*, and 2500-6000 Baht in high season*. These rates include breakfast, beach chair use, and boat transfers to and from the island.
*The resort uses this odd schedule
| | |
| --- | --- |
| High Season: | 16 December – 15 May |
| | 1 July – 31 August |
| Low Season: | 16 May – 30 June |
| | 1 September – 15 December |
Koh Nang Yuan activities
Diving and snorkeling
Koh Nang Yuan has a PADI 5 star IDC dive shop called Nangyuan Easy Divers. We have never dived with them so we can't vouch, but they do seem to be fairly well-reviewed.
The local dive sites just offshore here are good enough that dive boats from Koh Tao visit them daily.
There is pretty good snorkeling directly out from the beach, and snorkeling gear can be rented on the island, or you can bring your own.
The viewpoint
The main attraction on the island is the viewpoint, which is a 15-minute walk up from the beach. At peak times it can get crowded enough that a line forms, but most of the time it's fine.
The best time to get a great photo from up there is after 4:30 pm (but before 5pm if your boat is leaving!) when there are fewer people on the beach.
Bring your mosquito spray if you have it as it can get buggy up there.
What not to bring
Single-use plastics and foam containers are not allowed on the island. This means you can't even bring a water bottle, unless it is a reusable one. This applies to day-trippers and resort guests.
Resort guests are not allowed to bring outside food. If you're trying to keep your budget low you can sneak some in, but if you do please makes sure you dispose of all the plastic packaging properly.
Also, please do not use standard suncreams that are not labeled as "reef-safe" if you plan on getting in the water. The chemicals in sunscreen are very bad for coral reefs.
If you're traveling heavy, it might be a good idea to leave some things at a hotel on Koh Tao if you can. Most of the rooms are located on the hill with the viewpoint, and getting there from the pier means crossing the beach. During very high tides, you will be walking in ankle-deep water.
You are not allowed to fly drones on the island, so don't bring it along, or if you have to, don't try to fly it.
What you should bring
Bring a hat, reef-safe sunscreen, sunglasses, your own snorkel if you have it, a towel or beach mat, and water if you have a reusable water bottle.
How to get to Koh Nang Yuan
Koh Nang Yuan is easily reached from Koh Tao. From Koh Phangan it's an hour in a speedboat, and from Koh Samui it takes around an hour and a half. Here's how to get to the island from each:
If you are staying in the resort, the boat to and from the island is included in the price.
From Koh Tao
Most snorkeling and boat tours in Koh Tao will stop at Koh Nang Yuan, so booking one of these will get you there. You can also take a longtail boat from Sairee Beach. This should cost 300 Baht roundtrip, and you will need to schedule your pickup time in advance as the boat driver will not just sit and wait for you.
You can also kayak to Koh Nang Yuan from Dusit Buncha Resort (location in Google Maps), but do it for the adventure, not to save money because a longtail will be cheaper.
Tours from Koh Tao
You can see Koh Tao tours here
Visiting Koh Nang Yuan from Koh Phangan
From Koh Phangan you can charter a speedboat to create your own custom tour, or book ahead on one of these tours
Getting to Koh Nang Yuan from Koh Samui
From Samui, you can charter a speedboat for your trip, but it will be fairly expensive. To save money, book one of these tours
Photo Gallery