Travel hacks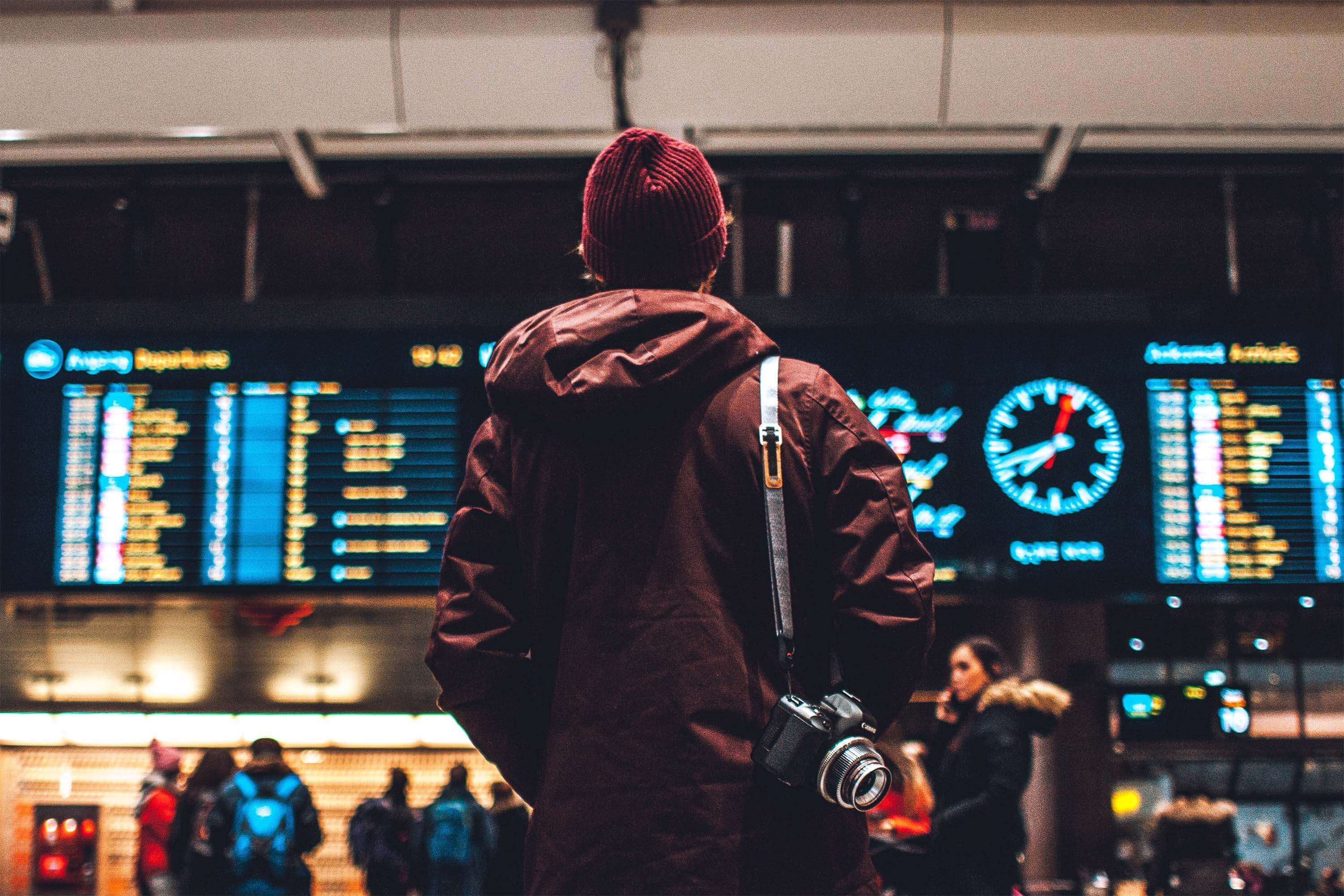 Credit: Erik Odiin
Our top tips and advice to make traveling here easier and more rewarding. We learned these the hard way so you don't have to.
Here's our top Thailand travel tips, tricks, advice and hacks we've learned after years of traveling all around the country. These are the resources we constantly use and have found to be the most valuable. Some of these are a bit unconventional and unlike the tips that often appear in these types of lists. We think you'll find that's part of why they are so useful.
We are not paid or sponsored by any companies mentioned below. These are our recommendations because they're what we personally use and have found to be the best resources for Thailand travel. Some links in this post are affiliate links and we may earn a commission from bookings or purchases made through the link. It costs you nothing and helps us keep creating the best travel tips and content for Thailand. See our disclosures page for more information.
Backpack or suitcase for Thailand travel?
Going "backpacking" in Thailand is something on just about everybody under 35's bucket list. We get it, I mean just look at the name of our website. But you can see all the beautiful places, meet all the amazing people and eat all of the delicious food even if you don't lug around a big rucksack style pack everywhere you go. Unless you actually plan to do some backpacking – as in a multi-day trek where you're carrying 15+ kilos day after day – you should bring a suitcase.
For most travelers, it's pretty rare to actually need a backpack. Most of the time you're on roads, sidewalks, in airports and other places where you can roll a suitcase. It's not that common to have to carry it for more than a minute or so. Suitcases are also easier to pack and access, and don't leave you with a sweaty back 3 minutes after checking out of your hotel.
The main reason we don't recommend backpacks is the image you project. Backpackers have a well-earned reputation as bad travelers. You automatically get a status boost in the eyes of locals just by ditching the rucksack. A good rolling suitcase (not too big) is definitely the best way to carry your things around Thailand. Also it's probably better to get a two-wheeled roller with slightly bigger wheels. Four-wheeled business traveler style suitcases and bags with smaller wheels don't hold up as well to the rough sidewalks of Thai cities.
With that said, if you really want to take a backpack, do it. It's not that big of a deal. Just have an actual reason. Don't do it because it seems like the thing to do.
Tip: Struggling with packing? Check out our top travel accessories for Thailand. This is the gear that's hard to find in Thailand and that we use to make travel comfortable and convenient.
Booking cheap domestic flights in Thailand
Domestic air travel in Thailand is usually cheap, easy and convenient. Flights from Bangkok to anywhere in the country take just 60-90 minutes so even being crammed into a budget airline seat isn't too bad for most people. The cheapest flights are on the budget airlines – Nok Air, Thai Lion Air, Air Asia, and Thai Viet Jet. It's pretty easy to run your search on each site quickly and that's the best way to get the lowest fare. We find that the best aggregator site to search all these airlines is usually Kayak. None of these are great airlines, but for the price they get the job done. Viet Jet flies from Suvarnabhummi Airport (BKK) in Bangkok while the others use Don Muang (DMK) so keep that in mind when booking.
When booking on each airline's website check how much checked baggage is included and pre-book anything over what you'll need. Some airlines include a checked bag but give different weight amounts for different booking classes. Others don't include any. If you wait until you get the the airport they will usually charge you 400 Baht ($13) per kilo for anything over what your booking allows. Also note that they all include travel insurance by default. It's annoying. Make sure to uncheck this option if you don't want it.
Each of these airlines offers routes around the region as well, so check them out for booking non long-haul international flights.
Use the Thai Post Office to send your things ahead and travel lighter
This is a pretty pro-level hack but one that's super easy to do, cheap, and really useful. You can walk into a post office in any town or any neighborhood of Bangkok and send a suitcase or box ahead to your next destination. Obviously you need an address and a person willing to accept your package, so you will need to have friends where you're going, or a hotel or Airbnb that will accept the package for you. This is definitely one of our favorite Thailand travel tips.
Bigger post offices will have a boxing service that packages your things for you, normally for under 100 Baht ($3). Smaller locations will sell a selection of boxes and there will often be a nearby shop with more sizes. When your package is ready, take a number, wait to be called, and they'll check the address format and weigh the package. Even a large heavy suitcase should be under $10. You can choose EMS for faster delivery or standard if there's no rush. Standard means up to a week but we find it's usually faster than that, even to and from islands.
You'll need your passport to send a package. Don't send valuables and if you have to send fragile items, package them very well. We find the Thai Post to be reliable but they have a reputation for being rough with packages. This advice is for domestic shipping only. We don't recommend sending packages into the country from abroad. These items will likely incur high import taxes which can sometimes exceed the value of the items you're shipping.
The best tool for booking hotels in Thailand
Booking.com is our go-to site for booking accommodation in Thailand. The interface is great and really easy to use, and the mobile app is as well – it's definitely worth installing during your travels. The filtering options are really useful allowing you to specify things like separate beds, and ensuring the rooms you see have the amenities you want such as air conditioning, private bathroom, a refrigerator, parking etc.
You can also filter reviews to see ones that specifically mention things like 'bedding'. This is useful if you prefer things that probably aren't in the description and you can't see in the photos, like a softer bed or good pillows. But the best part of Booking.com is the map view which allows you to choose a place in the exact location you want and see how far each property is from landmarks, the airport, train stations and more.
Agoda.com is owned by the same parent company and is just about as good. The one thing that tips the scales in favor of Booking.com for us is that the price you see up front is the price you pay, whereas on Agoda you initially don't see the added fees and taxes. When booking in small towns with few options it's worth looking on Agoda as well, but for us, 95% of the time a quick session on Booking.com is enough to get a room booked easily and painlessly.
Booking with Airbnb in Thailand – is it legal and safe?
You can find some great values and unique places to stay when using Airbnb in Thailand. Technically it's illegal for anyone to rent places out on sites like Airbnb unless they have the proper hotel permits, and you'll see that a lot of the properties on the site are rented out by hotels, guesthouses and resorts. Often these are the regular rooms but sometimes they're quirky, unique, or charming rooms that aren't rented out over mainstream booking sites but can be on Airbnb.
When a place is a person's own home or a condo they hold as an investment it can be more tricky. While most of the risk lies with the person renting it, and we've never heard of any Airbnb customers being prosecuted or fined, it is a possibility here. Laws in Thailand are sometimes enforced randomly and arbitrarily. Often in Bangkok high-rise condos you'll see signs in the elevator informing people that Airbnb is illegal to use and short-term guests are not allowed. You'd be in an awkward situation if you turned up at your booked accommodation after a long flight only to see that sign. If that happens you should contact Airbnb about what to do.
Wongnai – the local app that helps you find the best restaurants
In a lot of places where more tourists go, you can use TripAdvisor to find a restaurant that is at least decent. This is more true for places serving foreign food, but if you're on an island and looking for a good Thai seafood restaurant, you're at least better off checking TripAdvisor than just selecting a place randomly. Slightly better than TripAdvisor is checking Google reviews since those have more Thai people's input. But there's one insider's resource that's better than either.
Wongnai is a free app that's basically the Thai equivalent of Yelp (thankfully with less snobby, wannabe-foodies). You can change the language to English to navigate the app and filter by restaurant types which is helpful, but any content in Thai such as reviews and restaurant names are not translated. This isn't that important since all you're really looking for is a consensus that a place is over 4 stars with a good number of reviews. Find that and you'll find a good restaurant. You can search for places in a city you'll be traveling to later, or use location to find a place near your current location. Using Wongnai gets you real insider info from locals on where the best food is. You should use it.
Thai language learning and translation tools for short and long term travelers in Thailand
If you're coming to live here or stay long-term you should definitely try to learn some Thai language. If you're just on a short holiday you're probably not going to try learning more than the basics. Here are some tools and resources you can use either way:
Best free Thai dictionary app
If you're on a shorter holiday or don't plan on trying to learn much Thai there are lots of free Thai dictionary apps to choose from. Any of them are fine, but at a minimum an app should have words written in Thai and phonetically in English, and it should be a full download so it works offline. English Thai Dictionary fits the bill for this.
Best Thai dictionary app if you want to learn Thai
Talking Thai is an app from Paiboon Publishing that is hands down the best dictionary and phrasebook for people who plan on learning Thai. The price is a bit steep at $25 but we find it worth it if you plan to be in Thailand for a while. It's a download so you can use it offline anytime. It gives you all the Thai words for a given search, but has a good system of icons to show which words are more and less formal, poetic and old fashioned, and those that are insulting or incredibly offensive to use. It has a great feature where you can find all the words inside of the word you looked up. This can help you learn vocabulary faster and gives some insight into Thai language. For example if you look up bottle opener and find the words inside you'll learn the individual words for 'bottle' and 'open'. There are other interesting features as well that make this app worth the money if you plan on staying long-term in Thailand.
Best Thai to English translation app – NOT Google translate!
Sometimes you need to translate full sentences like when a new friend or a hotel sends you a message in Thai, or if you want to snoop around somebody's Facebook posts. Most people turn to Google Translate for this, but we do not recommend this. GT picks one meaning for a word based on their technology, but so many words have multiple meanings and it often picks the wrong one making a sentence meaningless. For example the word for a (usually caucasian) foreigner in Thai is farang (ฝรั่ง), but that's also the word for guava. If you're trying to see what your new love interest is writing about you on Facebook, you might miss it thinking they're posting about fruit.
Thai2English is a free website that lets you paste in text and it translates one word at a time, giving you every meaning for each word. This lets you see the context and choose which word makes more sense. If you see someone posting about having a really fun night with a farang last night, you can deduce that they mean with a foreigner, not a tropical fruit. It's not perfect, and since Thai doesn't have spaces between words it sometimes gets confused and even misses whole words. Misspellings also give it trouble, even intentional misspellings in social media language. But these are problems on Google Translate as well. Thai2English is definitely the best way to translate full sentences.
Get Line – the best messaging app in Thailand
Line is a free messaging app similar to WhatsApp, Viber and WeChat. It is the most used messaging app in Thailand along with Facebook's Messenger. It's well designed, easy to use, and shows people you know what you're doing in Thailand. Sure most people have Facebook, but Line is the preferred communication method for a lot of people in Thailand. It's free, download it. You won't regret it.
Meet locals in Thailand – it's very easy
There's no better way to make your Thailand travel experience better than making friends with Thais. You'll eat better, drink better, and find the hidden gems that other travelers miss. Thais are fun-loving and friendly and most have or are open to having foreign friends. The problem is many are shy or don't speak great English. If you go about it the right way though, it can be easy to make new friends in Thailand. Here are our top tips for doing so:
Go to Meetups. Meetup.com is a great resource for this if you're in Bangkok or Chiang Mai. Meetups let you find people interested in the same things as you as long as your schedule has you in town for the event. There are groups for foodies, photographers, meditators, programmers, artists, adventure travelers, and just about anything else you can imagine. You can check who is attending an upcoming meetup (useful as some events won't have any Thais attending).

You can also search Facebook for groups and communities, for example Chiang Mai has a vibrant rock climbing community which meets at the crag, the local bouldering gym, and on Facebook at the Chiang Mai Rock Climbing Adventure page.

Just be really friendly. Smile a lot. Say hi to people. If your hotel receptionist recommends a market to you, bring her back some fruit from that market. Doing these little things shows people you're open to friendship and starts conversations. This is often all you need to make a new friend and paves the road to making plans.
Study Thai in public. If you're learning Thai, especially if you're learning to write, go to a popular coffee shop to do it. Sit with a Thai book or write Thai vocabulary words on flashcards. If you're a beginner, buy a notebook that teaches Thai children to write, first tracing letters then writing them freehand (Thais will also think this is hilariously adorable). Doing this gives people a completely natural and easy conversation opener and it also makes you look like a conscientious traveler trying to become immersed in the local culture.
Dating apps work. Lots of Thais are on dating apps either looking for romance, trying to make friends, or just for something to do. You can obviously use them for their intended purpose but if you're looking to just make some friends you can use them for that as well. Don't ask anybody to be your tour guide – lots of creepy foreign men send plenty of those messages. Just write in your profile that you're looking to make friends and would love to meet for a coffee. Tinder is very popular and is probably all you will need. There are also Thailand-specific dating sites but these have a reputation as being for Thai women looking to meet older foreign men. Stick to a swiping app if you're just looking to make some friends.
Thailand travel tips: The most important one
The last bit of Thai travel advice we have is the one that can do the most to make your trip incredible. Just be chill. Have a good attitude and don't dwell on negativity too long. It might sound corny, but it really works. It's something we struggle with as well sometimes. It's frustrating when a taxi driver tries to cheat you, or when you get charged more for being a foreigner, or for any of the other minor annoyances and inconveniences that are bound to occur.
Thai languages has a saying – mai pen rai (ไม่เป็นไร) which means never mind, or don't worry about it. It's like a mantra here. The culture that corresponds to that attitude creates some of the best and the most frustrating things about Thailand. The good is a slow life that values good food, good drink, and good times with friends without being too stressed out about anything. The bad is nothing being on time, poor planning, and minor problems being left unaddressed until they grow into major ones.
Love it or hate it, you can't fight mai pen rai; you have to work with it. So, take it easy, smile, and keep things in perspective. If you get too angry over being cheated out of a couple dollars, you're really only hurting yourself and your own happiness in the long run. Be chill and you'll have a better time. You'll also be much more likely to make Thai friends which is the best path to a great Thai travel experience. Happy travels!
For more Thailand travel tips check out our guide to etiquette in Thailand