12 things to buy BEFORE your trip to Thailand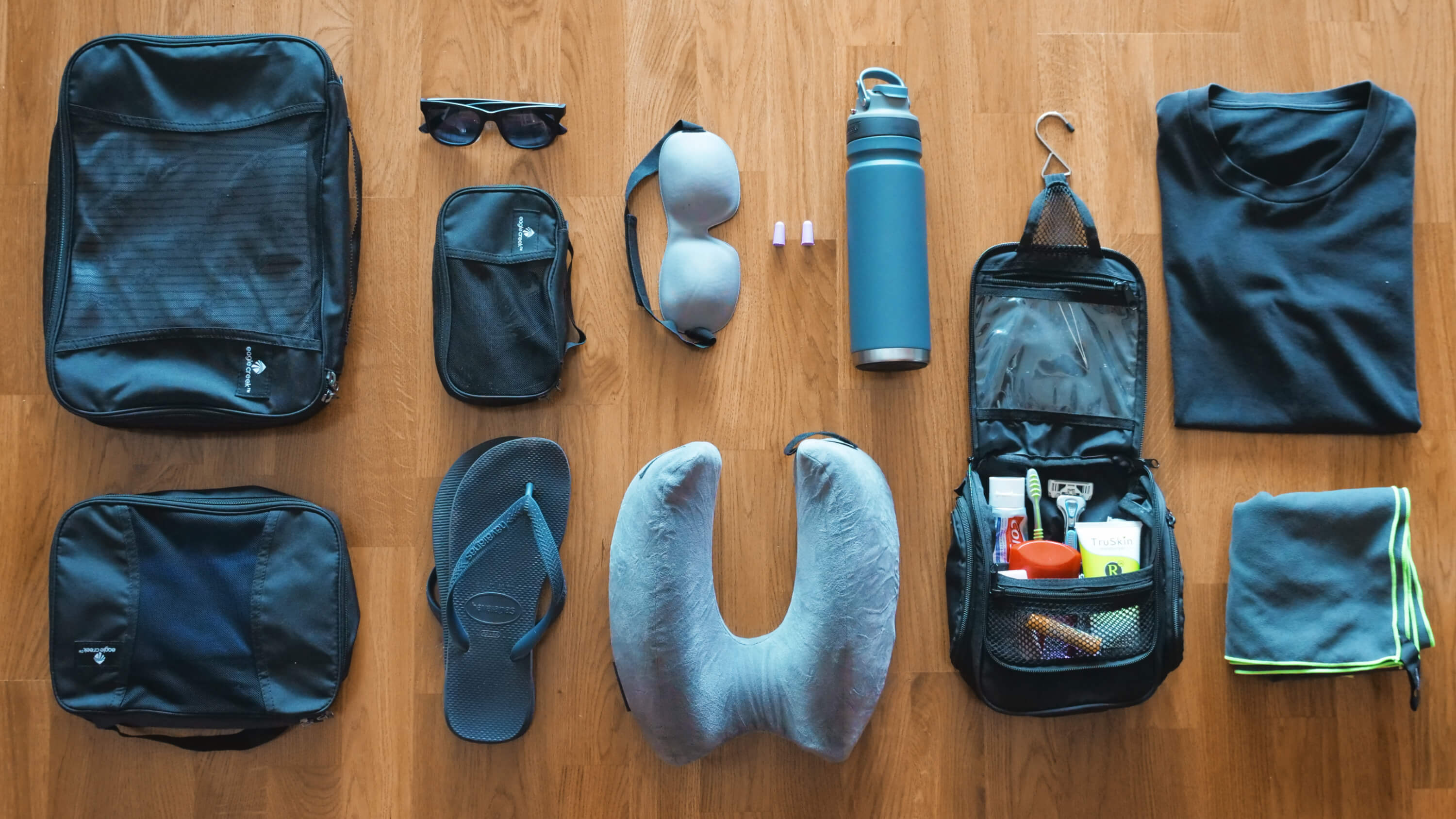 Traveling in Thailand is incredibly easy, and there's almost nothing you can't find here. You could arrive with nothing more than your passport and some money and easily get everything you need for the trip of a lifetime. With that said, there are some key items that we love for travel here but that aren't always easy to find in Thailand. Sometimes you can find a similar product here, but it is usually poor quality or overly expensive, so it's best to buy these before your trip. These are our 12 Thailand travel essentials to buy before coming to Thailand.
1. A power bank
Once you've traveled with a good power bank (a portable battery pack), you'll never be able to go without one again. Traveling in Thailand almost always means long days out from your hotel where you're using your phone to take photos, communicate with friends, and figure out where the hell you are with the GPS. All of that can drain the battery quickly. A power bank takes up little space and totally saves you the headache. It is very easy to find power banks in Thailand, and they work fine initially. After a few full charging cycles though, they tend to lose around half of their storage capacity.
I've used a lot of power banks and have found that Anker make the best ones at the best price. They also seem to charge much faster than other ones I've used. I personally prefer the flat, slim ones that have a profile similar to a phone since that's what you'll usually be charging and you can just keep them together back to back. A 6,000mAh will charge a phone about one time, but it's nice to be able to help a friend as well, so I always go for a 10,000mAh power bank. I'm currently using the Anker PowerCore II Slim 10000 which I love. You can buy it here on Amazon.
2. One or two dry bags
A dry bag is my favorite non-electronic Thailand travel accessory. By dry bag, I mean the thin-walled ones that weigh almost nothing and pack up tiny. Thicker ones are easy to find in Thailand. The beauty of the thin ones is that they don't take up any space when you're not using them. They're great for kayaking and jungle hikes, but I probably use it as a dry bag only around 10% of the time. They have so many other uses.
First, they are unbeatable for storing your dirty clothes. They keep all the smell and grime inside and away from your clean clothes. When you check into a new hotel or hostel and they offer laundry, you can just leave your dirty clothes with them right then and not worry about taking them up to your room and forgetting. If you go for a swim the day you check out, you can travel onward with wet clothes without worrying about getting your bag wet. They also make great beach bags, protecting your stuff completely from sand and water. I find the best and most economical ones to be the Sea to Summit Lightweight Dry Sacks which you can buy from Amazon here. Smaller-bodied people (who wear smaller clothes) should be good with an 8-liter bag, anyone bigger should probably get a 13-liter. They're cheap, light, useful, and small enough that I personally carry both sizes.
Pro tip: The bags keep water out, but they also keep it in. In a pinch you can fill it with water and detergent and wash clothes inside. You can also fill it with beers and ice and become a next-level travel genius.
3. A decent toiletry kit
This one probably comes as no surprise to a lot of people, but to plenty of others (I'm looking at the guys on this one), it might be something you've never even thought about. I'm almost embarrassed to admit it now, but I spent years traveling around Thailand with my toiletries thrown into whatever 7-eleven plastic bag I had lying around my hotel room when I was packing.
If that sounds like you, a simple, hanging toiletry kit will change your life, and make packing much faster and easier. Your stuff stays organized, it's less likely to open and spill, and if it does it won't cover the rest of your things in shampoo. I picked up an inexpensive hanging toiletry bag years ago and it's held up great. It's pretty small but it fits a ton of stuff inside, and expands a bit as you add more. You can get the one I have and that's in the picture above here from Amazon, or just pick up whatever one you want. Whichever one you get, the hanging hook is key!
4. A few odor-resistant T-shirts
Thailand is usually really hot, and wearing a cotton T-shirt out all day will get most people smelling pretty bad. There are way too many smelly backpackers and foreign tourists in Thailand already, so please don't add to that. Wearing T-shirts in an athletic, jersey fabric (not cotton!) helps out a lot with resisting odor. This type of fabric also wrinkles less and dries much faster than cotton, and hides sweat stains better, especially in dark colors. While they are very casual, you can still get by at a lot of fancy Bangkok bars in a clean, solid black T-shirt. The black/grey/navy 3-pack in this T-shirt on Amazon is a pretty good bet, but there are a lot of choices.
If you really want to splurge (they cost around $70), the Merino wools from Icebreaker (link to Amazon) are the best T-shirts in the world. As odd as it sounds, merino wool (plus 13% nylon) keeps you incredibly cool in hot weather. These things last forever. Some truly committed minimalists literally wear them every day for a year or more. Wool also dries quickly and resists odor incredibly well. Some people say you can even wear them for days without washing them (please seek an honest opinion on whether or not you smell if you plan on trying this). They're also great in cold weather as base layers. They're especially popular with rock climbers, which shows you just how durable they are.
5. Good flip flops
A decent pair of flip flops is essential for traveling Thailand. Some people prefer a full sandal, but you just can't beat the minimalism of a flip flop/thong/slipper (the type with a simple strap that runs between your two biggest toes). You'd be surprised at just how versatile they are. Experienced Thailand travelers (and especially locals!) even do fairly grueling hiking in them. Flip flops are cheap and easy to find in Thailand, but we find it's worth spending a few extra bucks on a better pair.
The problem with the cheap knockoffs you find in Thailand is that they break easily, and they usually squeak loudly when they're wet. Flip flops definitely come down to personal preference, but for me, a pair of real Havaianas is unbeatable. They're lighter and take up less space than almost any other flip flop, they're comfortable, they dry fast, and if you buy real ones they don't squeak. You can find men's Havaianas and women's Havaianas at these Amazon links, usually for between $15 and $30 USD.
6. A shoe bag
Just like with toiletries, I used to carry any shoes I wasn't wearing in whatever plastic bag I could find at checkout time. Once I bought a cheap shoe bag, I couldn't believe I'd lived my life that way before. I picked up this cheap shoe bag on Amazon and it's worked great. There are a few different size options, but any of them will at least take a pair of shoes, and a pair of flip flops if they will squish down flat like the Havaianas mentioned above. Whether you choose the one I got or another, you can find something that will work for you for very little money. Incredibly worth it.
Culture tip: One cultural faux pas I see a lot of backpackers commit is tying their extra shoes to the outside of their backpack when they don't fit inside. Having your shoes passing by people near their head-level is very rude in Thai culture. A shoe bag makes it easier to organize shoes and fit them in your bag, and at the least, they're easier to strap outside the bag without giving away what's inside of them.
7. Deodorant
If you use roll-on or spray deodorant, you'll be fine in Thailand. If you use a stick deodorant though, you should definitely bring one from home. They're hard to find in Thailand.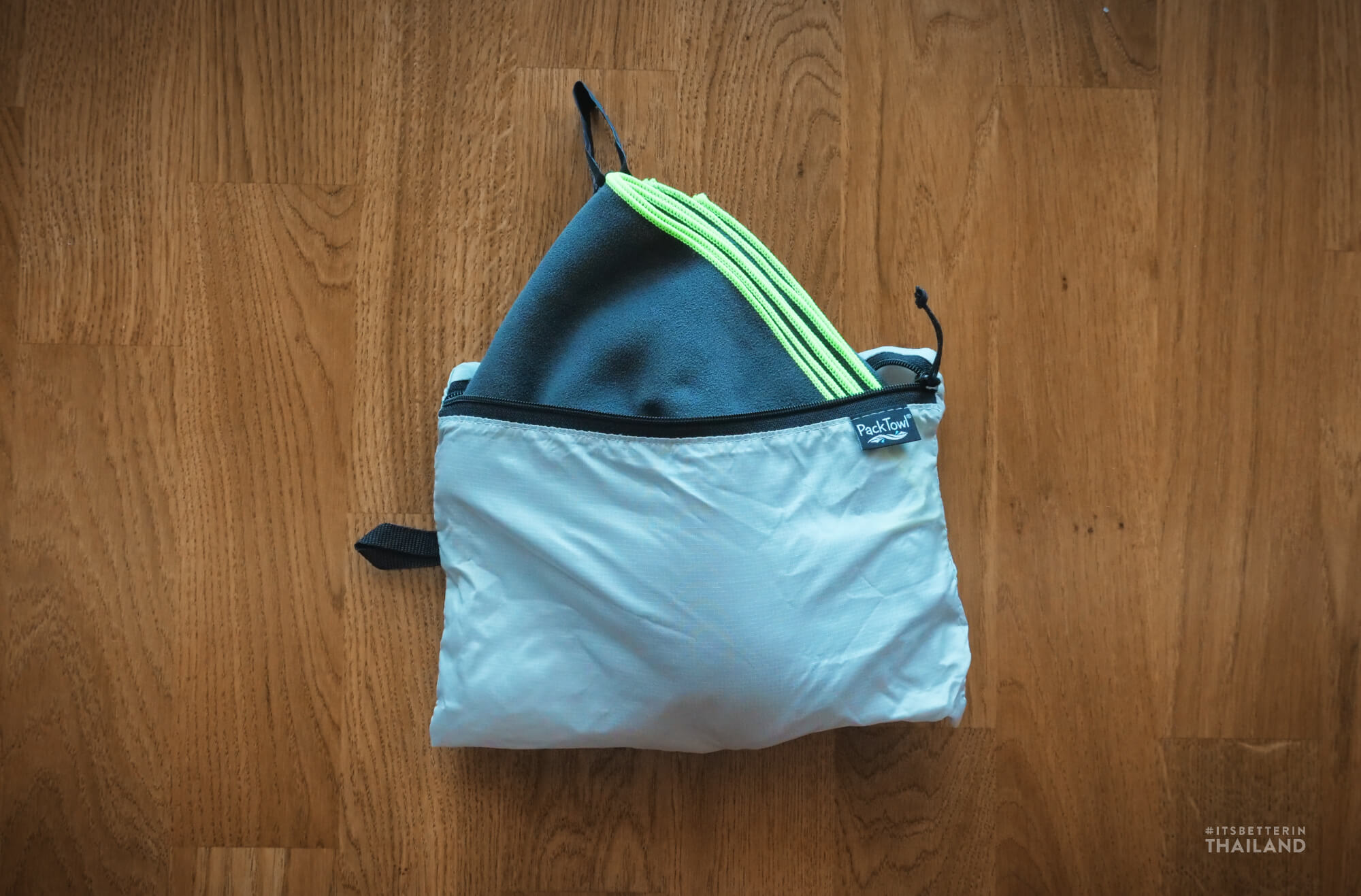 8. A packable microfiber towel
A travel towel is a great item for traveling in Thailand. They don't take up much room, and always come in handy. I use a Pack Towel which you can buy from Amazon, and I love it. It soaks up loads of water and can easily dry a full body and head of hair. It dries quickly, and resists odor even after a lot of uses and being crammed wet into a bag all day. It comes in four sizes: face, hand, body, and beach. I think the sweet spot is body as it is big enough to use as a beach towel if you don't mind your calves being in the sand. Beach seems just a little too big for carrying around all the time.
Pro tip: When you have a bunch of dirty clothes to take to the laundry shop, you can easily tie them up in this towel for an easy way to carry it. The towel is machine washable but it's best not to put it in the dryer.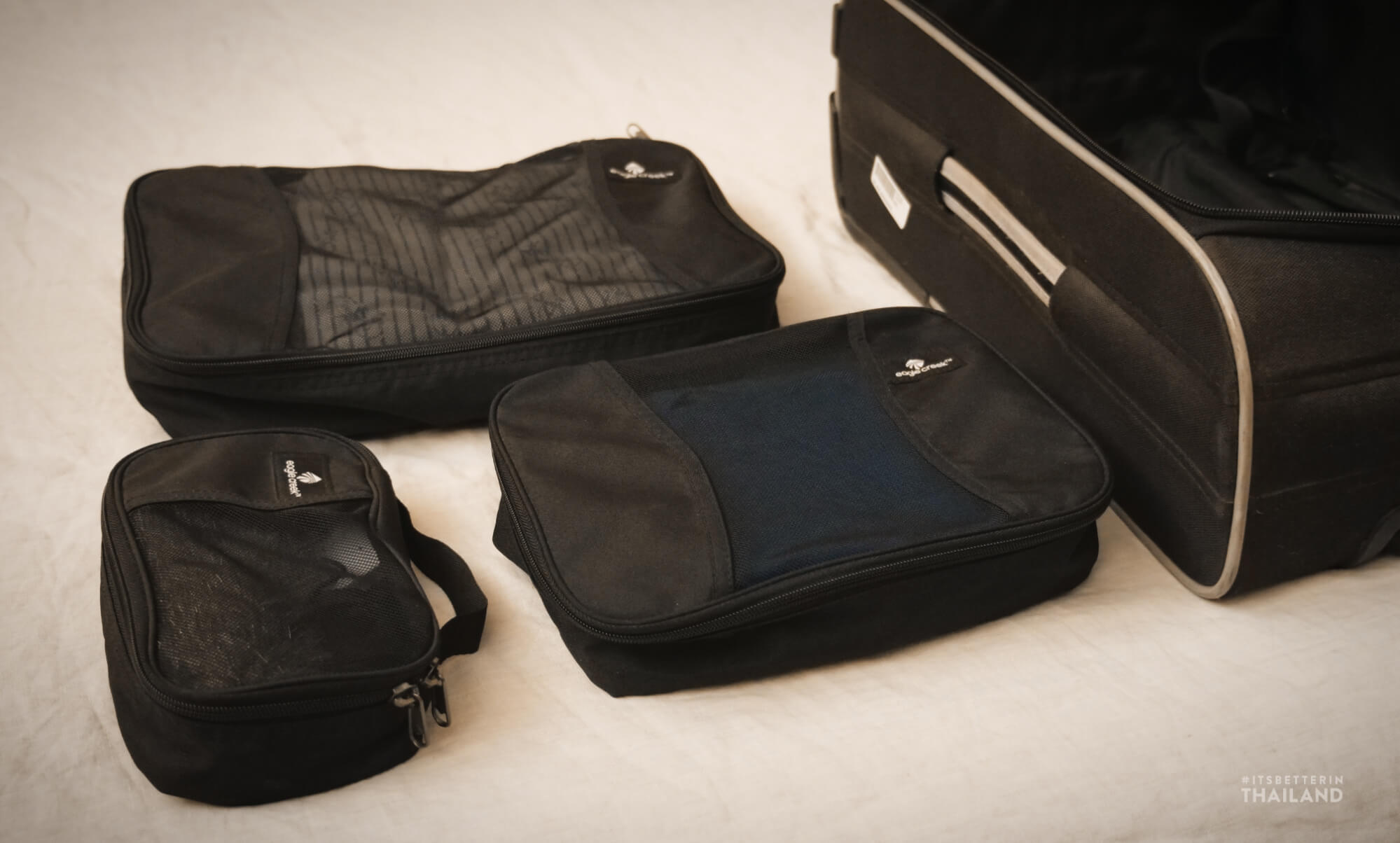 9. Packing cubes
A set of packing cubes makes it really easy to keep your bag or suitcase organized. I use the set of three packing cubes from Eagle Creek (buy from Amazon) and they completely changed how I pack my suitcase. The sizes are perfect, especially in a carry-on size suitcase which they seem to be tailormade for. What's really nice is when I'm packing and can plan ahead a day or two, I can fill the largest cube with only the clothes I'll need immediately so I don't have to unpack my whole bag. I just grab that cube off the top and I'm good to go.
10. Sunglasses
Whether you're a person who likes to buy one good pair to keep forever, or you like cheaper but decent ones because you always lose them, getting your sunnies before your trip to Thailand is a good idea. Cheap knockoffs are everywhere in Thailand, but wearing sunglasses that don't have UV protection is really bad for your eyes. In larger cities, there are lots of eyewear shops but they usually don't carry many shades for under $100 USD. The sunglasses sweet spot for me is the $10-$25 pairs that are comfortable, look good, offer UV400 protection, and that I won't miss too much when I lose or scratch them.
If you want to splurge and you're not someone who loses your shades easily, Ray-Ban Wayfarers are pretty much the best all-around sunglasses that look good on almost anyone who wears them, and the quality is excellent. You can pick them up here on Amazon.
For a pair with the same look as the Ray-Ban's at a much lower price, these shades from Amazon will easily do the job.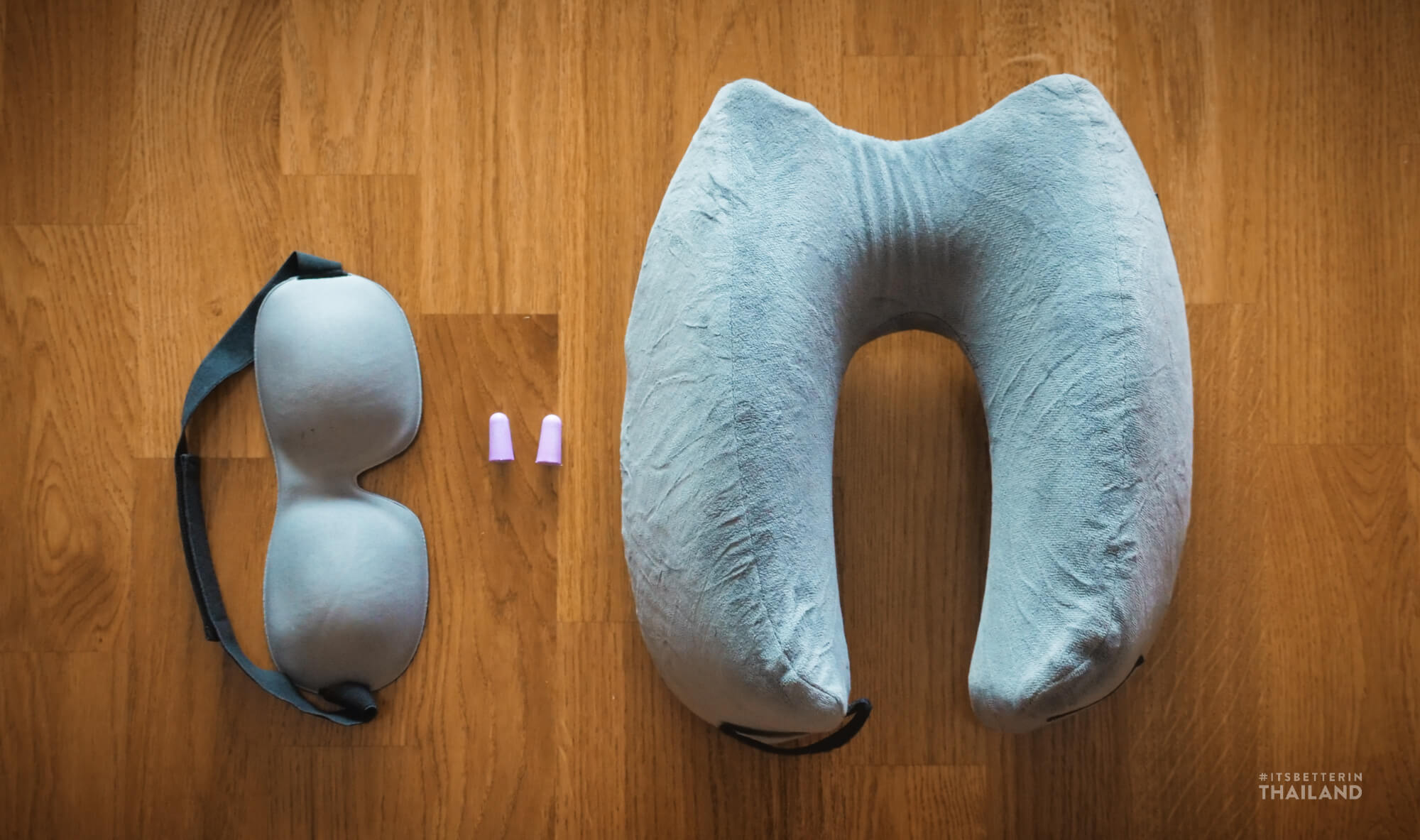 11. Neck pillow, eye mask, and earplugs
No matter what, you're going to spend some time during your trip on planes, trains, buses, ferries, and in noisy and bright hotel rooms. I used to travel without them thinking they were just for high-maintenance people until I started using them. Now if I ever forget them I notice right away. Having these three items totally changes the game. Earplugs are easy to find in most pharmacies in Thailand, but these slim fitting ones are the absolute most comfortable I've ever used, and you get 50 pairs for just over $10!
With pillows and masks, most of them are absolute rubbish. You need an eye mask that is cupped so it doesn't touch your eyelids while you sleep but still keeps all light out. This sleep mask is the best I've found, and you get two of them for around $13. Neck pillows are even harder to find the right one. When the back is as thick as the sides, it pushes your neck forward from the seat making it extremely uncomfortable. This memory foam neck pillow is simply the best one there is. The memory foam is comfortable and packs up into its own bag at 1/4 it's full size. It's shaped perfectly to sit on your shoulders and support your neck. It does cost around $40 but worth every cent. You can't put a price on good sleep.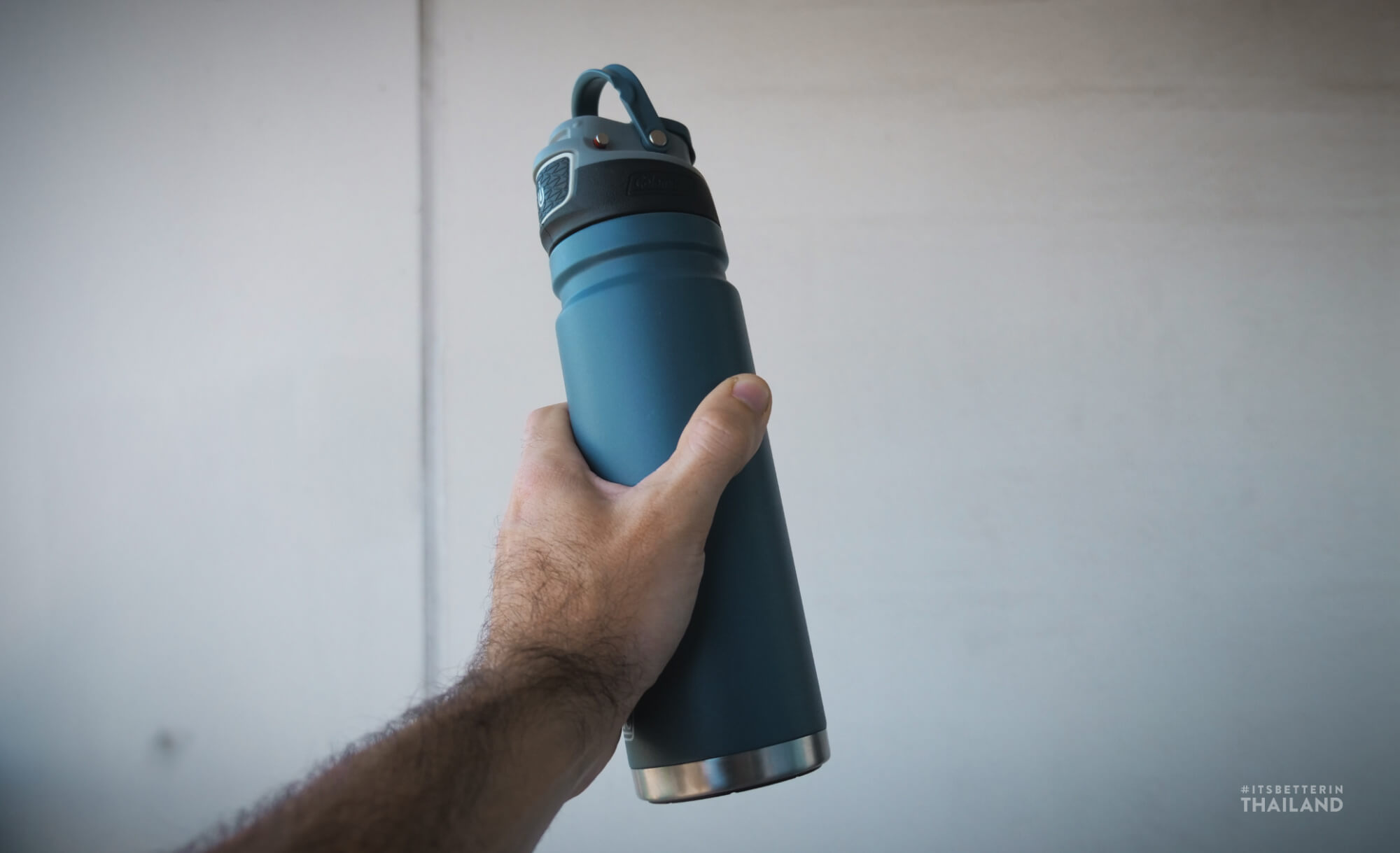 12. An insulated water bottle
Bringing a water bottle can help you cut down on your plastic bottle use while traveling in Thailand. While any old water bottle isn't too hard to find here, insulated ones are, and there are huge advantages to them. Being out all day and still having cold water on hand is a really nice luxury. It's especially nice stashing one somewhere and returning from a hike to have ice cold water waiting for you. Besides keeping your drink cold, the bottle also stays dry. In the humidity of Thailand, putting an uninsulated bottle of cold water in your bag will get all your stuff pretty wet from the condensation. $10-$20 gets you plenty of good options.
If the sale is still going on, this bottle from Coleman is what's in the picture and it's brilliant. Even at full price it's a good value, and it's a steal at the sale price. If you like color choice, this bottle is a solid option.
What did we miss?
As we said, it's so easy to travel in Thailand and none of this is essential. These are all nice-to-have items that can make your travel experience slightly easier and more comfortable, but you'd still have an amazing time without them. Let us know in a comment below what we missed. What are your travel essentials, or do you have a better product recommendation than what we've listed here?
---
Disclosure: This page has some affiliate links. If you click one of these links and make a purchase or booking, we will earn a small commission. This is 100% free for you and it helps us to continue creating great Thailand content that we can offer to you for free.