The best travel insurance providers for Thailand trips [2023]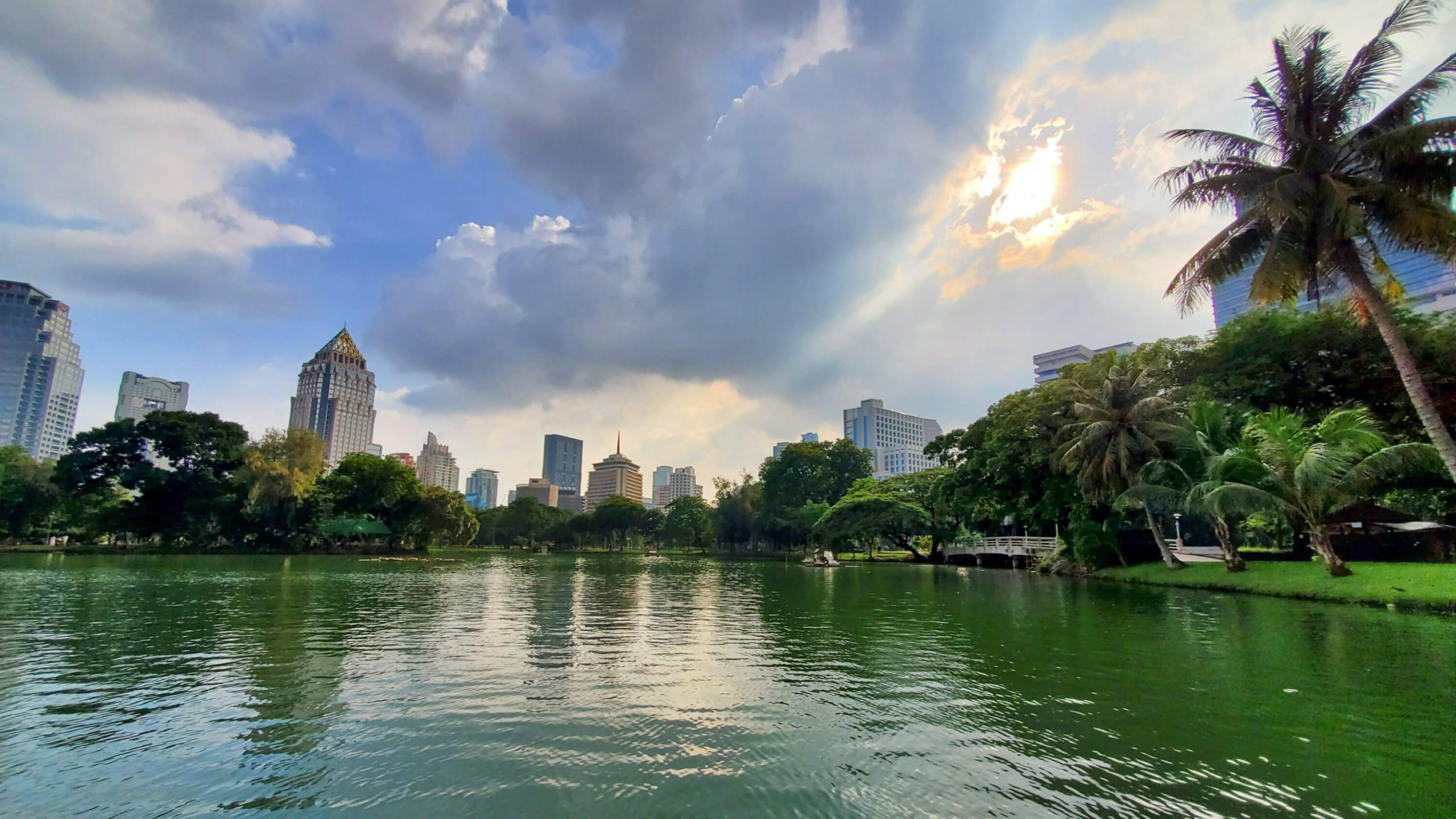 Congratulations on even making it to this page!
I get it, buying insurance for a trip is literally the single worst part of the planning process, but it's also one of the most important.
You've already got the hardest part out of the way — sitting down to do it — the rest of the process is usually much easier than you anticipate.
We have found in our own travels, and helping so many people plan trips that SquareMouth is the best site to shop around for Thailand travel insurance.
SquareMouth is a comparison site that lets you specify exactly what coverage you want — and don't want — and then searches major providers to help you find the best price.
Important: If you plan to ride a motorcycle or scooter in Thailand, or participate in adventure sports like rock climbing, Muay Thai, jet skiing etc. Make sure to read our section below on adventure sports coverage and how to filter for different activities on SquareMouth
Why you need insurance
Since you're already on this page, you probably know why you need insurance. You most likely won't use it, but if you have to, you'll be very glad you have it. That's pretty much the point of insurance.
Millions of people travel around Thailand every year with no travel or health insurance, and most of them get away with it. But thousands of people also get stuck with huge medical bills leaving them begging family at home for money, or turning to sites like Go Fund Me to raise cash.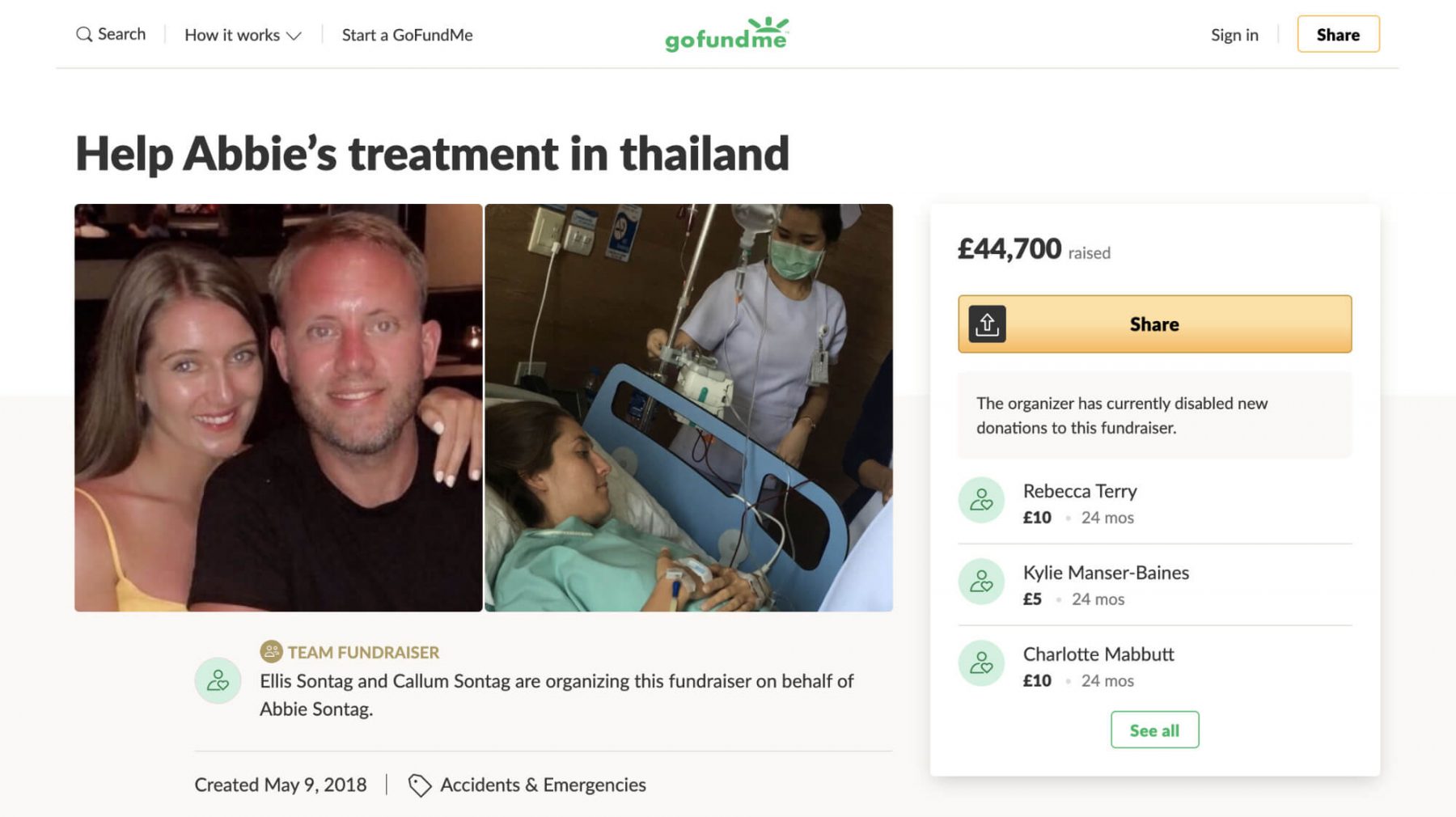 In some cases, not having insurance coverage costs people their lives. The private hospitals that provide the best care in Thailand are businesses. If you are in an accident, you can expect a basic level of care, but the reality is that major emergency surgeries and medical evacuations are reserved for people who can pay for them.
In ten years of traveling in Thailand, I've met dozens of people who were at a minimum saved from massive medical bills by having insurance.
My friend Gavin even owes his life to having travel medical insurance. He had a motorbike accident in a rural area in Northeastern Thailand. It was only for his insurance which got him an emergency evacuation to Bangkok that he is still alive today.
Insurance is not that expensive. Just think of it as a necessary expense of your trip, no different than your flight or hotels. You pay for it up front, then it's out of sight, with peace of mind.
Important: You may already have travel insurance coverage. If you have private health insurance in your home country, they may provide enough medical cover for your trip. Certain credit cards also provide some medical coverage, and many of them give trip cancellation coverage when you book with that card. Your home or renters insurance might also cover your belongings while on the road. Check your policy guide, or give them a call to see if you are already covered.
What coverage do you need?
There are a lot of different types of insurance that cover different things, but in general, travel insurance can cover:
Medical emergencies
Medical evacuation
More minor health issues
Trip cancellations
Loss or damage of your personal belongings while traveling
The first two are by far the most important. You can probably do without the others, but having coverage for medical emergencies and evacuations is crucial.
The other coverage types are necessary depending on the type of traveler you are and can definitely provide some extra peace of mind. Often, once you buy coverage for major medical emergencies, the added cost to cover those other incidents is small enough that it's just worth adding on.
Note: If you are an American, it's pretty easy to get good insurance coverage for your belongings, and for trip delays and cancellations through a good credit card. Check out our guide the best credit card for traveling abroad to learn more.
Our top provider recommendation
We've spent more hours than we'd like to admit browsing dozens of travel insurance aggregation websites trying to find the best one (or the least bad one). We've concluded that SquareMouth is the easiest site to use to shop around for a travel insurance quote.
Enter in just a few personal details like your age and home country or US State, and where you plan to travel, and within a minute you can have the most competitive plans listed. Use the filters to set minimum coverage amounts to make sure you have good enough coverage.
What minimum coverage levels should you select?
What we like about SquareMouth is the selection boxes on the left-hand side (on desktop) that let you filter for the right plan type. If you're looking for a cheaper plan, you can deselect all the options under Trip Cancellation and Loss or Delay. You'll likely find a plan with little to no cover for delays and cancellations, but you'll pay less for it. The only things you really need are medical and emergency evacuation.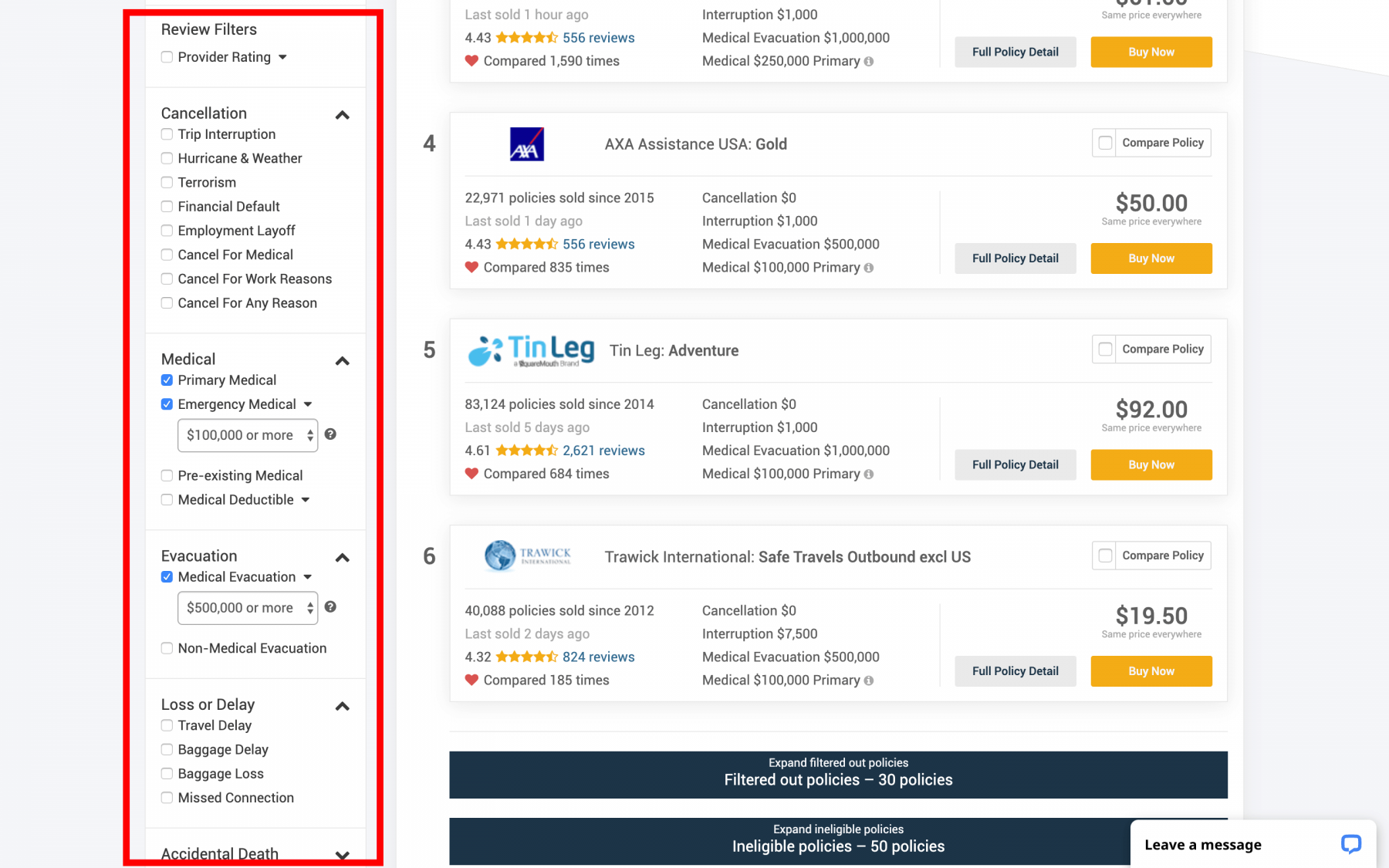 Definitely tick the box for Emergency Medical and set the minimum cover to at least $50,000 USD or your local currency equivalent. You should also tick Emergency Evacuation and set a minimum of $100,000 USD. You can easily find affordable coverage at these levels, and you can usually raise those amounts without making the plan too much more expensive.
I personally do Primary Emergency Medical $100,000 and Emergency Evacuation $200,000. My credit card covers trip cancellation so I always skip that, and that makes the plans much cheaper. I also never bother with insuring my belongings.
There is one box in the sidebar for Primary Medical. We recommend ticking this box. If your travel health insurance is Secondary, it means you will have to deal with your primary home insurer first.
Insurance coverage for motorcycles and adventure sports in Thailand
To select coverage for these activities, go to the 'sports' tab near the bottom of the filters. You can search by activity there. Note that to find motorcycles you have to spell it as two words (motor cycling), but one word for off-road. Better to just search for 'motor'. It gives you the option to filter by engine CC size which is nice.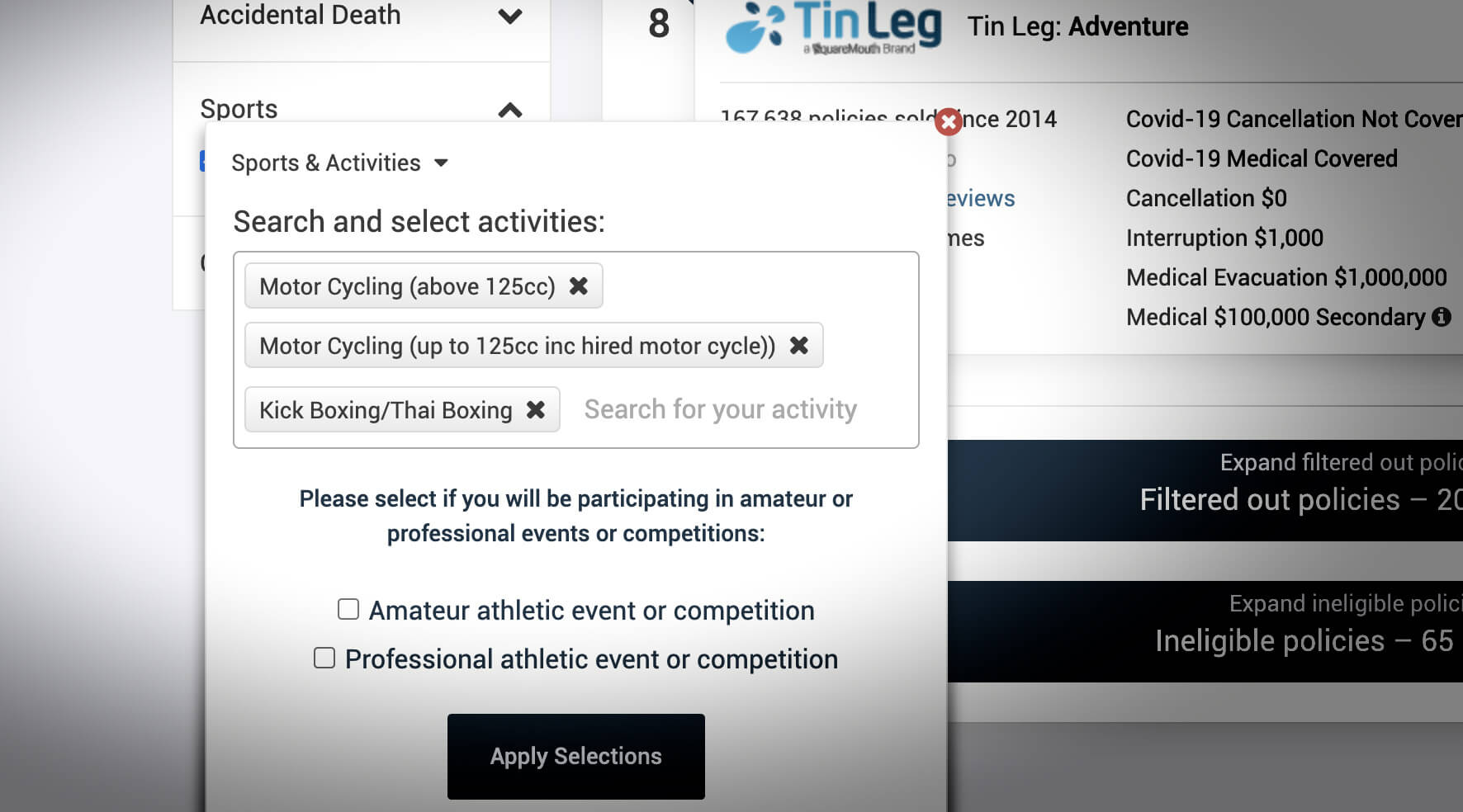 Your motorcycle coverage will only work if you have a a valid motorcycle license in your home country and carry an international drivers permit with it (or you have a Thai motorcycle license). You must also be following all laws at the time of any accident, so you have to wear a helmet and not be intoxicated.
You can also search for lots of other activities that you know you'll be doing, like Thai boxing, rock climbing, free diving, scuba diving, jet skiing, and lots more. Apply all the filters you want, and SquareMouth will only show policies that cover all those activities.
Better safe than sorry
It's fairly unlikely you'll need to use your insurance, but if you do, you will be glad you have it. It might save you tens or even hundreds of thousands of dollars, and a huge amount of stress and aggravation. It might even save your life. It's worth it, get it.
Important: Final note: Sadly, all insurance providers kind of suck and will sometimes try to weasel out of paying a claim, or hide exclusions in the fine print. We cannot take responsibility for any info in this guide being 100% true all of the time since ultimately the only thing that is legally binding is the policy contract. Also, we are experienced travelers, not lawyers or insurance experts. Be sure to do your due dilligence and read through any policy. Buying from a reputable insurer is a good idea too since some are definitely better than others. SquareMouth shows the ratings of each provider right on the search page which we find useful.