Thailand COVID-19 insurance & entry requirements [up to date]
Everything you need to know to enter Thailand during the coronavirus pandemic
Entering Thailand in the pre-COVID-19 days was a breeze for most nationalities, but things are different today. If you want to enter the Land of Smiles now, you will need to comply with all of the following. We will keep this post updated with each new rule announcement.
Foreigners can now enter Thailand on many different visa types, and even on the visa exemptions that most tourists used in the past. No matter how you plan to enter though, you must obtain a Certificate of Entry (CoE) from a Thai embassy or consulate in your origin country.
In addition to the CoE, travelers must have:
Health insurance with minimum medical cover of $100,000 USD and no Covid-19 exclusion
A negative Covid-19 test from less than 48 hours before flight departure
A "fit-to-fly certificate" from a doctor
A booking at an approved Alternative State Quarantine (ASQ) hotel
Registration with the ThailandPlus mobile application
Where to start
If you want to travel to Thailand, you will definitely need to be in touch with the local Thai embassy or consulate in your country. They are the only ones who can issue the Certificate of Entry (CoE).
The sooner you contact that embassy or consulate, the better. They will be the ones who know exactly what you need to travel to Thailand since they are the ones who will ultimately have to approve your CoE.
Unfortunately, you need to book everything before you apply for the CoE. The process goes as follows:
Book a flight
Book your ASQ quarantine hotel
Purchase travel health insurance
Apply for the CoE (which they recommend you do at least 15 business days before your flight).
This upfront financial commitment is why it's so important to be in touch with a Thai embassy.
Mandatory coronavirus insurance for Thailand travel
No matter what type of visa or visa exemption they arrive on, all foreigners must show proof that they carry travel health insurance with minimum coverage of $100,000 USD and no exclusion for the Coronavirus. The coverage must last for the full duration of the stay in Thailand.
Many travel insurance and travel medical insurance plans have exclusions for pandemics, but it's fairly easy now a year into the pandemic to find plans that do cover the coronavirus.
To find Thailand travel medical insurance policies that cover COVID-19, we recommend two different places to shop:
SquareMouth
SquareMouth is great for comparing different plans if you want to shop around. Input your details then use filters on the results page to find a policy.
On the left-hand side, tick the box for Coronavirus Coverage to see relevant policies. You should also tick the Emergency Medical box and set the minimum cover to at least $100,000 USD.
World Nomads
World Nomads is the go-to choice for younger travelers as their insurance plans are comprehensive and tend to cover the most adventurous activities. Initially, their policies were not covering Coronavirus, but they are now, at least in the countries that we checked.
Check the World Nomads website and input your country (or US State) to get a quote and double-check that it meets the criteria.
For more information, see our complete guide to Thailand travel insurance.
Booking a flight
For the initial months of the Coronavirus pandemic, the only flights available were charter flights, and the odd repatriation flight. Thankfully that's changed and there are not regular "semi-commercial" flights.
You can check this spreadsheet to see a list of these flights by airline, then book directly from that airline. (We're not sure who created this list, but it is linked to from Thai embassy and consulate websites).
Who needs to quarantine when entering Thailand
Everybody entering Thailand at this time needs to quarantine in a government-approved hotel for 14 days. Thai nationals can quarantine for free as part of the State Quarantine program, but non-Thais must pay to stay at an approved Alternate State Quarantine Hotel.
Booking Alternative State Quarantine in Thailand (ASQ)
If you fall into one of the approved categories to enter Thailand and you are a non-Thai national, you will need to book a 14-day stay at an approved Alternative State Quarantine Hotel…. which is actually technically 15 nights.
The cost of ASQ ranges from 35,000 Baht ($1125 USD) for a 14-day package, up to 150,000+.
Hotels in Bangkok are under the ASQ program, hotels in other locations are categorized as Alternative Local Quarantine.
You can book ASQ complete packages from Agoda on this page. The price includes 15 nights, two Covid tests, three meals a day, and the transfer from the airport.
Getting a Certificate of Entry
Every foreigner wishing to enter Thailand now needs to obtain a Certificate of Entry (CoE). You cannot apply for the CoE until you have purchased your flight, booked your ASQ (quarantine hotel), and bought travel insurance. It is recommended that you apply for this at least 15 business days before your flight.
The application is online at the website https://coethailand.mfa.go.th/ but the CoE will likely be processed by your local Thai embassy or consulate which is why we recommend beginning this process by contacting them.
The video below walks you through the process, but you will need to upload the following:
Passport
Confirmed air ticket with proof of payment
Confirmation of ASQ booking
Proof of travel medical insurance meeting the requirements listed above
A recent bank statement showing a minimum of $700 USD per person or $1,500 USD for a family
Who can enter Thailand now?
At this time, there are no restrictions on who can enter Thailand. Anyone of any nationality can come to Thailand, so long as the traveler has met all the requirements and received a Certificate of Entry.
I've gotten the Covid-19 vaccine, can I enter Thailand?
So far there has been no announcement on any allowances or exemptions for those who have already been vaccinated. Even if you have received the Covid vaccine, you would still need to quarantine as usual.
We do expect that will change eventually, and we will update this space if it does.
Visa-exempt entry to Thailand during Covid
Citizens of most Western countries, and many East Asian nations could always enter Thailand without a visa and receive a 30-day entry stamp. This was suspended during Covid but brought back on December 7th, 2020.
Because of the official 14-day quarantine, the 30-day visa-exemptions have been extended to 45 days. This gives you 30 days beginning at the end of your quarantine and it is effective through 30 September 2021. You would likely be able to extend this visit at an immigration office in Thailand for an additional 30 days at a cost of 1,900 Baht.
Note that visa-exempt entry is not the same as a visa on arrival. VOA is only needed for certain countries and is currently still suspended.
The image below shows the passport countries that can get visa exempt entry.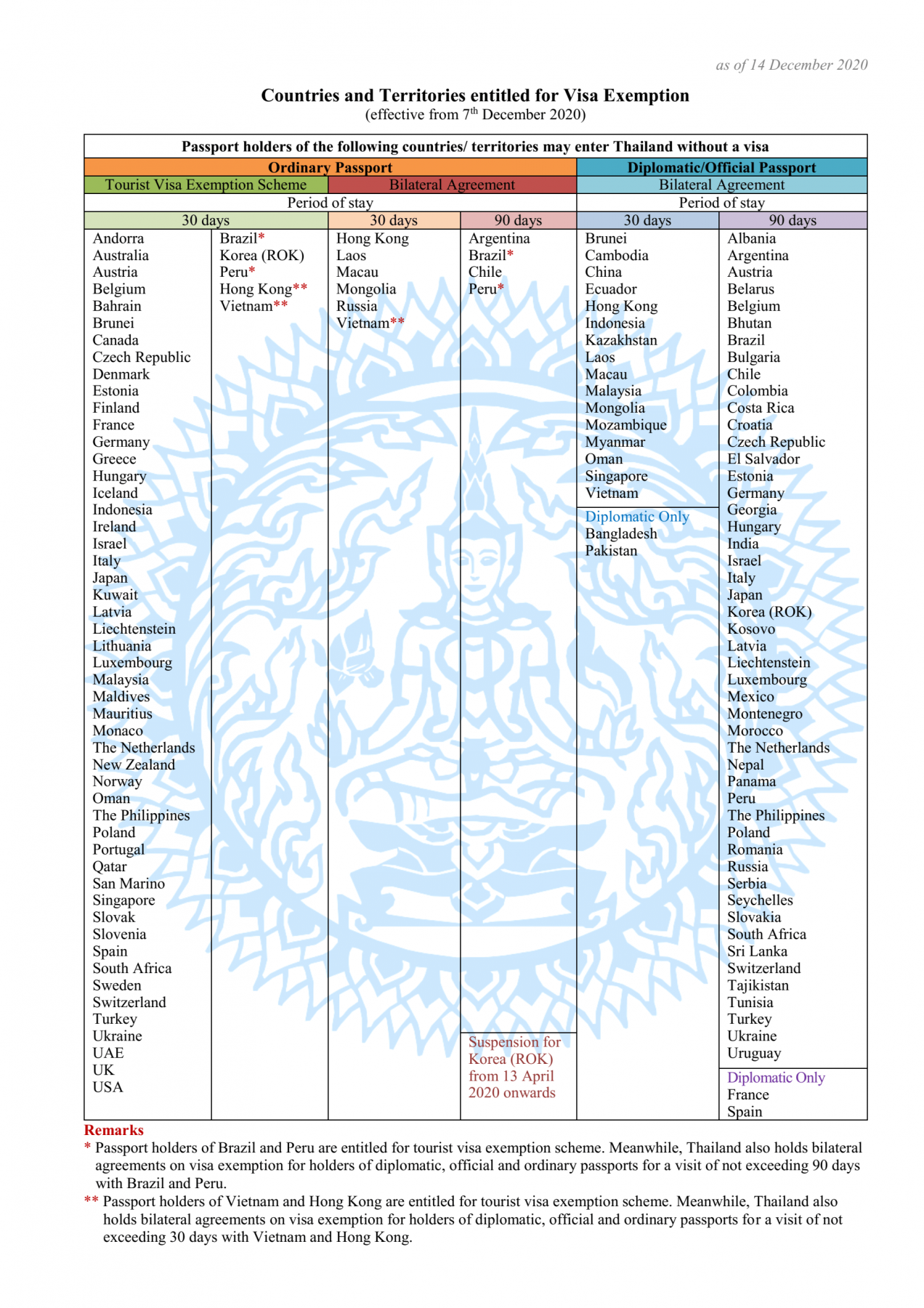 Thailand Special Tourist Visa for long stays during the Covid-19 pandemic
On September 16 the Cabinet approved a new long stay visa to begin reopening the country for limited tourism during the coronavirus pandemic. It is expected to become law in the coming days upon publication in the Royal Gazette, and the first arrivals under this visa will likely be in early October.
The visa will cost 2000 Baht and will grant you 90 days. It can be extended twice for 90 days each time, likely at a cost of 2000 Baht of each extension.
A 270-day visa without leaving the country for 6000 Baht is actually a great deal and much more convenient and cheaper than a standard Multiple Entry Tourist Visa.
This video from the Tourism Authority of Thailand tries to spell out the process, but it's pretty hard to follow.
COVID-19 test to enter Thailand
You need to show a RT-PCR test result that showed you were free of coronavirus prior to boarding your flight to Thailand. Depending on the Thai consulate, this must be from a maximum of 48-72 hours before your flight time.
You will also be required to undergo a second test on arrival, and more during your quarantine stay.
Fit-to-fly certificate to enter Thailand
To enter Thailand you may be required to show a so-called fit-to-fly certificate. This is basically a doctor's note showing that you are healthy enough to fly. The fit-to-fly certification is separate from the Coronavirus test, and basically just has to show that you are not going to drop dead anytime soon.
This needs to be on a doctor's letterhead, signed, include a medical license number, and be done within the 48-72 hours prior to your flight. Definitely double-check these requirements with the embassy where you're applying.
Thailand Covid-19 Declaration Form
You may be required to fill in a form before you travel. It is not clear at this time who needs this, but you should probably do it to be on the safe side. You can download that form from the Los Angeles Thai Consulate's website here.
Tracking app for Thailand travel
As of 14 January 2021, you will need to download the ThailandPlus mobile app before your trip. Once you have your Certificate of Entry, you can register it in the app and generate a QR code which you will need to show when you arrive in Thailand.
You can find out more about this app in the video below.
T.8 health form
In addition to the standard TM6 arrival and departure card, any foreigners arriving in Thailand may need to fill out a T.8 health form. The form can be downloaded here, but you'll be provided with one along with the TM6 on your flight or upon arrival.
Thailand "Travel Bubble" requirements
Talk of creating "Travel Bubbles" where tourists are allowed in but only allowed to travel in certain areas, (e.g. arrive in Phuket and only allowed to stay on the island) comes and goes. Currently, there are NO travel bubbles, but we'll update if that changes.
If we missed anything or if you have questions, comments, or firsthand experience of any of this process, please drop a comment below.