Wat Sirindhorn Wararam – A Glow in the Dark Temple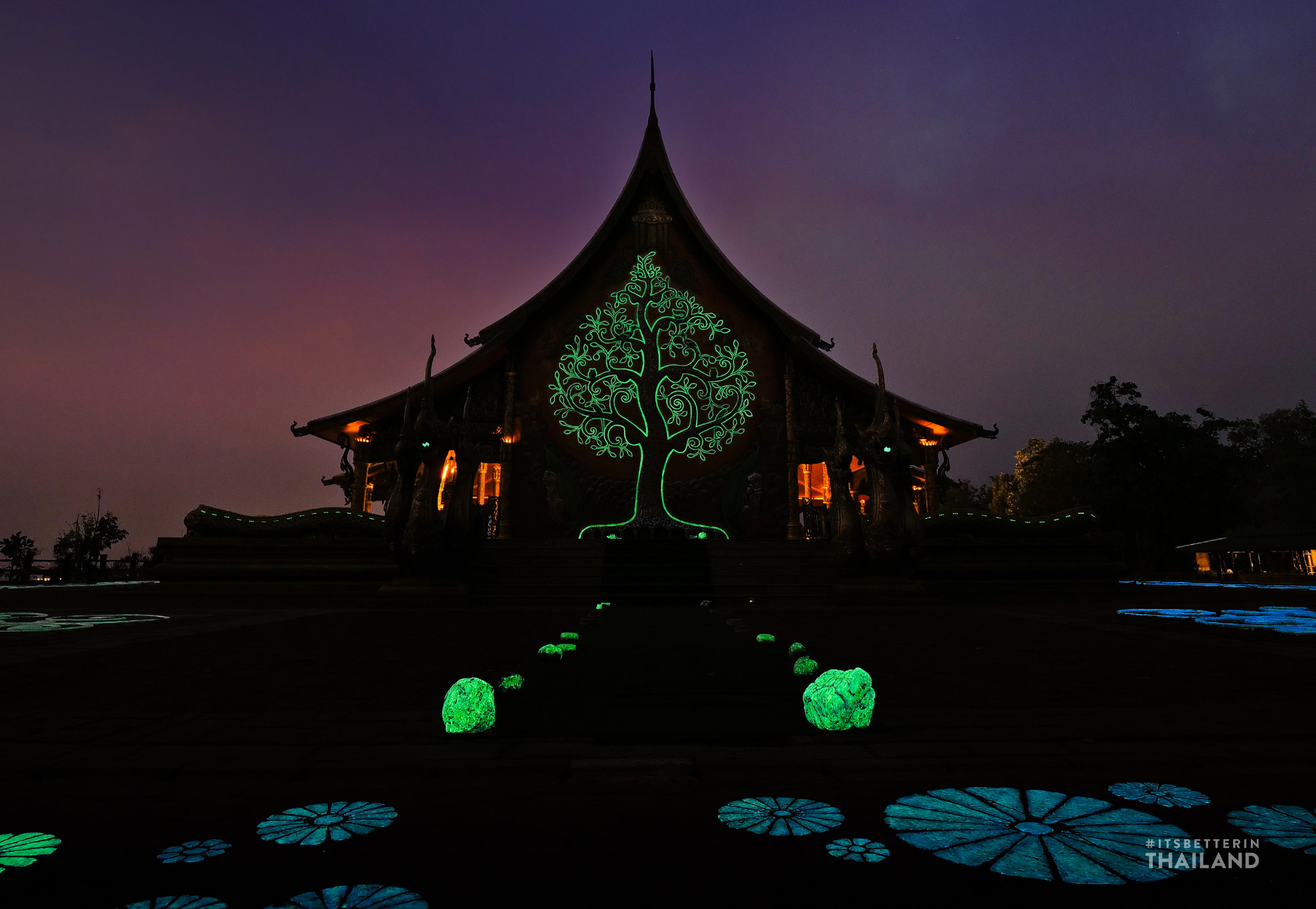 On the very edge of Ubon Ratchathani on the Laos border, Wat Sirindhorn Wararam (วัดสิรินธรวรารามภูพร้าว) glows every night to satisfy hundreds of Instagram addicts. When the sun goes down, parts of the floor and the walls light up due to the fluorescent paint that is used to decorate the temple.
It's a cool concept and it does glow in the dark but the photos are a little misleading. A camera makes the temple appear to glow a little more than it does to the eye.
It was very popular… Crowds of photographers came in the evening with their tripods, all hoping to capture that one perfect photo. I was one of them so I can't judge – but just a heads up.
What is at the temple?
There is a free carpark with clean toilets available. Just in front of these is a viewing platform, where you can see the front of the temple and a nice view of the valley below.
At the bottom of the steps leading up to the temple, there are some popular TV characters carved into the stone, including Batman, minions and a Pokemon ball, amongst others. I'm not really sure why they were there but it was kind of quirky. There are also two angel statues. Head up the stairs and into the temple, where there is a Buddha statue. Make sure to take off your shoes before entering. People will come here to pray and make a donation.
Over to the left of the temple, there are some golden balls where Buddhist will pray and stick on a small golden sticker to add to the collection. Next to this is a room displaying some creative and detailed paintings, some of which also glow in the dark.
Head behind the temple to see the main attraction. A circular pattern on the floor will light up as well as a 'tree of life' on the back wall.
A good spot for photographers
It can get very busy at the temple but we didn't see many other foreigners. It was mainly Thais and Laos people who were visiting out of interest or to add to their photography collection. We got there about 5.30pm when it was still light and there was already a row of tripods set up waiting in the corner.
The problem is that a lot of people are taking photos on their phones using the flash. You will see photographers slowly getting more frustrated as they set up their camera and wait for one or two minutes, only for the shot to be ruined from someone's mobile. If you visit without a proper camera, please be considerate and don't use flash photography or shine your torch at the wall when people are trying to take photos. The flash is going to give you a worse picture anyway.
What will you need to bring?
A Camera
A tripod
Mosquito repellent
A lot of patience
Chong Mek Town
The town that sits below Wat Sirindhorn Wararam is called Chong Mek that has a border control going into Laos. We had an entire day to kill there, and we can confirm there's not much to do.. There were a couple of coffee shops, we did find one with air conditioning to sit and chill for a few hours.
Chong Mek is also a popular spot for visa runners heading in to Laos.
How to get to Sirindhorn Wararam temple
From Ubon Ratchathani city center you can catch a bus to Chong Mek where you'll need a tuk-tuk or a taxi. You could also hire a car or motorbike from the city and drive there yourself.
We personally drove south from Sam Phan Bok (สามพันโบก) along the river.
Here is the GPS location for Wat Sirindhorn Wararam.
Gallery