Wat Pa Maha Chedi Kaew (Wat Lan Khuad) – A temple made out of glass bottles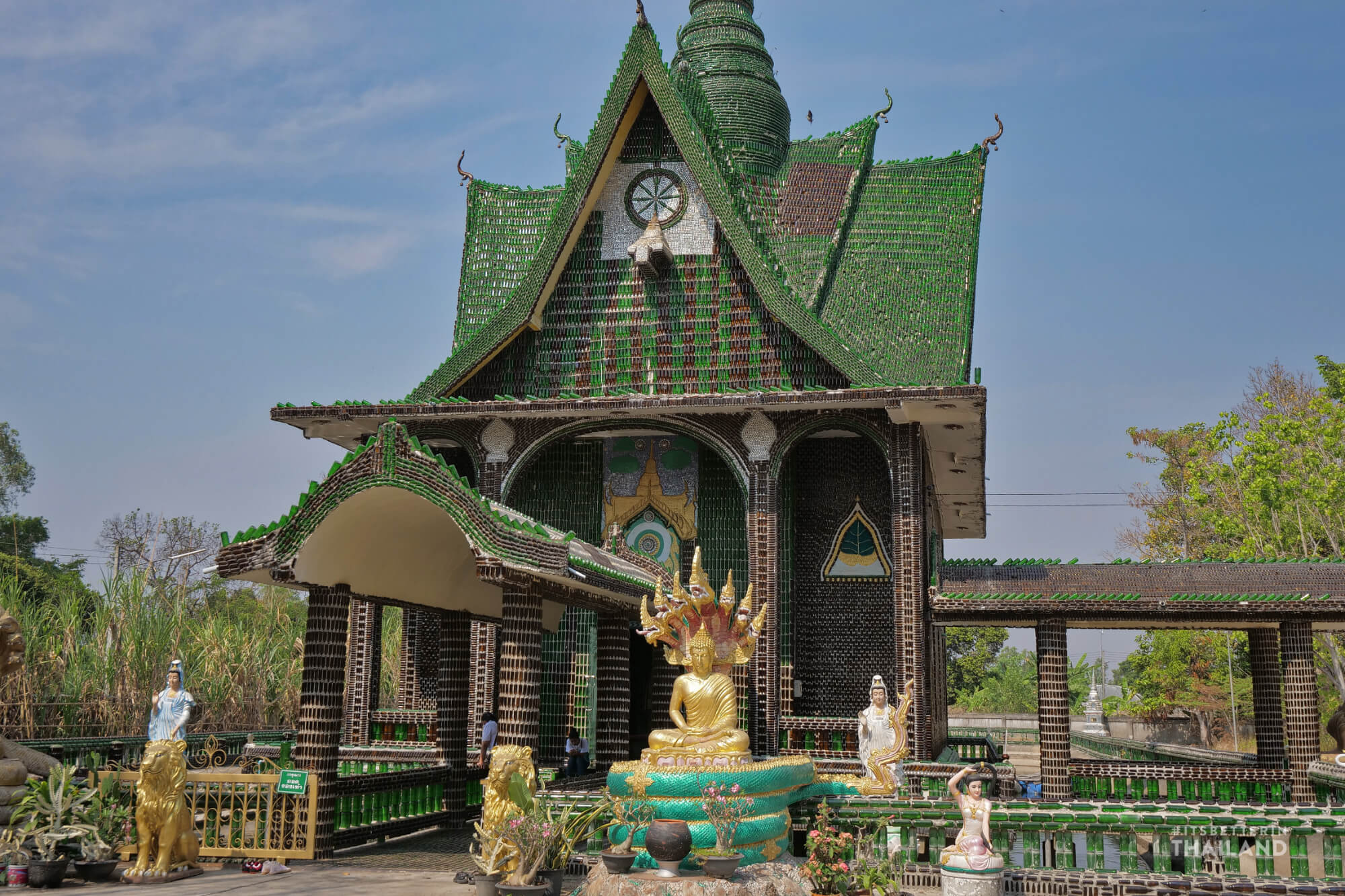 I've seen a lot of temples during my time in Thailand. There are more than 40,000 of them so that's not surprising but this one is a first. Wat Lan Khuad (วัดล้านขวด) in Sisaket has been built with over 1.5 million glass bottles – but they didn't just build a temple and stop there – the toilets are made from bottles, the Monk's bungalows are made from bottles. Even the mosaics and the floors have been created from a mixture of broken glass and bottle caps.
Wat Lan Khuad is located in Sisaket Province, about an hour drive south of the city.
Did you know: The translation of Wat Lan Khuad is 'Million Bottle Temple' in English.
Admission fee & opening times.
It is free to park and enter the temple.
Opening times are from 8 am – 5 pm
How did it begin?
It started in 1984 when the monks thought of a way to help the environment. They collected glass bottles and realized they could be used as a construction material. After two years, the main temple had been built.
People started to donate their used bottles and the local government helped out too. There are now 20 plus buildings made from more than 1.5 million glass bottles and they are always collecting more.
What buildings are made out of bottles?
We were surprised at how many glass bottle buildings there are, including many small bungalows where the monks live. They seem to have decorated them into their own style. Even the public toilets are made from glass bottles!
The other bottle buildings here are:
Ubosot (ordination hall) – This building sits in a small lake containing fish. A bridge connects to the building with green and brown glass bottles buried into the ground and pillars. Inside the pavilion is a shrine, where Buddhists will come to pray. On the right-hand side of the room are Buddha images for the seven days of the week, where people can pray and donate.
Chedi – This small stupa is made out of mainly brown bottles with a couple of mosaic pieces in the shape of windows.
Crematorium – Just to the right of the ordination hall is a crematorium. Brown bottles cover most of the building, whilst green bottles are used for the railings. I am not sure if this still gets used today.
There are also other buildings, such as a bell tower, a wiharn, and a meditation room. It isn's just the bottles that have been reused. Within the temple grounds, some of the pillars have been decorated with bottle caps, as well as some very creative mosaic artwork. There is also reclining Buddha decorated with glass bottles.
What bottles are used?
The bottles that are used to create Wat Lan Khuad use different sizes and colors to make interesting designs. Here, you will find beer bottles from a Chang (Thai beer) and Heineken, along with small clear soda bottles. There are also energy drinks used, including M-150 and Red Bull, popular energy drinks which both originated in Thailand.
The benefits of using glass bottles
This isn't just a cool concept to make the temple look pretty and bring in tourists. In fact, it is not even encouraged as a tourist attraction and you are unlikely to see many other foreigners here.
Benefits:
Reduces waste – Many more glass bottles are now being reused instead of ending up in a wasteland.
Encourages recycling – People have become more aware of the possibilities of recycling and how it can help the environment.
Provides a good structure – The way in which they are placed along with cement gives the building a strong structure.
Cheaper – The bottles are getting used anyway and people donate them after, so less building materials need to be purchased.
And of course, it gives the building an interesting perspective and they can be creative in how they design them.
How to get to the bottle temple
Wat Pa Maha Chedi Kaew is in Khun Han District (อำเภอ ขุนหาญ) about 15 minutes off Route 24. You are ideally going to need your own transport to get there unless you have a private driver.
From Sisaket center, head south down Route 221 for around 24km then take a right onto Route 2111 and follow this for 40km.
This could make a nice stop off if you are traveling between Surin and Ubon Ratchathani. Drive along Route 24 and head south when you get to 2111.
The easiest way to find the temple is by using a satnav. Here is the GPS location.
Accommodation
If you are planning on staying in Sisaket, there are a few options in the town center, but there are some cheap hotels very near to the bottle temple. Search for Khun Han District on Booking.com to see what is available.
We find our accommodation on Booking.com by first searching for the town or province and our dates, we then filter out any rooms with a score lower than 7 or 8 (depending on availability) as well as any rooms out of our budget. After this, we open the map and hover over all of the pins in the rough location we already decided we want to stay in. Hovering over the pins gives us the price for x nights plus the review score. We click on each pin to open those hotels in a new tab, review them and book our favorite.
Photo gallery