Wat Maha That, Yasothon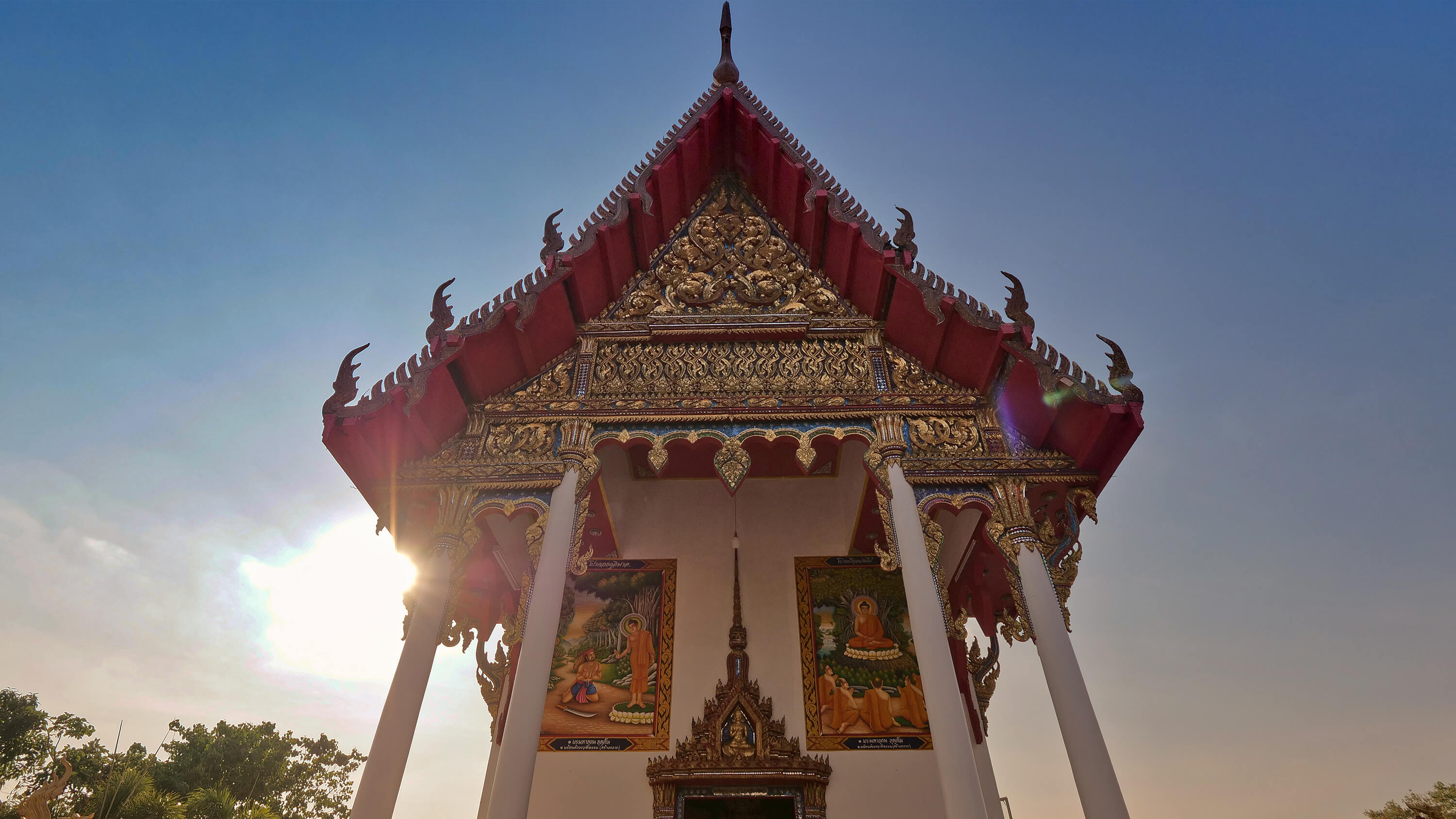 In the province of Yasothon, apart from learning about amphibians and folklores at Phraya Khan Khak (toad museum), there are a few temples scattered around. The most revered one is probably Wat Maha That (วัดมหาธาตุ), a stylish temple in the town center.
What is at the temple?
The Chedi – The most iconic building at Wat Maha That is a beautiful white and gold Chedi called Phra Wat Anon (พระธาตุอานนท์). This was originally built in the 18th century with Laotian style architecture. This stupa contains some relics of Ananda, one of the disciples of Buddha. Ananda is a very respected figure within Buddhism so many Thais will visit here to pay their respects.
Beautiful paintings – In the wiharn building, sits a Buddha statue meditating in the 'Calling The Earth to Witness' pose, resting on a platform. What we found interesting though, were the colorful, detailed paintings all around the room. It looked as though they were being restored and we even managed to capture someone in the midst of their creativity.
Scripture hall – The other building of interest here is the wooden scripture hall that sits in the middle of a pond. It holds various Buddhist scriptures written onto dried leaves. It rests on stone pillars above the water to prevent any terminates from eating their way through.
Entrance fee & opening times
Admission price: Free.
Opening times: Daily from 8:30 a.m to 4:30 p.m.
Getting there
If you are searching for Wat Maha That, make sure you search for the one in Yasothon as there are others around Thailand. This one is right in the center of Yasothon. From Phaya Thaen Public Park and Lam Thuan Reservoir, follow the road northwest for just under 2km, turn left at the crossroads with traffic lights and the temple will be just on the left after you turn.
The easiest way is to follow Google Maps. Here is the GPS location.
Photo gallery