Wiman Phaya Tan – A Giant Toad Museum in Yasothon Public Park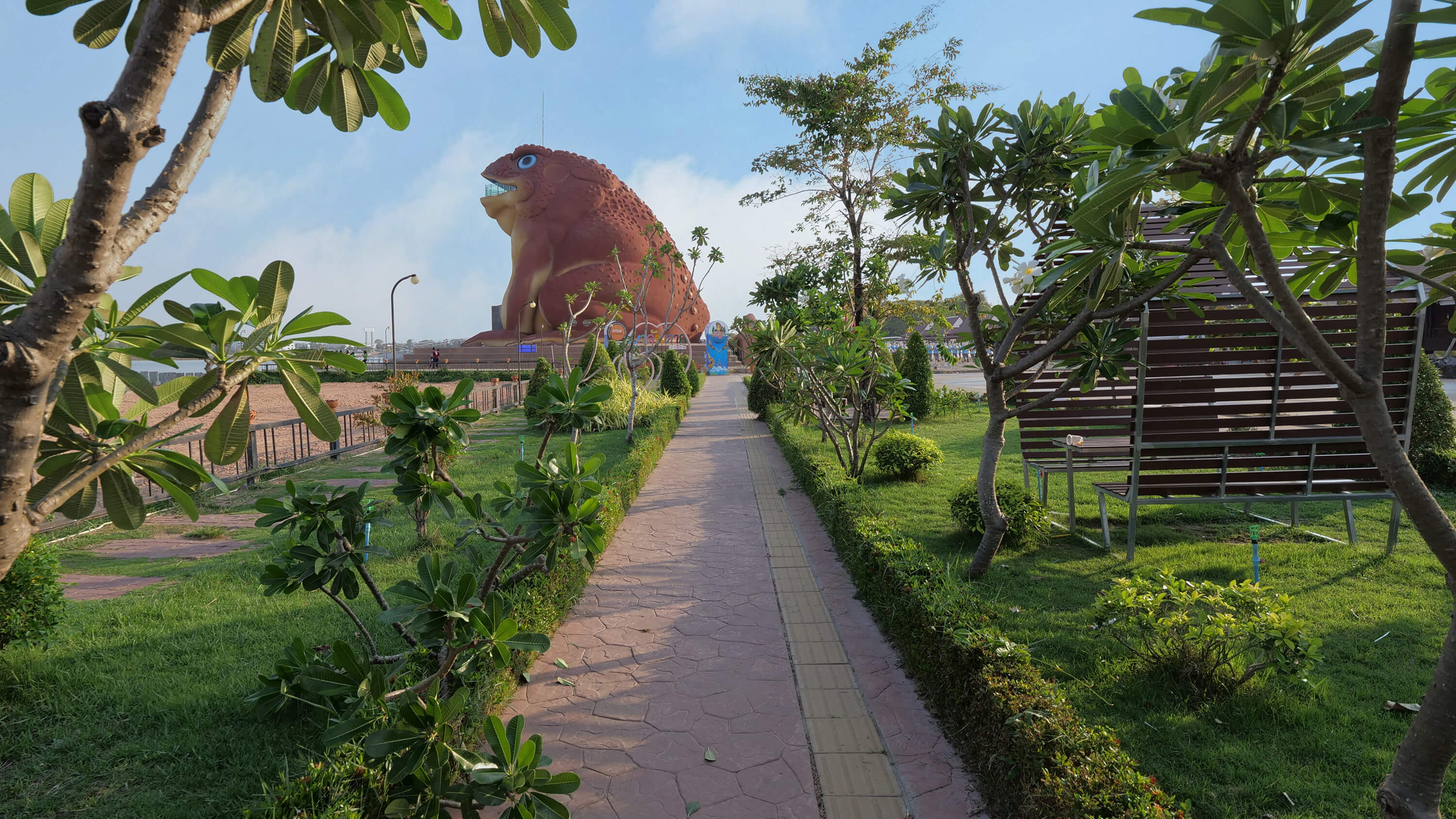 Driving through Yasothon town center, you may be a bit surprised to notice a 19-meter high toad looking out over a lake. You will then be excited to learn that you can actually walk inside the toad and take in the view from an opening in its mouth.
Phraya Khan Khak museum (พิพิธภัณฑ์พญาคันคาก) is in Yasothon Public Park (พิพิธภัณฑ์พญาคันคาก) and unsurprisingly, it is the first museum in the world that is shaped like a toad.
How much does it cost to enter?
The best thing about this attraction is that it is all completely free! We originally parked around the corner next to somebody's stall and they tried to charge us. Head to the small carpark in front of the Naga serpent and it is free to park.
Entrance fee: free.
Why is there a giant toad in Yasothon?
The museum was built in 2015 to act as a learning center for children. They can learn about the different species of toads and why they are important to biodiversity and how they contribute to the food chain.
It also teaches the story of Phraya Khan Khak, the myth of the Toad Prince, who fought against Phraya Thaen (the Rain God or Sky God) and ended a drought during the rice-growing season.
The folklore of Phraya Khan Khak
There is an old story that tells of a Prince who was born with skin resembling a frog, who was named Thao Khan Khak (ท้าวคันคาก). As he grew older, he made a wish to the King of Heaven, Phra Indra, who turned him into a handsome Prince, gave him a castle and a beautiful wife. His father, Phraya Ekarat then made him King of the throne.
Everybody celebrated his new fortune and gave him offerings, which made Phraya Thaen ( the Rain God or Sky God) jealous and angry that they were no longer paying him as much tribute. He ordered a drought onto the Townspeople, which meant their rice crops could not grow.
Phraya Khan Khak thought against Phraya Thaen and eventually won the battle. Phraya Thaen agreed to let it rain as usual and it was suggested that the Townspeople fire rockets into the sky as a reminder. This is how the Bun Bang Fai (rocket festival) began.
What is in the museum and the public park?
Inside the belly of the toad, you can learn all about the different species of amphibians, including their life cycle, global distributions, benefits to the ecosystem and the differences between frogs and toads.
You can then take an elevator to the toad's mouth, where you can get a nice view of the Lam Thuan Reservoir.
As well as this museum, you will also notice a big naga serpent to the right. This is called the Phaya Naga Museum (พิพิธภัณฑ์พญานาค). Apparently, you can walk in here to see some cool 3D artwork, but it was closed when we were there.
Behind the museum, there is a group of model dancers who are acting out a parade at the Bun Bang Fair rocket festival. Here, you have a good chance for a funny selfie.
There is also a row of food and drink stalls along the road for a nice refreshment.
Head over to the other side of the main road, where there is another small park area with a lake that you can run or walk around.
How to get to the toad museum
Phraya Khan Khan museum is in the grounds of Phaya Thaen Public Park (สวนสาธารณะพญาแถน
), in the town center. Drive along Route 23 towards Lam Thaun Reservoir and it will be difficult to miss.
Here is the GPS location.
Photo gallery