Wat Chalermprakiat – mountaintop pagodas in Lampang Province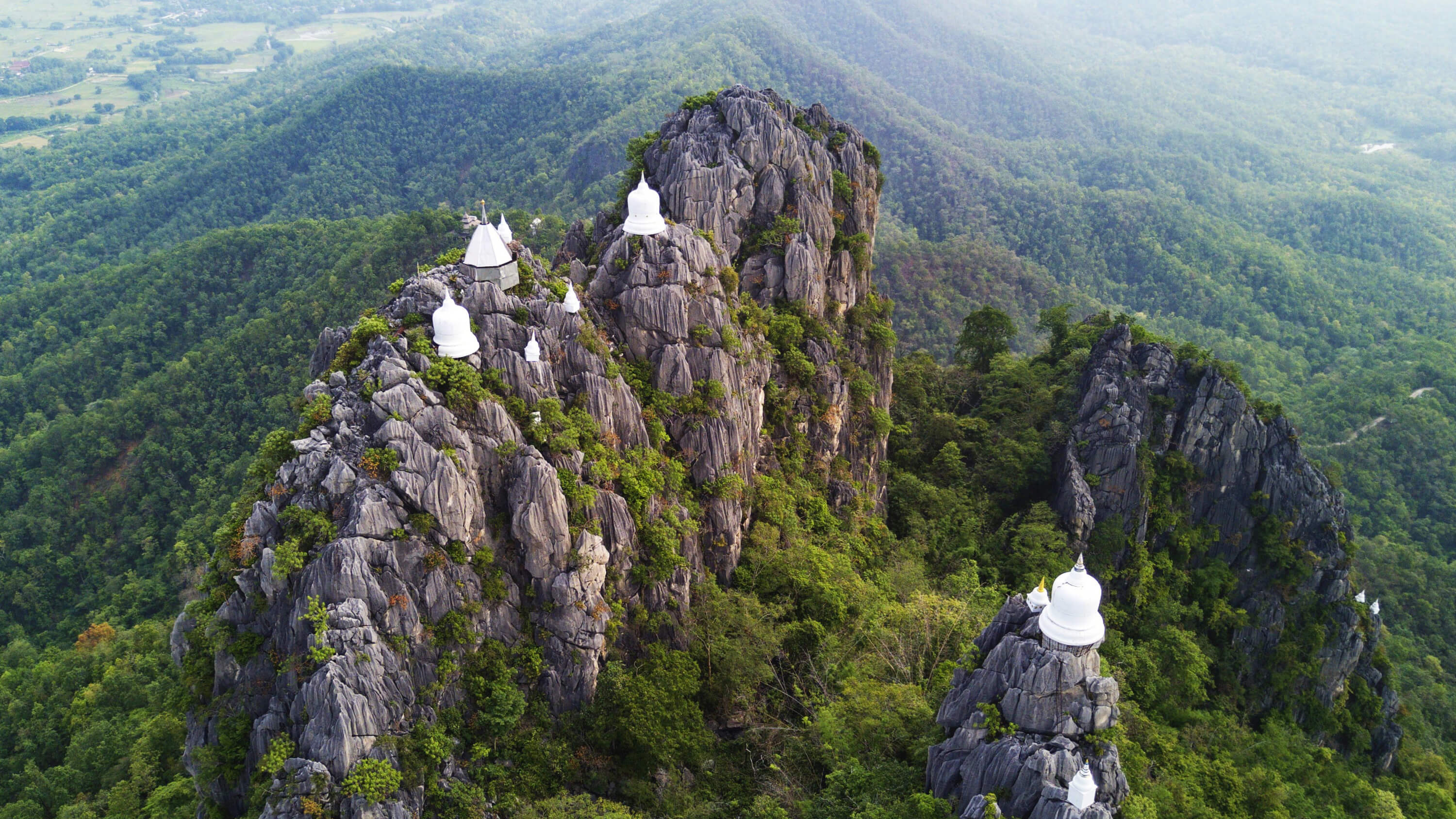 Temples for people who don't normally like visiting temples.
There's a temple in Northern Thailand with pagodas perched atop the jagged peaks of a limestone mountain, rising up from a lush green forest. Clouds of mist roll in enveloping the place in a dreamlike state, then are swept away to reveal stunning views of the plains below. The temple is Wat Chalermprakiat (วัดเฉลิมพระเกียรติฯ) in Lampang Province, and it is one of the most unique temples in Thailand. The stairways and trails snaking their way up through the forest give this place a magical feel, like something out of a movie.
Watch our short video below to get a feel for the place, then read on for the history of Wat Chalermprakiat, how to get there, the best time to go, and everything else you need to plan a visit to this very cool temple.
History
Wat Chalermprakiat may look like some ancient temple but it was actually built in 2004 to commemorate 200 years since the reign of King Rama IV of Thailand. You can think of the temple as being divided into three distinct areas: At the top is Jedee Loy Fah (เจดีย์ลอยฟ้า) which translates to pagodas floating in the sky. This is obviously the top of the mountain and this area has a number of small temple complexes and statues of the Buddha. Below this is the temple complex where the road ends and you have to walk to the top from. The third temple complex is at the bottom where you have to park your car to catch the shuttle up the steep and winding road.
Update: In the past this temple had one price for Thais and foreigners. Unfortunately, they have now decided to start charging foreigners a significantly higher price. See the section on the admission fee below for details.
Getting there
Wat Chalermprakiat is in Chae Hom District (แจ้ห่ม), Lampang Province. Unfortunately, there's no good public transportation option to take you there. You will need to get there with your own transportation, either a car or motorbike from Chiang Mai, or by hiring a private car and driver. You can also book a tour either online or in Chiang Mai. The temple is a two and a half-hour drive from Chiang Mai, and one hour from Lampang City.
Once you arrive, you park at the temple at the bottom (this location) and pay the entrance fee and for your ticket on the shuttle. The road up is steep and narrow and they sensibly only allow their drivers to use it. The shuttle is really just the common songthaew pickup truck with two rows of benches in the back. After a slightly nerve-wracking ride, you will be dropped off at another temple most of the way up the mountain. From this point, you still have a 20-40 minute walk up to the pagodas at the top. It's almost entirely uphill so it's fairly strenuous, but there are lots of places to sit and rest on the way up. There is also some rain cover along the path. The path is well maintained and anywhere it gets steep there are steel stairways with handrailings. You could do this in flip-flops if you were used to it, but you would be better off in decent shoes.
Once you're at the top, just look around and enjoy. There are plenty of places to explore and different views and vantage points you can get. Take your time and move through slowly as there are lots of small but beautiful details. Remember that many of the people visiting are there for religious reasons, and to honor a revered former King of Thailand, so be respectful.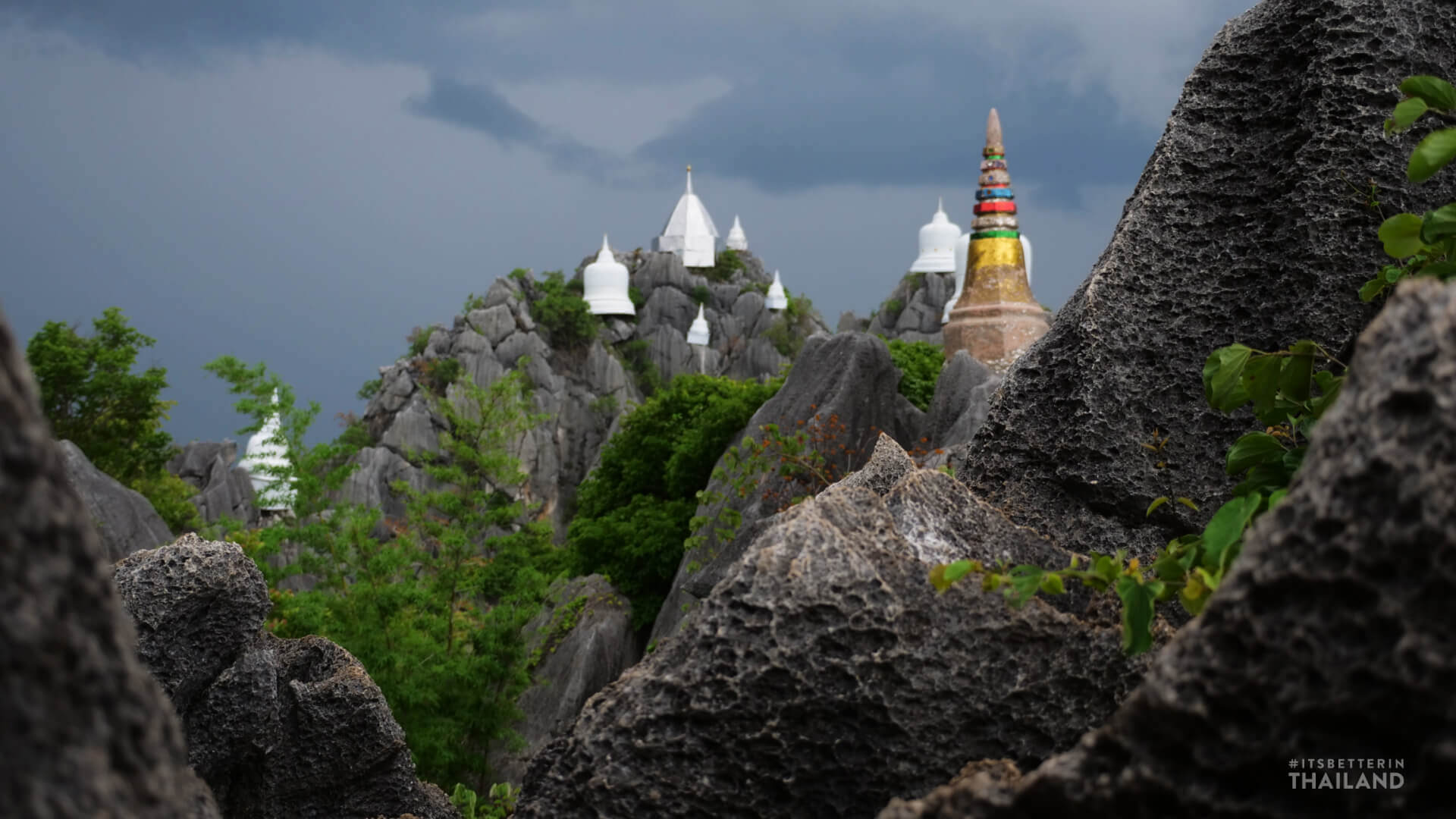 Wat Chalermprakiat tour
If you aren't comfortable driving yourself in Thailand, or you just prefer to book something ahead and have a knowledgable guide along the way, we can recommend one tour that can be booked online. This tour from the company Take Me Tour leaves from Chiang Mai and visits the temple, plus a hot spring and a waterfall, and a stop for a local lunch. Take Me Tour is a Thai company and we really like their business model where independent guides create their own trips, and the company runs the central booking engine. We have found their trips to be much more local than the ones you can book through places like Trip Advisor, and they take you to more interesting places. The food is usually much better too. This tour is not the cheapest, currently costing 9,116 Baht for two people when you apply the discount code they offer. This does include all costs and entrance fees which is nice.
If you want to book a cheaper tour, you will be able to do so once you are in Chiang Mai. Your hotel might be able to help you arrange it, but they may end up trying to charge you just as much or more. You could also try shopping around the tour agents. The nice thing about the tour mentioned above is that the tour guide is accountable to the company and also reliant on maintaining a great review score.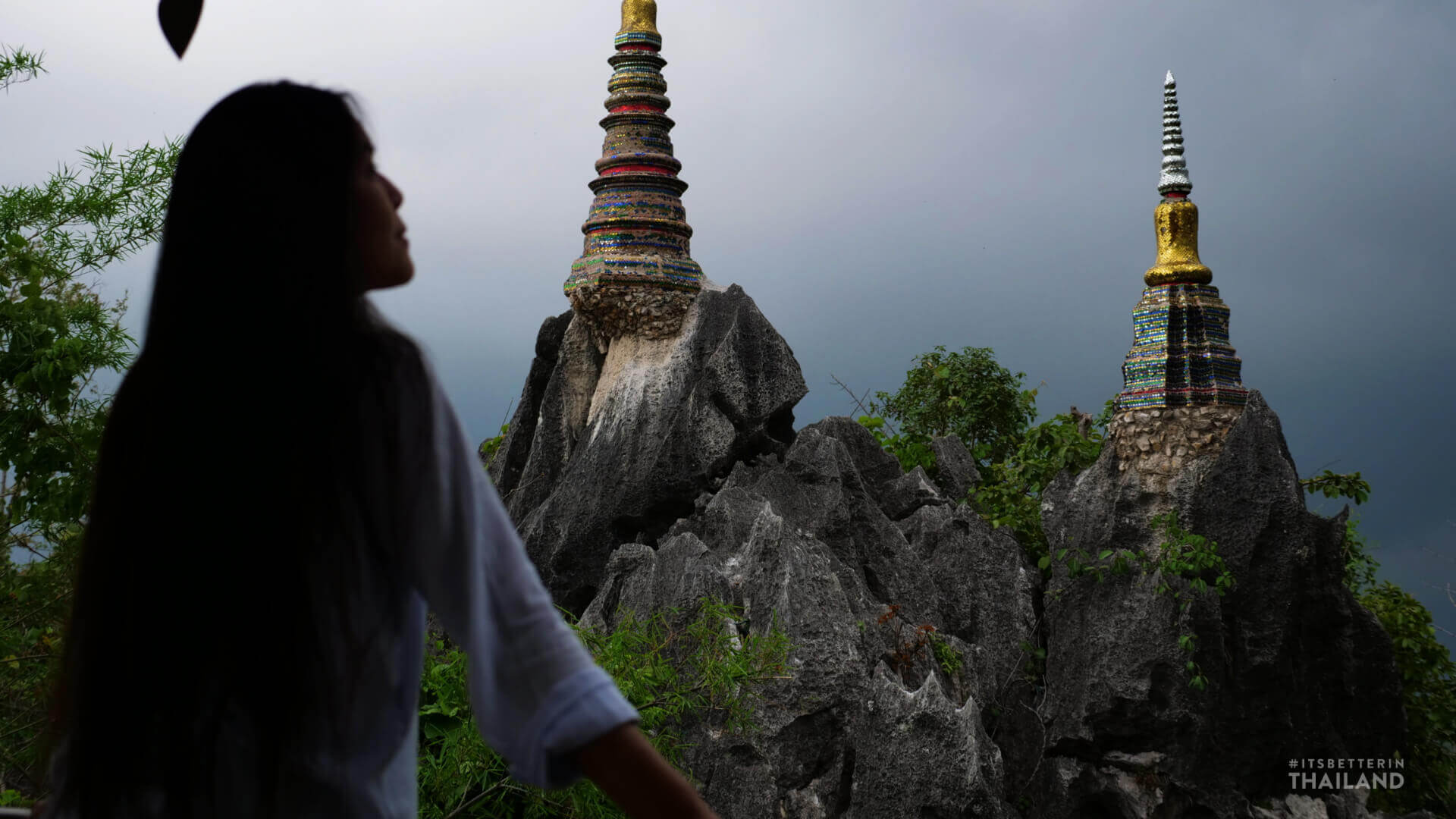 Entrance fee
Previously it cost 100 Baht to visit Wat Chalermprakiat, including the ride up and down. They've now split that fee into an 80 Baht round trip ticket for the shuttle, and a dual pricing entrance fee. The entry fee is 20 Baht for Thais (so still 100 total), and 200 Baht for foreigners, so 280 total. While this might leave a bad taste in your mouth (it does for us!), we still believe this place is worth a visit. We understand that it's the principle of the matter, but it's also only about $9 USD, and it really is a cool place.
Best time to visit
We recommend the rainy season from June-November as the best time to go. For one thing, the rains mean even fewer people than usual. The water also makes the forests that grow out of the jagged limestone really lush and beautiful. The clouds floating by and occasionally enveloping the pagodas in fog create an incredible atmosphere.
Tip: Since Wat Chalermprakiat is popular with Thais, you should not visit during weekends and public holidays if you want to avoid crowds.
Besides rainy season, the cold season from November through January is also a great time to visit. The mountain may still have some nice clouds, and should still be pretty green. You'll want to bring a warm jacket as it will be cold.
During the hot and dry season from February to May, the North of Thailand has its notorious burning season. The trees will be brown and dry, and the views probably won't be very good due to the haze. At certain times the air even gets to unhealthy levels for breathing. The exact start and end dates of the burning season vary year to year depending on the rains. If you are already in the North of Thailand at this time, it's worth a visit, but you're much better off going at a different time of year.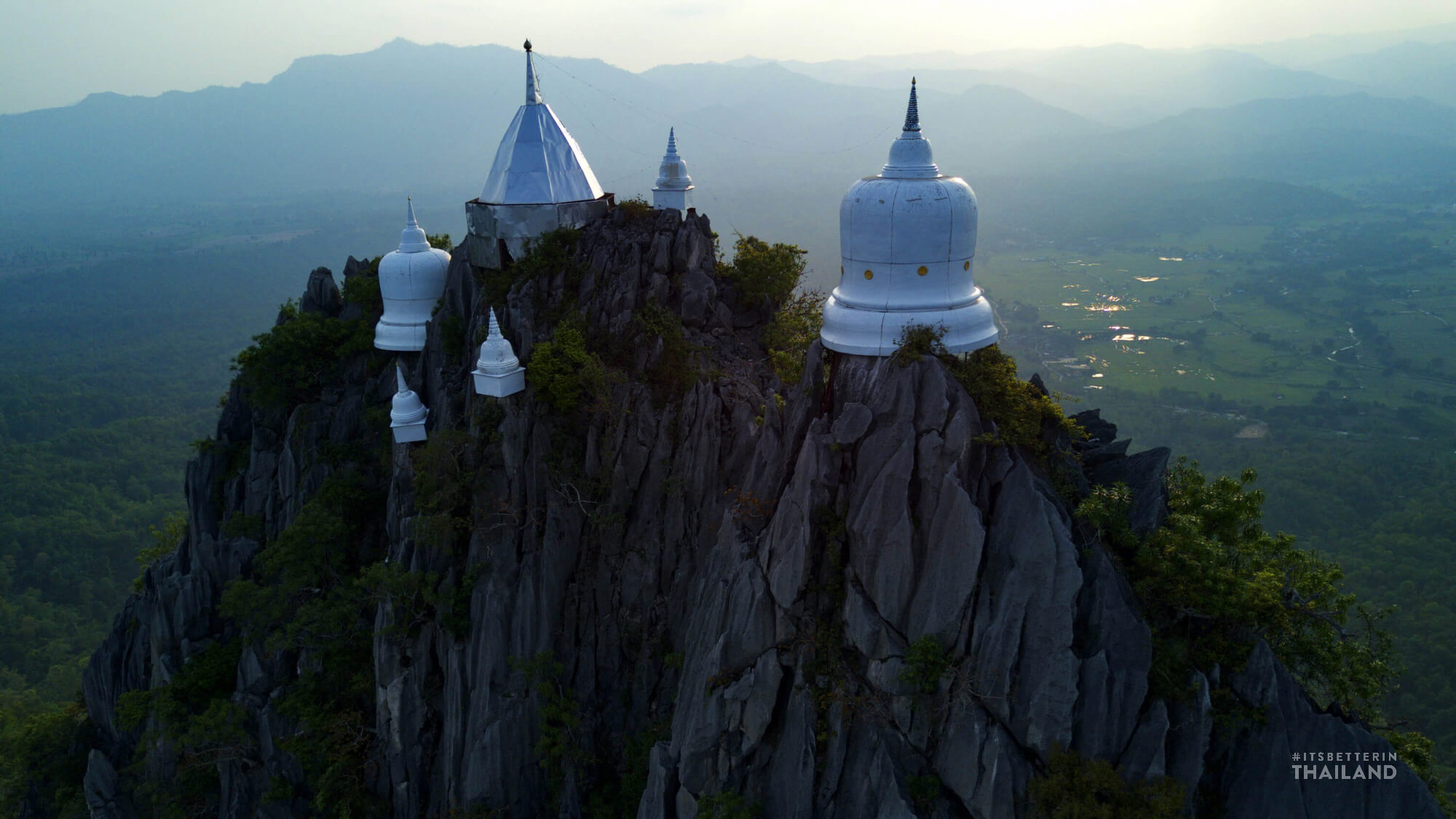 Where to stay
If you want to stay nearby, you should check out Pimpisa Garden Hotel for more comfortable rooms in a pleasant garden setting, or Kaewma Farmstay for more basic rooms set in beautiful rice fields under the mountains.
You can also stay in Lampang City which is located about an hour's drive south of Wat Chalermprakiat. Lampang probably won't blow you away, but it's a nice town and a great example of Lanna culture without the crowds of Chiang Mai. You can see Lampang Hotels here on Booking.com.
What to bring
As this is a temple it's important to dress modestly. Men and women should have their legs covered at least to their knees. Tank tops/vests/singlets aren't appropriate, and women cannot show any cleavage. There is nowhere to rent sarongs or coverings at the temple so you should go prepared. You should also bring suncream, a jacket during the cold season, and rain protection during monsoon season. If you'll be up there early morning or late in the afternoon, taking some mosquito spray can't hurt. And of course, you should take your camera.
A note about drones
You probably noticed from our photos and videos that we were flying a drone there. The first time we visited was many years before Thailand passed its strict law on drone registration. At that time drones were very uncommon and when you asked people for permission to fly, they almost always said yes and usually stuck around to watch out of curiosity. When we visited here a monk told us it was fine to fly, but sadly it is forbidden now.
Note: Wat Chalermprakiat is sometimes spelled as Wat Chaloem Phra Kiat, and is also sometimes called Wat Phrabat Suthavas (วัดพระพุทธบาทสุทธาวาส), and Wat Phrabat Pu Pha Daeng (วัดพระบาทปู่ผาแดง)
---
Disclosure: This page has some affiliate links. If you click one of these links and make a purchase or booking, we will earn a small commission. This is 100% free for you and it helps us to continue creating great Thailand content that we can offer to you for free.