Airplane Graveyard in Bangkok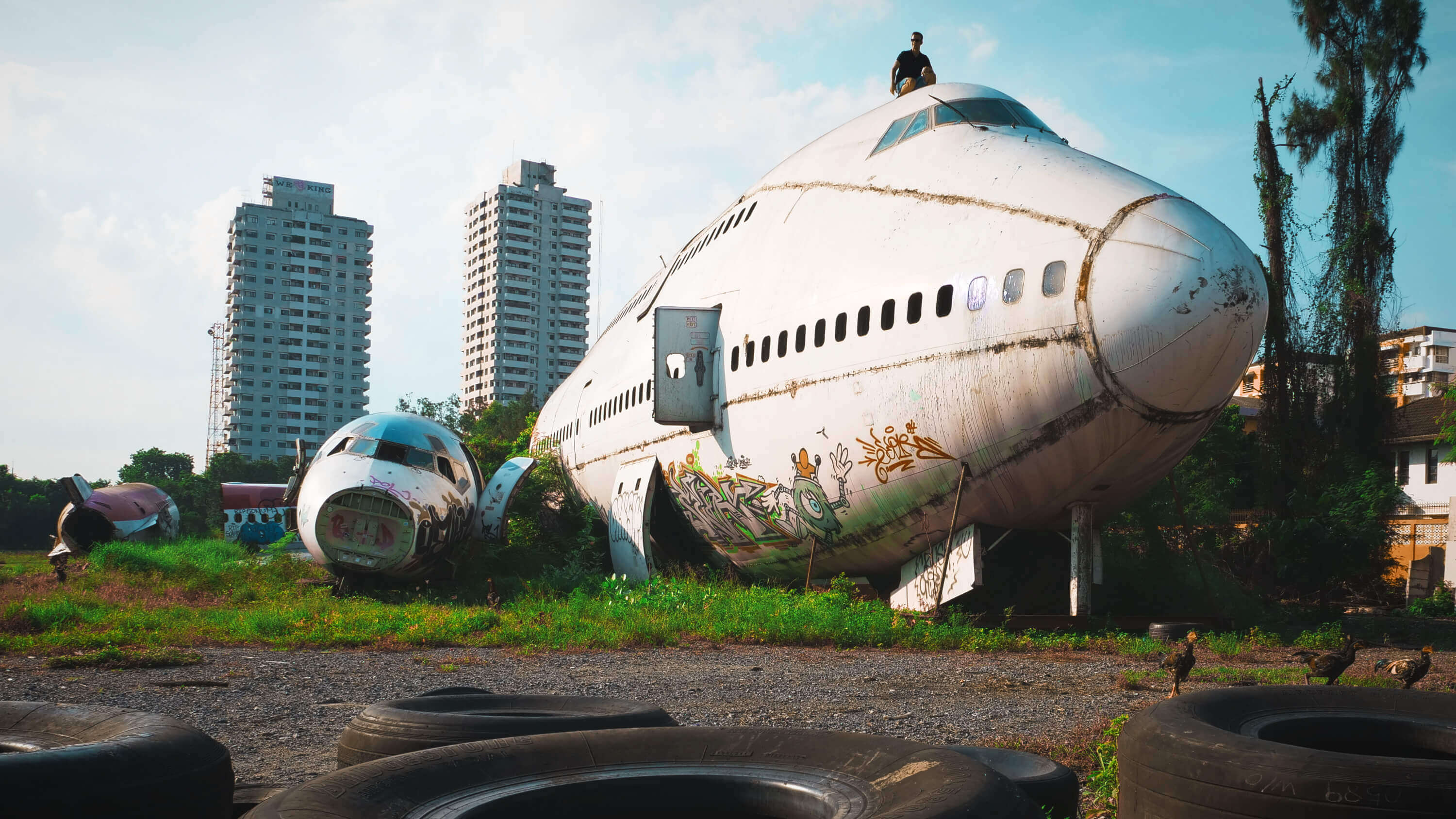 Urban explorers and photographers shouldn't miss the Airplane Graveyard in Bangkok!
Last updated: 13th November 2019
Urban exploring in Bangkok hasn't been the same since they stopped letting people in the Ghost Tower, but that doesn't mean there aren't still some amazing places to see.
One of the best is the "Airplane Graveyard" in Bangkok. While it's far from Central Bangkok, it's still smack dab in the middle of the city. It's a crazy place to have the hulking carcasses of airplanes wasting away, but that's Bangkok for you.
Read on to learn how to get there and get in, what to bring, where to get the best photos, and more insider tips. And be sure to check out our photos at the bottom of the post for extra motivation to visit the Bangkok airplane graveyard.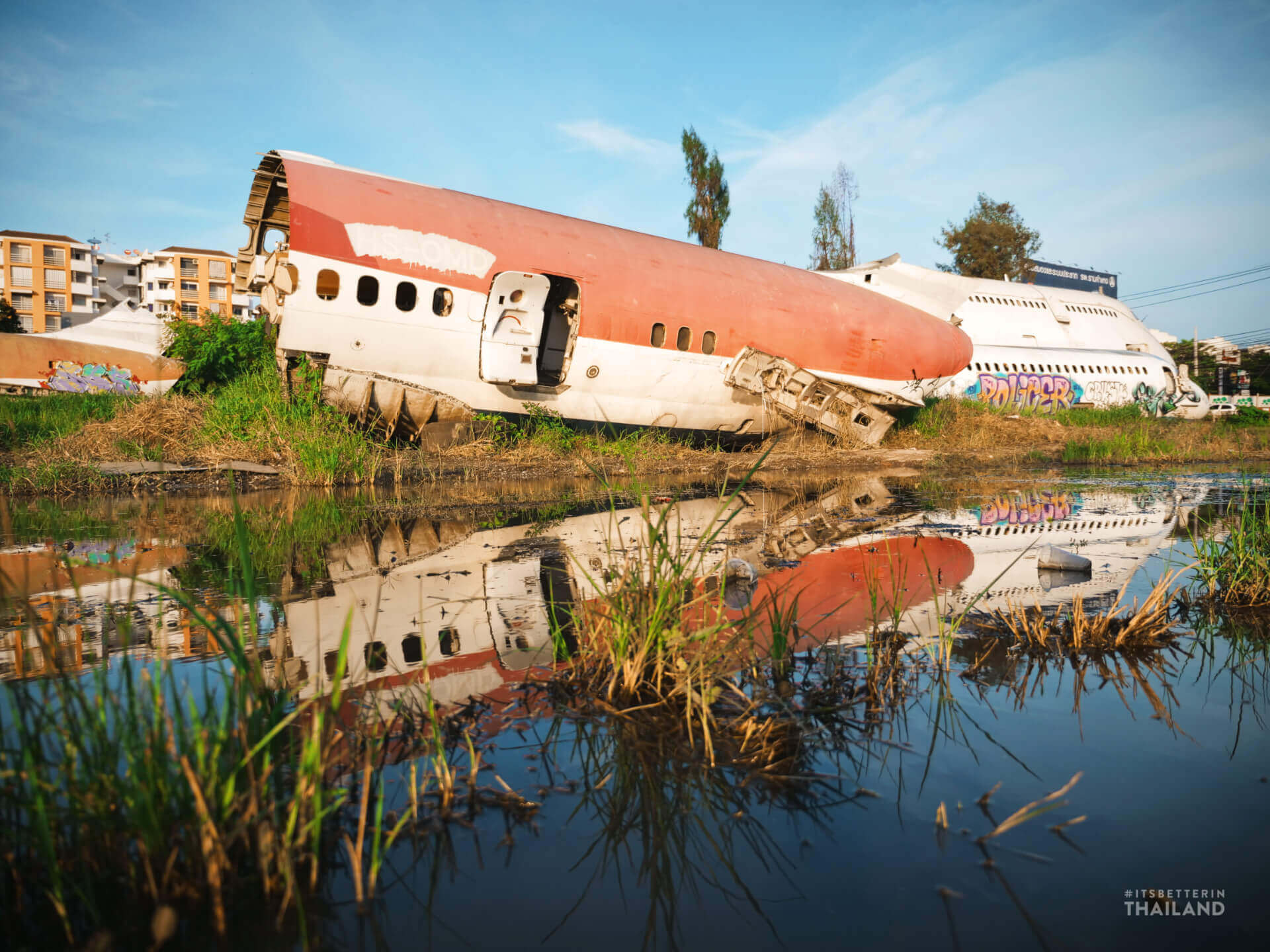 About the airplane graveyard
It is really just a scrapyard. The land owner buys old planes to strip and sell any parts that are worth anything.
A few families have moved in to take advantage of the shelter the planes provide. It seems that in the past they lived in the whole planes, but now occupy a few sections of fuselage that have been cut in half to serve as buildings. These are on the left as you enter and you should respect their privacy and not try to go in.
Unfortunately the graveyard might not be around much longer. The huge construction project you see right in front of it is for the new MRT Orange Line. Once there is a subway line passing by, the land will be worth too much to remain a scrapyard. You should go before the inevitable happens.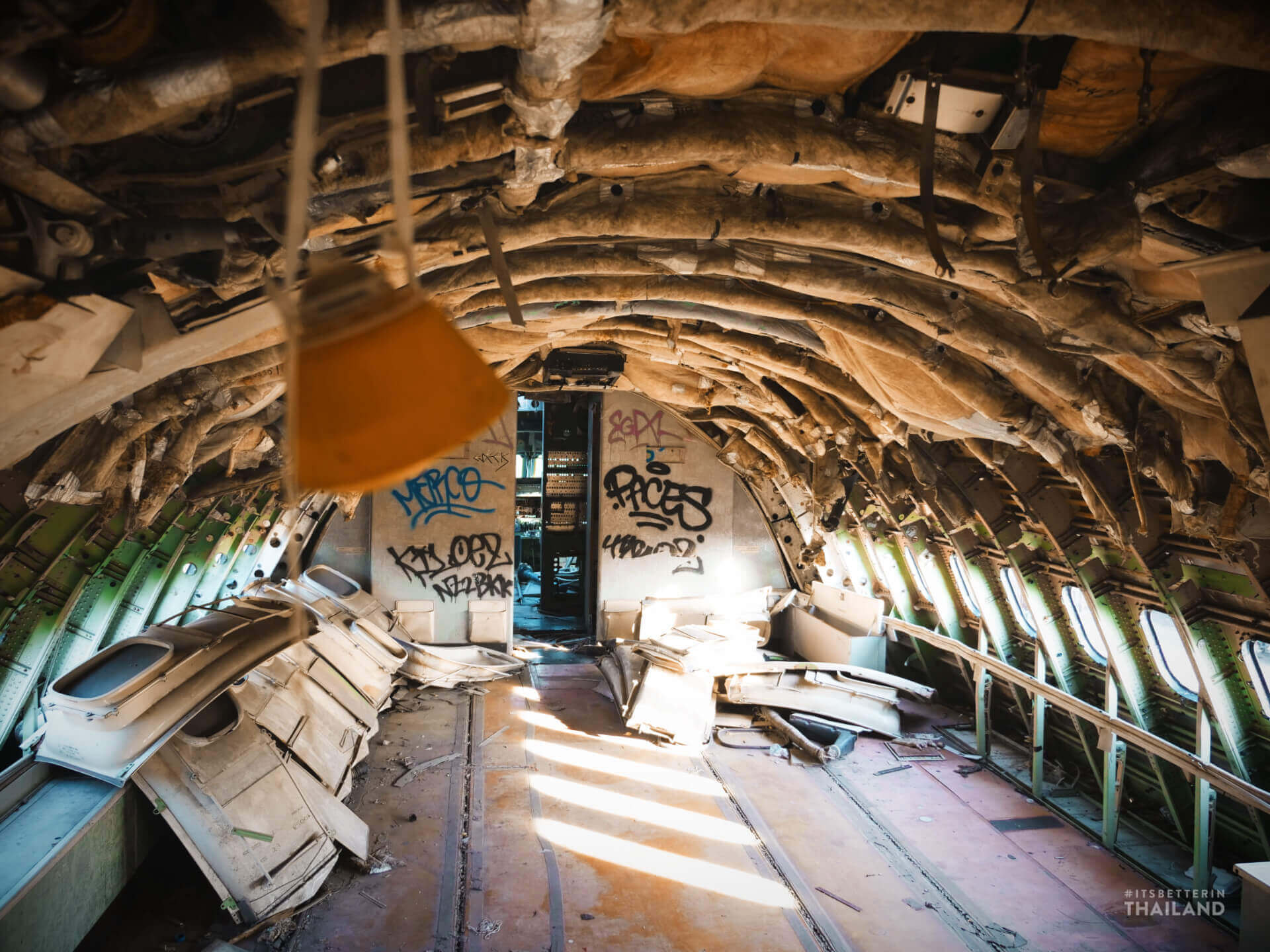 How to get there
It is located along Ramkhamhaeng Road (ถนนรามคำแหง) between soi 103 and 105. You could get there by taxi or Grab Taxi, but traffic is almost always bad along that road, and it's currently under construction making it worse. If you are staying along the Airport Link Train Line, you could take a train to Hua Mak Station. A taxi from there would be much shorter than from Central Bangkok.
Take the canal boat
The fastest way to get there is on the Khlong Saen Saep Canal boat. The canal cuts through much of Bangkok and has piers near the BTS, MRT, and Airport Link. The final pier on the western side is a 10 minute walk from Khao San Road. The airplane graveyard is located near the last pier (Wat Sriboonruang) at the eastern end of the route. Get the boat going in that direction from any pier, and hang tight until the final stop at Wat Sriboonruang pier. If you come from Khao San or anywhere west of Pratunam, you will need to change boats so hang on to your ticket. The maximum fare is 19 baht.
Getting on and off the boats can be a little bit tricky, but any able bodied person should be fine. For more on the canal boats, see our post on transportation in Bangkok. There's a walkway along the canal that runs behind the airplane graveyard and you could probably get in that way. We don't recommend trying this as it will look like you're trying to sneak in without paying. They will see you, so it's better to go around and come in the front way. Walk down soi 107 as in the map below.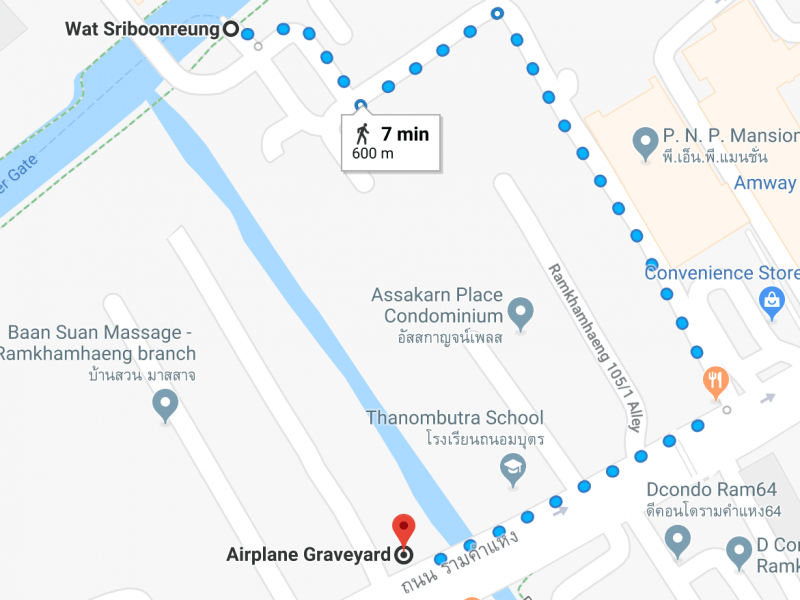 Take a taxi
Using the Grab Taxi app is probably the most convenient way to get here but be aware that traffic in Bangkok is usually very bad. Traffic on weekends and holidays may be lighter – you can use Directions on Google Maps to check current traffic as well as predicted traffic based on the day and time you want to go.
You can also use a normal meter taxi and just show them the address:
รามคำแหง ซอย103 แขวงหัวหมาก เขตบางกะปิ กรุงเทพฯ
Ramkhamhaeng Alley 103, Khwaeng Hua Mak, Khet Bang Kapi, Bangkok
Entrance fee
When you arrive at the front gate, give a little shout if you don't see anyone. Tell them you want to see the planes and take some photos. They'll ask you to pay the entrance fee. Reports on what people pay vary wildly. We've heard of as much as 800 Baht per person, and as low as 100 for Thai people. 300 seems to be very common.
We were a Thai and a Thai-speaking foreigner and they asked for 200 each. When asked if there was a discount for Thais and they said no. If you have a group it's possible you can bargain a bit, but they hold the leverage. If they decide that you can't come in, there isn't really much you can do about it. Also note that there have been reports of some days where they won't let anyone into the plane graveyard.
Opening times
The opening times are listed as 9am – 6:30pm 7 days per week, but don't expect this to always be accurate.
Getting the best photos
The airplane graveyard is such a cool place it would be hard to take a bad photo. With that said, here are a few great locations and angles to get that epic IG photo. See our gallery at the end of the post for examples.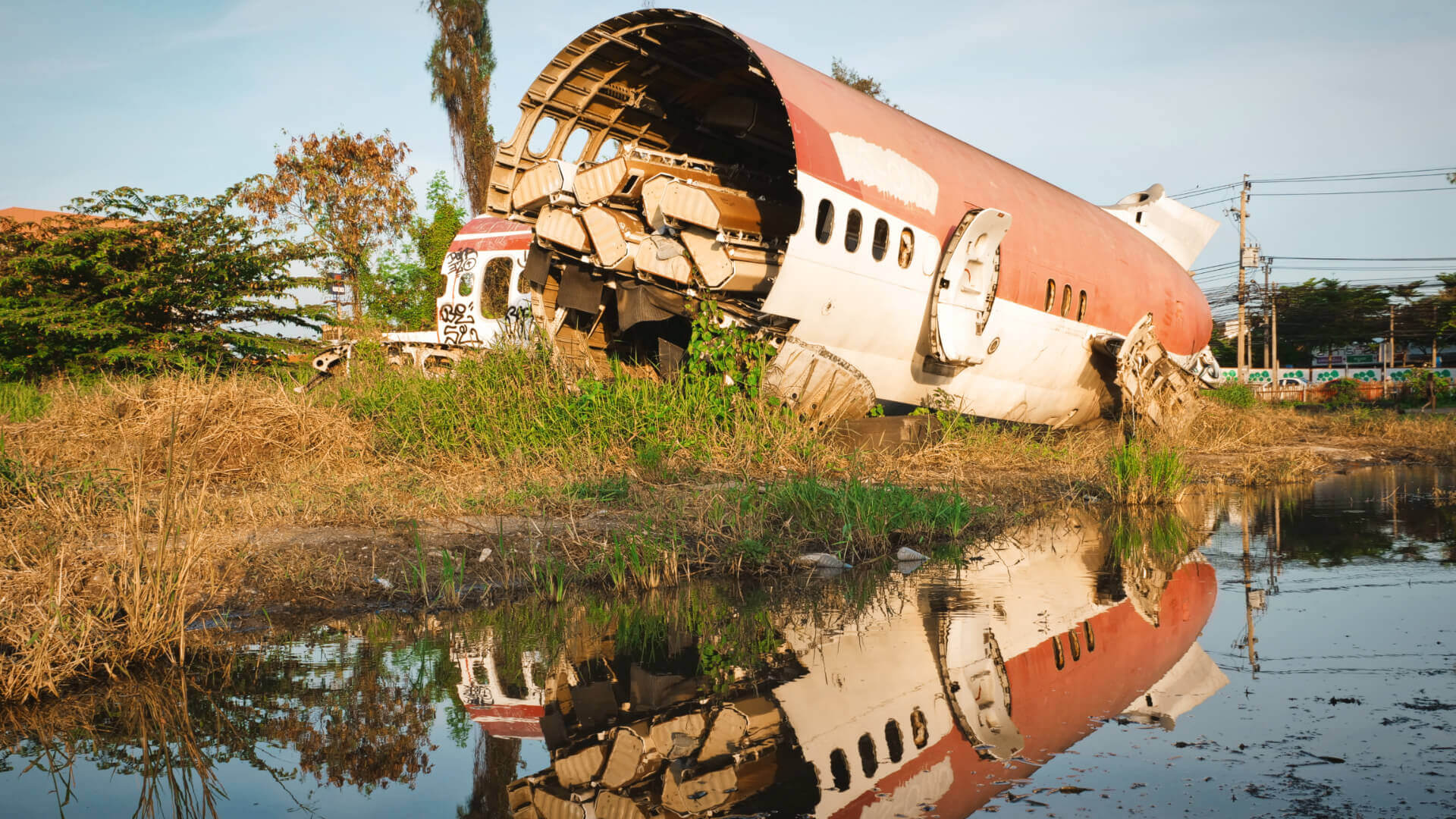 On top of the 747: Once you make it up to the top level of the biggest plane, you can enter the cockpit. In the ceiling there is a small hatch that leads out to the roof. The selfie stick 360 view up here is pretty epic. If you have a friend on the ground, they can also get a great shot of you up there. Be really careful though. The 747 is huge, but there's a very narrow area to actually sit, and there are sheer drops on either side.
Over the canal: Outside of the lot there is a small canal that runs into the main canal. From the road you can access a raised walkway back there. Shooting from here you can show just how smack in the middle of Bangkok the planes are. It looks like this way is also a shortcut back to the pier, but unless the temple has its gate unlocked, you can't get though.
Get the reflection: If there's been rain recently, walk back a ways and cross to the other side of the lot. You'll get a great reflection of the planes in a large puddle.
Get inside the planes: A lot of the coolest shots are small details inside the planes. Things like toilets, oxygen masks, fading paint, rivets, and the pilot's controls can make great photos.
Pilot role play: In the smaller plane lying next to the jumbo jet, you can sit in the pilot's seat and put your head out the window. Either use a selfie stick or have a friend on the ground to get the shot of you randomly sitting in a junkyard airplane leaning out the window.

What to bring

To go in the planes you will want to have good shoes. You could probably manage in flip flops but it wouldn't be ideal. During rainy season there will probably be some mud. On a sunny day, the inside of the planes gets baking hot. Wear light clothes, and consider bringing a spare t-shirt. It's pretty dirty in the planes too. If you're careful you can stay clean, but if you plan on climbing around a lot, or getting photos sitting in the cockpit or legs dangling from the door, wear old clothes. You'll obviously want your camera and accessories as well.

The best time to go

The best light is definitely in the late afternoon. The broad, exposed sides of the planes are fully illuminated by the afternoon sun, and the low angle lets the sun shine in through the plane's windows creating great shadows. If you can't make it then, the morning would be good as well, but it's harder to shoot the lit up side at that time (unless you walk along the canal as mentioned above). At midday it would still be worth visiting, but there wouldn't be much light coming into the airplanes. Plus it would be blazing hot.

Staying safe

Urban exploration (urbex) is not safe, and that's part of the appeal for many. This is a junkyard and it is full of dangers. There are floors collapsing or missing altogether. Some panels and sections of aircraft are leaning up and could fall at any time. And there are lots of pieces of jagged metal sticking out. The high grass around the planes could have snakes so don't spend too much time there. Please be careful. All it would take would be one bad accident here and the authorities would come in and close it down. Please don't be the one to ruin it for everyone else.

Photo gallery