Tonsai and Railay Bay – A Rock climber's paradise in Thailand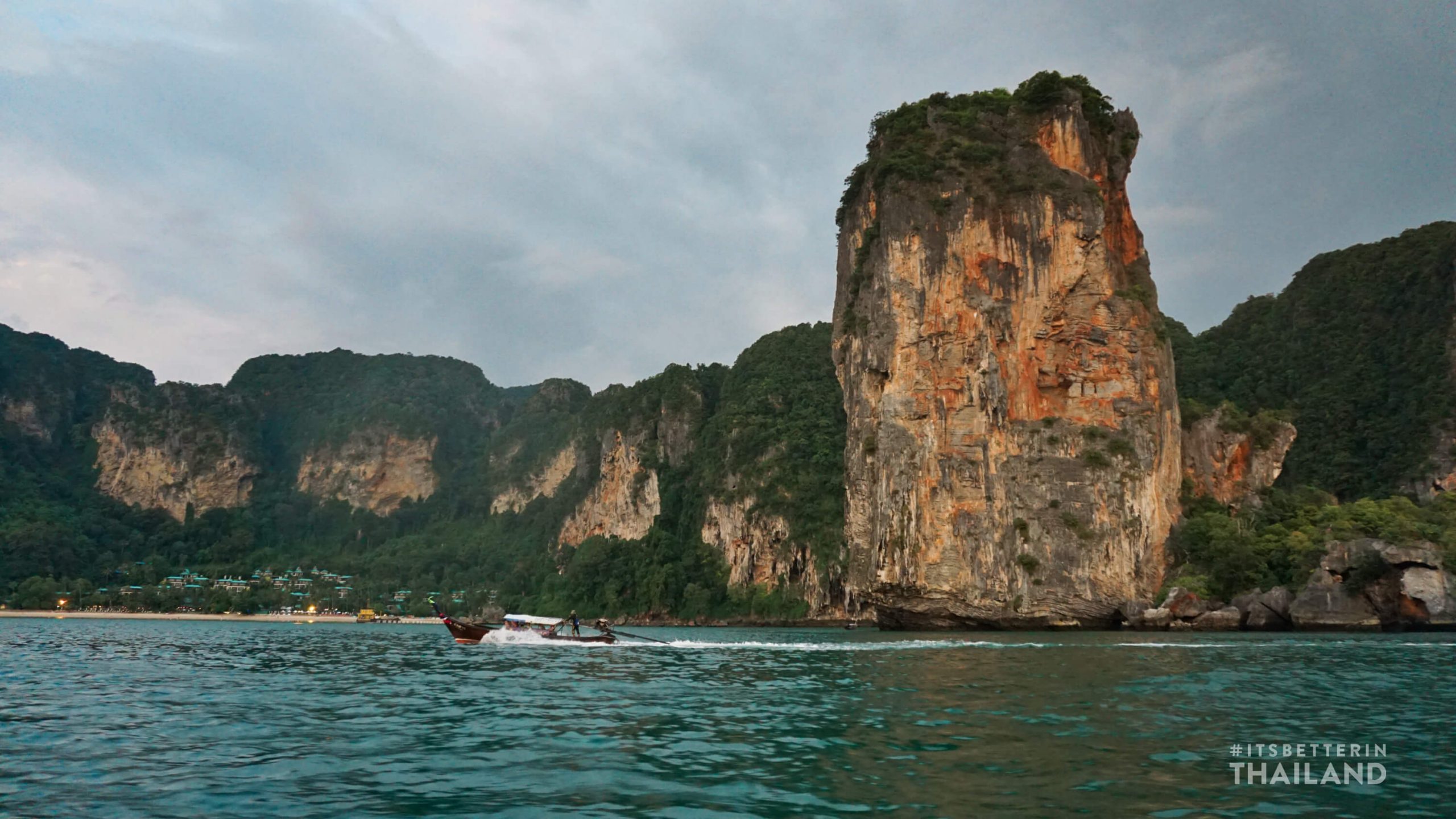 When climbers think of rock climbing in Thailand, the first place they will usually think of is Tonsai Bay in Krabi. It is definitely the most well-known area and for good reason too. Cheap accommodation, great food, right next to the beach and just a stone throw away from incredible sport climbing and deepwater soloing on amazing limestone rock. There is a huge range from beginners to advanced levels with different climbing schools offering tuition.

The only way in and out is via a longtail boat from Ao Nang (อ่าวนาง).
What kind of climbing is there?
Most climbing here is single-pitch sport climbing, but there are also some multi-pitch routes to try as well – the most popular being 'Humanality' on Tonsai beach. There is a popular roof, right on the beach which makes for some great viewing around sunset.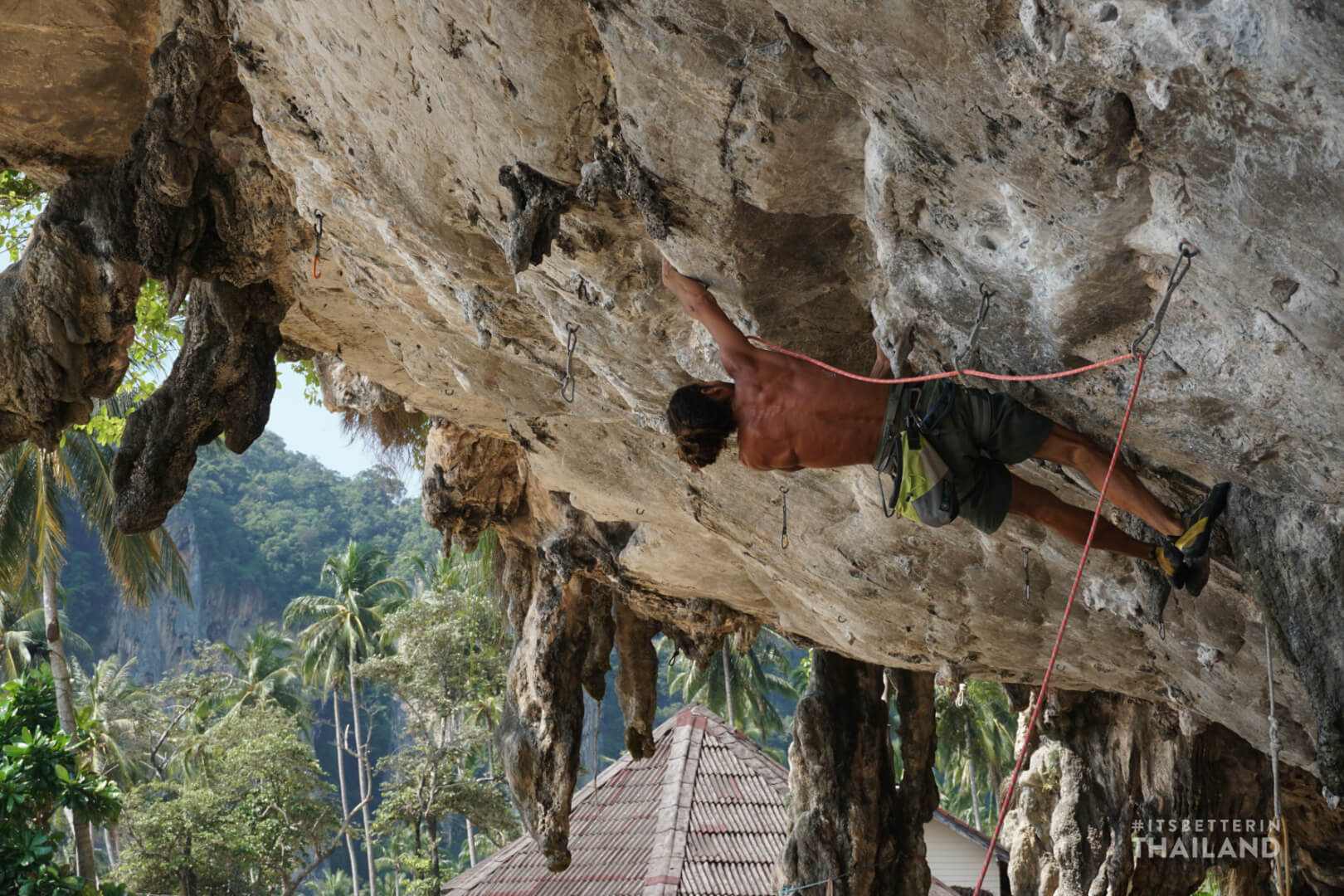 You can also try your hand at deep-water soloing. It is recommended to hire a guide as you may not know where the rocks are underwater when the tides change.
How difficult are the climbing routes?
There is a huge range here, starting from 4's and 5's, all the way up to 8c and above. For that reason, you are going to see climbers from all different abilities and you are very likely to find a partner to match your climbing style.
Is it suitable for beginners?
Yes! Tonsai Bay is perfect for beginners. There are lower grades for less experienced climbers and there are climbing schools that can guide and instruct you if needed.
How to get to Tonsai Bay
The only way to get to Railay or Tonsai is on a longboat from Ao Nang (อ่าวนาง). Head to either Ao Nang Beach (on the left-hand side looking out to sea) or Hat Noppharat Thara beach and talk to the boatmen.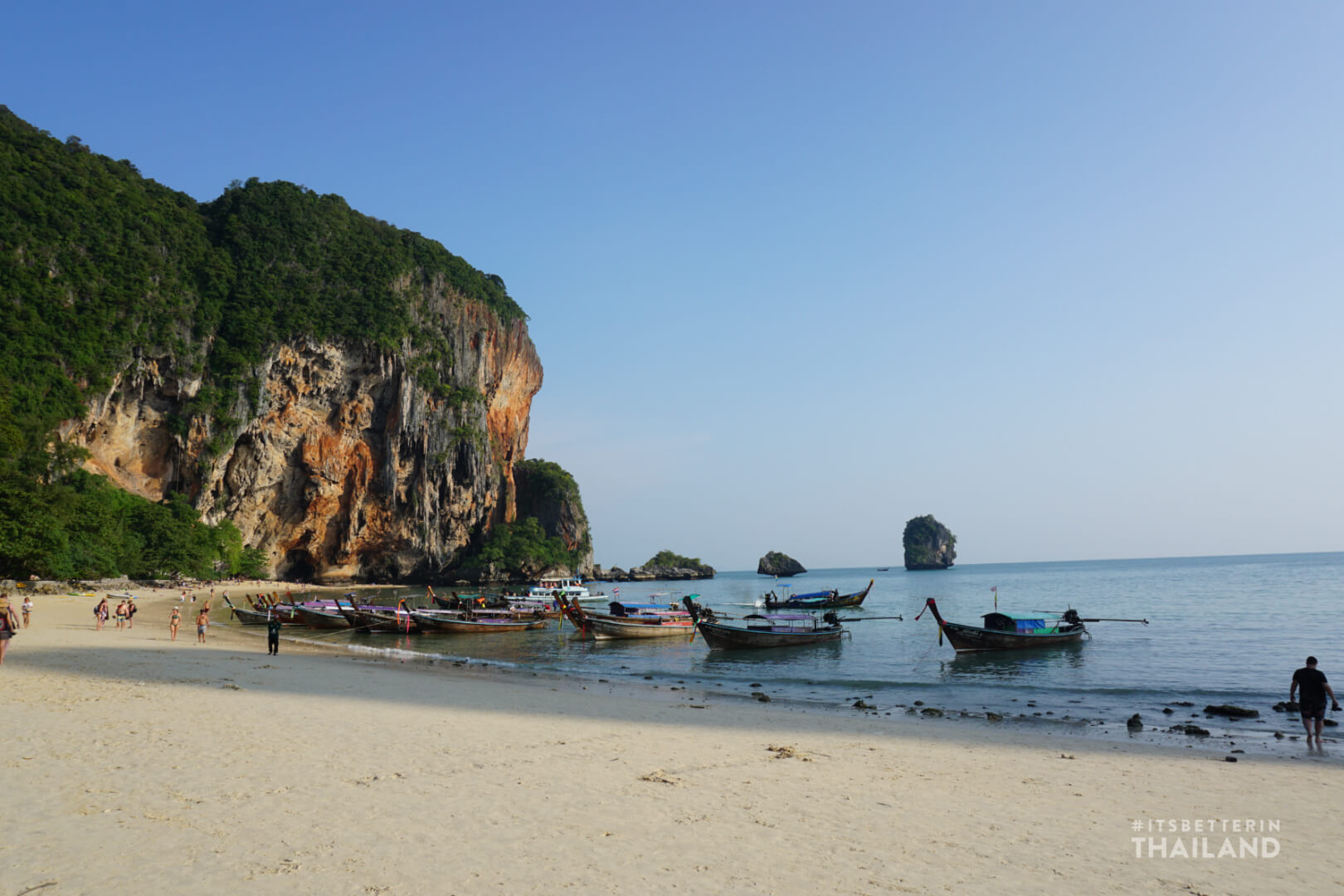 You will have to wait for the boat to fill up with 8 people and then it will be 100 baht per person one-way. If you don't want to wait for other people, you can pay the cost of the remaining spaces, but you don't usually have to wait a long time for other tourists heading to Railay.
Getting to Ao Nang
From the airport
Taxi – The quickest and most convenient option. It will take around 40 minutes and cost about 600 baht. This option is recommended if you are in a group of 4. Consider heading out of the airport to find a cheaper taxi.
Minibus – If your group size is up to 8 people, a minibus can take you for around 1000 baht.
Bus – There is a shuttle bus that runs from the airport to Ao Nang. This costs 150 baht and can take up to an hour.
Songtaew – The cheapest but longest option. It will drive through Krabi town first, dropping people off along the way. It will cost between 50 and 90 baht and can take up to 2 hours to get to Ao nang.
From the bus station
Taxi or tuk-tuk – You can expect to pay around 400 baht with a journey time of around 30 minutes.
Songtaew – These vehicles travel frequently from Krabi to Ao Nang. it should cost about 50 baht and may take up to an hour.
Accommodation
The nearest town is only accessible by boat, so you are going to want to stay in either Tonsai or Railay. Luckily, there are plenty of options available to suit all types of budgets.
Cheap bungalows
If you are looking for somewhere very basic to rest your head, there are a few different resorts along the main strip which have bamboo huts. These will be the go-to accommodation for climbers looking to save money. Most will be just a bed with a separate bathroom, a mosquito net and a fan – nothing fancy but everything you need.
Whenever I travel to Tonsai, I usually stay at Paasook guesthouse on the far left of the main strip. If you are not after the nightlife and party scene, this is a good choice as it is much quieter.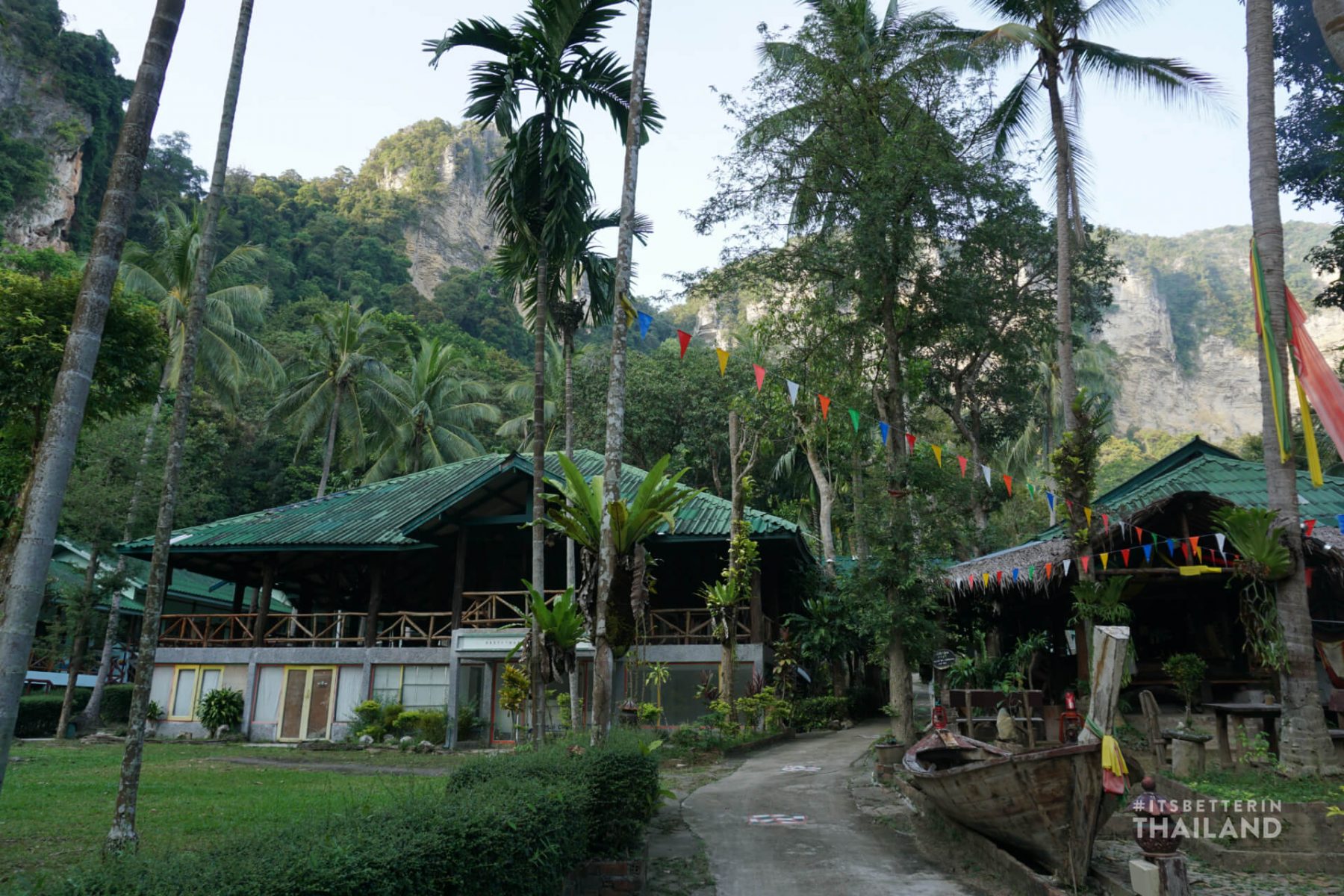 If you want to stay somewhere a bit more sociable, try out the Chill-Out Bar a bit further along the strip. They have fire shows in the evening and there are usually climbers hanging around there.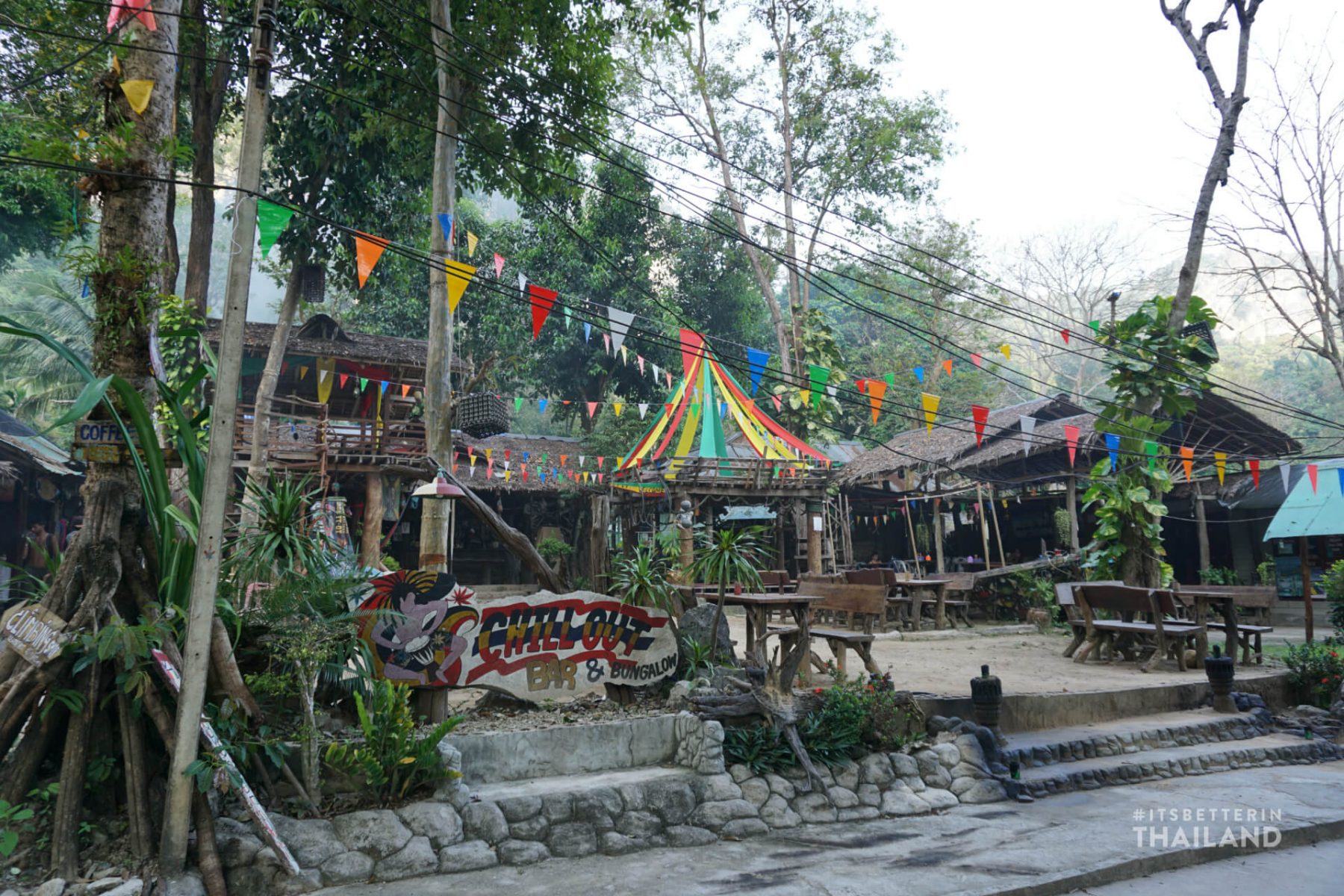 In the off-peak season (April-October), they can be as cheap as 200 baht (around $7) or up to 500/600 baht ($15-20) in the peak months.

A luxury resort
If, on the other hand, you are after something more high-end, you can choose to spend your time at Tonsai Bay resort. It is much cleaner and more comfortable but the rooms start at $50 a night.

Staying in Railay
Your other option is to stay on Railay bay. The difference between the two is that Tonsai has predominantly climbers staying whereas Railay has a lot more general tourists. Both Tonsai and Railay are within walking distance of each other.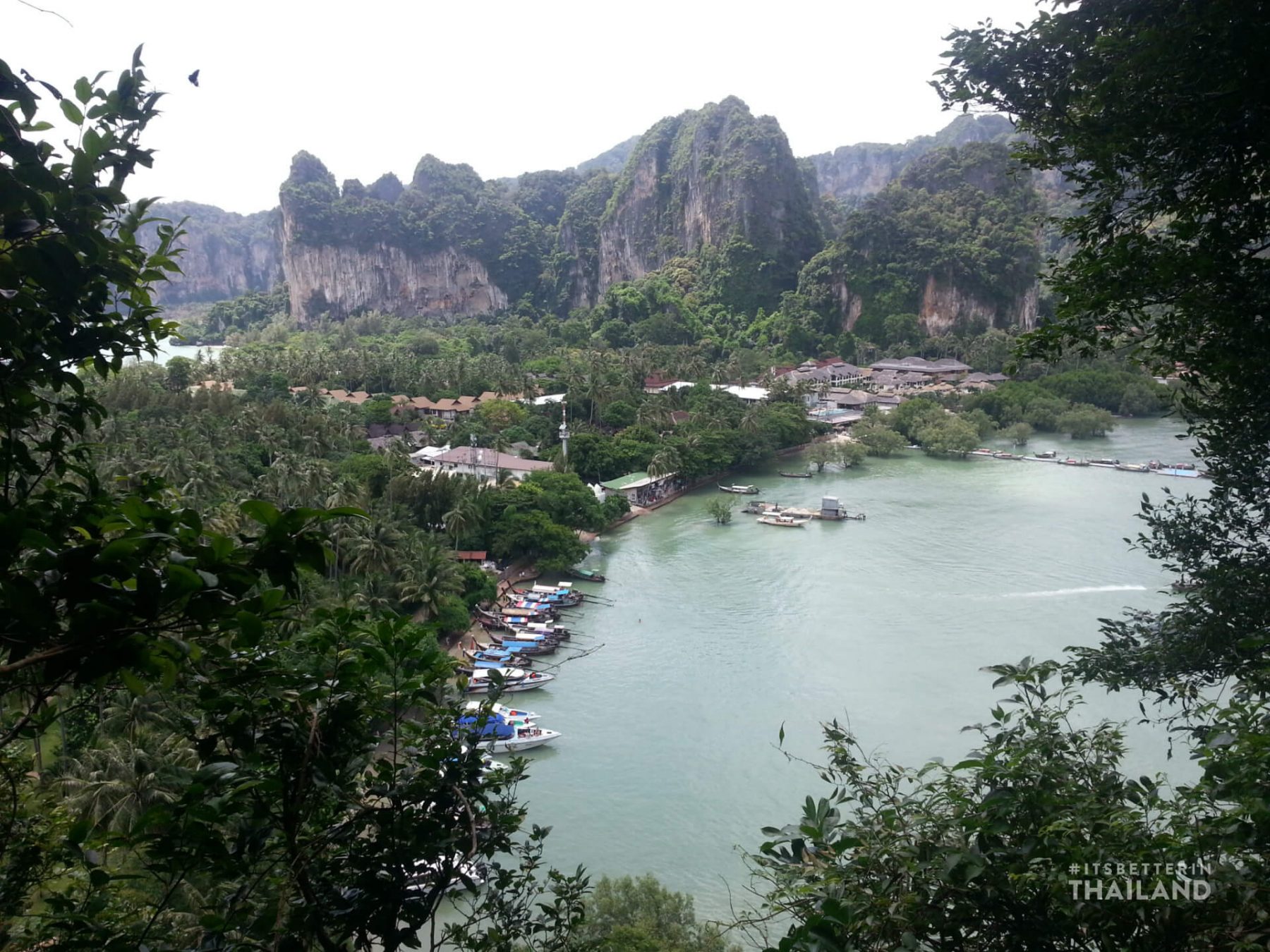 There shouldn't ever be any issues with just turning up and looking for a place to stay. There are always places available, but if you want to secure something before you arrive, some of the resorts are available on Booking.com
Where to eat?
There are a few options for food in Tonsai. Along the main strip, there are restaurants all serving Thai food and they know how hungry climbers can get so the meals are of a good portion. Another popular place is 'Mama's Chicken' which is set a bit further back towards the jungle. They serve all types of amazing food and smoothies, but they are most known for their grilled chicken. You shouldn't leave Tonsai without trying it!
For coffee drinkers, I recommend heading to the 'Reggae Radio Coffee Bar' next to 'Chill Out Bar' for your morning fix. The coffee is strong and really tasty!
Over on Railay, there are numerous places to eat. I found the restaurants there to not be as accommodating towards their customers as it is more touristy. But there are many choices to stop off for lunch or to grab a smoothie.

Renting climbing equipment
You don't have to worry if you don't have your own gear. There are plenty of places to rent equipment while you are there. Bear in mind though, that if you are there for a while, it can get quite expensive. For that reason, it may be better to just buy what you need and then take it back home with you or sell it again when you leave.
If you are traveling solo, you may also be able to find a partner with rope and quickdraws that will share with you.

Finding a climbing partner
Tonsai is a very popular destination for climbers and you really shouldn't have any problems finding people to climb with. There are always other solo travelers looking for a climbing partner. It will be even better if you have your own rope and quickdraws.
The best thing to do is to just turn up and start talking to people in the restaurants and bars, or just walk around the crags.
You can also post up a message on one of the popular climbing in Thailand Facebook groups, explaining what dates you will be there, what grade you are climbing and if you have your own equipment, etc. The main one is 'Let's go climbing! ~Thailand~'.
Health and Safety in Tonsai
There are always risks when you are traveling, especially if you are on a climbing holiday. This section is in no way trying to put you off climbing here, but more to let you know of the risks so you can take the correct precautions. Follow our safety tips below and you can enjoy some of Thailand's most magnificent climbing.
The Tonsai Tummy
Anybody that has been to Tonsai Bay would have heard of this, or experienced it themselves. It is quite common for people to get sick there. It usually consists of spending a couple of days of vomiting and/or diarrhea with a loss of appetite. This is known as the Tonsai Tummy. There is even a poem graffiti on the wall, making fun of it. It is not too harmful but it may force you to have a couple of extra rest days.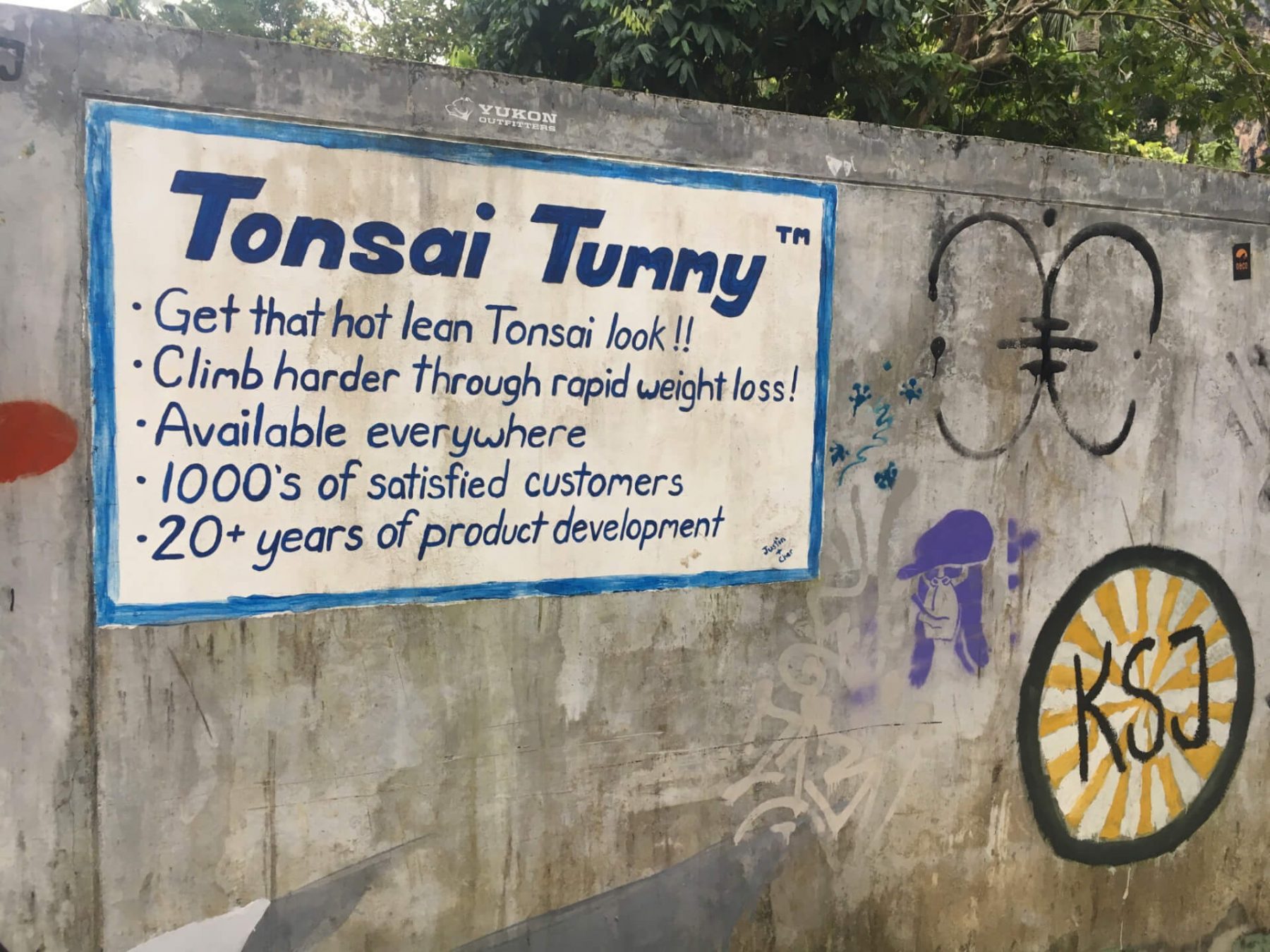 How to avoid: Wash your hands before eating and try not to eat refrigerated food that may have been left out. I have heard people saying that you shouldn't drink the smoothie shakes or use the ice but I am not sure how much truth is in that. If the food you are eating doesn't taste right, stop eating and find somewhere else.
Dengue fever
There have been reports of people getting dengue fever in Tonsai bay over the last couple of years. This is caused by a virus that is usually carried by mosquitos. The symptoms include:
Fever
Headache
Muscle and joint pain
Vomiting
Nausea
Rashes over the body
There is currently no specific cure or treatment for this disease apart from plenty of rest, hydration and maybe a trip to the doctors.
How to avoid: You can greatly reduce the risk of contracting dengue by using mosquito repellent (better if you bring it from your home country) and mosquito coils. If you are climbing in an area known for mosquitos, you can also light a fire to keep them away. Avoid spending too long in the jungle areas as well.
Sunburn
The sun can get very hot in Thailand and when you are having fun on the wall, you may not notice how much of it you are catching. Furthermore, be careful when you go swimming. When you are in the water, you may not feel the heat from the sun as much.
How to avoid: Make sure you apply a high-quality sun lotion every couple of hours, especially if you are swimming in the sea or planning to do multi-pitch routes.
Climbing accidents
Rock climbing does carry its risks and accidents do happen. But on the plus side, most of these accidents are through human error, which means they can be avoided.
How to avoid: Don't climb unless you have been taught how to do so safely. If you are not entirely sure, book some lessons with a qualified guide. Don't get complacent. By this, I mean to stick to the training and experience you have gained. Always double and triple-check everything. Check the whole system is how it should be before you get on the wall – your knot is tied correctly, the belayer is connected properly – and do a partner check every time. Also, make sure you and your partner are clear on what instructions you will shout to each other whilst one of you is climbing.

Accidents can sometimes happen when the climber is cleaning the anchor, again, because of human error on the climber's part. A good rule I like to live by is to put weight on one system before removing the other. For example, I will feel the weight on my safety sling before asking for slack on the rope and vice versa.
If you do get into trouble, it's important to have emergency contact numbers written down.
Where to go next?
If you want to take a few days to rest from climbing, it would be a good opportunity for you to do some island hopping. There are many beautiful islands in Krabi and nearby provinces, such as Koh Lanta or Koh Phi Phi.
If you want to check out some less-visited climbing crags, head over to nearby Phuket and Phang Nga. Check out our full guide on rock climbing in Thailand for a more detailed view of what is available.
I would recommend flying up to Bangkok and taking the train to Nam Pha Pa Yai climbing camp in Saraburi. You can spend a few days in a tent or bungalow, eat delicious food and take a zipline across the river to one of the climbing crags!