That Kong Khao Noi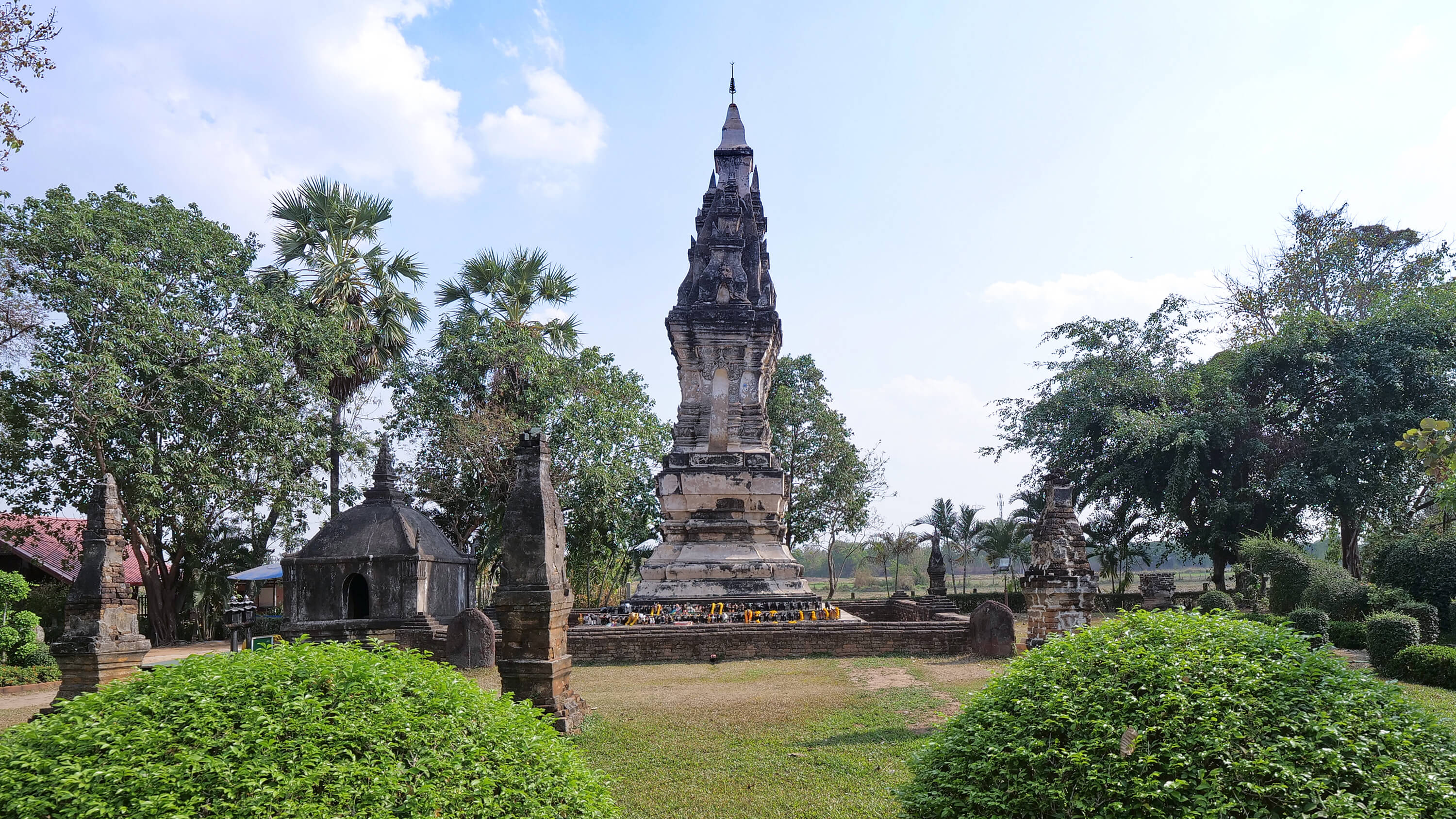 Yasothon is best known for the giant toad museum. But when you have finished educating yourself, you could venture down to That Kong Khao Noi (ธาตุก่องข้าวน้อย), an old pagoda with some interesting history.
Entrance fee & opening times
It is free to enter and to park.
Opening times are from 8:30am to 4:30pm
What can you see there?
The concrete pagoda is in the middle of a small garden area with other stone and brick pillars to the side. In front of the stupa, there is a tiny house that holds a small Buddha image.
All around the pagoda, you will see many different small models, such as chickens and cows. These are offerings that people bring when asking for forgiveness.
Farther towards the carpark area, there is a statue of the farmer who built the structure.
Why was it built?
Sometime during the Ayutthaya period, it is believed that a young man was hungry after working on his farm so his mother bought him a container of rice. In his hungry and tired state, he said there was too little rice and attacked his mother. After consuming the food though, he realized that there was actually too much rice and he couldn't even finish it. He felt bad for attacking his mother but even more so when he discovered she has died from the attack.
This farmer built the stupa, now known as That Kong Khao Noi so replenish his sins and ask for forgiveness. People will now visit here to pray for forgiveness themselves.
How to get there
This attraction is about 6.5 km south-east of Lam Thuan Reservoir. Travel down Route 23 until you see signs telling you to turn left. Here is the GPS location.
If you don't have your own vehicle, take a taxi or motorbike taxi, which shouldn't cost much.
What else can you do in Yasothon?
If you are in the area, it is worth visiting the Phraya Khan Khak museum. It is shaped like a big toad overlooking a lake and you can go inside to learn about different species of toads and some more history of Yasothon.
There are also temples you can visit in the area. When we were there, we went to Wat Maha That. Check out our other post to see what was at this temple.