Tham Khao Luang Cave Phetchaburi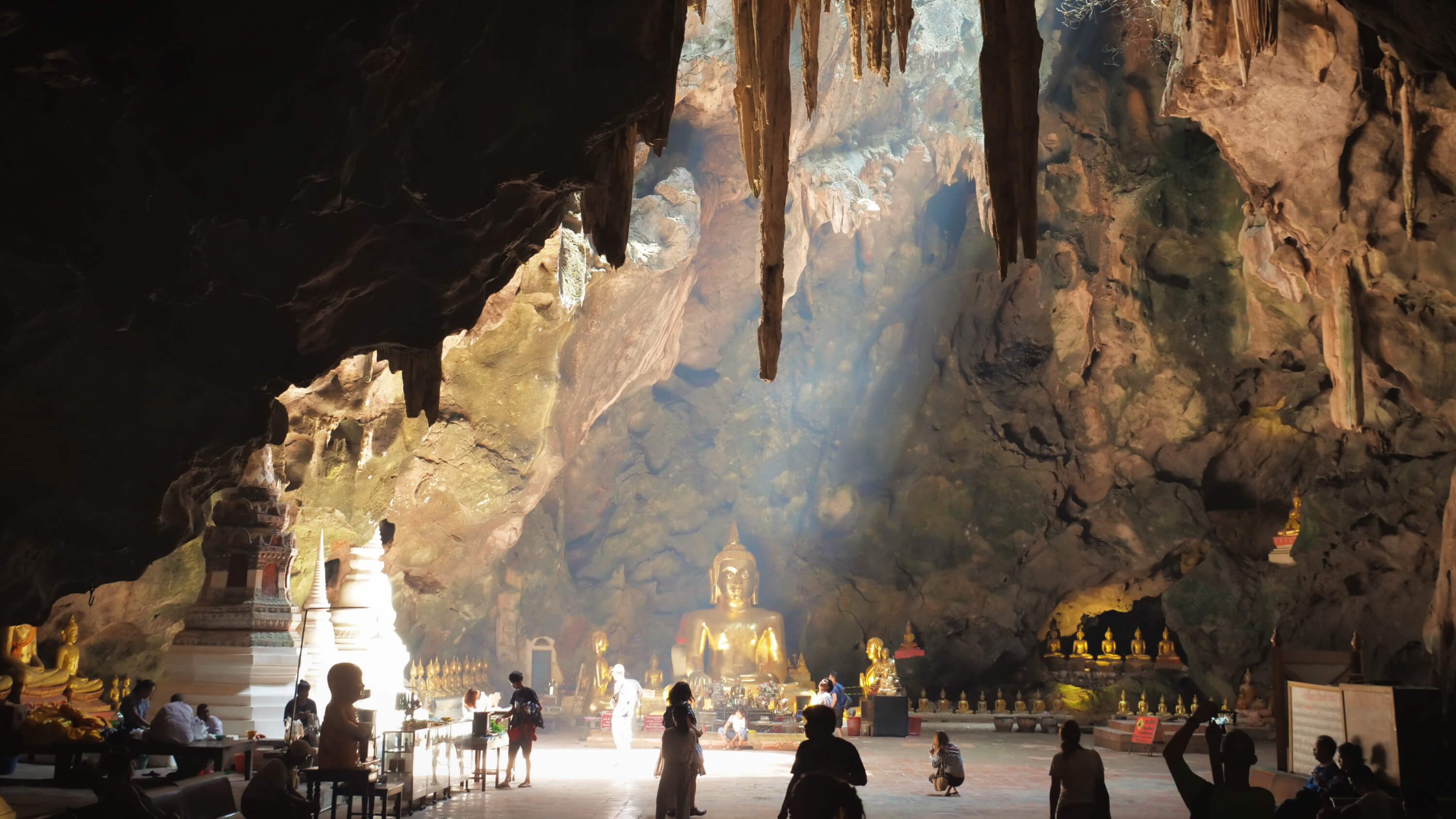 This cave full of Buddha statues puts on a stunning light show on sunny days
Tham Khao Luang (ถ้ำเขาหลวง) is a cave not far out of Phetchaburi City, and it's definitely worth a visit. The cave is full of Buddha images and has always been an important meditation site, as well as a favorite of some past Thai kings. Aside from people visiting for religious reasons, the main draw here is the dramatic way the sun rays pierce into the cave. You can get some great photos of this effect if you visit at the right time.
Getting to Tham Khao Luang cave
Tham Khao Luang can be found at this location just outside Phetchaburi town. A tuk-tuk will take you there for around 200 Baht, and I believe they drop you at the bottom of the hill. From there you can walk up which would probably take 5-10 minutes and be really hot, or you can take another tuk-tuk for 15 Baht. There are a lot of monkeys here looking for handouts of food. Like a lot of similar places in Thailand, there are signs to not feed the monkeys, and also shops selling fruit for feeding them. They are wild animals and it really is better if you do not give them food as it disrupts their natural feeding.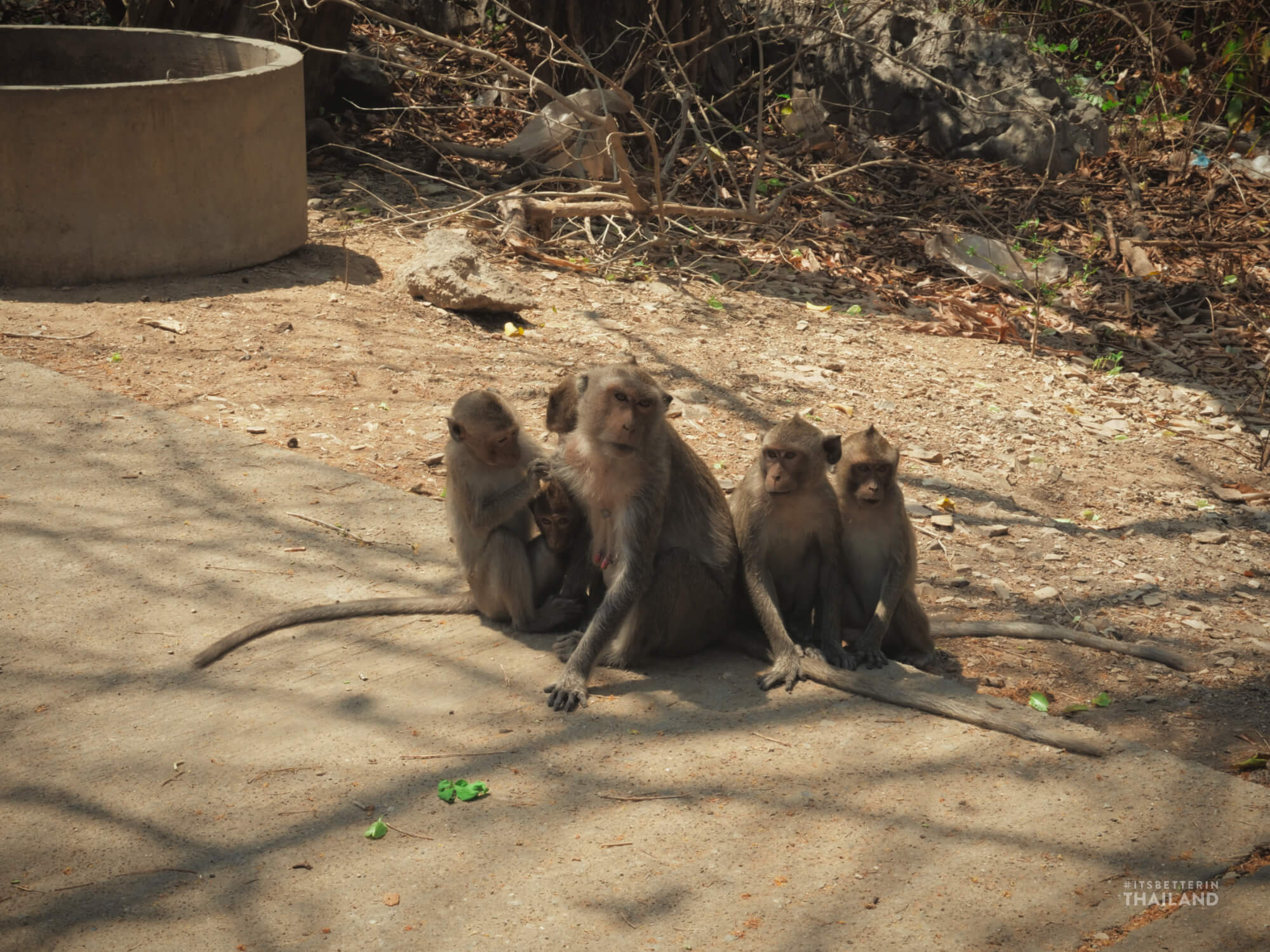 Like anywhere else these macaque monkeys can get quite aggressive so we don't recommend taking any food or drinks around them. Even things that just look like food can draw them in, especially if smaller children are holding them. If you don't try to walk up and don't carry anything that they might think is food, you won't have any problems. The monkeys won't go into the caves.
At the top of the road is a second parking lot. If you drive your own car or motorbike you can drive straight up to here and park. Then just follow the signs about 20 meters to the steep stairs leading down into the cave.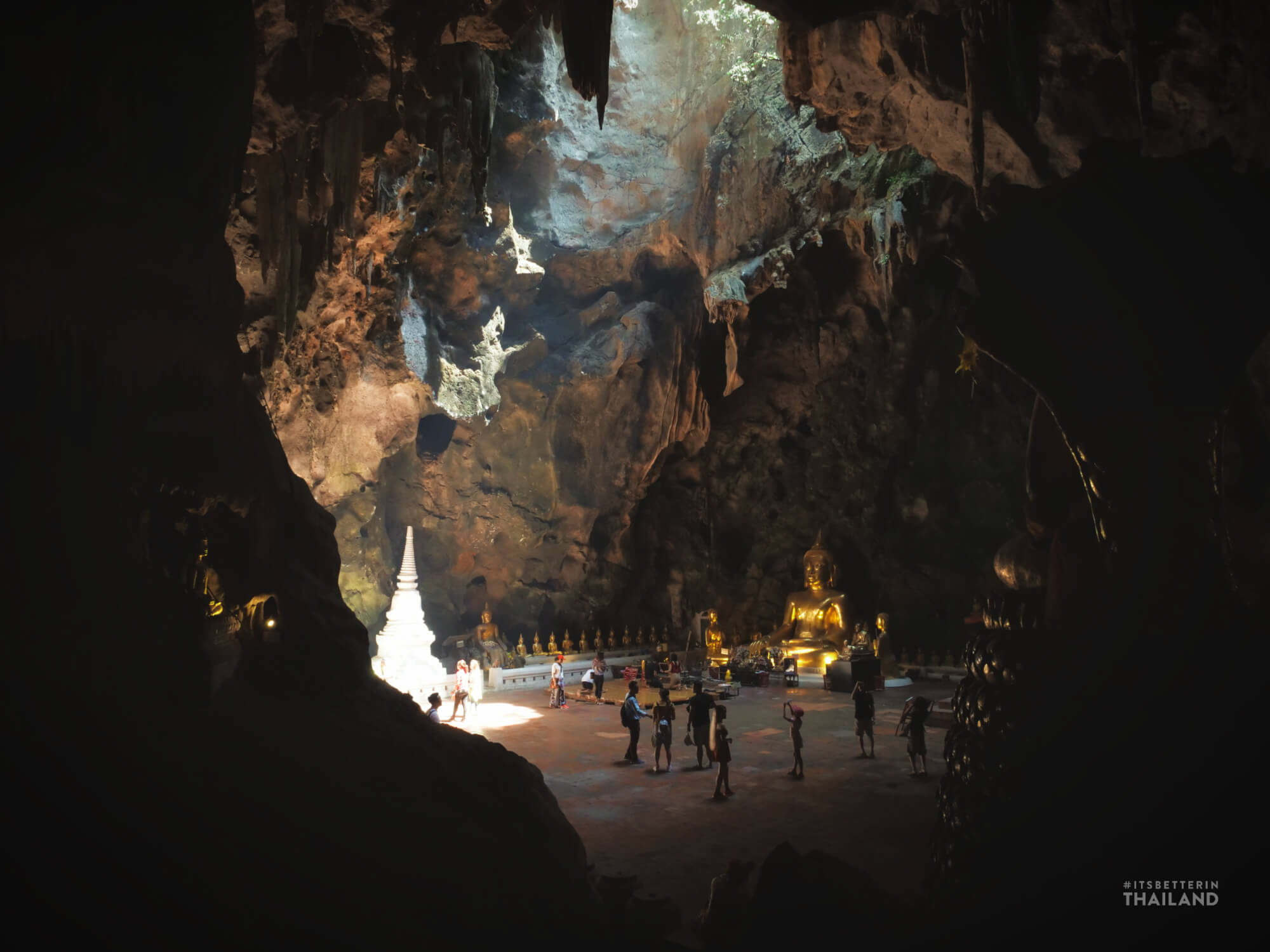 Inside the cave
There is one main chamber inside which you will come to first. This has the main seated Buddha and is where the sunrays come in from the skylight. At the back of this chamber is a large reclining Buddha. Through a narrow passage, there is a smaller chamber, this one with a skylight and the roots of a bodhi tree growing down into the cave. Back through an even narrower passage is one final tiny space, and an old ladder going up to an exit. You cannot go in or out this way.
There are a lot of Buddha statues in the cave, and if you look carefully you'll see some that are quite old. The more you look the more you'll see, especially in nooks that are higher up.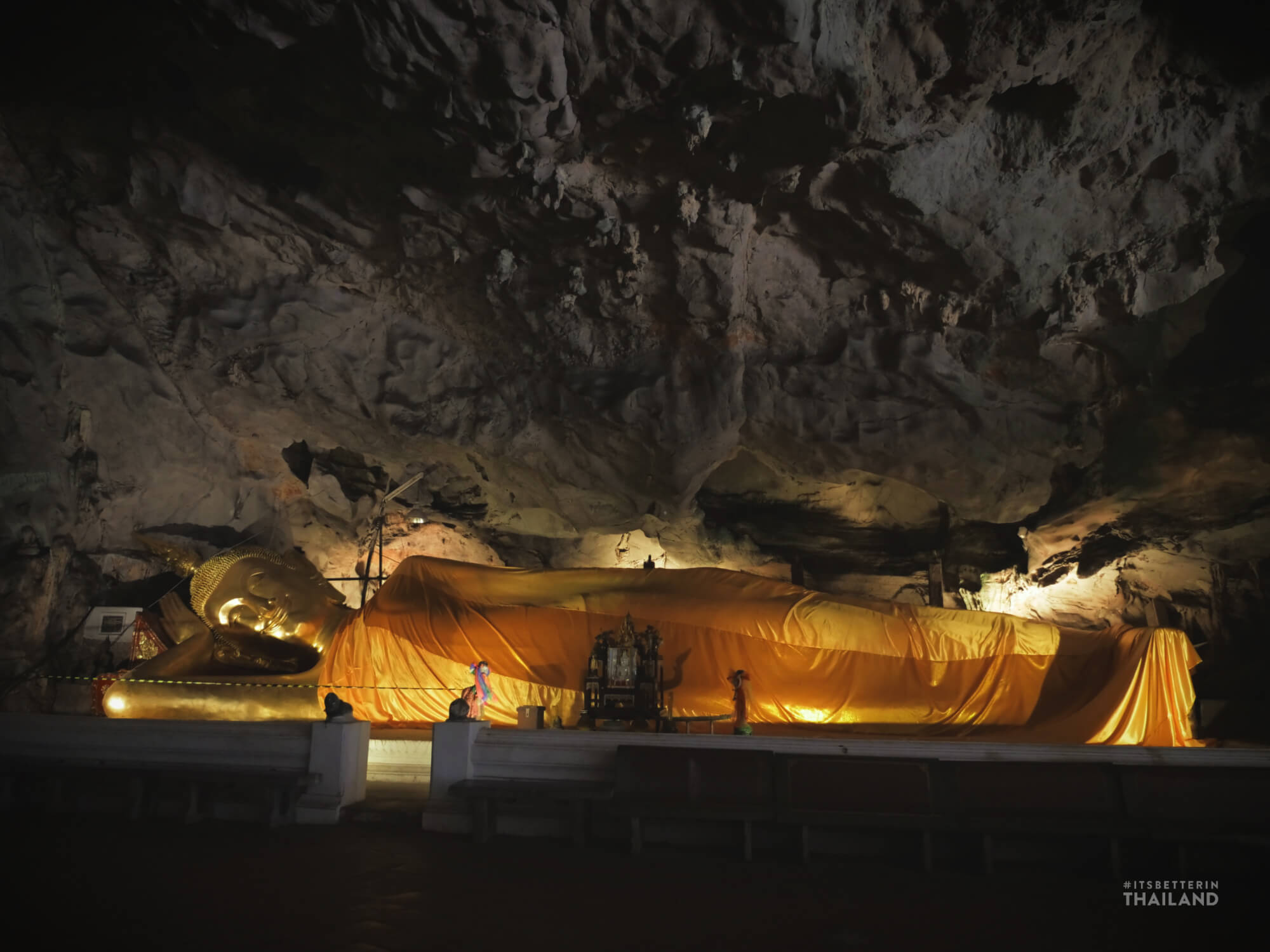 When to visit
The best time to visit Tham Khao Luang Cave to see the sunlight streaming in is in the morning to early afternoon. Incense burning inside strengthens the effect, but it only works when there is sunshine. Because of this, the rainy season will be less likely to produce the effect, but it will still happen regularly. When I arrived there was a large group of Chinese tourists here, but they only stayed around 25 minutes so if it's too crowded to get the photo you want, you shouldn't have to wait too long to get it.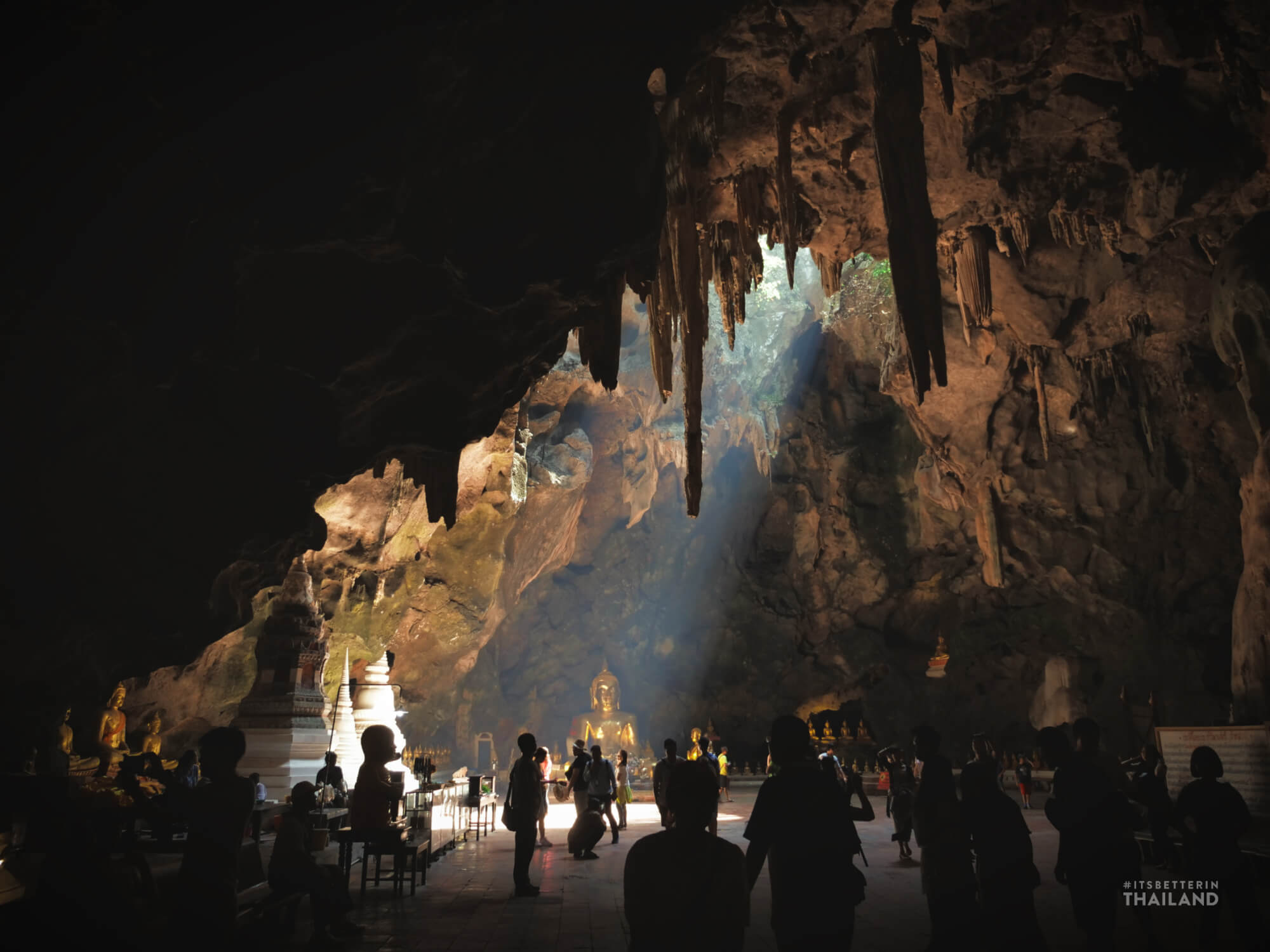 The timing works perfectly to first visit Phra Nakhon Khiri Historical Park in the morning, then come out to the cave before lunch. Check out our guide to Phra Nakhon Khiri Historical Park to learn more.
Photo gallery